Taking a break from our usual gaming-centric reviews and content, today what we are checking out is a lifestyle mouse from ASUS. This is the ASUS Marshmallow MD100 Portable Wireless Silent Mouse, that's quite a long name, but ASUS made sure you are able to grasp what this mouse is capable of through the name alone.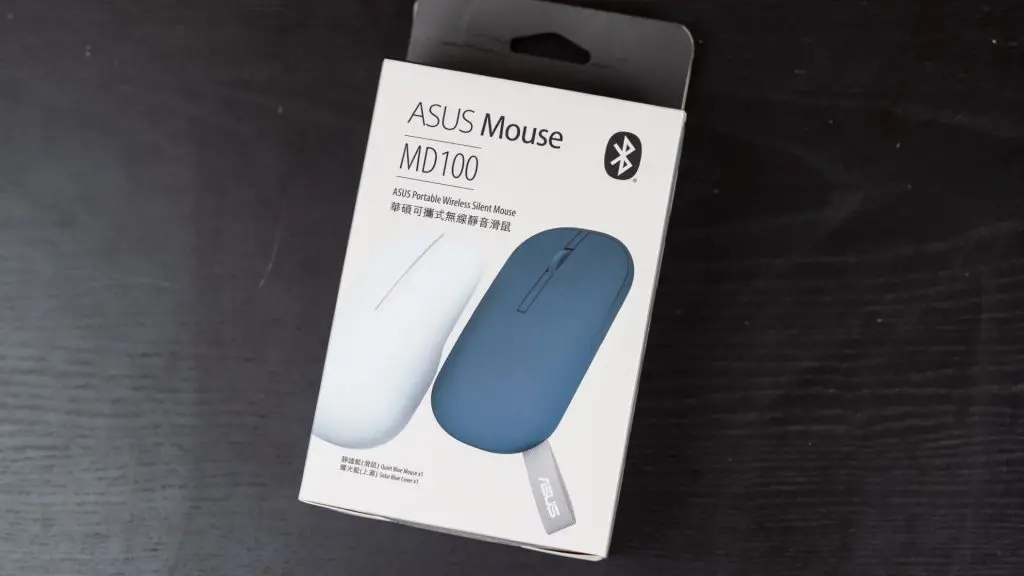 A silent mouse is not entirely new in the market but this is ASUS' first step into this territory as the work from home trend somehow increases the demand for silent peripherals. The MD100 is designed to be a lifestyle mouse that goes well with your laptop.
Features
Out of all the 5 features, I have a lot of doubt especially when it comes to the fourth feature – ASUS AntiBaterial Guard. Allegedly, it is some sort of surface coating that inhibits bacterial growth by over 99%. Frankly speaking, we can't testify if this is true or not and how effective it is. This requires proper laboratory testing and verification. Still, it is always a good idea to keep your mouse sanitised.
What's in the box
ASUS Marshmallow MD100 mouse
Second mouse cover
AA battery (pre-installed in the mouse)
Wireless dongle (pre-installed in the mouse)
Paper documentation
Hands-On
The one we have here is the Quiet Blue model with an additional Solar Blue Cover. The mouse has an ambidextrous slim profile design that is suitable for both left or right-handed users. I'm not a fan of flat profile mouse but for a 56 grams mouse, it is a great option for travel and a short period of usage.
The cover is secured to the base magnetically and it is really easy to remove it. You can mix and match the cover according to your own liking. Not sure if ASUS actually sell the cover separately though.
There are only two buttons (left and right-click) and a scroll wheel that covers the basics.
The battery is pre-installed into the mouse with a security pull tab. As for the wireless dongle, there's a designated slot for it, avoiding you from losing it.
Interestingly, ASUS also incorporated a strap into the design. Perhaps you can use a carabiner and hook it inside your bag.
The power switch is located underneath the mouse. The switch allows you to toggle among – "Off", "Wireless" or "Bluetooth". The other rocker button serves as a DPI switch toggle. Users can press it to choose between:
800 DPI (single LED blink)
1000 DPI (double LED blink)
1600 DPI (triple LED blink)
1000DPI felt too similar to the 800DPI and I would've preferred if ASUS actually replaced 1000DPI with 1200 DPI.
Silent Switch?
The key selling feature of the mouse – silent switches. The clicks are almost inaudible which is perfect for quiet environments. As a new dad, I can testify to the importance of silence especially when your young kid has fallen asleep. With this mouse, I can keep working alongside without worrying about the noise. For new users who are not used to a silent mouse, you need some time to get used to it. I would say, most of the new users would question if the mouse is actually working or not since it doesn't produce an audible "click". While the tactile bump feedback per click feels pretty much the same as any other regular mouse, the switch bottoming feels mushy due to the added paddings.
The scroll wheel, on the other hand, is a hit or miss. It works fine as a scroll wheel, just that the wheel surface lacks any sort of threads to increase the friction when you're scrolling. Generally, if you tend to sweat, the scroll wheel surface might get slippery.
Conclusion
Generally speaking, for most of the normal users out there in the market, the ASUS Marshmallow MD100 Portable Wireless Silent Mouse is an excellent companion with your laptop. You can store it in the laptop bag without creating a huge bulge on the bag and the double wireless mode allows a quick switch between two different connections on the fly. While we can't testify the battery life as we only got it for a few weeks, nonetheless, even if it only achieves half of the ASUS's claimed 1-year battery life, 6 months is more than enough. At the official price tag of RM145, this is considerably more expensive than its competition considering it has DPI switching capability, dual wireless mode and interchangeable top case.