I think many of you are already eager to see how the new RTX 3080 performs in games when compared to its predecessors. We're eager to know too – so this review will be in two segments. We originally tested the ZOTAC GAMING GeForce RTX 3080 Trinity a few days ago and filmed a quick video comparing both the ZOTAC GAMING GeForce RTX 3080 Trinity against the ZOTAC GAMING GeForce RTX 2080  Ti AMP – which is a very powerful card (or at least used to be).
Many changes have changed with the new ZOTAC GAMING GeForce RTX 3080 Trinity, but first – a quick performance test.
Specifications
| | | |
| --- | --- | --- |
| GPU | ZOTAC Gaming GeForce RTX 2080 Ti AMP | ZOTAC Gaming GeForce RTX 3080 Trinity |
| SMs | 68 | 68 |
| CUDA Cores | 4352 | 8704 |
| Tensor Cores | 544 | 272 |
| RT Cores | 68 | 68 |
| Texture Units | 272 | 272 |
| ROPs | 88 | 64 |
| GPU Boost Clock | 1665 MHz | 1710 MHz |
| Memory Data Rate | 14 Gbps | 19 Gbps |
| Total Video Memory Size | 11G GDDR6 | 10G GDDR6X |
| Memory Interface | 352-bit | 320-bit |
| Memory Bandwidth | 616 GB/sec | 760.3 GB/sec |
| TDP | 250W | 320W |
| Recommended PSU | 650W | 750W |
| Power Connectors | 2 x 8-pin | 2 x 8-pin |
| Dimensions | 267mm x 116mm x 35mm | 317.8mm x 120.7mm x 58mm |
Unboxing
Starting off with the packaging, we can see that ZOTAC is taking a rather interesting direction for its RTX 30 series card. The reflective rainbow holographic appearance on the box gives it a rather premium look, which also reminds me of the design on those special rare cards I have during my childhood. The design at the back of the box has also been revamped, greatly simplified so it doesn't look too cramped.
Even the accessories pack come with the same reflective rainbow holographic design, but is it worth overdoing? Well, sort of. Inside the accessories pack, you'll get the paper docs as usual i.e user manual, installation guide, and a reflective rainbow holographic case sticker (I like this a lot, personally).
Design
In terms of the overall design, it hasn't changed much in comparison but the fans do appear to be larger than the previous design. It's still using a triple-fan design despite having a shorter PCB, which in turn moved the entire power socket too. The cable now sticks out nearer to the center of the graphics card instead.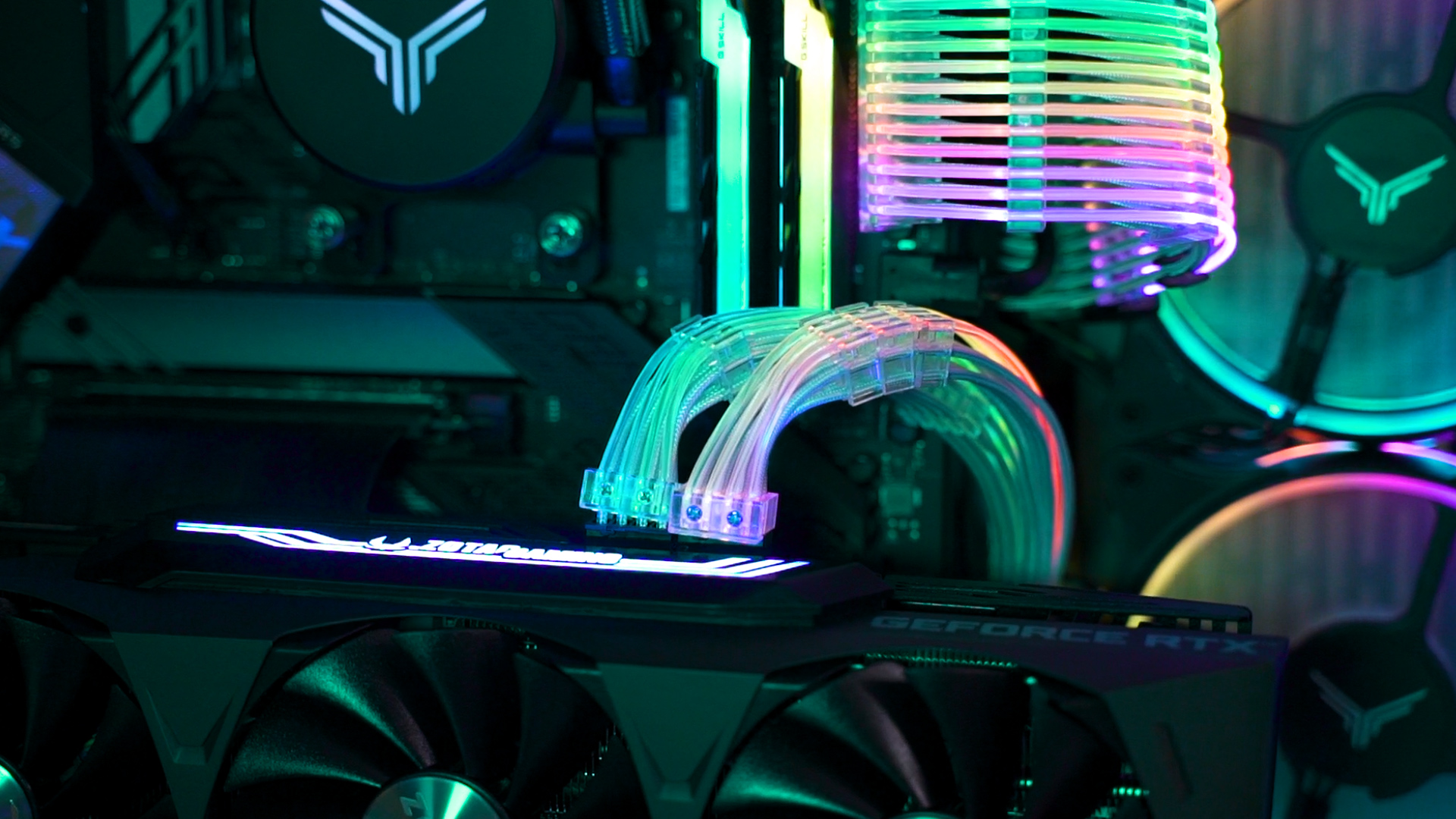 For those of you who are curious about it, here's a closer look at the PCIe power connectors. If you're using fancy RGB LED extension cables like the Lian-Li Strimer Plus and PCIe riser, this is the kind of issue you'll bump into.
ZOTAC equipped the RTX 3080 Trinity with a really beefy cooler to keep the card running cool, but what really caught my eyes here is the Nickel-plated heat pipes, which gives it a much more premium looking appearance. Since the cooler is taking quite some space there, the card will take up 2.5 slots on your expansion slots. Either way, since the PCB is shorter, the last fan is a direct passthrough for the heatsink fins. This supposedly improves the thermal performance too, but we'll get into that later.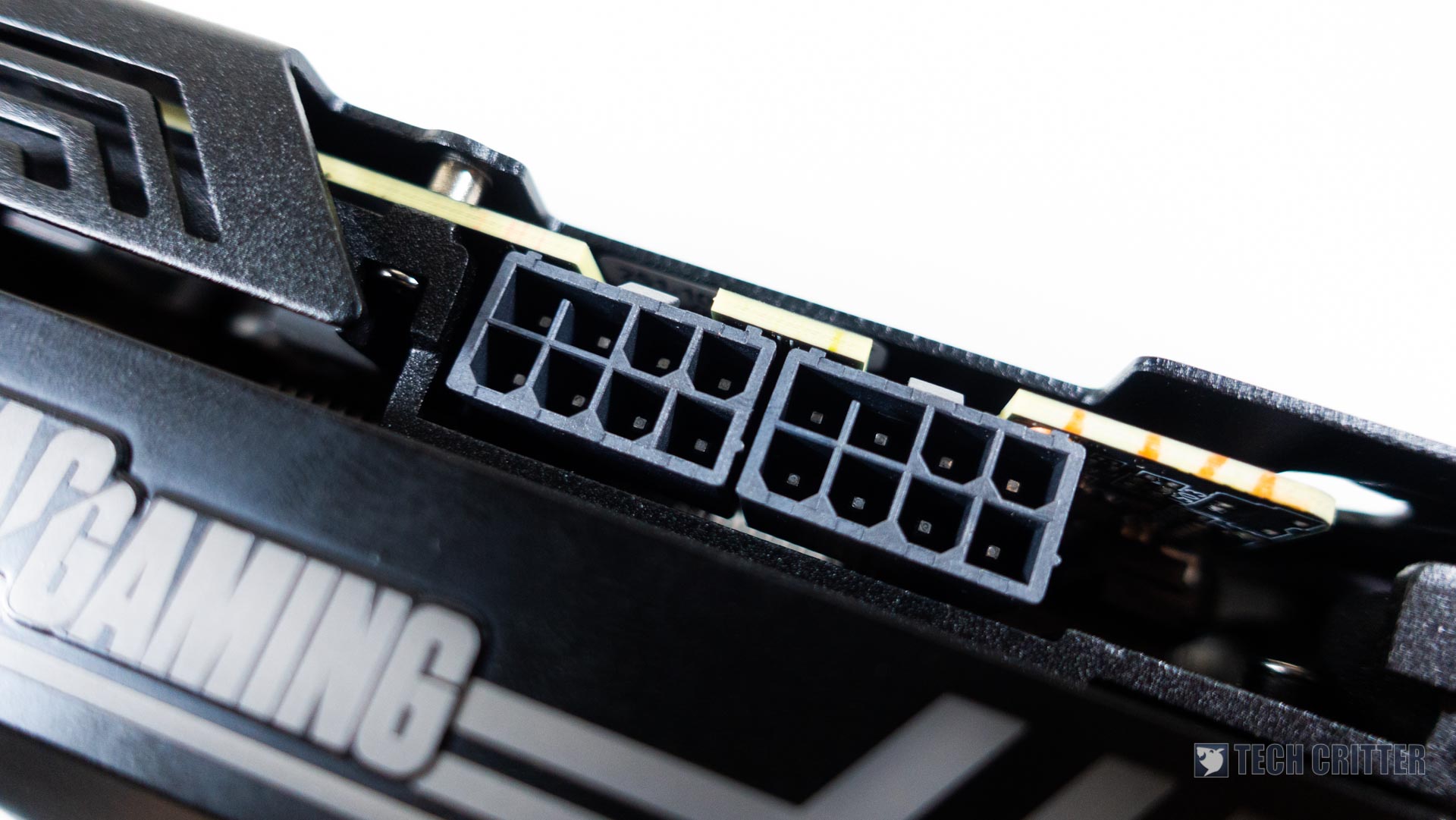 Speaking of the power socket, ZOTAC has opted to use double 8-pin instead of NVIDIA's latest 12-pin power socket. In a way, this is great since we don't have to worry about using a converter to change double 8-pins to a single 12-pin power plug. That only introduces more cable management troubles, honestly.
The metal backplate design on the RTX 3080 Trinity has a lot more style to it this time, and I must say, it looks really good as compared to the previous generation design – oh and, the ZOTAC Gaming logo has RGB lightings.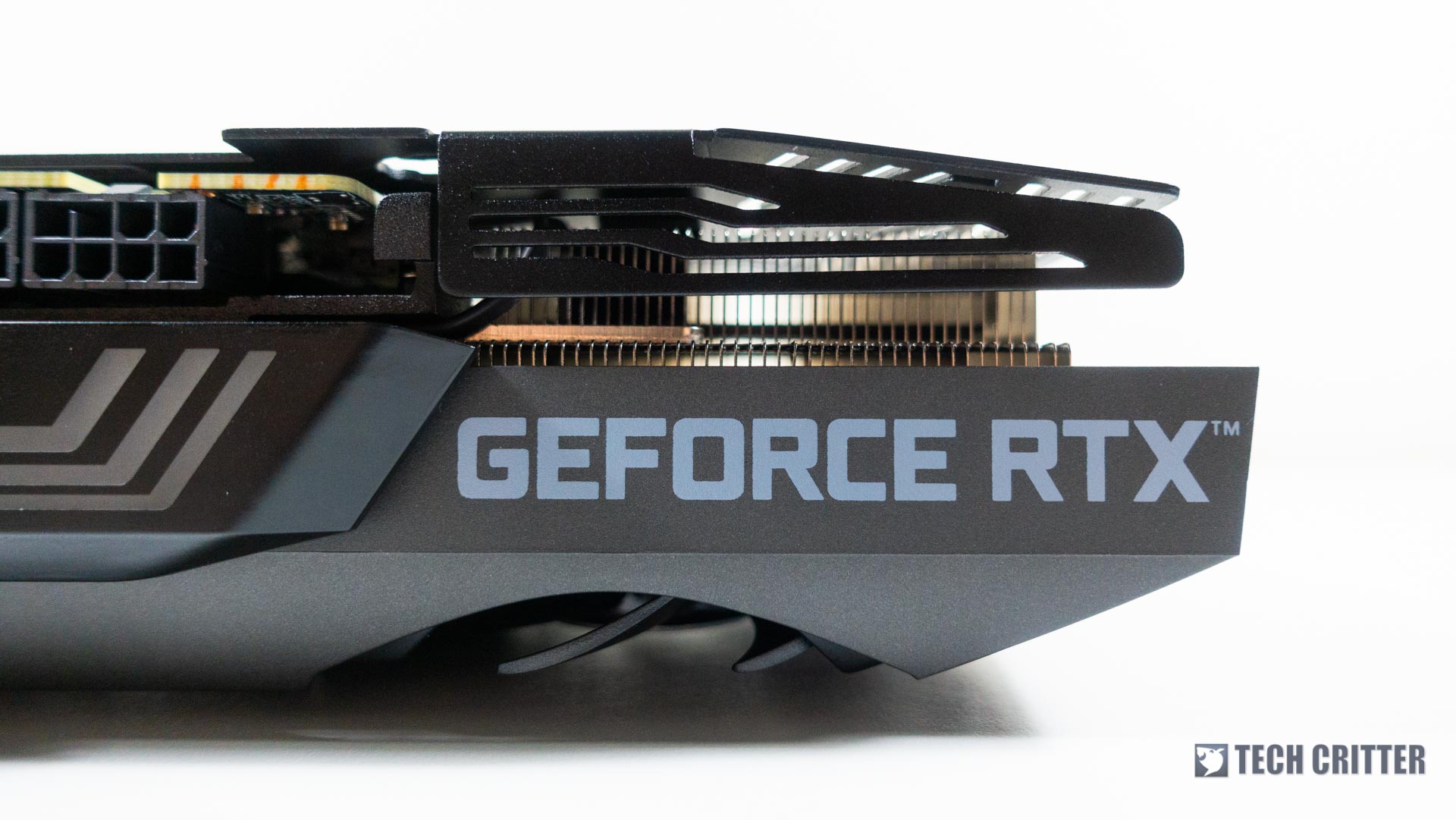 Here we can see that the heatsink extends way beyond the actual length of the PCB and the exposed heatsink is covered with the metal backplate. The cutout on the metal backplate isn't just for the looks of course, as it enables the hot air blown out by the last piece of the fan directly to the top instead of blocking it back to the card, similar to the cooling design on the Founders Edition cards.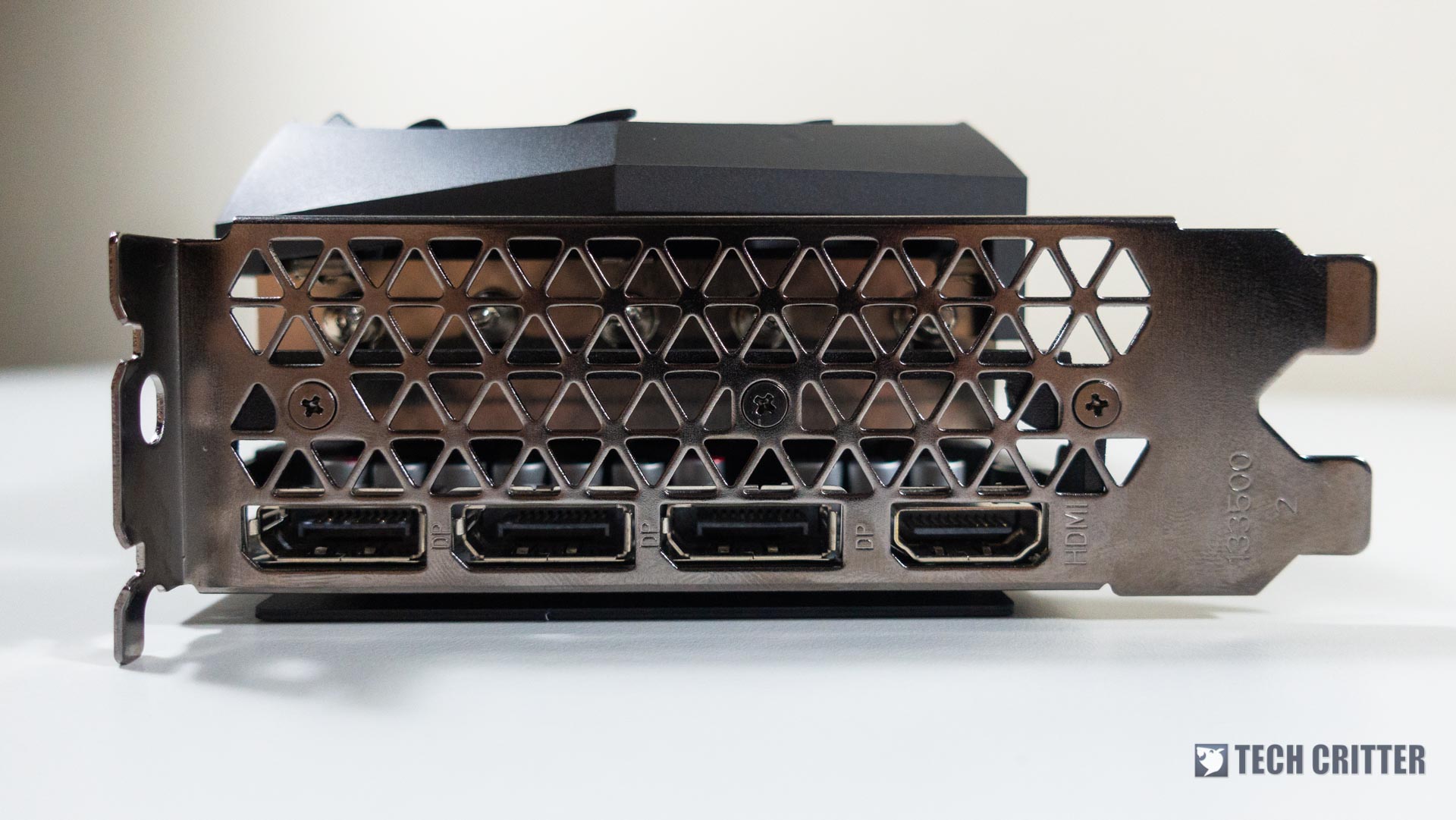 There's a total of three DisplayPort and a HDMI ports. It's a shame that NVIDIA has decided to exclude USB-C for its RTX 30 series cards this time because it's a really convenient thing to have, especially when your motherboard only comes with a single USB-C port.
Test System Setup
For our games benchmark test, we've selected a number of AAA titles to run at its highest possible settings using the following setup under an ambient temperature of 30°C:
| | |
| --- | --- |
| CPU | AMD Ryzen 9 3900X |
| Motherboard | MSI MEG X570 GODLIKE |
| Memory | TEAMGROUP T-FORCE XTREEM ARGB DDR4 @3600MHz |
| Graphics Card | GeForce RTX 2080 Ti / ZOTAC Gaming GeForce RTX 3080 Trinity |
| Power Supply | Enermax MaxTytan 1250W |
| Primary Storage | Force Series Gen.4 PCIe MP600 2TB NVMe M.2 SSD |
| Secondary Storage | WD Black 6TB |
| CPU Cooler | Cooler MasterLiquid Master ML360R RGB |
| Chassis | Streacom Open Benchtable BC1 |
| Operating System | Windows 10 64bit |
Games Benchmark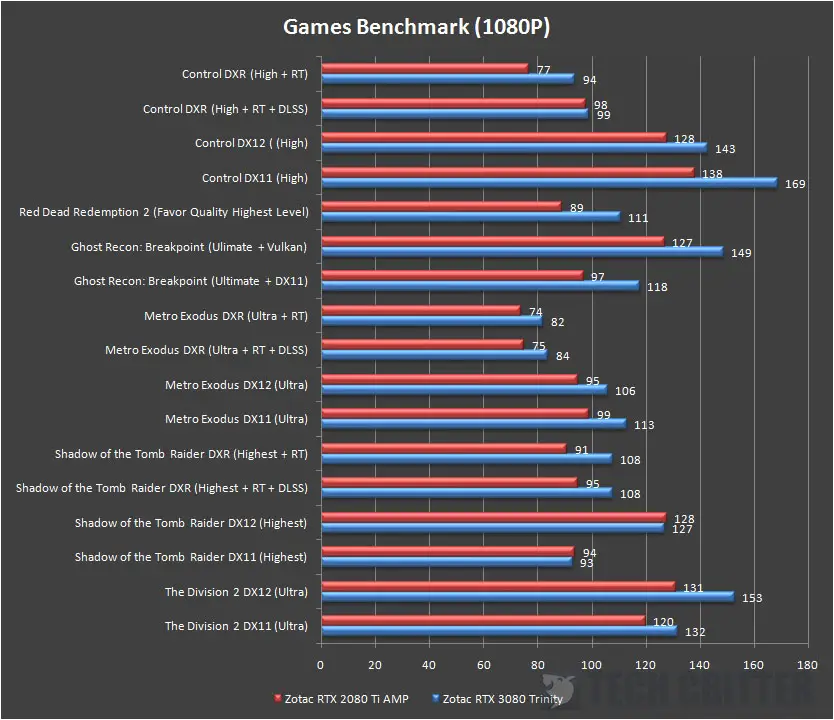 1080p is a piece of cake for both cards, much to be expected but there are a few games in which both RTX 3080 Trinity and RTX 2080 Ti perform similarly. We noticed that these games are CPU bound during the test but we then realize this is probably caused by the beta driver because the RTX 2080 Ti didn't have this issue when we tested it a few months ago.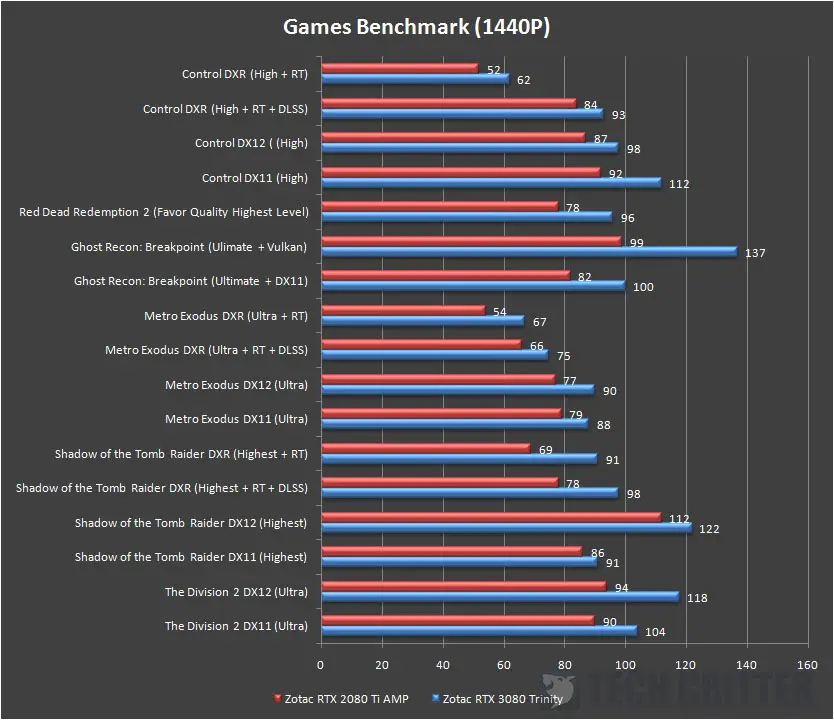 The performance gap between both cards is much more significant as we move on to a higher resolution at 1440p, especially for games with ray tracing features. The RTX 3080 Trinity also performs exceptionally well on games running on DirectX 12, taking a big lead against the RTX 2080 Ti.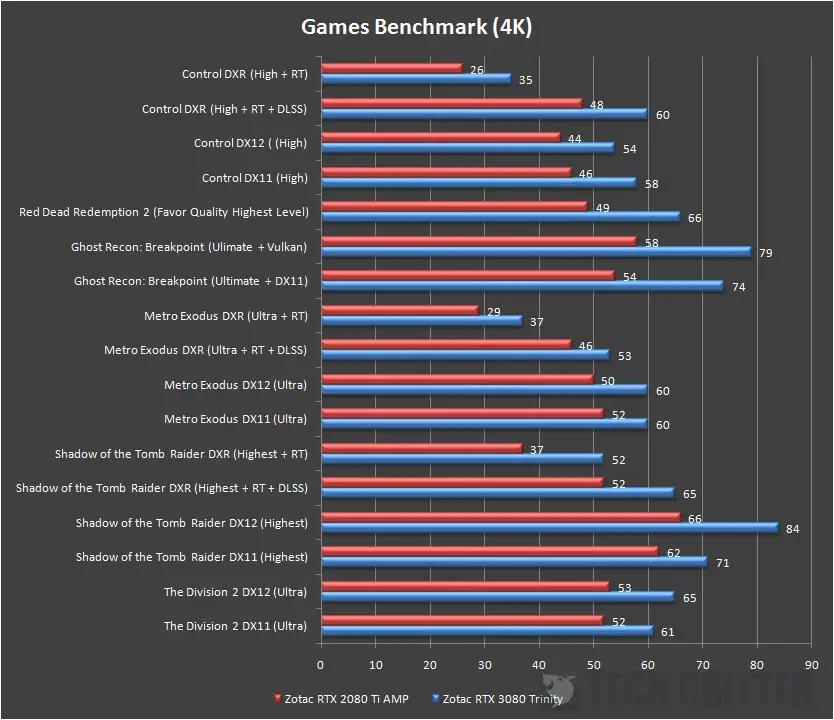 Moving on to 4K gaming, we can definitely confirm NVIDIA's claim on the 'huge leap for 4K gaming and ray tracing' after seeing how well the RTX 3080 Trinity can perform. Raw performance, double the CUDA cores, new architecture – the RTX 3080 Trinity has everything ready to get you into 4K gaming and ray tracing, performs better but cost much lesser than the RTX 2080 Ti.
Operating Temperature
As the clock speed is similar to the RTX 3080 Founders Edition, the power draw maxed at 320W, slightly lower than the factory overclocked variant. We left the RTX 3080 Trinity to run 6 hours on the FurMark stress test and the highest temperature recorded is at 74°C but the temperature for gaming session peaked only at 67°C, which seems to be much lower for some reason.
Final Thoughts
The GeForce RTX 3080 is one of the latest GPU announced earlier this month and honestly, I think NVIDIA did a great job, not only on the performance improvement in one generation leap but the surprisingly reasonable pricing as well. If you still game on a GeForce GTX 10 series or older gen graphics cards but already planning on an upgrade in the near future, this is probably it.
With raw performance alone, the RTX 3080 is already powerful enough to crush the RTX 2080 Ti in pretty much all of the existing AAA titles on max or really high settings. Even if you don't do RTX, the card itself is powerful enough to get you to take the leap into 4K gaming if you haven't already without any major hiccup. For those of you who are already getting used to ray tracing, the RTX 3080 will take you even further regardless of what resolution you game on.
The RTX 3080 is a very reasonable option that is worth considering mainly because of its $699 price tag (roughly under RM4000 for most AIC partner models). Looking at the performance, design, and features the Zotac Gaming RTX 3080 Trinity has to offer, the RM 3439 price tag seems to be really reasonable if you're initially considering an RTX 2080 Ti or RTX 2080 SUPER as your next upgrade before the card is announced.
Pros
Excellent performance out of the box
Greatly improved 4K and DXR performance
Excellent build quality
Good cooling performance
Runs silently even during full load
Cons
Flipped PCIe power connector makes cable management a bit more challenging