The MSI Prestige 14 is the Taiwanese company's latest 14-inch creator series laptop. It is powered by the Intel 10th Gen Comet Lake-U processor – the new Intel Core i7-10710U, as well as up to NVIDIA GeForce GTX 1650 Max-Q GPU. Given the fact that the i7-10710U now has 6 cores compared to its Whiskey Lake predecessor, we are looking forward to what the chip can achieve. However, judging from the size of the laptop, we don't plan to hype it up way too much especially with its potentially limited thermal performance.
MSI is also offering the Prestige 14 with either a 4K or 1080p display. The former covers 100% of AdobeRGB, while the latter covers 100% of the narrower sRGB colour space. Our review sample comes with the following specifications:
MSI Prestige 14 A10RB Specifications
Model
MSI Prestige 14 A10RB
CPU
Intel Core i7-10710U (6C12T)
GPU
NVIDIA GeForce MX250 2GB
RAM
1x 16GB DDR4-2666
Storage
512GB NVMe SSD PCIe 3.0 x4
Display
14″ FHD 1080p IPS
Battery
52Wh battery
90W charger
IO
2x Type-A USB2.0
1x Micro SD Card Reader
2x Type-C (USB3.2 Gen2 / DP / Thunderbolt 3) with PD charging
1x Mic-in/Headphone-out Combo Jack
Dimension
319 x 215 x 15.9 mm
Weight
1.29 kg
Price
RM 4,899
Creator Ultrabook
We usually relate creators to video producers as this is the most prominent group of creative personnel that we always pay attention to, say YouTubers. Since video production requires a high-performance computer in order to speed up the video editing and rendering process, that goes without saying, we just assume creators would want a bulky and ultra-high-performance PC to get things done. However, little did you know that there are plenty of other types of creators that don't require bulky hardware to produce their work. 2D artists and or even we as writers are too considered as content creators and having a creator series Ultrabook makes a lot more sense.
The MSI Prestige 14, as the name suggests, has a 14-inch display. The narrow bezel surrounding the panel means that the overall chassis of this laptop is way smaller than what you'd expect. Combined with the lightweight chassis, it makes the Prestige 14 a great laptop to carry around and get things done.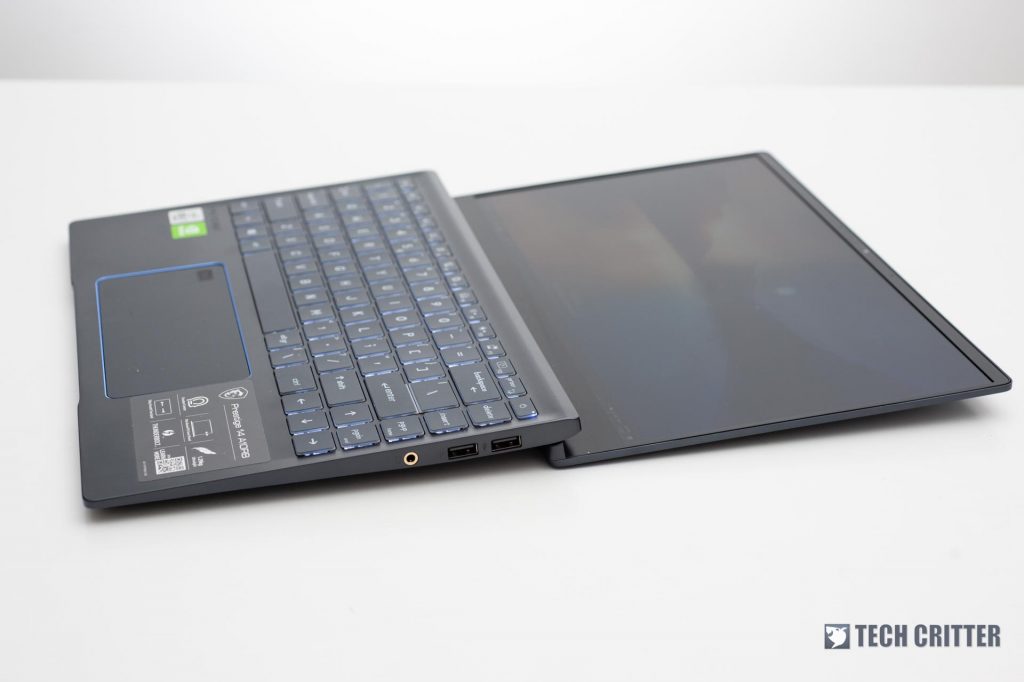 As we previously mentioned, MSI offers two different panels depending on your needs – 4K or 1080p. We wouldn't suggest getting the 4K screen, especially for a 14-inch laptop display. The benefit of the high-resolution panel on a 14-inch device has a diminishing effect. First of all, you'll hardly tell the difference and not to mention sacrificing battery life for it. Secondly, it demands extra performance from the GPU which is not ideal for a 14-inch laptop. The display surface has matte anti-glare finish and with that said, it doesn't support touch input.
Decent IO
3.5mm audio combo jack
2x USB 2.0 Type-A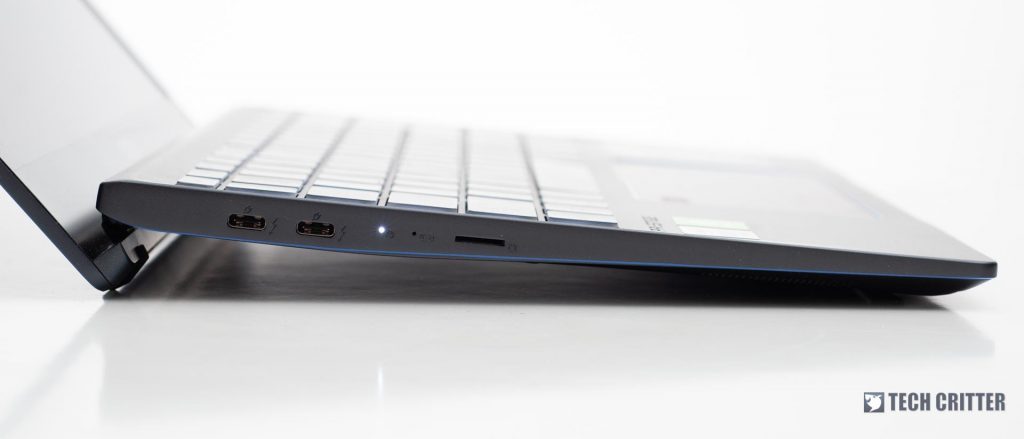 2x Thunderbolt 3 USB Type-C
Micro SD card reader
I have mixed feelings when it comes to the IO selection on the Prestige 14. Let me start with the good parts, first of all, I absolutely appreciate the choice of having both USB Type-C and Type-A ports to be available for users. What surprises me is the USB-C ports actually come with Thunderbolt 3 support. One thing that bothers me is the port doesn't seem to be that deep and there's some wiggle room when USB-C cables are plugged in.
Then when it comes to the USB Type-A ports, it was a disappointing USB 2.0 standard. It just doesn't make sense even if it is a cost-saving measure. So I would just recommend leaving the USB Type-A ports for mouse and keyboards. On top of that, the lack of HDMI port or adapter forces customers to look for third-party accessories.
Love-Hate Relationship with the Trackpad
The ultra-wide trackpad has a smooth glass surface that also supports Windows Precision Driver. It is a wonderful trackpad except being overly wide. If you look at how most of the other laptops usually position the trackpad relatively to the keyboard's G and H character, that means trackpads will always be centred when you type. However, since the Prestige 14 has an ultra-wide trackpad and it is placed right in the middle of the laptop. Whenever I type, my right palm will be directly above the trackpad which always triggers unwanted mouse clicks.
Keyboard, on the other hand, is pleasant to use. The keycap surface is slightly wider than any other regular keyboards and that makes it easier to land on the keys you wanted to press.
Performance
Synthetic Benchmark
The Intel Core i7-10710U performs respectably well but don't expect 50% performance increment even if the core count has increased from 4-cores to 6-cores. Based on the synthetic benchmarks, it is roughly 10% faster than the i7-8665U. What it really shines is the additional cores actually being useful for handling additional processing requirements from the creative applications.
Something noteworthy is that the i7-10710U is just 10% slower than its 9th Gen Intel Core i7-9750H. Remember, this is a U-series chip that supposedly running at lower power limit while the H-series chip is usually found in laptops with beefier cooler. In terms of real-life usage, since my unit comes with an NVIDIA GeForce MX250 graphics, at least the cooling and performance are still under control. Video rendering might cause thermal throttling but that's expected from this configuration.
Thermal Performance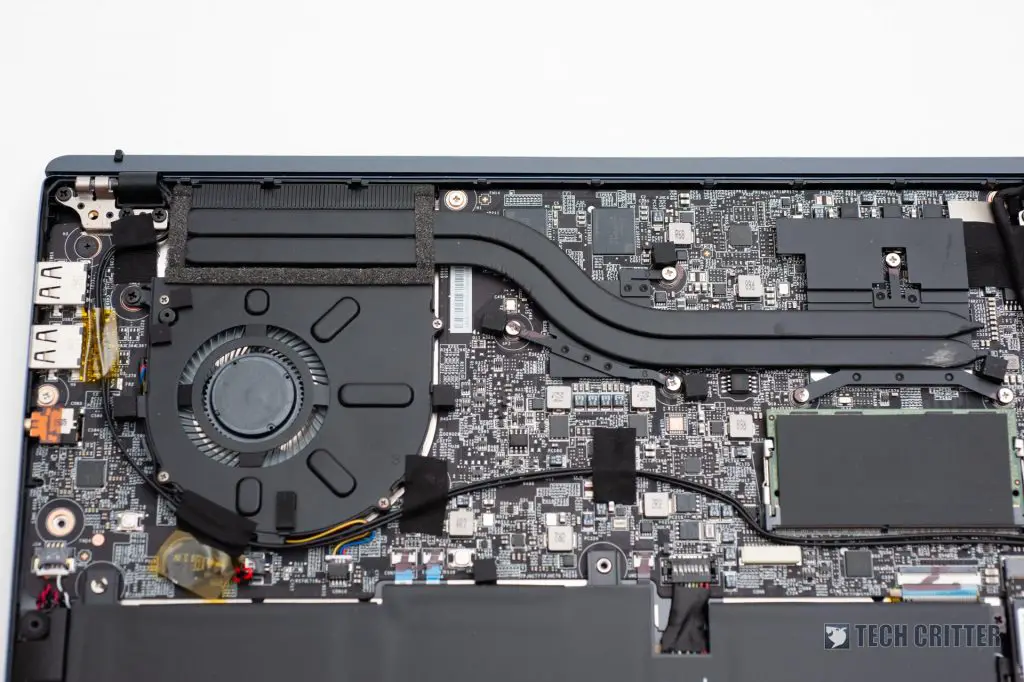 The cooling is handled by the twin heat pipes that connects to both CPU and GPU which is then cooled by a single fan. Even with the lower heat generated from the GPU, during video rendering times, we're still facing occasional thermal throttling on the CPU side. I can't imagine what kind of under-volting and tweaking you need to implement on the Prestige 14 that comes with the GTX 1650 Max-Q.
Storage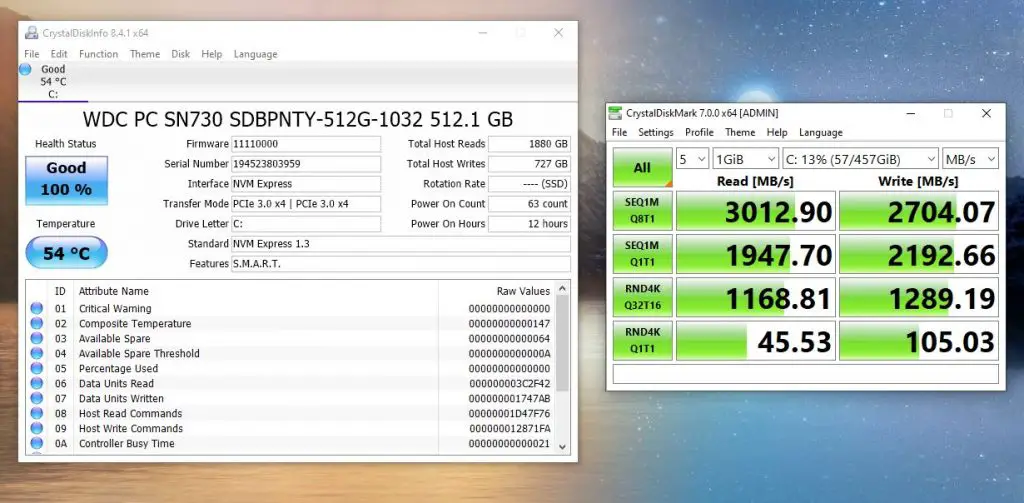 The high speed read and write makes it extremely suitable for production-related applications. The capacity of 512GB is just about right to get people started with high-speed & storage for their tasks.
Upgradability
There is a single SODIMM slot available for user to upgrade. The SSD can be upgraded albeit you'll have to switch out the original 512GB as it only has 1 single M.2 slot on the motherboard.
Battery Life
As for the battery life, in short, I'm not impressed. In our daily usage, we could only squeeze out 5 hours from a single full charge. Mind you that we're just working on Google Chrome as well as Adobe Photoshop for simple photo exposure editing and watermarking. Again, it is highly recommended to undervolt the CPU to gain that extra battery life as well as lower heat generation.
Final Words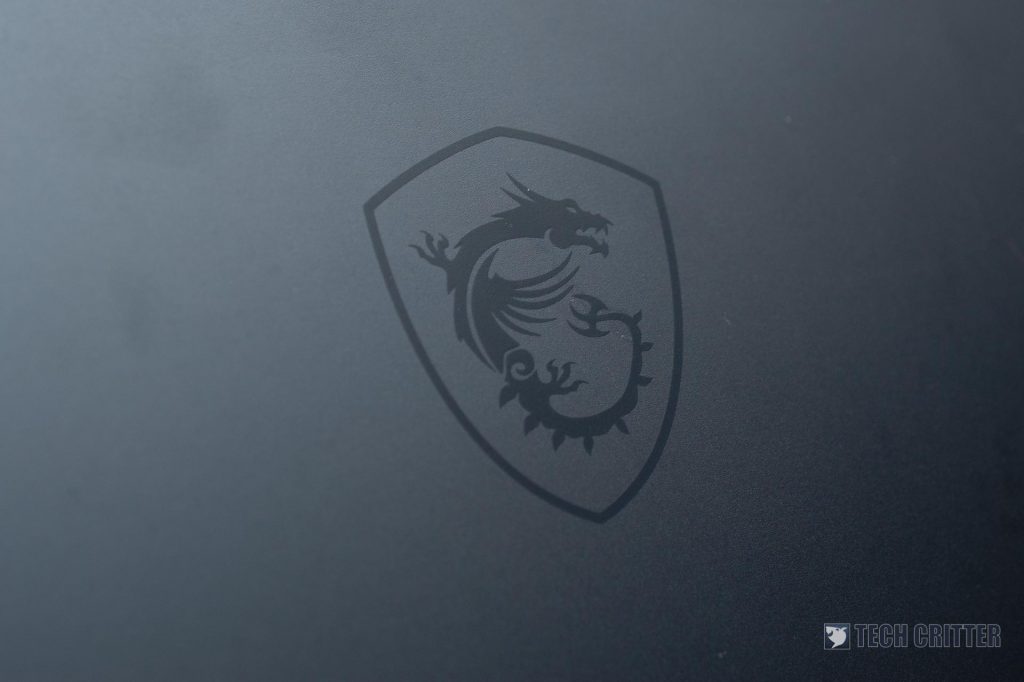 At the official retail price of RM4,899, some might argue that we could get a more powerful laptop instead of this, something with RTX 2060 or GTX 1660 Ti. Sure, if your purchase decision is solely based on the specifications, then you won't be looking at this laptop. In fact, most of them are gaming-oriented laptops with thicker and heavier chassis.
Shopping for a laptop is never just about the specs but also taking consideration into the use case such as the balance between portability and performance. Weighing at 1.29KG, this 14-inch laptop is trying to provide an option for creators who are looking for a reasonably powerful laptop without having to worry about carrying a heavy backpack.
That's the reason why MSI has both 14 and 15-inch options available. It is either you pick the 14-inch for the portability or 15-inch for better performance. With that being said, our recommendation would be picking the 14-inch with MX250 graphics while the 15-inch with GTX 1650 Max-Q.
Pros:
Minimalist, thin & light design
Good display for creative works
2x USB Type-C & 2x USB Type-A
Thunderbolt 3 support on USB Type-C
Cons:
Lack of HDMI port / adapter
USB 2.0 on a 2019/2020 creator laptop
Trackpad too wide
Battery life leaves a lot to be desired