ASUS has announced their next-generation ROG gaming laptops at CES2020, the one that caught our attention is the ROG Zephyrus G14 with its over-the-top LED dot display array, aka ROG AniMe Matrix LED display on the lid. No, you don't need it no matter how cool it looks nor how chuunibyou the, nonetheless, that goes to show how crazy ideas often pop up in the minds of the ASUS R&D folks.
Today, while we are indeed having the ROG Zephyrus G14 in our labs, unfortunately, it is just a standard G14 model without the AniMe Matrix LEWD LED display, no thanks to COVID-19. Nonetheless, we're setting our eyes on the AMD Ryzen 9 4900HS which is currently exclusively available on selected ROG laptops.
Specifications
ASUS ROG Zephyrus G14 GA401IV
CPU
AMD Ryzen 9 4900HS
GPU
NVIDIA GeForce RTX 2060 Max-Q 6GB GDDR6
RAM
2x 8GB DDR4-3200
Storage
Intel 660p 1TB NVMe PCIe 3.0×4 SSD
Display
14″ Full HD 1080p
IPS
120Hz
Battery & Power
180W adapter
IO
1x USB 3.2 Gen2 Type-C with DisplayPort 1.4 and Power Delivery
1x USB 3.2 Gen2 Type-C
2x USB 3.2 Gen1 Type-A
1x HDMI 2.0b
1x 3.5mm audio combo jack
Dimension
32.4 (W) x 22.2 (D) x 1.79 (H) cm
32.4 (W) x 22.2 (D) x 1.99 (H) cm [AniMe Matrix]
Weight
1.6 KG
1.7 KG [AniMe Matrix]
Price
TBA
Brand New Design
ASUS has taken a step in a different direction for their Zephyrus line-up of gaming laptops. Instead of the complicated Active Aerodynamic System (AAS) cooling, they have finally settled down with the conventional clamshell plus ErgoLift design for the Zephyrus G14.
That at least kept the cooling performance in check without sacrificing on the structural robustness. The magnesium-aluminium alloy keyboard deck is machined and coated to resist fingerprints.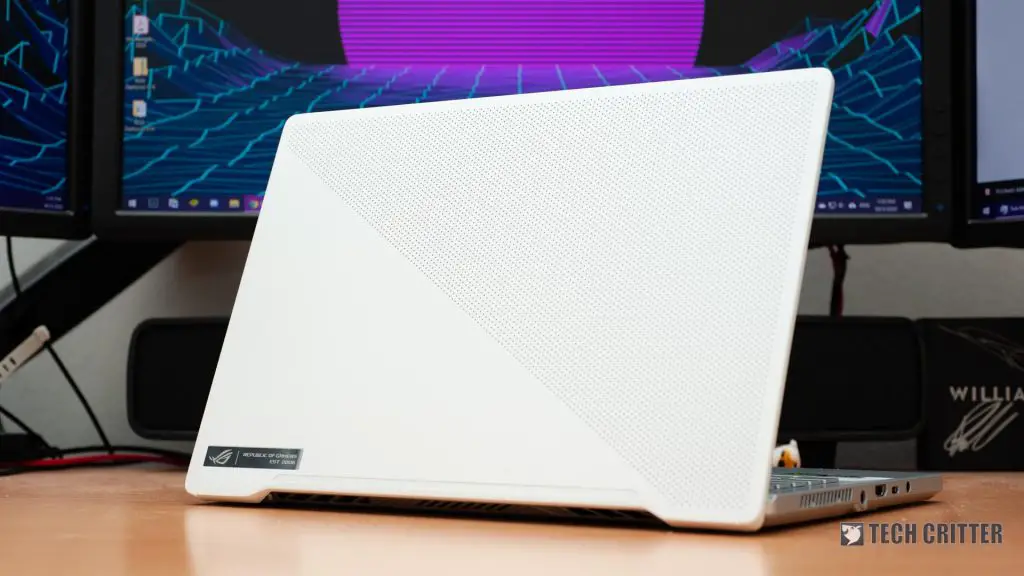 The same material is also being used for the lid, despite the lack of the AniMe Matrix LED display, they left the CNC-milled perforations on the lid for aesthetics reasons.
The uniform arrangement of the dots at least don't trigger my Trypophobia but some people are having the concern of dust and grimes getting into it. With that said, I personally would prefer if ASUS just used a non-machined lid to save cost.
IO
In terms of the IO selection and positioning, I am somehow disappointed with their decision to position both of their USB Type-A ports on the right side of the laptop. I thought the message was clear since ASUS has previously moved all of the USB ports to the left side until this new chassis has yet again brought the old issue back. Unless you're gaming on the Zephyrus G14 on an external keyboard, otherwise having any USB peripherals plugged in would get in the way of your mouse movement.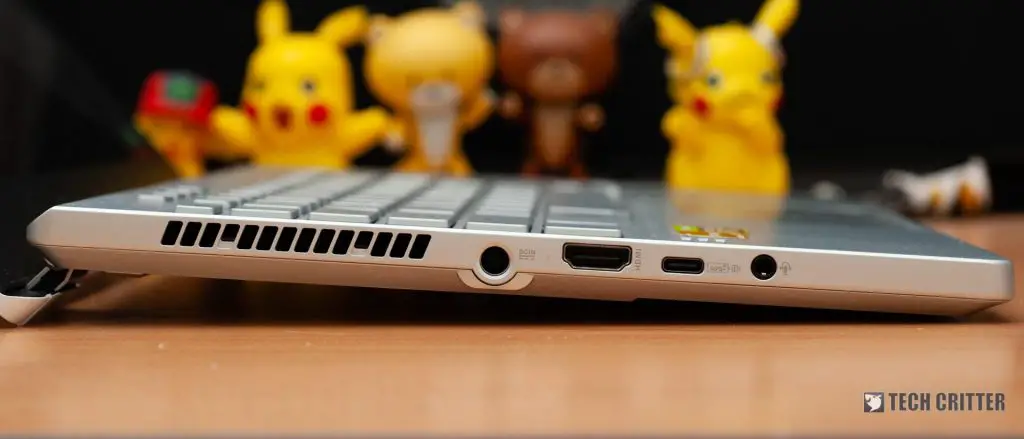 Display
Depending on the region, some might have the option to choose for a 60Hz 1440p resolution display panel. That is if you want higher resolution and willing to sacrifice on the advantage of the higher refresh rate.
Our local specification will be a Full HD IPS panel with a 120Hz refresh rate. Why 120Hz instead of 144Hz? Well, it is simply because of display suppliers only provide 144Hz refresh rate for panels of 15.6-inch and above. Now, I won't argue how 144Hz is better than 120Hz unless 240Hz is being involved here. What you should take note is that the 120Hz is equally capable of providing you with the benefit of a smooth and fluid viewing experience.
Besides that, the adaptive sync technology also provides a smoother and pleasant gaming experience by coordinating the monitor's refresh rate to match the GPU's frame rate. To be completely honest with you, we're living in a great era where the 4th Gen AMD Ryzen processor's integrated Radeon graphics is working alongside an NVIDIA GeForce GPU.
The IPS display panels have wide viewing angles and cover 100% SRGB range ASUS has stated the displays are factory calibrated and Pantone Validated to ensure the colour accuracy is satisfactory for creators.
Speakers
Let me get this straight before we get into the details, they sound really good. The Zephyrus G14 has four integrated speakers where two of them are tweeters positioned facing upward on the keyboard palm rest and another two woofers beneath them for that deep amplified bass. The end result is a clear and vibrant listening experience. I never expected a laptop would sound this good and clearly the designers have done a good job in the speaker positioning and tuning.
Keyboard & Trackpad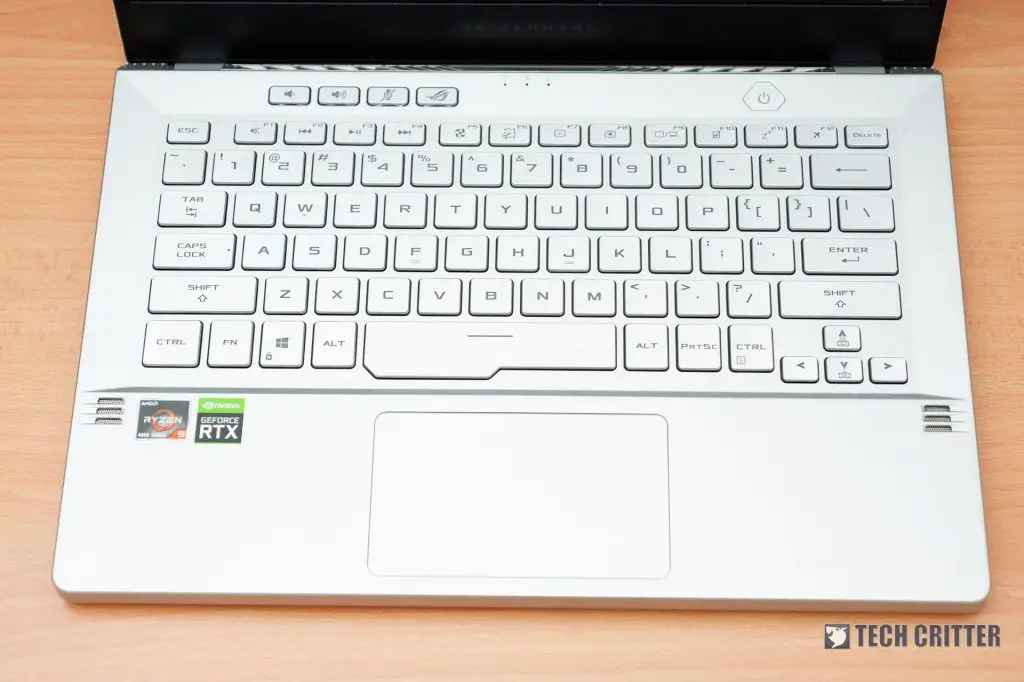 The keyboard is pretty standard based on our previous experience on ASUS ROG laptop keyboards. It is a non-mechanical keyboard with a very well thought layout. Some might complain about the lack of number pad but personally, I think it is more suitable for 15.6-inch laptops.
RGB enthusiasts might find the keyboard to be a disappointment to the ROG name because the Zephyrus G14 only comes with white LED backlit keyboard. It seems that ROG is trying to position the Zephyrus G14 as a mix of lifestyle laptop with high-performance gaming capabilities.
The trackpad is decent for everyday computing works. Palm rejection works really well and most importantly, gamers would opt for a mouse when it comes to PC games.
Performance
Synthetic Benchmark
| CINEBENCH R20 | AMD Ryzen 9 4900HS | Intel Core i9 9980HK |
| --- | --- | --- |
| Single-Core Score | 482 | 459 |
| Multi-Core Score | 4172 | 3894 |
I am genuinely impressed by the numbers. The AMD Ryzen 9 4900HS has lived up to its expectations to challenge even the Intel Core i9 9980HK. We initially thought the Ryzen 9 would just beat Intel in terms of the multi-core processing while Intel still takes the cake on the single-core performance. At the end of the day, the result just blows my mind and most importantly, did I mentioned that the Ryzen 9 4900HS has a 35W TDP while the Core i9 9980HK has 45W TDP?
Storage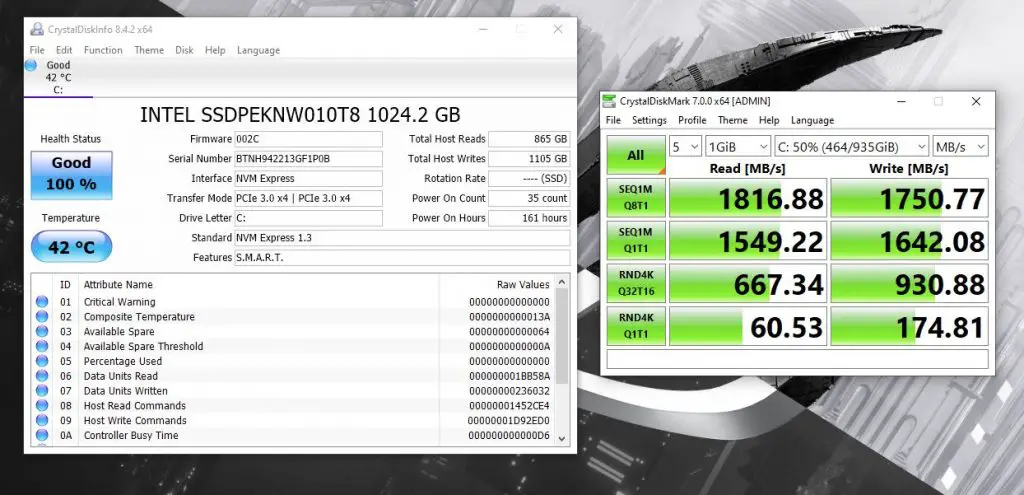 Gaming Benchmark
FPS
Average
Minimum
5th Percentile
PUBG
High: AA off
92
61
74
Apex Legends
1080p highest; AA off
105
70
76
CS: GO
1080p high; AA off
182
77
142
GTA V
1080p highest; AA off
81
44
61
Overwatch
1080p highest; AA off
118
59
101
Assassin's Creed Odyssey
1080p highest; AA off
50
31
42
F1 2019
1080p highest; AA off;
Australia + raining
108
81
95
Final Fantasy XV
1080p; High
58
39
46
Shadow of the Tomb Raider
1080p highest; AA off
70
55
58
Thermal Performance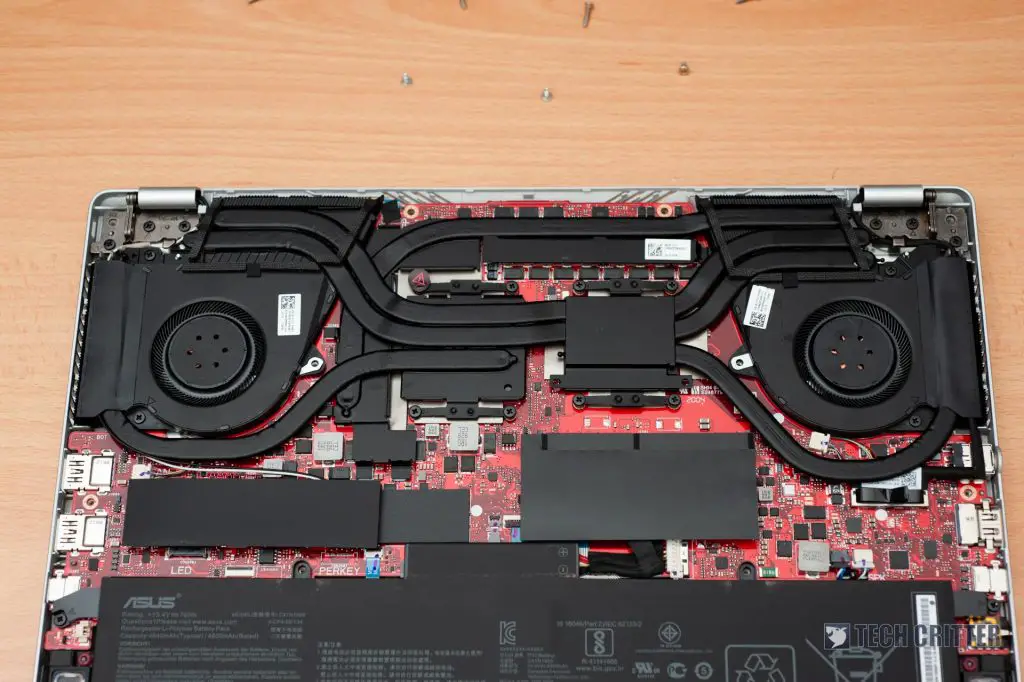 Unsurprisingly, all those performances come at the cost of higher heat produced by the chip. There are moments when the CPU frequency spikes up, the maximum temperature would come close to 97-degree Celcius. That only happens occasionally during a sudden surge in the CPU processing. Overall, the maximum average CPU temperature is somewhere around 90-degrees which is remarkably good for this chip.
AMD
Ryzen 9 4900HS
CPU Max Temp (°C)
CPU Average Temp (°C)
PUBG
High: AA off
95
89
Apex Legends
1080p highest; AA off
94
88
CS: GO
1080p high; AA off
95
89
GTA V
1080p highest; AA off
95
83
Overwatch
1080p highest; AA off
94
90
Assassin's Creed Odyssey
1080p highest; AA off
90
89
F1 2019
1080p highest; AA off;
Australia + raining
97
90
Final Fantasy XV
1080p; High
97
85
Shadow of the Tomb Raider
1080p highest; AA off
96
90
NVIDIA GeForce
RTX 2060 Max-Q
GPU Max Temp (°C)
GPU Average Temp (°C)
PUBG
High: AA off
85
81
Apex Legends
1080p highest; AA off
84
87
CS: GO
1080p high; AA off
82
80
GTA V
1080p highest; AA off
75
67
Overwatch
1080p highest; AA off
85
83
Assassin's Creed Odyssey
1080p highest; AA off
86
84
F1 2019
1080p highest; AA off;
Australia + raining
85
84
Final Fantasy XV
1080p; High
77
69
Shadow of the Tomb Raider
1080p highest; AA off
83
79
Upgradability
Our 16GB configuration comes from the 8GB soldered on the motherboard and another 8GB on the single SODIMM slot. While it is not the ideal configuration in case you purchase a 16GB SODIMM stick to pair with the onboard 8GB. Nonetheless, Intel FLEX mode still can provide good RAM performance compared to single-channel configuration.
On the other hand, we have a single M.2 slot for PCIe NVMe SSD. Since our configuration comes with a 1TB SSD, I believe that is pretty sufficient for everyone.
Battery Life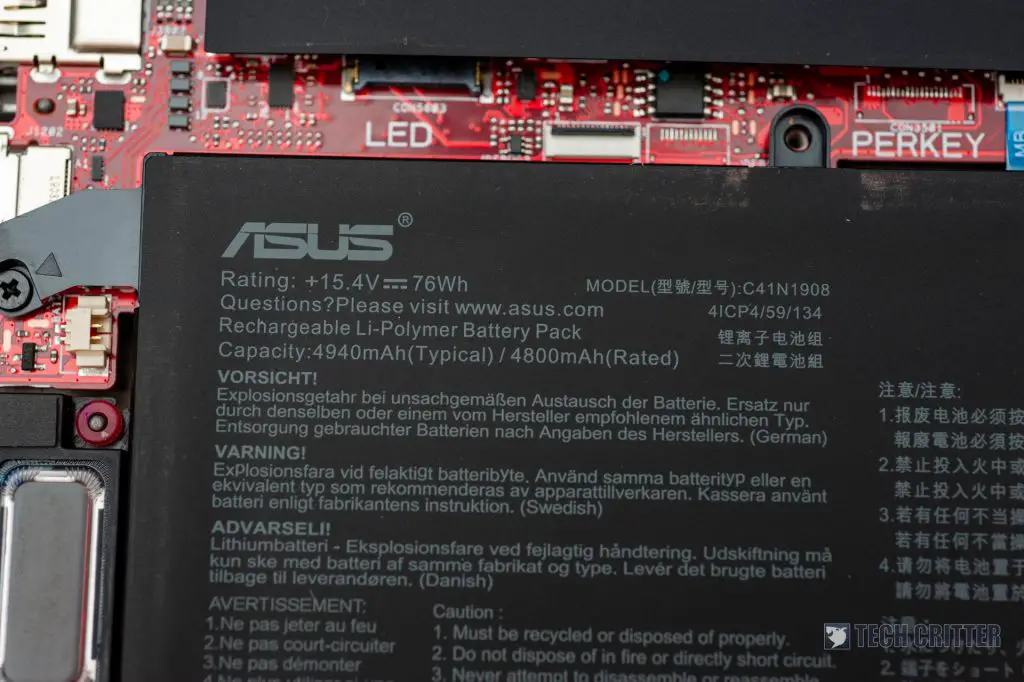 If the CPU performance didn't surprise us enough, what comes during our battery life test is even amazing. It took us 6 hours to drain the battery from 100% to 10%. Our test workload involves constant YouTube video playback in the background while drafting this review article in Chrome browser. On top of that, the review photo processing is also being done on Adobe Photoshop Lightroom.
Of course, we did not game on it during the battery testing period for obvious reasons. Which proves that even gaming laptops nowadays are power efficient for everyday tasks.
Final Words – ROG Zephyrus G14
Then the final piece of the puzzle – Malaysian pricing, which is still not known to us yet due to the pandemic outbreak that directly affects the production and launch schedules. What we can provide is the US price with is US$1,449.99 on Best Buy. Judging from the historical pricing pattern, we can roughly estimate the ROG Zephyrus G14 GA401IV to be priced somewhere around RM6,299. However, do take our price estimation a grain of salt considering what's going on in the world right now.
Putting the price tag aside, if we look at the ROG Zephyrus G14 objectively, I have to say this could potentially out-manoeuvre many other creator series laptops. You see, in terms of the design, it is classy and minimalist. It doesn't weight a tonne yet packs a lot of performance under its hood. The thing is some companies offering ultra-thin and light laptop under the "creator" banner. I know there are plenty types of content creators out there but the majority of them would gladly trade laptop thinness for better performance. After all, Adobe Premiere Pro doesn't care how thin the laptop is.
That brings us to the actual performance of the AMD Ryzen 9 4900HS, which is finally a proper redemption from the red camp. It tackles head-on to Intel Core i9 9980HK without even flinching. That makes us even more excited to see what the rest of the 4000 series Ryzen mobile chips can do.
Pros:
Minimalist & clean design
Good build quality
Excellent performance
Good fan noise control at low load
Excellent speakers
Excellent battery life
Cons:
Unnecessary perforation on the lid (non-AniMe Matrix version)
USB port positioning on right side
Keyboard deck gets uncomfortably hot when gaming