Many of us gamers should have known by now that the highly anticipated Overwatch 2 was recently launched, and NVIDIA has also announced its new Game Ready driver is ready to deliver the best performance to GeForce gamers in Overwatch 2.
With just a simple click of a button, gamers can increase up to a whopping 60% improvement in system latency with NVIDIA Reflex, meaning they can enjoy faster target acquisition, quicker reaction times, and the best aim precision in Overwatch 2.
Another fun fact is that Blizzard has increased the frame rate cap in Overwatch 2 to 600 FPS due to the new GeForce RTX 40 Series graphics cards being too strong and capable to exceed 360 FPS at 2560×1440.
You can check the image below to see the difference in the system latency between NVIDIA Reflex Off and On + Boost: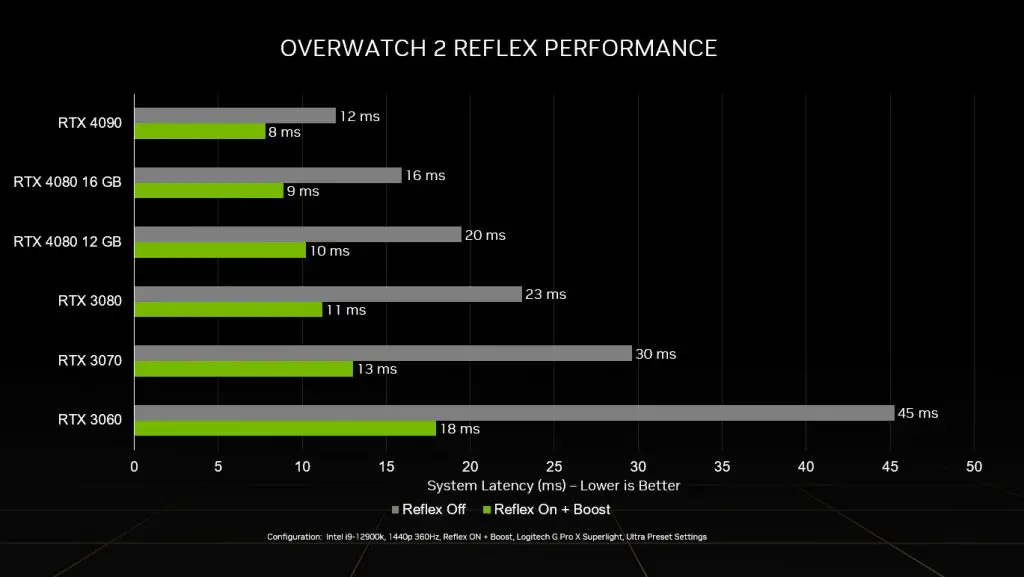 And the following image shows the performance of the RTX 30 and 40 series graphics cards on 1440p setting, with the latest RTX 4090 getting an insane 507 FPS at only 8ms system latency.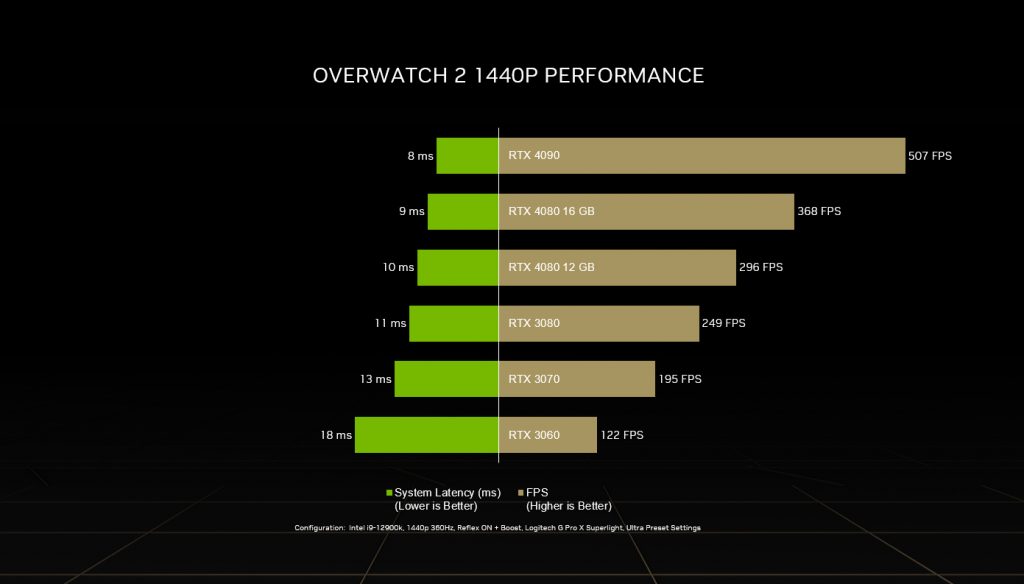 That's not all for today, NVIDIA has also added 16 new games with Optimal Playable Settings as well as 4 new G-SYNC compatible gaming displays as the following:
4 New G-SYNC Compatible Gaming Displays
HP HyperX Armada 27
HP HyperX Armada 25
Sony IZONE M9
Sony IZONE M3
16 New Games with Optimal Playable Settings
Call of the Wild: The Angler
Destroy All Humans! 2 – Reprobed
F1 Manager 2022
Farthest Frontier
Inside the Backrooms
Isonzo
Lego Brawls
Marvel's Spider-Man Remastered
Metal: Hellsinger
MultiVersus
Rumbleverse
Saints Row (2022)
Scathe
Steelrising
Two Point Campus
Way of the Hunter
In case you want to know more about the NVIDIA Reflex, head over to the link below:
https://www.nvidia.com/en-us/geforce/technologies/reflex/