NVIDIA has essentially buffed its GPU lineup for laptops to a greater height with the new Ampere architecture. Aside from improving the overall raw performance in rasterization, NVIDIA also introduced a handful of new features that offers even more benefit for gamers on the go.
Implemented in over 40 games and counting, DLSS is one of the most notable features that take advantage of the new Ampere architecture. With the latest DLSS 2.0, gamers are given more flexibility with at least 3 profiles Quality, Balanced, and Performance to go along with the capability of the system they're using.
Laptops equipped with the RTX 30 series GPUs can essentially turn RTX ON without running into serious frame rate issues and achieve superior lighting and reflection effects on the go. With 1440p displays being slowly adopted across more gaming laptops, a 78% increase in pixel count compared to 1080p also means that these mobile RTX 30 series GPUs have what it takes to continue to produce high frame rates and smooth gameplay for fellow gamers.
NVIDIA has also introduced its 3rd Gen Max-Q technologies that offer even better functions to help gamers achieve the most with their RTX 30 series GPU powered gaming laptops. Powered by its deeply trained AI algorithm, the Dynamic Boost 2.0 smartly shifts power draw metrics between the CPU, GPU, and VRAM to adapt to the task at hand and prolong gaming sessions as much as possible.
Since different games focus on different processing priorities, they can also be used outside of games. On the other hand, Whisper Mode 2.0 steps towards the other side of the spectrum with the highest priority is keeping the laptop fan within a speed threshold to be as quiet as possible while controlling thermals at a decent level to keep the laptop within average performance range.
Apart from the improved power optimization, NVIDIA also brings the resizable Base Address Registers (BAR) feature to all RTX 30 series GPU powered gaming laptops. Across many results from various benchmarks, gamers can get up to 12% more FPS just by simply enabling this feature and it is readily enabled on all RTX 30 series equipped laptops out of the box for the highest possible benefit in supported games.
Aimed to reduce system latency as much as possible for gamers to perform at their very best in competitive gaming, known as the NVIDIA Reflex. The feature cuts down the render queuing mechanism down to near zero as the CPU typically processes frames faster than the GPU can render meaning that it is always staying ahead. Since frames now do not need to be queued, little bottlenecks like this can be eliminated to achieve the best response latency possible.
Paired with a high refresh rate offered by most RTX 30 series equipped laptops, as you may know, a higher refresh rate directly reflects lower latency numbers and some of them can churn out a whopping 360 FPS per second that provides gamers advantages on a hardware level. Additionally, some of the more premium models even come with G-SYNC to eliminate tearing and ensure the screen is refreshing in pace with the GPU for seamless gameplay with zero compromises. For the more enthusiastic players that want clear numbers in real-time for reference, those are available through GeForce Experience's System Latency feature.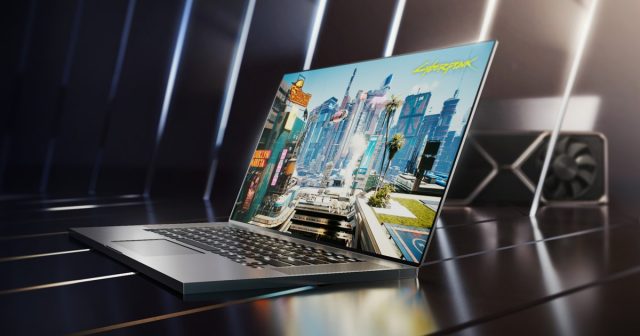 With that being said, it's good to see that NVIDIA has put in a lot of effort into the mobile gaming sector not only with desktop-class hardware with near similar specifications but also these extra features that make sure gamers that game on the go can get what they deserved alongside laptop-specific optimizations on top of the same experience of playing with a desktop rig. With a powerful GPU doing all the work, it also essentially means that both casual and professional work can be done with them, making it one of the best reasons to get them in terms of practicality.