It's been a year since DDR5 memory is made available to the consumer market and as an early adopter myself, I can say that the situation is getting slightly better now. With both AMD and Intel now supporting DDR5 memory on their latest platform, we can see more adopters today as the availability of DDR5 memory is way much better and prices are getting more affordable.
Kingston as one of the earliest manufacturers to debut their DDR5 memory too has been working on improving the quality and performance of their DDR5 Memory and the Fury Renegade DDR5 RGB (DDR5-6400) which we will be taking a look at this time is one of them. Let's see what can we expect from these kits!
Specifications
Capacities
Singles: 16GB
Kits of 2: 32GB
Speeds*
6000MT/s, 6400MT/s, 6800MT/s, 7200MT/s
Latencies
CL32, CL36, CL38
Voltage
1.35V, 1.4V, 1.45V
Operating Temperature
0 °C to 85 °C
Dimensions
133.35 mm x 44 mm x 7.66 mm
Unboxing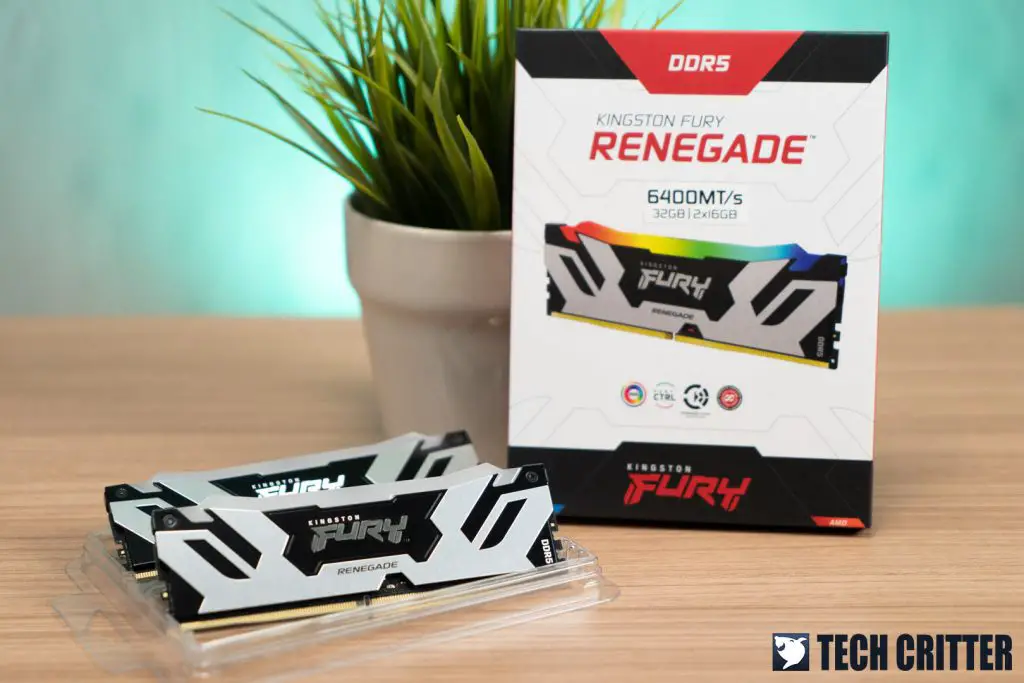 The Kingston Fury Renegade DDR5 comes available in two different variants: the Fury Renegade DDR5 RGB with all the fancy customizable lighting and the non-RGB Fury Renegade DDR5 for those who don't need the fancy bling. For the Fury Renegade DDR5 RGB we have here, there are models that can go up to DDR5-7200 or 7200MT/s, which is nuts. Looking at the earlier DDR5 kits we have and struggling to get a stable DDR5-7200 manually, it's good to see the improvement in such a short time.
Inside the box, you'll find the Fury Renegade DDR5 kit, a Kingston Fury sticker, and an installation guide. Design-wise, the Fury Renegade DDR5 RGB has a rather interesting design this time and I think the light bars are actually decent even though I'm not really a fan of all this RGB stuff.
The only thing which I think could be an issue to some is probably the big silver portion on the heatsink somewhat makes it difficult to match the theme of the majority of the motherboards I've seen so far, unlike the Fury Renegade DDR4 design which is mostly black in color and can easily match with most of the motherboard's design. Of course, Kingston might come up with other designs in the future but as of now, I think the better match for the current Fury Renegade DDR5 RGB is motherboards that come with silver-colored heatsinks.
Test System
Memory Overview
The Fury Renegade DDR5 RGB here comes with two usable XMP profiles: DDR5-6000 CL32 and DDR5-6400 CL32. While DDR5-6000 is still somewhat the sweet spot for many users nowadays, there are some applications or games that will take advantage of higher memory frequencies. So I'd recommend giving DDR5-6400 a try if it can run stable on your system without any extra adjustments.
For a quick test, we started off with the XMP preset two of DDR5-6400 CL32, which gives us a memory latency of about 67ns. Without any manual adjustments, this is as far as we get with the memory latency. Without increasing the memory frequency, you can tighten values like tRFC, tRAS, tRCD at this point to lower the latency further.
The voltage required will depend on your motherboard and CPU but the DRAM VDD and VDDQ shouldn't go beyond 1.4V and the memory controller voltage should be at about 1.28V if you don't plan to go beyond DDR5-6400. The DDR5 from what I can see now is still the same as the existing DDR5, where it's very sensitive to the voltage value, and going all high doesn't necessarily improve the stability and can give opposite results if not done right.
As for those who plan to stick with DDR5-6000, the Fury Renegade DDR5 RGB can get the job done easily. We didn't manage to get DDR5-6000 CL28 on this but CL30 will still do. With some minor adjustments, we settled down with DDR5-6000 CL30 and were able to slightly lower the latency to the 58ns range. The voltage used for this run is still 1.4V on both DRAM VDD and VDDQ, 1.275V on the memory controller voltage, and System Agent set to an offset of 0.15V.
We then pushed our luck a little and we managed to settle down with DDR5-7200 CL32, turns out that it's actually way easier to achieve as compared to the earlier DDR5 kits we've tested. For this one, we have the TX VDDQ voltage set at 1.41V, DRAM VDD and VDDQ voltage set to 1.48V, and the memory controller voltage set at 1.38V.
And for the fun of it, we have also tried to push the Fury Renegade DDR5 RGB a little further just to see how far we can go with the kit on our system. While we're able to POST with DDR5-8000, it's not stable enough to pass any of the stability tests like TestMem5 or Karhu RAM Test, so we decided to stop at DDR5-7800. At this frequency and the settings we're using, the DRAM VDD and VDDQ are already at 1.6V respectively, TX VDDQ and memory controller voltage at 1.41V.
Final Thoughts
Compared to the earlier batch of DDR5 memory kits that usually comes at CL40 and will often require manual tuning to improve memory latency and performance, that's not exactly the case for the Fury Renegade DDR5 RGB.  AS one of the latest DDR5 memory kits from Kingston, the Fury Renegade DDR5 RGB has been refined with noticeably lower latency at CL32 while retaining the same memory frequency out of the box so you don't have to deal with manually adjusting the settings.
Despite the rated speed at DDR5-6400 from the XMP profile, the overclocking headroom is surprisingly impressive. Based on the behavior, I'm very sure that they're using the Hynix A die on the Fury Renegade DDR5 RGB, which is currently the better memory chip for DDR5 memory overclocking. DDR5-7000 is almost guaranteed, at least that's what I can see with the kit we have here and you can easily achieve the same result as the DDR5-7200 variant without much effort. For those who are willing to invest a bit of time and mess around with the settings, the Fury Renegade DDR5 RGB definitely has plenty to offer.
As DDR5 memory is much more affordable nowadays, you can actually get a working DDR5-6400 memory kit at price as low as RM 900. The Fury Renegade DDR5 RGB we have here costs RM 1235 according to Kingston's official store on Shopee, not exactly the most affordable around but given that it can actually achieve DDR5-7200 with very minimal effort, I'm actually okay with the price for once. Of course, not everyone has the time to deal with all the tweaking and neverending stability tests. If you're only aiming for DDR5-6000, the DDR5-6000 CL32 variant that costs RM 994 is probably the better value for you.
Pros
Intel XMP 3.0 ready
Reasonable out-of-the-box performance
Reasonable overclocking headroom
Requires lower operating voltage than the earlier DDR5 kits
Cons
Upgrade costs can still be a little high for some