It's that time of the year again – Intel is launching a brand-new generation of processors – and this is the 13th generation. What we have today is the Core i9-13900K, the current top-of-the-line processor and before we proceed with anything, this is an engineering sample – and that is why the IHS looks different.
We have a video format of this article as well, which I highly suggest you watch.
What we're going to do is to compare the new Intel Core i9-13900K with last year's Intel Core i9-12900K and also the Ryzen 9 7950X that was announced about a month ago.
All of the hardware used in this test are as shown on the screen, and the only change is the processor and motherboard combo.
The first thing that we want to talk about is the power consumption and thermals of the new Intel Core i9-13900K. It's rare for us to talk about it so early, because it just runs really hot. On stock, our unit easily draws upwards of 260W on load and this means we'll need a really good cooler to keep the CPU temperature under control.
We're using the Cooler Master Master Liquid PL360 Flux – which as the name suggests, an AIO cooler with a 360mm radiator, but it didn't manage to sustain the performance over time. Once we clicked "start" in some CPU rendering benchmarks, the temperature quickly rose 100°C and thermal throttling happens within seconds.
What we had to do is to set the power limit PL1 to 130W and PL2 to 170W and that did help in some ways. It will still hit 100°C on heavy load but it did affect the benchmarks in a few ways – both positively and negatively. We'll come back to this later.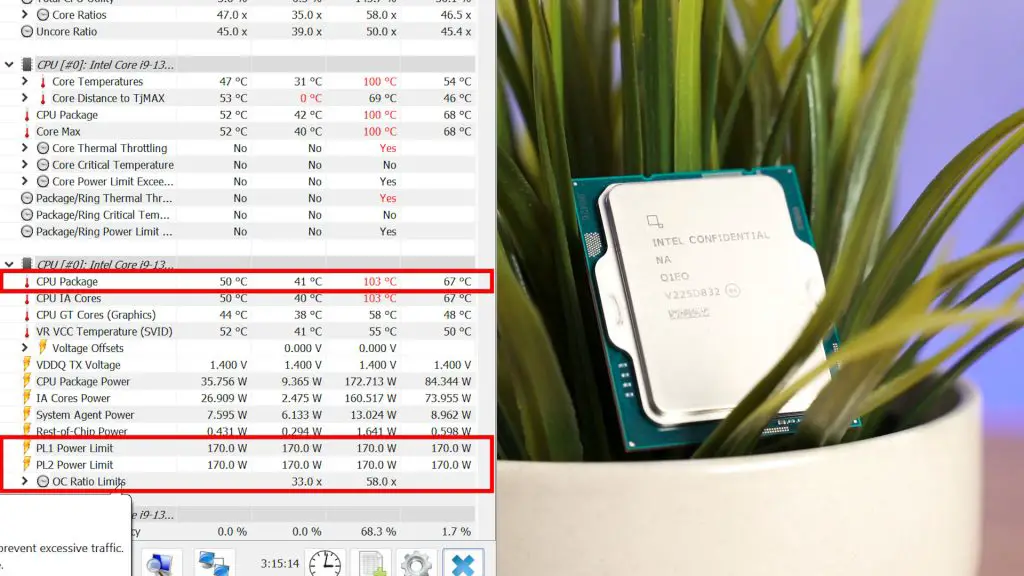 And just out of curiosity, we tested the Core i9-13900K stock with the absolute power limit set to 170W just to see how much performance we will lose. This is not an arbitrary number. We picked 170W because that is the rated default TDP of the AMD Ryzen 9 7950X. We'll revisit this later as well.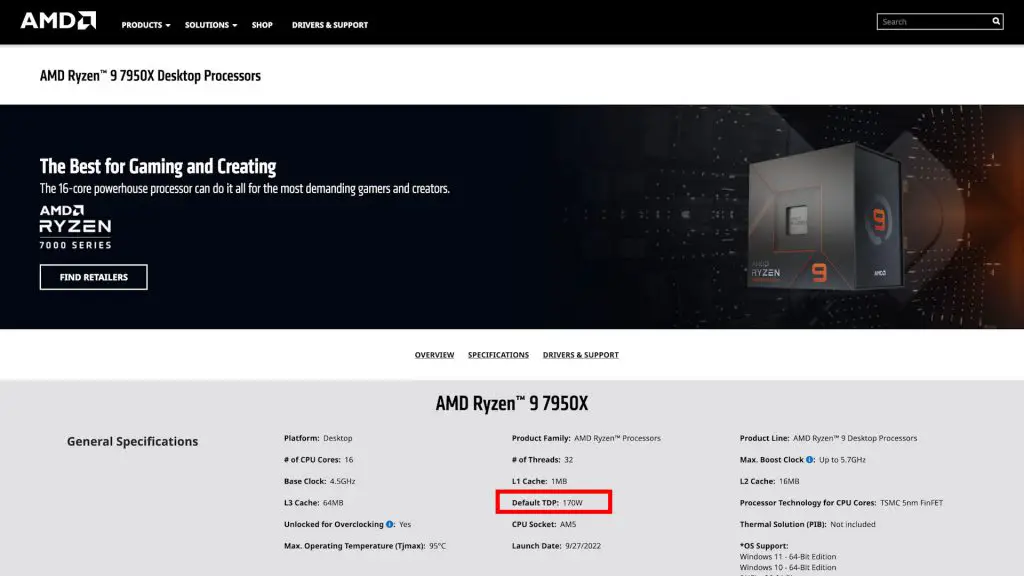 Time for the benchmarks then. We'll start off with the game benchmarks. There is really nothing much to say here so we'll just speedrun through most of them. There are a few key takeaway points if you're planning to get the new Core i9-13900K for gaming:
The performance difference between the 3 processors and even setting the Core i9-13900K to 170W power limit will not affect performance much. More like within the margin of error, actually.
With that said, you might want to lock the power limit to 170W because for the few titles we've tested, the temperature did go up to 90°C and some reached 100°C on CPU-bound situations like 1080p gaming. I doubt anyone is going to play games at 1080p if you have enough money to get this processor anyway.
As the resolution goes up, we can see that the performance did drop a bit in some titles – which is to be expected. That means as it goes up to 4K, then the game becomes more GPU-bound and the processor takes a backseat.
The reason why someone would want to get an Intel Core i9-13900K is because of tasks that heavily rely on the CPU – like rendering, compression and decompression, all of those things. This is where things get interesting and we'll have to dive deeper into each test to see what's happening.
What we'll focus more on is the performance difference between stock and when the power is limited to 170W. Obviously, the performance is going to be lower when we limit the power to 170W – but by how much? In summary, depends on what software you're using.
7zip shows us that there is a performance gap between stock and when it is limited to 170W but Blender shows a big performance hit. The same goes to V-Ray and Corona Renderer benchmarks. If we look at Cinebench R23, we also see a huge performance gap in multi-core performance, but for the single-core benchmark, there is a gap but not that big of a gap.
But when we jump into 3DMark Firestrike and Time Spy, the Core i9-13900K will achieve about the same score, same goes to UL Procyon's video editing benchmark. However, there is a noticeable gap for the photo editing benchmark.
We also tried some arithmetic benchmarks used by HWBot too. For Wprime, the performance is noticeably better when we lock it down to 170W and that is mostly due to thermal throttling. For SuperPi though, there aren't any significant differences measured between stock and limited power.
Revisiting some of the graphs that we've seen, the Core i9-13900K manages to outperform the Ryzen 9 7950X with a noticeable benchmark score difference except for a few benchmarks, like Wprime and UL Procyon photo editing test.
However, if we compare watt-to-watt, as in what AMD calls as "default TDP" of 170W for the Ryzen 9 7950X and the power-limited Intel Core i9-13900K at 170W, it "looks" as though the AMD chip is indeed more efficient. But that's not the case. That Ryzen 9 7950X still draws in upwards of 240W during intense load. I gotta say, at least AMD caps off at 95°C instead of 100°C during load.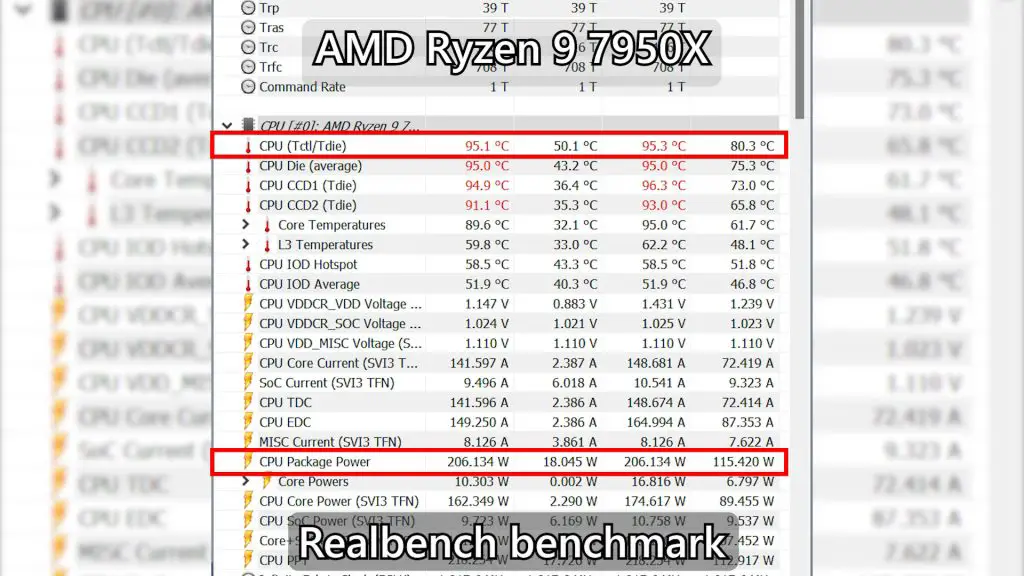 Okay, what about overclocking then? First of all, our CPU cooler can't handle it, so what Mr Dugi did is to overclock the memory instead. Though this is an engineering sample chip – ES for short, it still runs DDR5 at 7000MHz easily with our existing Hynix M die memory kits. Much easier than 12th Gen, by the way.
You can also lock it down back to 6000MHz and optimize the subtimings, which is also easier to do compared to 12th Gen.
Should you buy the new Intel Core i9-13900K?
Okay, so let's summarize what we've said today. The Intel Core i9-13900K is a fast chip. However, looking at the temperature, this is going to be difficult to cool. Then by looking at the power consumption, it seems like Intel is brute-forcing performance by just pumping in more power.
Granted, this might have something to do with this particular chip being an engineering sample so we'll just leave it at that. We have already pre-ordered a retail unit of the 13900K, so we'll return and talk about this in the future.
If you're shopping for a brand new PC for this holiday season, should you go AMD or Intel? I think we need to talk about the cost of entry. It's a topic that – I think – needs more focus. Remember, a PC is a whole package. If you're going for Team Blue for your new PC, then you have the choice of getting a motherboard that supports DDR4 or DDR5 RAM. That, in turn, affects your RAM choices and ultimately, the cost of your new PC.
AMD's latest Ryzen 7000 series will lock you down to a brand new motherboard because it is using LGA now, and it is locked to DDR5 only. Let's not forget that the AMD chip is much more expensive this time as the Ryzen 9 7950X is $699.
The Intel Core i9-13900K is only at $589.
With that huge price gap of $110, you could spend that money on getting a better motherboard and treat yourself some fish and chips. I just like fish and chips.
Where to buy? (Affiliate links)