NVIDIA has finally announced its latest GTX 10 series graphics card, both the GeForce GTX 1050 and GTX 1050 Ti as the company's new entry level graphics card for gamers on the budget. While we can expect for some pretty promising performance from both the GTX 1050 and GTX 1050 Ti, NVIDIA has confirmed that there will be no Founders Edition for both, and AIB partners will be presenting both GPU in various design of their own – dual/ single fan cooler, with/ without 6-pin PCIe power connector.
The GeForce GTX 1050 Ti G1 Gaming we have here today is one of the GTX 1050 Ti from Gigabyte, special thanks to Ban Leong Technologies Sdn Bhd and Gigabyte for making this review possible. With no further adieu, let's find out just how capable the Gigabyte GeForce GTX 1050 Ti G1 Gaming are.
Specifications
Graphics Processing
GeForce GTX 1050 Ti
Core Clock
Boost: 1506 MHz/ Base: 1392 MHz in OC Mode
Boost: 1480 MHz/ Base: 1366 MHz in Gaming
Memory Clock
7008 MHz
Process Technology
16 nm
Memory Size
4 GB
Memory Bus
128 bit
Card Bus
PCI-E 3.0 x 16
Memory Type
GDDR5
DirectX
12
OpenGL
4.5
PCB Form
ATX
Digital max resolution
7680×4320 (requires 2*DP1.3 connectors)
Analog max resolution
4096×2160
Multi-view
4
Output
1 x Dual-link DVI-D
3 x HDMI-2.0b (Max Resolution: 4096×2160 @60 Hz)
1 x Display Port-1.4 (Max Resolution: 7680×4320 @60 Hz)
Recommended PSU
300W
Power Connectors
6 pin*1
Card size
H=40 L=219 W=118 mm
Unboxing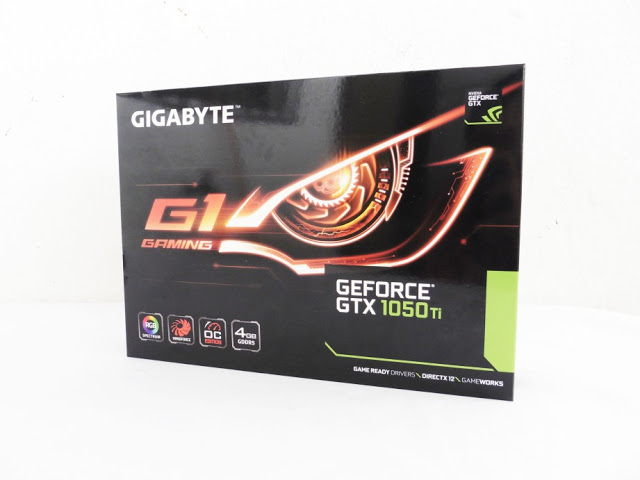 The new G1 Gaming packaging has a much more distinguished appearance compared to how it used to look when Gigabyte first announces the branding.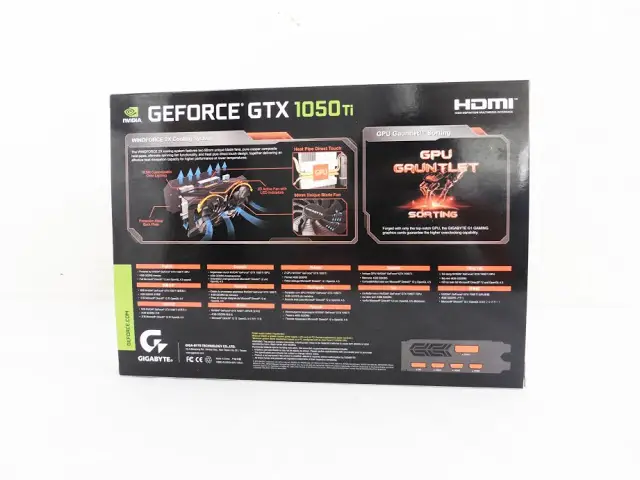 Prominent features such as the design of the cooling fan and heat sink, output of the graphics card, etc can be found at the back of the box.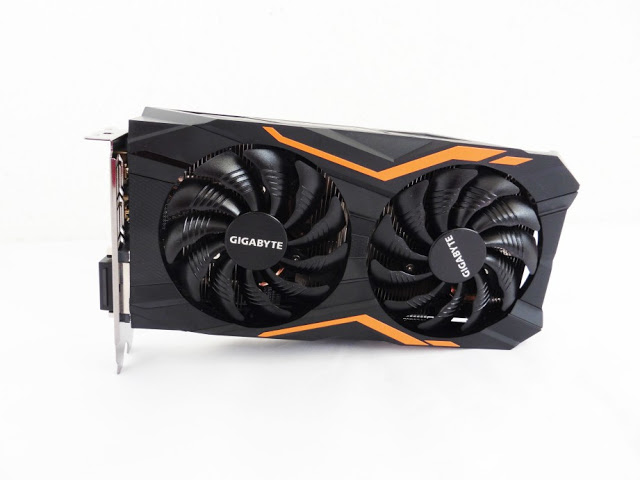 Similar to all of Gigabyte's G1 Gaming GeForce GTX 10 series graphics cards, the GTX 1050 Ti G1 Gaming comes with the with a much more distinguishable orange stripes on the cooler compared to the all black cooler used on the previous generation G1 Gaming cards.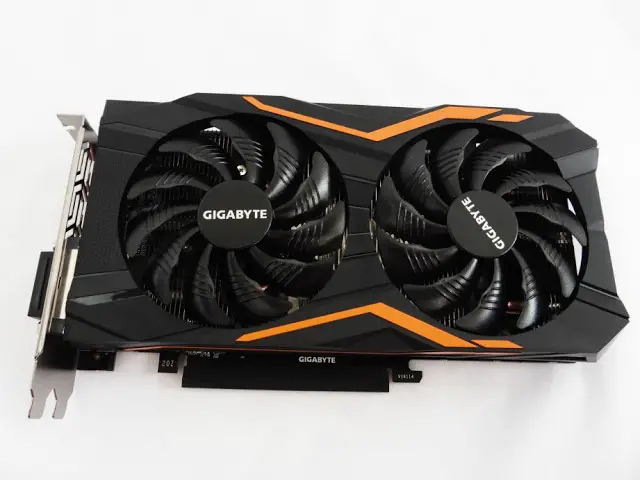 The GTX 1050 Ti G1 Gaming we have here is equipped with a pair of unique fan blade design and alternate spinning design which Gigabyte claims to be able to give 23% more airflow compared to most traditional fan design, as well as reduced air turbulence for a much more effective heat dissipation.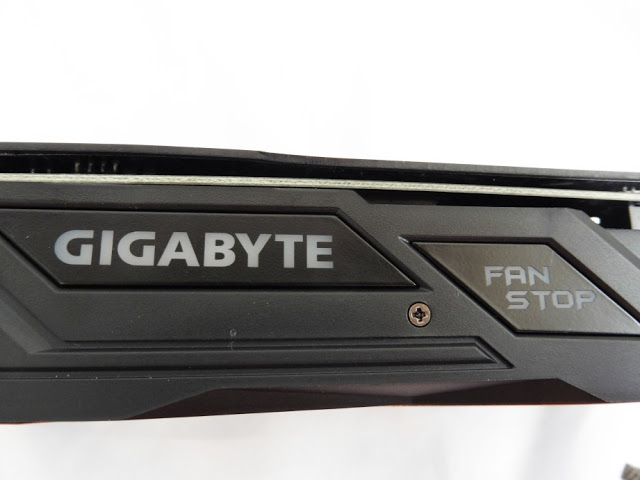 The LED on the side of the shroud is now RGB and it can be customized using the Gigabyte Xtreme Engine software and theGigabyte has also added a 'Fan Stop' LED indicator at the side of the shroud to alert the user when the fan isn't spinning without having to go through the trouble of removing the side panels just to check on the status of the cooler fans.
According to NVIDIA, both its GeForce GTX 1050 and GTX 1050 Ti has a mere TDP of only 75W and requires a power supply with minimum power of 300W, indicating that this card doesn't requires an additional external power source. Still, we can expect the AIB partners to include an additional 6-pin power connector on their own design for better overall performance, and the GTX 1050 Ti G1 Gaming we have here are one of them.
The GTX 1050 Ti G1 Gaming has a metal back plate equipped, which act as an enhancement to the graphics card rigidity, preventing the PCB from sagging over time.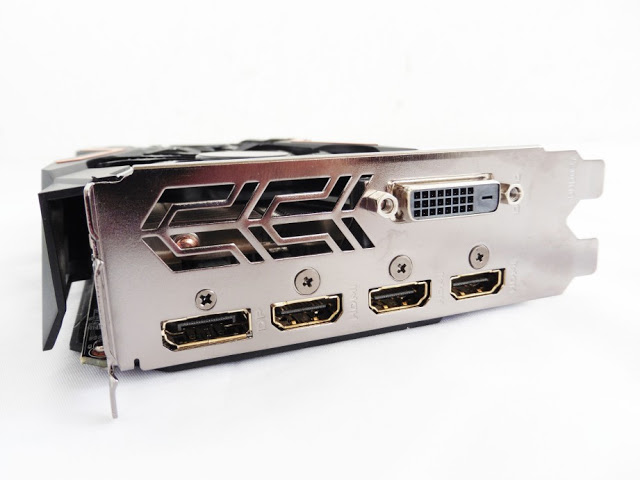 The display output option is pretty common nowadays, 1 x DVI-I connector, 1 x DisplayPort and out of the blue, 3 x HDMI port.
Performance Test
Test Rig Configuration

CPU Cooler
Raijintek Triton 240
CPU
Intel Core i7 4790K @4.6GHz
Motherboard
ASUS Maximus Hero VII
Memory
G.Skill TridentX 2400MHz
Primary Hard Drive
Intel 520 Series 240GB
Power Supply
Be Quiet! Straight Power 10 600W
Chassis
Cooler Master Test Bench v1.0
We mounted the Gigabyte GTX 1050 Ti G1 Gaming on our test bench as above and each and every benchmark is conducted in a room of about 30C° ambient temperature.
Performance
We ran a few graphically demanding games and synthetic benchmarks in our possession on a selected settings at 1080p, which is considered as high for much of our test as usual.The final result of each benchmark is presented in the form of the graph below:
Overclocking
We ran the same graphically demanding games and synthetic benchmark on 1080p with the highest achievable clock speed for both its memory and GPU that is stable enough to be able to complete each benchmark with the following values:
173MHz raise on the GPU core clock
1000MHz raise on the memory clock
Extra 25% gain on the power
Apparently, the GTX 1050 Ti G1 Gaming has an effective boost clock of 1987MHz by default and with a little extra push to both GPU clock and memory clock, we're able to achieve 2151MHz on the GPU clock and 8008MHz on the memory clock during our benchmark session as the highest clock that is stable enough to complete all the tests without any issue.
Temperature
As impressive as it seems, overclocking the card doesn't increase the maximum loading temperature at all, as we've observed the same temperature reading of 40°C during idle and 60°C on load. The loading temperature can be further lowered to 53°C by maxing out the fan speed and it doesn't really sacrifice too much of the overall acoustic performance, all thanks to the unique fan blade design.
Verdict
Performance wise, the GeForce GTX 1050 Ti G1 Gaming turns out to be far more capable than just an entry-level graphics card, as we managed to get an average of 30 fps on most of the AAA titles used in our test, a number which is deemed still playable by some gamers.It's no doubt that it yields a surprisingly high effective GPU boost clock of 1987MHz on default, we still manage get a little extra performance boost with a slight push on both the GPU clock and memory clock to achieve a satisfying effective GPU boost clock to 2151MHz and 8008MHz on the memory clock before we hit the botteneck of NVIDIA's long going voltage limit (aka Green Light program). Of course, the GTX 1050 Ti that can do even better with custom a BIOS that can unleash its full potential.
As an entry level graphics card, RM879 seems to be slightly over the budget but the Gigabyte GTX 1050 Ti itself has quite a lot to offer at that price, especially for the extra cooling performance, metal backplate for enhanced rigidity, extra 6-pin power connector for some extra performance from the card.
Pros
Solid build quality
Comes with metal back plate
Good overclocking headroom
Good cooling performance
Ultra silent operation
Very low power requirement
Supports NVIDIA's Ansel and other NVIDIA's exclusive features
Cons
Lack of SLI support
Price could be lower