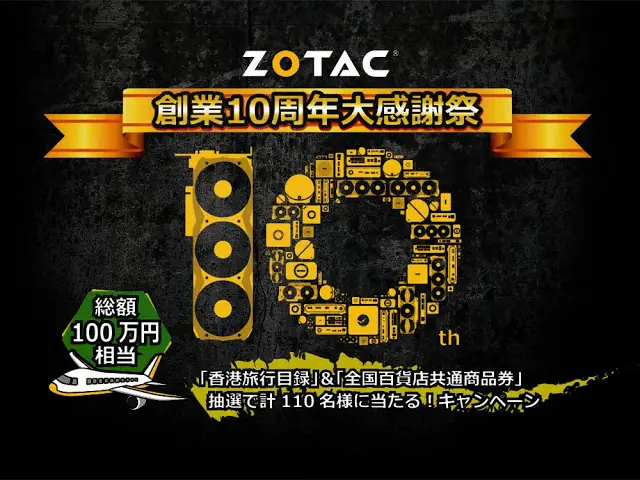 ZOTAC International, a global manufacturer of innovation, celebrates 10 years of excellence in technology with a product unveiling global press conference, ZOTAC WORLD CUP invitational games and special edition products at the MIRA HOTEL, HONG KONG.
"I would like to acknowledge our staff's effort in making this happen – both this event and the past 10 years," says Tony Wong, CEO, ZOTAC International. "Since putting the name ZOTAC onto the things we make, we have never stopped finding ways to make it even better. Our ultimate vision is to put ZOTAC into every piece of technology we use."
The product unveiling press conference is hosted in Hong Kong, introducing three limited special edition products from our major product lines – graphics cards, mini PC and SSD. These products are distinct in both design and performance, delivering even greater performance than their counterpart and adding new features into the products. The stage is also set for the long awaited ZOTAC VR backpack – VR GO to make its debut.
The first of the four is the ZOTAC GeForce GTX 1080 ArcticStorm Thermaltake 10 Year Anniversary Edition. A result of ZOTAC design and Thermaltake engineering, this is the ultimate liquid cooling graphics card. The basis of this card is a completely new PCB which delivers 16 power phases (instead of the traditional 8+2 power phase) on the board, enabling significantly greater power regulation at higher speeds. Another feature that gives more control into user's hands is the innate ability to support dual BIOS, and enabling BIOS switching via FIRESTORM.
"It is a great honor to partner with ZOTAC to bring the ultimate thermal solution to the ZOTAC 10th Anniversary GeForce GTX 1080 graphics card. We look forward to more future opportunities to develop more exciting products together," said Kenny Lin, Thermaltake CEO and Chairman.
Complementing each ZOTAC GeForce GTX 1080 ArcticStorm Thermaltake 10 Year Anniversary Edition is the limited edition ZOTAC SLI HB Bridge. Based on NVIDIA SLI HB protocol, the ZOTAC SLI HB Bridge enables high transfer bandwidth between graphics cards based on NVIDIA Pascal™ architecture.
The Mini PC line also make strides in the second generation liquid cooling gaming PC with the new 10 Year Anniversary Edition MAGNUS EN1080. This is the next chapter in ZOTAC liquid cooling solution in small form factor PCs. First in the market in the Mini PC form factor, it is equipped with the GeForce GTX 1080 to provide superior gaming and entertainment performance. The MAGNUS EN1080 is dressed with a ZOTAC 10 Year special edition shell and shines with a SPECTRA lighting system on 3 sides of the Mini PC. A uniquely designed SPECTRA utility pairs with the MAGNUS EN1080, allowing users to monitor their Mini PC for the first time, and also enabling SPECTRA lighting customization.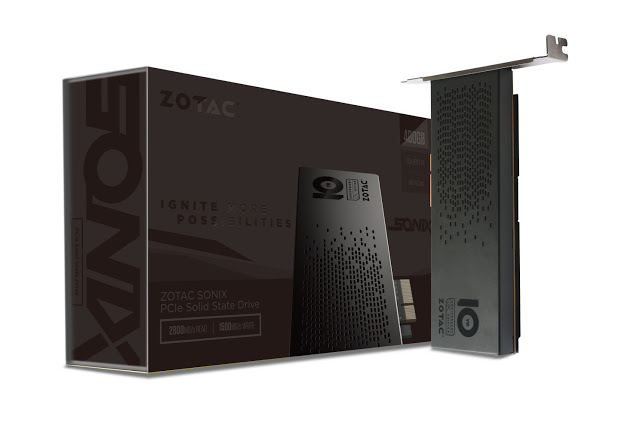 ZOTAC SONIX SSD now runs faster and brighter. The 10 Year Anniversary Edition SONIX SSD provides extreme data transfer speed, with read speeds up to 2,800Mbps. The ZOTAC 10 Year special edition trumps that number by over 10%, further enhancing its data transfer capabilities. SONIX shines with LED lights that shimmer when it is in action.
Last but not least, the ZOTAC VR GO Backpack upgraded with a sleeker design, more user friendly functionality and exceptional VR performance. The previous VR backpack has made an impact at Computex 2016 with the unprecedented ability to allow VR users to move unhindered by all the necessary wires. The new VR GO backpack is lighter, more durable, and more accessible.
Gaming and VR performance takes a generation leap with the GeForce GTX 1070 equipped in the unit. The VR GO features battery hot-swap to provide continuous play. Wire logistics are also made easy as the case and output are designed for a hassle free VR experience. HDMI and USB output are located at the top of the unit, and the case enables wires to be hidden when not in use.
As ZOTAC paves way to the future, it pledges to innovate not only the hardware, but also the direction of innovation. ZOTAC will focus on multiple platforms, including the trusted graphics and computing solutions, while also reaching beyond to deliver market-defining technology, products and services.