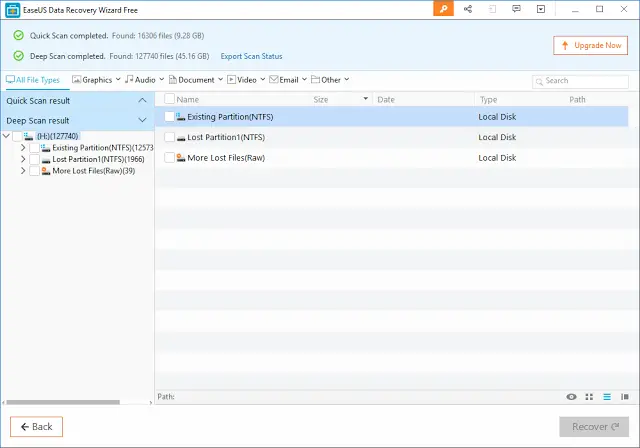 Have you ever accidentally deleted or formatted your disk drive only to find out that you forgot to back up a very important file on it? I've been in that situation before and there's no way I could ever describe the feelings of helplessness when it happened. Today we will be looking at the EaseUS Data Recovery Wizard.  It is a data recovery software that could help you to retrieve deleted, formatted or lost data from devices easily.
EaseUS Data Recovery Wizard Features
EaseUS Data Recovery Wizard is available for both Windows and MacOS platforms. The version we're reviewing today is the Windows Free version. If you're intending to recover a small amount of data or want to try the software, the Free version is a good place to start because it shares the same core features as the Pro version, such as recovery and retrieves:
Deleted, formatted, or inaccessible data
All types of lost files, including photos, documents, videos, audio, emails, compressed files etc.
Lost data from PCs, laptops, digital devices, hard drive (HDD, SSD, USB, etc), storage media, server, RAID etc.
Data from deleted, hidden, lost or raw partition
Lost files by scanning storage device in deep level
Then there are reasons why Pro version is worth the purchase because the Free version is limited to 2 GB of recoverable data while there is no limit for the Pro version. On top of that, users who purchase the Pro version also get to enjoy free lifetime upgrade and technical support.
Recovery Process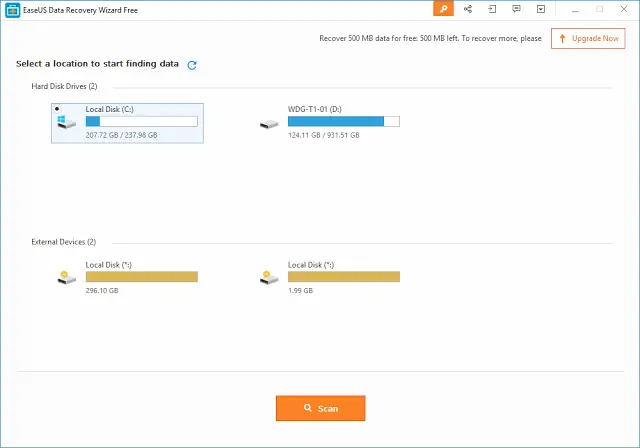 The recovery process is relatively easy and straightforward. Upon launching the software, it will automatically detect all the available drives and partitions. Choose a drive to get started with the scanning process.

The scanner will take a longer time to complete depending on the partition size. For my case, a 32 GB partition took 3 minutes to complete the Quick scan, then another 6 minutes to complete the deep scan.
Before this, I tried to scan a 500 GB hard disk and it requires around 1 hour and 40 minutes to complete the scan. Prepare yourself for longer scanning time if you have larger drive partition.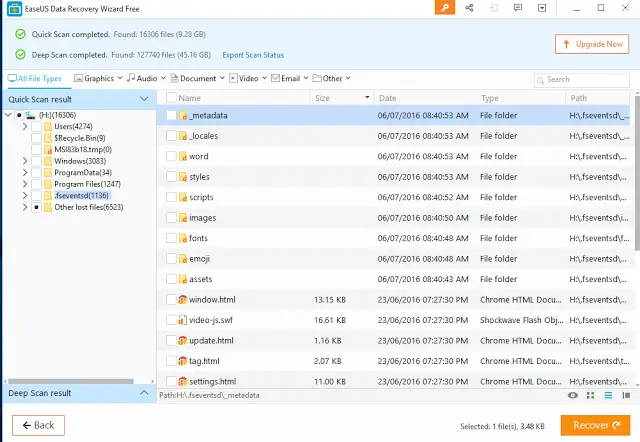 Upon the completion of scanning, the result is displayed with various filtering options. You can choose to display only Graphics / Audio / Document / Video / Email / Other. This is very useful if you're looking for a specific file type.
Selecting the checkbox for the file you wish to recover, then click "Recover" and select the recovery destination.
Take note that the destination has to be different from the source else there is a possibility of overwriting the source.
Final Thoughts
EaseUs Data Recovery Wizard impresses me with just a few days of usage. As you can see from my experience above, the whole recovery process is painless and extremely easy. Of course, except for the scanning process which will take up to 1 hour and 40 minutes to complete a 500 GB partition scan.
No matter if you're IT professional or just a regular folk who incidentally deleted a very important document, the EaseUS Data Recovery Wizard is our recommended tool for the task. More importantly, if you're in the IT department for a company, we strongly suggest having this utility software because it might save your colleagues from unwanted headaches.
More info on EaseUS website & Data Recovery Software download.