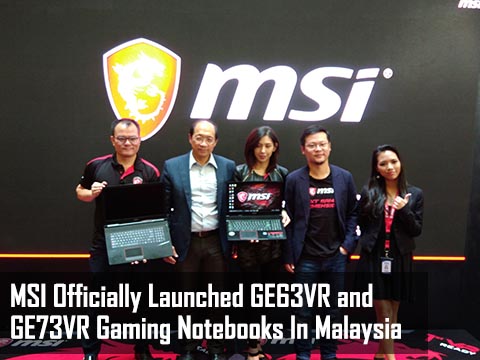 Collaborating with Harvey Norman, MSI has officially launched both its GE63 and GE73 Raider gaming notebooks, their latest addition to the GE Series today in Malaysia.
Both GE63 and GE73 are equipped with Intel's 7th Gen. Core i7 Processors and NVIDIA's 10 Series GeForce GTX 1060 6GB graphics solution to ensure that gamers have the best mobile gaming power they need on the go. MSI is currently the first and only company to have a Multicolor Keyboard for its gaming notebooks. Each individual keys on the keyboard can be adjusted according to their own liking. 
GE73 VR Raider 
The GE73 VR Raider gaming notebook features a 17.3″ 120Hz full HD display, Intel Core i7 7700HQ processor, NVIDIA GeForce GTX 1060 6GB GDDR5, a 256GB NVMe SSD and a 1TB 7200 rpm Hard Drive with to provide gamers with all the juice they need for gaming on the go. 
GE63 VR Raider 
As for the GE63 VR Raider gaming notebook, it's basically the same as the GE73 VR in terms of the specifications, except for the size of its display panel and the capacity of the NVMe SSD included.
It featured a smaller 15.3″ 120Hz full HD display, the same Intel Core i7 7700HQ processor and NVIDIA GeForce GTX 1060 6GB GDDR5 for all the juice you need for gaming, and a storage combo of a 128GB NVMe SSD paired with a 1TB 7200 rpm Hard Drive.
Pre-order Bonus 
MSI is offering a limited time pre-order bonus for those of pre-order either the GE63 VR and/or GE73 VR, a free MSI Clutch GM70 Gaming Mouse worth RM650.  
Both gaming notebooks are available for pre-order starting from today until 24 August 2017 from authorized resellers (incl. Harvey Norman) and MSI's 11Street Online Store at the price of RM 7,199 and RM 7,499 respectively.