It's been a couple of months since my last review of a piece of software but until today, those are actually based on a paid account perspective that kind of showcases all of the available features of a given application.
But for today, we are back to the data recovery tools segment where Stellar, a long-time data recovery brand offering its service to a wide variety of platforms like Windows, MacOS, iOS, and more, has offered me a chance to review their Data Recovery Free software.
Yes, no hard sell, paid shilling action here. What I experience here is what you're going to experience (hopefully, we might have different classes of files to deal with) so let's see if Stellar's great review records on their website are true to its name.
By the way, the review is done on a Windows machine but I'm sure it's gonna be more or less the same for Mac users too.
Downloading The Thing
The way to procure one copy for yourself is simple – Head to the official website and you'll see the large green Free Download button.
Just hit it and grab the installer.
Installation
The installation is safe and straightforward as well – no additional ads or pushing its paid service to your face before even starting the program. I like this a lot.
At this point, just click Next whenever applicable, or maybe change up the installation path as you wish.
Now, The Program
Upon launching the application, I was welcomed with a simple home screen – clean icons, easy checkboxes, and a somewhat different process than I expected.
Usually or what I'm used to with data recovery tools is that the very first step they tend to ask users is which drive to target for recovery then proceed to other things like file formats and other advanced toggles.
But for Stellar, it seems that selecting file types is the most important step out of all so I guess I'll just follow along.
Nothing wrong, just kind of out of my usual habit and expectation.
Just a quick note, I've selected images of different formats, a couple of MP3s, one MP4 video, and a Word file to simulate a "college student's USB thumb drive"-like situation.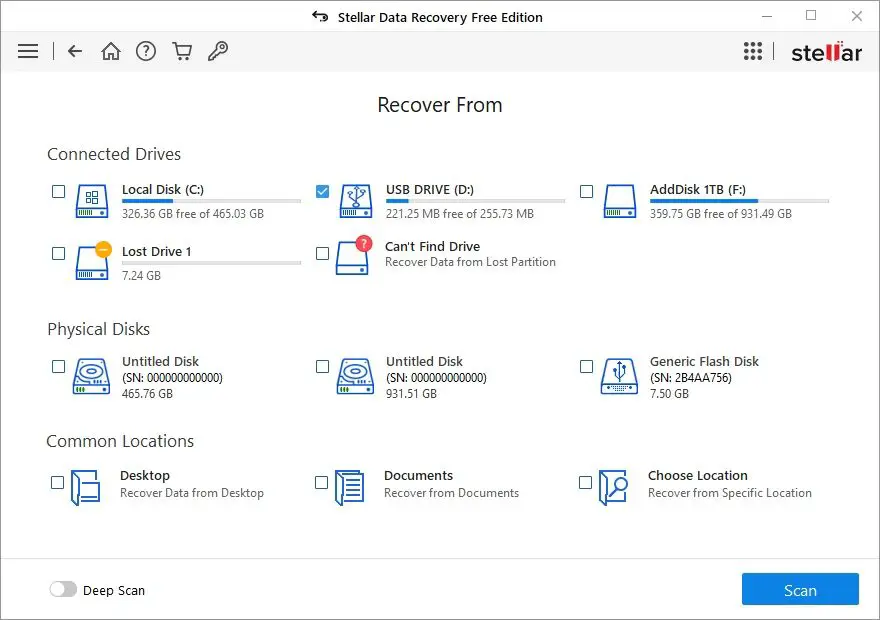 After picking all available file formats on the previous screen, now is the time to select the appropriate drives you want to recover.
Funny enough is that Stellar decided to include both logical and physical choices in terms of storage devices as well as frequently used locations like Desktop and Documents.
If you're tech-savvy enough to understand them then it is fine but for the average user, it could be a little bit confusing or misleading.
So from my recommendation, just stick to the 'Connected Drives' section and ignore 'Physical Disks' for now.
As the USB thumb drive I'm using is the 'D:' drive, I'll just go ahead and select only it.
Since external flash drives tend to execute the "Permanently Delete" function when applied, it is just quite the matching requirements for a data recovery tool to shine.
Thus after scanning, you'll find out how many files have been "found" in how many folders alongside the total file size.
Also nice of them to point out the Deep Scan function if one didn't see the files they wanted.
Surprisingly, the "Basic Scan" can even find the "pre" version of the test files I've put in the drive as I renamed them from their original name into the test titles.
And it can find them even through all of this.
Therefore, it is safe to assume that the software is capable of recovering older revisions of a given file so there will be a chance to recover an accidental overwrite. Therefore, a very welcoming and appreciated capability.
After hitting the Recover button, you'll be reminded that the Free version will only net you 1GB worth of files so please take note (or ignore if you just want to grab back some documents).
Then, you'll be asked to target your recovery destination which I picked an empty folder at Desktop.
You'll see a progress bar as the program runs through the drive to recover all the targeted files and once done, you'll see how much data has been recovered.
As for my case, everything has been successfully restored and all files are openable/playable with minimum title difference such as S being replaced by X but at this point, I'll just be nitpicking at them which I shouldn't since it is just such a little issue (And it's Free Edition by the way).
Just a quick mention on Deep Scan, it'll take some time to scan through all clusters and file tables for more results, and the time it takes scales EXPONENTIALLY so if you're doing it on a hard disk, it can scan for days.
The tradeoff, however, is that you'll see more "old revisions" of your files which will be useful if you're really digging for that "ancient artifact" of yours like some old games you used to own.
Back to the Home page, you can click on the Gear icon to access the Advanced Settings page where you can fine-tune the experience to your needs, especially the File List and File Type tabs that let users add more "obscure" file types for recognition during recovery scans.
Conclusion
I am quite impressed with how the Stellar Data Recovery Free Edition performs and how much the brand is willing to provide to someone looking for a quick tool to help them recover their precious files without charging a single cent.
Although its gatekeeping comes in the form of total recoverable file size, I think that this is perfectly fine for most people considering "crucial files" often come in the form of documents or pictures containing confidential information.
As a piece of freeware, this is easily one of my best recommendations on data recovery after today.
Premium Plans
Since the one Stellar requested for review is the free plan, the features one can access for free are basically the basic ones that can help the milder cases of accidental deletes from fat-fingering the Delete button.
But if you need more support and more powerful tools to help you dig through more complex or larger files, you'll need a paid subscription account which can be in the form of a monthly/yearly/lifetime license and there are multiple tiers from Standard and Professional to Premium and Technician and even the full suite Toolkit package.
Since the number of accessible functions you get scales with the better the plan goes, here are some of them explained in more detail.
Lost Partition Recovery – Recover data from removed partitions of a drive running NTFS/FAT16/FAT32/ExFAT format
Crashed System Data Recovery – Gain access to storage drives of unbootable systems via a USB recovery media
Corrupt Photos and Videos Recovery – Fix corrupted images and video files with ease
RAID Recovery – Tackle the most volatile configuration of RAID 0 even if one portion of a file missing leading to full corruption through easy recovery
Virtual Drive Recovery – Supports VM environments that typically host VMDK, VDI, VHD, and VHDX files
4K Hard Drive Recovery – Large sector drives utilizing 4096B sectors are supported as well
File Preview – You can preview files before deciding whether to recover them or not
So if you're interested in getting a free tool for those emergencies, then check out Stellar Data Recovery Free Edition.