The RTX 4060 is NVIDIA's latest addition to its RTX 40 series graphics cards lineup targeted at the 1080p gaming segment. Just the RTX 30 series, there's no Founders Edition model for the RTX 4060 and the custom models from the board partners are your only options for this GPU. We'll be taking a quick look at another RTX 4060 from PNY this time, the PNY GeForce RTX 4060 8GB XLR8 Gaming VERTO EPIC-X RGB Triple Fan DLSS 3 which features a higher GPU boost clock, a triple-fan cooler, and a bit of RGB lightings.
Note: As the name PNY GeForce RTX 4060 8GB XLR8 Gaming VERTO EPIC-X RGB Triple Fan DLSS 3 is just too inconvenient to mention throughout the review, we'll be calling it the RTX 4060 Epic-X to make things easier for both you and me.
Specifications
| | | | |
| --- | --- | --- | --- |
| GPU | GeForce RTX 3060 Ti FE | GeForce RTX 4060 Ti 8G FE | PNY GeForce RTX 4060 8GB XLR8 Gaming VERTO EPIC-X RGB Triple Fan DLSS 3 |
| CUDA Cores | 4864 | 4352 | 3072 |
| Tensor Cores | 152 | 136 | 96 |
| RT Cores | 38 |  34 |  24 |
| ROPs | 80 | 48 | 32 |
| GPU Boost Clock | 1670 MHz | 2535 MHz | 2505 MHz |
| Memory Data Rate | 14 Gbps | 18 Gbps | 17 Gbps |
| Total Video Memory Size | 8G GDDR6 | 8G GDDR6 | 8G GDDR6 |
| Memory Interface | 256-bit | 128-bit | 128-bit |
| Memory Bandwidth | 448 GB/s | 288 GB/s | 272 GB/s |
| TDP | 200W | 160W | 115W |
| Recommended PSU | 600W | 550W | 550W |
| Power Connectors | 1 x 12-pin | 1 x 16-pin (12VHPWR) | 1 x 8-pin |
Unboxing
The RTX 4060 Epic-X ships in simple packaging but you can easily differentiate it from the RTX 4060 Verto, aside from the lengthy product name which one day, hopefully, they will think of something that is shorter and easier for people to remember instead of just throwing in the features into the name just like that.
Inside the box, you'll find just the RTX 4060 Epic-X and that's pretty much it. Design-wise, it's one of the custom models that is equipped with a triple-fan cooler that is supposed to provide better cooling performance, as well as a higher boost clock just like what you'll find on the other RTX 4060 in the market. Despite being equipped with a triple-fan cooler, the RTX 4060 Epic-X isn't that big in terms of size and it's still a two-slot card that can easily fit inside many PC cases without any issue. And for those who are into the fancy RGB lighting, yes, you'll find those on the RTX 4060 Epic-X as well and can be controlled with the VelocityX software.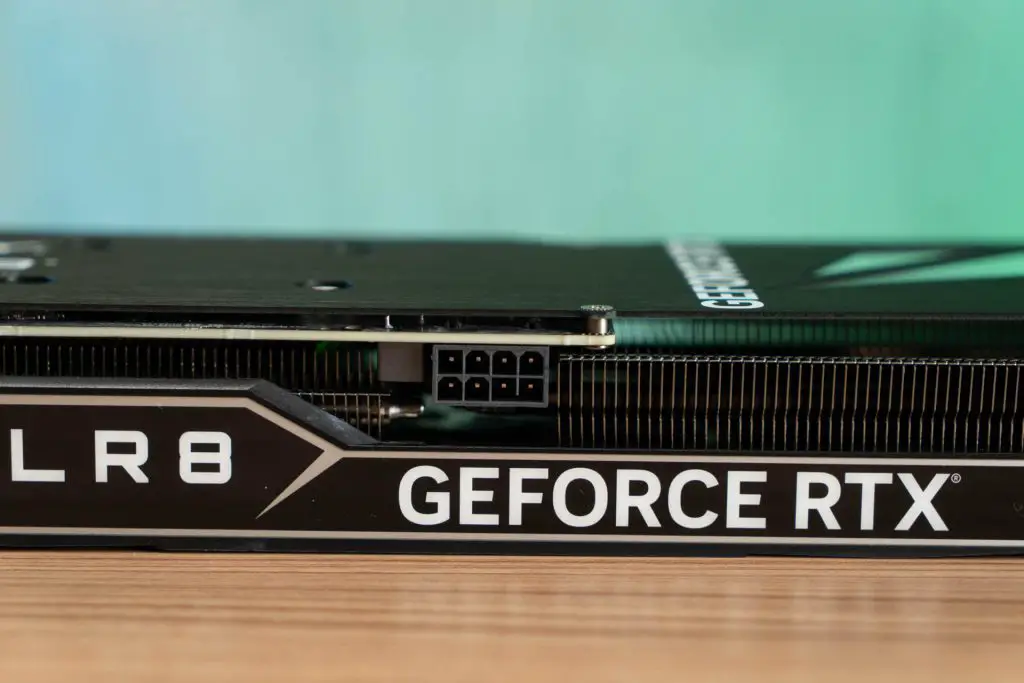 The power supply requirement for the RTX 4060 is 550W as recommended by NVIDIA and because of the low TDP at 115W, it doesn't need the high-power 12VHPWR connector and you can stick to the existing 8-pin PCIe connector.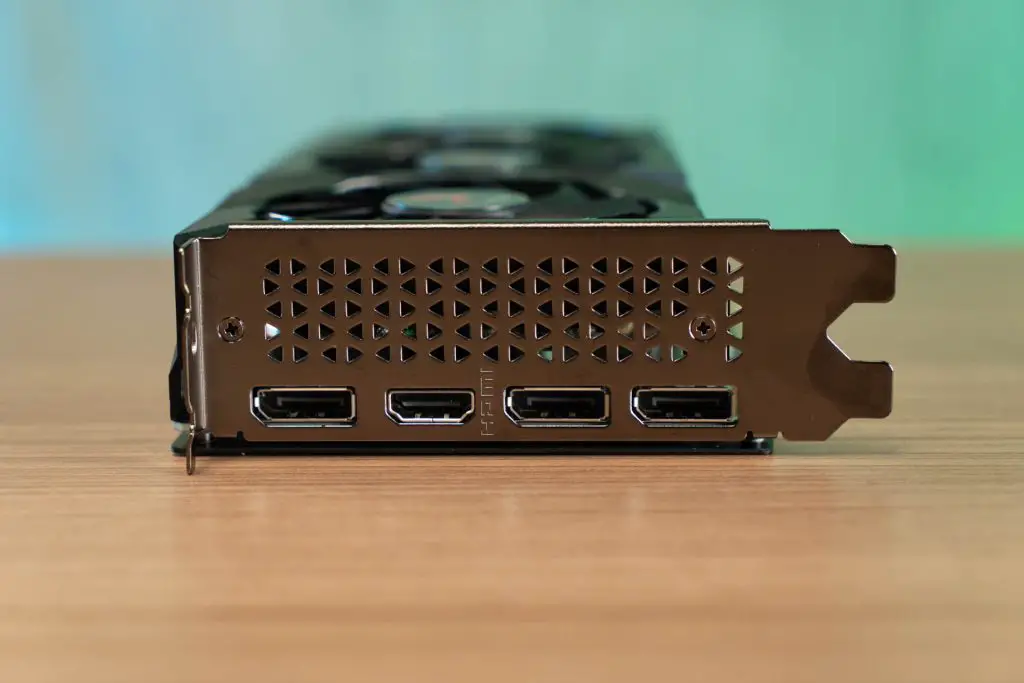 The display outputs consist of the standard configuration, which comprises three DisplayPort ports and one HDMI port. Therefore, it is highly probable that this configuration will remain consistent across all RTX 4060 models available in the market.
Test System Setup
Even though it's meant for 1080p gaming, we tested the Dual RTX 4060 Ti at higher resolutions like 4K and 1440p to see how well it performs in tougher scenarios. We also compared it to the RTX 3060 Ti and RTX 4060 Founders Edition. To do this, we ran demanding AAA games at their highest settings and did all the testing under the ambient temperature of 32°C.
| | |
| --- | --- |
| CPU | Intel Core i9-12900K |
| Motherboard | ASUS ROG Maximus Z690 APEX |
| Memory | ADATA XPG LANCER RGB DDR5@6000MHz CL30 (16GB x2) |
| Graphics Card | PNY GeForce RTX 4060 8GB XLR8 Gaming VERTO EPIC-X RGB Triple Fan DLSS 3 |
| Power Supply | Cooler Master M2000 Platinum |
| Primary Storage | Kingston KC3000 2TB |
| CPU Cooler | Cooler MasterLiquid PL360 Flux |
| Chassis | Cooler Master MasterFrame 700 |
| Operating System | Windows 11 Pro 64-bit 22H2 |
Games benchmark – Raster Performance
Starting off with the raster performance, the RTX 4060 isn't exactly the card you want for 4K gaming as it's just not capable of producing reasonable framerates at this resolution to be deemed playable.
Scaling down to 1440p, we can see that all the tested cards perform admirably. They maintain average frame rates of at least 60fps and occasionally even reach the impressive 100fps mark. While there are a few demanding titles where they struggle a bit, overall, their performance is quite impressive.
On 1080P resolution, the RTX 4060 consistently achieves average frame rates ranging from 70fps to 100fps, which puts it in a competitive position with the RTX 3060 Ti, albeit with a slight advantage on the latter's side in the grand scheme of things. Better performance numbers on the RTX 4060 Epic-X are much to be expected because of the higher boost clock as compared to the base model RTX 4060 Verto, but the performance gain isn't a lot if we look at the overall performance.
Games Benchmark – Ray Tracing Performance
Moving on to the ray tracing performance, the RTX 4060 exhibits varying performance when compared to the RTX 3060 Ti. At 1080p, it surpasses the 3060 Ti in some games, although this superiority is not consistent across the entire range of titles. However, the real intrigue arises when we shift to 1440p. Apart from a few minor hiccups, both the RTX 4060 and the 3060 Ti delivers an enjoyable ray tracing experience, enhancing the overall gaming quality.
Overall, the performance of the RTX 4060 in ray tracing is a bit mixed, with some ups and downs, but it holds its own when gaming at higher resolutions like 1440p, offering an enjoyable ray tracing experience, with occasional minor hiccups. As for 4K resolution, it's exactly the same as what we've seen in our raster benchmark, unable to maintain playable framerates on demanding titles like Cyberpunk 2077, Watch Dogs Legion, Far Cry 6, and Metro Exodus.
Games benchmark – DLSS 3
Many of you probably know about the big performance boost DLSS 3's Frame Generation tech can provide. The big performance gain is definitely there but if you're being really picky and want to take a close look at the frames, you might spot some funky shapes and weird things happening in the visuals. However, that's something we can expect to see getting fixed or improved in the recently announced DLSS 3.5.
Now, when we tried to crank things up by testing the RTX 4060 at 4K resolution, we quickly realized it's a bit of a tall order for this card as compared to what we have observed on 1080p resolution. Getting good performance at 4K can be tough, and we decided not to push it any further because the card struggles with the demands of such high-resolution gaming.
Thermals & Power Draw
While the RTX 4060 may not deliver the performance leap some were hoping for compared to the previous-generation RTX 3060 Ti, it shines in terms of power efficiency within the RTX 40 series GPU lineup. It manages to achieve nearly half the power consumption during peak usage while still delivering similar performance to the RTX 3060 Ti in most tests. This makes it a win in terms of power efficiency.
When it comes to temperatures, the RTX 4060 Epic-X reaches a peak temperature of 69.6°C during heavy workloads, with the hotspot temperature peaking at 84.3°C. Compared to the RTX 4060 Verto which we've tested, that's actually a lot lower and despite having a triple-fan cooler, it runs really quiet even during heavy loads.
Final thoughts
Performance-wise, the RTX 4060 Epic-X did deliver the satisfying 1080p gaming performance just as advertised and it's even better on titles that actually take advantage of DLSS 3. From our benchmark results, it's very obvious that the RTX 4060 Epic-X performs better than the RTX 4060 Verto because of the slightly higher boost clock, but by the end of the day, it's still not enough to bring the performance up to a decent 1440P performance as compared to the RTX 4060 Ti when it comes to the newer AAA titles. Game performance aside, the cooling performance is indeed impressive but I'm just wondering if you really need a triple fan cooler for an RTX 4060, which isn't really that hot to begin with.
People will argue that it's not even a worthy upgrade from the RTX 3060 as some are expecting an RTX 3070-like performance and I do agree with that. The performance gain is not what most people expect to see after seeing the performance gain on the higher-end RTX 4090 versus its predecessor, the RTX 3090. In fact, we can actually see the performance gain over the previous generation getting lower to almost unnoticeable as we go down the RTX 40 series lineup, and the only 'noticeable benefit' is probably the AI features that some users don't even care about. So the RTX 4060, I'd say is more of an upgrade option for gamers who are planning to upgrade from something like the GTX 1060/RTX 2060, or those who care about the features the RTX 40 series GPU has to offer.
For RM 1,739, I'd say the PNY GeForce RTX 4060 8GB XLR8 Gaming VERTO EPIC-X RGB Triple Fan DLSS 3 is somewhat costly as you can actually get the PNY GeForce RTX 4060 Ti 8GB VERTO Dual Fan DLSS 3 for RM 1,949. Unless you need that extra RGB blin, extra cooling, and a bit more performance from the slightly higher boost clock, the PNY GeForce RTX 4060 8GB VERTO Dual Fan DLSS 3 is probably the better choice, especially for those who have a limited budget for their next GPU upgrade.
Where to buy? (Affiliate links)
By the way, all Malaysians, do keep an eye out for the yellow "FTS" sticker on the GPU. That signifies authenticity from the distributor and will be expedited for a speedy RMA process if anything goes wrong.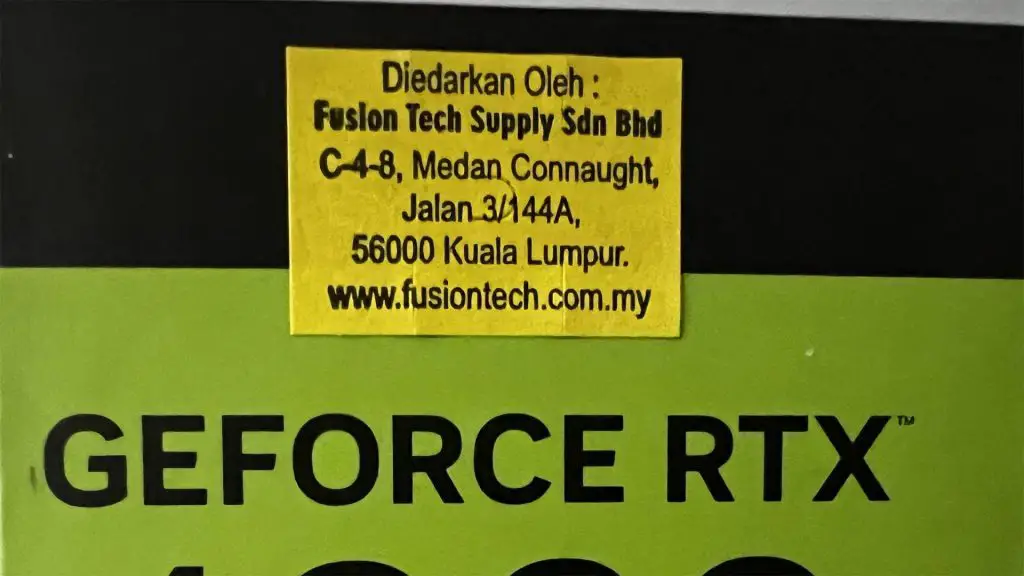 To get your warranty process, contact either of these two Facebook pages: