Despite being the most affordable model in the GeForce RTX 40 series lineup right now, the RTX 4060 isn't that well-received by many, especially the price-over-performance ratio as people in the PC gaming community claimed. So… We got our hands on the PNY GeForce RTX 4060 8GB VERTO Dual Fan DLSS 3 this time for a quick verification of that claim by comparing it against the RTX 3060 Ti, RTX 3070, and RTX 4060 Ti for a quick performance gauge.
Specifications
| | | | |
| --- | --- | --- | --- |
| GPU | GeForce RTX 3060 Ti FE | GeForce RTX 4060 Ti 8G FE | PNY GeForce RTX 4060 8GB VERTO Dual Fan DLSS 3 |
| CUDA Cores | 4864 | 4352 | 3072 |
| Tensor Cores | 152 | 136 | 96 |
| RT Cores | 38 |  34 |  24 |
| ROPs | 80 | 48 | 32 |
| GPU Boost Clock | 1670 MHz | 2535 MHz | 2460 MHz |
| Memory Data Rate | 14 Gbps | 18 Gbps | 17 Gbps |
| Total Video Memory Size | 8G GDDR6 | 8G GDDR6 | 8G GDDR6 |
| Memory Interface | 256-bit | 128-bit | 128-bit |
| Memory Bandwidth | 448 GB/s | 288 GB/s | 272 GB/s |
| TDP | 200W | 160W | 115W |
| Recommended PSU | 600W | 550W | 550W |
| Power Connectors | 1 x 12-pin | 1 x 16-pin (12VHPWR) | 1 x 8-pin |
Unboxing
This slideshow requires JavaScript.
While PNY has kept the packaging really simple for the majority of its products, it's never the same when it comes to product naming. The PNY GeForce RTX 4060 8GB VERTO Dual Fan DLSS 3 we have here is another example of the troubling long name, which we decided to just keep things simple and address as the RTX 4060 VERTO throughout this review.
This slideshow requires JavaScript.
The RTX 4060 VERTO shares a similar design as the RTX 4070 VERTO, mostly. It lacks RGB lighting that the RGB fanatics like but I see it as an option for those who prefer to keep their system clean from the unnecessary RGB mess. Unlike the RTX 4070 Verto, the fan blades used on the RTX 4060 VERTO are the ones we've seen before – some call it axial-tech fans. Now despite the change in the fans used, PNY never really mentioned anything about the new fan design on their official product page, and the only information we have is actually that small mention of 'stealth mode' at the front of the box.
Since it's a dual-fan, dual-slot card, the RTX 4060 VERTO can pretty much fit into almost any PC case. This is especially great for small form factor builds that are usually very restrictive in terms of space, in case you're really considering building one.
This slideshow requires JavaScript.
As for the power requirement, the RTX 4060 VERTO requires a 550W power supply and you can still use your existing power supply because it's still using the 8-pin PCIe that many of us are familiar with, unlike the higher-end models that use the 12VHPWR.
The display outputs basically include the usual setup of 3x DisplayPort ports and 1x HDMI port. So, it's pretty likely that this setup will stay the same for all the RTX 4060 models in the market.
Games Benchmark – Raster Performance
Talking about how well it handles raster performance, the RTX 4060 provides a seamless gaming experience at 1080p. It churns out average frame rates in the range of 70fps to 100fps in the games we tested. It's quite on par with the RTX 3060 Ti, although the latter manages to keep a tiny edge in the grand scheme of things.
When we take things up a notch to 1440p, all three cards we tested hold their ground quite nicely. They manage to maintain average frame rates of at least 60fps, and sometimes even hit the impressive 100fps mark. Of course, there are a few tough titles where they struggle a bit, but overall, they perform pretty darn well.
Games Benchmark – Ray Tracing Performance
When it comes to ray tracing, the RTX 4060 shows a bit of a mixed bag when pitted against the RTX 3060 Ti. It manages to outdo the 3060 Ti in a few games at 1080p, but the performance isn't totally steady across the entire lineup. Now, when we kick it up to 1440p, things get interesting. Except for a couple of hiccuping moments, both the RTX 4060 and the 3060 Ti bring the ray tracing goodness to the table, making gaming pretty darn enjoyable.
Games Benchmark – DLSS 3 Performance
Now, I'm sure most of you already know the deal and the significant performance boost we can get from Frame Generation technology in DLSS 3. Although, yeah, it can throw in some weird stuff like wonky shapes and oddities when you're checking out frames up close.
We took a shot at cranking it up to 4K resolution, but let's just say we didn't push it any further. The truth is, 4K on the RTX 4060 is a bit of a stretch. You might have hoped that DLSS and Frame Generation would save the day, making 4K gaming smooth at around 30fps – but not really. We even tried giving it a 100MHz boost using the Velocity X software, but the extra oomph wasn't really that impressive – so we waved the white flag.
Thermals and Power Draw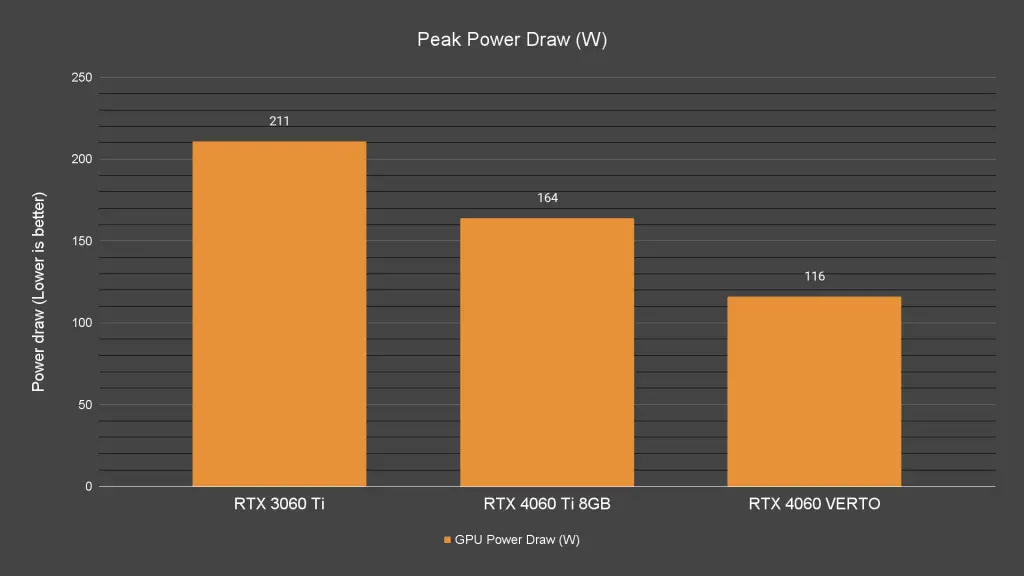 Although the performance gain over the previous gen RTX 3060 Ti isn't exactly as what many would hope to see on the RTX 4060, the power draw is actually looking really good for the RTX 40 series GPUs. For almost half of the power draw during peak, the RTX 4060 is able to perform similarly to the RTX 3060 Ti in a majority of the tests and I'd say that's still a win if power efficiency is taken into account.
Speaking of temperatures, when the GPU is working its hardest, it hits a peak temperature of 75.7°C, and the hotspot temp goes up to 89.6°C. It's worth noting that other models from different companies might show some variation in these numbers, but I think this is still fine because you can barely hear anything from the fan even at a very close distance. Generally, you won't see a massive difference with most dual-fan cooler setups.
Final Thoughts
Although it is advertised as a 1080P card, gaming on 1440P resolution is still possible to a certain extent – at least that's what we have observed during our tests. However I will still recommend going 1080P with the RTX 4060 as that's the only resolution that gives us more than 60FPS on all the titles tested, and some even hitting 100PFS+ on average when we have the graphics settings set to the highest. The overall load temperature is slightly higher than the other RTX 4060 we've seen to date but I still find it acceptable because of the silent cooling solution it has.
We expect people to argue that the RTX 3060 Ti is easily the better option, honestly, they're totally right about that. I wouldn't recommend upgrading from the RTX 30 series cards like the RTX 3060 Ti or RTX 3070 even though the RTX 4060 is clearly much more power efficient because they're still really powerful cards that can handle most titles at 1080P with ease. The only reason to upgrade to the RTX 4060 is when you're coming from something like the RTX 2060 or lower, which actually makes more sense because the performance gain is much more significant.
As for the RM 1519 price tag, I'd say it's still somewhat of a fair price for the performance and features it has to offer. You can, of course, get a used RTX 3070 or RTX 3060 Ti at this price if you don't care about any of the new features the RTX 40 series GPUs have to offer, notably DLSS 3. There are still people in the community claiming that it's giving fake FPS with fake frames without realizing that the competitors are actually pushing out similar solutions (HYPR-RX) in response to DLSS 3, which is now DLSS 3.5 as NVIDIA just announced the new update earlier this week.
Where to buy? (Affiliate links)
By the way, all Malaysians, do keep an eye out for the yellow "FTS" sticker on the GPU. That signifies authenticity from the distributor and will be expedited for a speedy RMA process if anything goes wrong.
To get your warranty process, contact either of these two Facebook pages: