With its inclusion of NVIDIA's 3rd gen RT cores and 4th gen tensor cores, along with support for DLSS 3, the RTX 4070 is a highly anticipated addition to the RTX 40 series. In this review, we'll be taking a look at the PNY GeForce RTX 4070 12GB VERTO Dual Fan DLSS 3 – that's a rather lengthy name and in order to make things easier for this article, we'll call it the RTX 4070 12GB VERTO.
For the benchmarks, we have compared the RTX 4070 12GB VERTO to the RTX 4070 FE and the RTX 3080 10G (factory overclocked model) to provide some insights into its performance and positioning in the lineup. Let's dive into the details.
Specifications
| | | | |
| --- | --- | --- | --- |
| GPU | GeForce RTX 3080 | GeForce RTX 4070 Ti | PNY GeForce RTX 4070 12GB VERTO |
| CUDA Cores | 8704 | 7680 | 5888 |
| Tensor Cores | 272 | 240 | 184 |
| RT Cores | 68 |  60 | 46 |
| ROPs | 96 | 80 | 64 |
| GPU Boost Clock | 1710 MHz | 2610 MHz | 2475 MHz |
| Memory Data Rate | 19 Gbps | 21 Gbps | 21 Gbps |
| Total Video Memory Size | 10G GDDR6X | 12G GDDR6X | 12G GDDR6X |
| Memory Interface | 320-bit | 192-bit | 192-bit |
| Memory Bandwidth | 760.3 GB/s | 504 GB/s | 504 GB/s |
| TDP | 350W | 285W | 200W |
| Recommended PSU | 750W | 700W | 650W |
| Power Connectors | 1 x 12-pin | 1 x 16-pin (12VHPWR) |  1 x 16-pin (12VHPWR) / 8-Pin PCIe |
Unboxing
This slideshow requires JavaScript.
Design-wise, the RTX 4070 12GB VERTO has a dual-fan cooler that might not be that appealing to some users – it has a simple generic design for the cooler and zero no RGB lighting. Users like me, however, will appreciate this as I'm not a fan of these blings and would rather have it totally excluded from the product.
This slideshow requires JavaScript.
Unlike the Founders Edition which is equipped with a 12VHWPR power connector, the RTX 4070 12GB VERTO uses an 8-pin PCIe connector and you can just use it with your existing power supply and don't have to worry about cable management issues with the 12VHPWR adapter like the higher end models.
It provides 3 x DisplayPort and 1 x HDMI display outputs, which are the standard options nowadays.
Test System Setup
We conducted benchmark tests using the following setup and selected AAA titles were tested at their highest settings under an ambient temperature of 30°C.
| | |
| --- | --- |
| CPU | Intel Core i9-12900K |
| Motherboard | ASUS ROG Maximus Z690 APEX |
| Memory | ADATA XPG LANCER RGB DDR5@6000MHz CL30 (16GB x2) |
| Graphics Card | NVIDIA GeForce RTX 4070 Founders Edition / ASUS  ROG Strix GeForce RTX 4070 Ti / ASUS ROG Strix GeForce RTX 3080 10G OC Edition |
| Power Supply | Cooler Master M2000 Platinum |
| Primary Storage | Kingston KC3000 2TB |
| CPU Cooler | Cooler MasterLiquid PL360 Flux |
| Chassis | Cooler Master MasterFrame 700 |
| Operating System | Windows 11 Pro 64-bit 21H2 (Build 22000.1696) |
Games Benchmark – Raster Performance
The RTX 4070 12GB VERTO performs admirably in raster performance, allowing for 4K gaming to a certain extent, with average framerates exceeding 60fps in specific titles. However, more demanding games like Watch Dogs Legion and Cyberpunk 2077 may pose challenges. Although it doesn't consistently outperform the RTX 3080, it remains competitive in the tested titles.
Optimized for 1440p gaming, the RTX 4070 12GB VERTO effortlessly maintains above 100fps in most games. However, the RTX 3080, especially in a factory-overclocked configuration, still delivers superior performance in most cases. At 1080p, both cards excel, consistently exceeding 100fps in nearly every tested title.
Games Benchmark – Ray Tracing Performance
Regarding ray tracing performance, the RTX 4070 handles 4K gaming with an average of 60fps in select titles, with DLSS presets providing an FPS boost. However, games like Cyberpunk 2077, Metro Exodus, and Watch Dogs Legion present challenges for both the RTX 4070 and RTX 3080. Adjusting DLSS presets to performance or balanced settings can enhance FPS, which is reasonable for 4K gaming.
DLSS 3 Hands-On
DLSS 3 stands out as a prominent feature of the RTX 40 series, with an increasing number of games supporting it. Noteworthy titles like F1 22, Microsoft Flight Simulator, Marvel's Spider-Man: Miles Morales, Diablo IV, and Hogwarts Legacy now benefit from DLSS 3. Being a newer GPU, the RTX 4070 gains an advantage over the RTX 3080 in terms of DLSS 3 performance.
Synthetic Benchmark
Synthetic benchmarks focusing on game performance, such as 3DMark and Unigine Superposition, demonstrate the RTX 3080's outperformance over the RTX 4070 12GB VERTO. However, benchmarks concentrating on content creation tasks, like Blender, highlight the RTX 4070's superiority.
Thermals & Power Draw
With better power efficiency, the RTX 4070 12GB VERTO surpasses the RTX 3080, easily. While both perform similarly in tests on most occasions. The RTX 3080 draws up to 375W at peak, whereas the RTX 4070 12GB VERTO only draws 196W at maximum. Furthermore, the RTX 3080 requires 3 x PCIe 8-pin connectors, while the RTX 4070 12GB VERTO only needs a single PCIe 8-pin connector. That aside, it remains within acceptable temperature ranges and runs very quietly throughout our tests.
If you need a bit more performance out of it, you can also make good use of the Velocity X software to overclock the RTX 4070 12GB VERTO for some extra juice. It's really optional and entirely up to you, of course.
Final Thoughts
Although the RTX 4070 12GB VERTO may not consistently outperform the competing RTX 3080 10G OC in our tests, it is very power efficient. With a peak power draw at under 200W, it delivers comparable performance to a factory-overclocked RTX 3080 10G, which consumes almost double the power. It might still be an optional feature optional to some users, but DLSS 3 support works great, and despite some minor quirks, supported titles run very well with very significant gain over the RTX 3080 10G.
If we take away DLSS 3, the raw performance of the RTX 4070 12GB VERTO is technically something like an RTX 3080 10G. For this one, I believe that there will be users who will consider purchasing a used RTX 3080 or RTX 3090 at a similar or lower price after seeing this, but they would miss out on DLSS 3, AV1 video encoding, RTX VSR, and other AI-accelerated features tailored for content creation tools. Not to mention the risk of getting a heavily abused ex-mining GPU if the seller is not being honest with what he or she is selling.
As for the price, the RTX 4070 12GB VERTO is retailed at the price of RM 2949, which I think is a reasonable price with its performance and the RTX 40 series exclusive features.
Where to buy? (Affiliate links)
By the way, all Malaysians, do keep an eye out for the yellow "FTS" sticker on the GPU. That signifies authenticity from the distributor and will be expedited for a speedy RMA process if anything goes wrong.
Update: PNY is currently having an ongoing promotion where you can get free games from Ubisoft for every purchase of PNY GeForce RTX GPUs in the following list:
PNY RTX 40 Series:

RTX 4090/RTX 4080/ RTX 4070 Ti/ RTX 4070 / RTX 4060 Ti / RTX 4060

PNY RTX 30 Series: RTX 3080/ RXT 3070 TI/ RTX 3060 Ti/ RTX 3060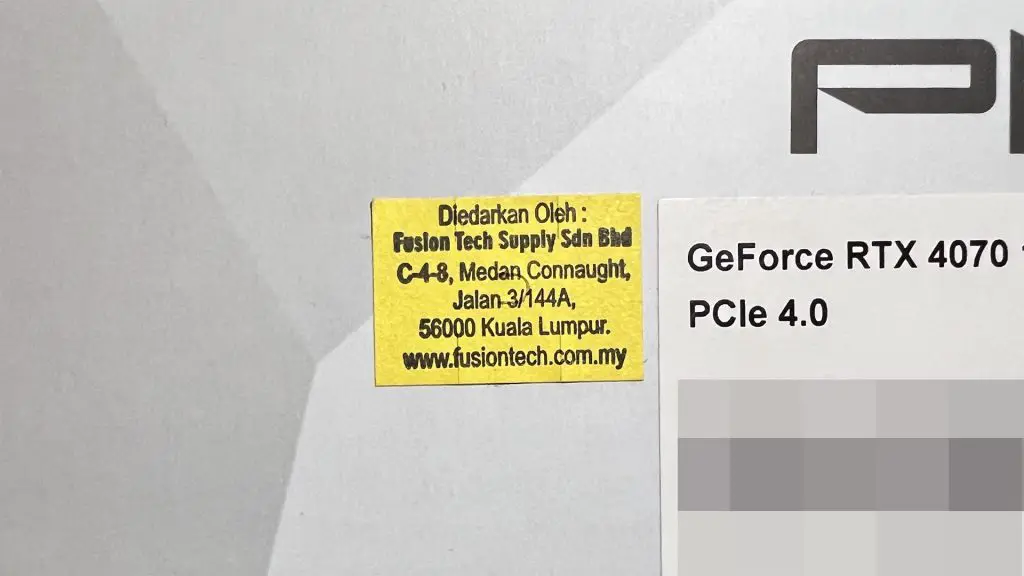 To get your warranty process, contact either of these two Facebook pages: