NVIDIA's presence at Gamescom 2023 means that all of the latest news is all about games and none of that industrial smell but of course, it's gonna get stuffed with some AI sauce one way or another so let's find out what they have announced over that.
DLSS 3.5 debuts with new Ray Reconstruction feature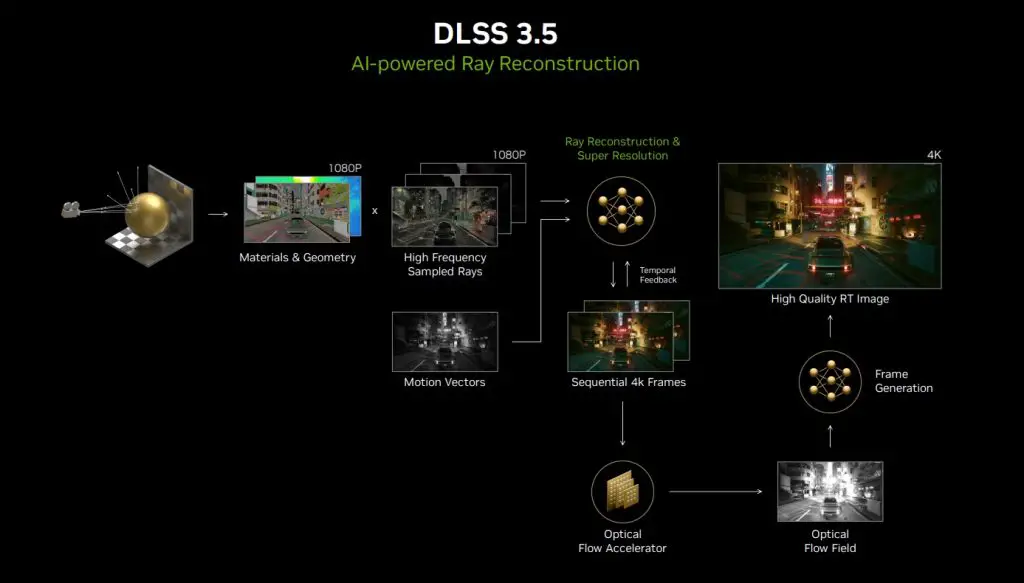 The GeForce RTX 40 series GPU-exclusive AI upscaling tech DLSS 3 has officially been upgraded to version 3.5 with one of the new core features called Ray Reconstruction that promise to one-up the already impressive ray-traced visuals to another level.
Basically, an AI-powered denoiser trained by Team Green's in-house supercomputer, it has the capability to fill in missing pixels of outputs before processing that frame as the final, thus improving the visual quality.
Being trained with 5 times more training data than DLSS 3, it now can recognize multiple kinds of RT effects while making better judgments on when to use temporal and spatial data across things like global illuminations, reflections, etc.
One good news is that NVIDIA isn't ready to ditch the RTX 20 and 30 series cards just yet as Ray Reconstruction will be made available to all RTX graphics cards (Frame Generation still stays exclusive to the 40 series, sadly)
I think the official video will do a better and more in-depth explanation than I do so be sure to check out the video below.
Half-Life 2 RTX Babyyyy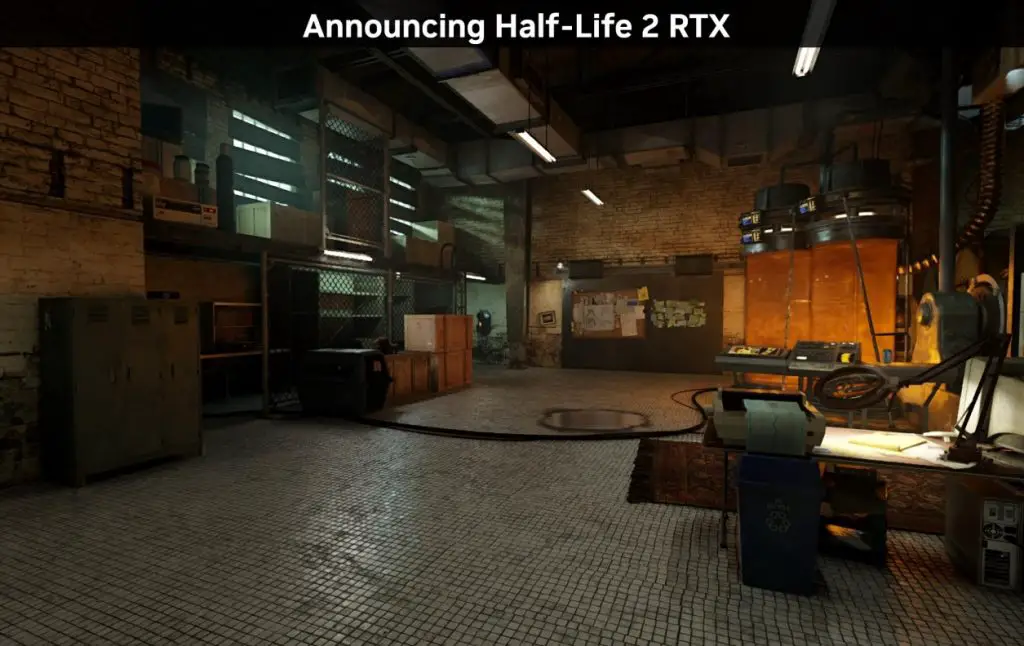 A couple of weeks ago, we reported on the critically-acclaimed fan project Portal: Prelude RTX showing off the power of RTX Remix and how it helps to recreate a more realistic and modern experience for the title. Now the same thing has been announced for the actual official legendary title Half-Life 2.
Carrying the same level of care, modders are utilizing all possible tools of RTX Remix including material rebuild with Physically Based Rendering (PBR) properties, ray tracing, DLSS 3, Reflex, RTX IO, and more to help every fan experience the same feeling that may be once long gone.
As the announcement is really just an announcement of its existence, the release date is still unknown. So perhaps watch the trailer in the meantime.
NVIDIA ACE now with NeMo SteerLM for even better AI NPCs
Remember this guy? If you don't then here's a quick reminder. This is Jin, a ramen shop owner with a brain powered by NVIDIA ACE, that can strike up conversations or even give u lore-sticking responses on the fly engaged in a natural interaction.
Several months of work later and today, the team is adding NeMo SteerLM into the mix which is in charge of evoking emotion into these AI NPC's speeches to make them more realistic and memorable.
With this, there will be fewer moments of talking to a true chatbot with flat responses and more highlights of funny or impressive feedback. Need them to gear towards a specific style like toxic or humor (Or both if you like the passive-aggressive teaser type), you may do so with the slider settings.
GeForce NOW x Xbox Game Pass
Starting August 24, the long-awaited Xbox PC Game Pass titles are making their way to GeForce NOW with things like Deathloop, Grounded, No Man's Sky, and more.
Members who have access to an active Xbox Game Pass account or purchased via the Microsoft store may now stream them through GeForce NOW.
Game Updates
Here's a simple summary of what titles will be receiving in the near future:
Alan Wake 2 – Full Ray Tracing, DLSS 3.5, Reflex
Call of Duty: Modern Warfare III – DLSS 3, Reflex
Cyberpunk 2077: Phantom Liberty – Full Ray Tracing, DLSS 3.5, Reflex
Fortnite – DLSS 3
PAYDAY 3 – DLSS 3, Reflex
Driver Update
The latest Game Ready Driver update brings optimizations to Starfield and ICARUS New Frontiers alongside new G-SYNC Compatible Monitors which are:
AOC AG285QZ
AOC AG275QXP
AOC AG275QXPD
ASUS VG27AQL3A
ASUS VG279QM1A
Philips TV 42OLED808
Samsung Odyssey G93SC
Samsung Odyssey G95SC
Optimal Settings via GeForce Experience for Atlas Fallen, F1 Manager 2023, Gord, Let's School, NOBUNAGA's AMBITION: Awakening, and Sengoku Dynasty, are also part of the package.