Dell Malaysia has revealed a trio of new monitors with USB-C hub connectivity that will be enhancing fellow mobile workers' working lives.
Created to maximize productivity by pairing them with Dell mobile workstations, monitors with USB-C hub features are actually gaining some traction in the market for being really convenient as supported peripherals can be connected to the display itself all at once with a single USB-C coming out for connecting with a laptop, making the lives of some users, particularly those that need to sit down on their desk to work a while and move out with barely any notice, easier than ever.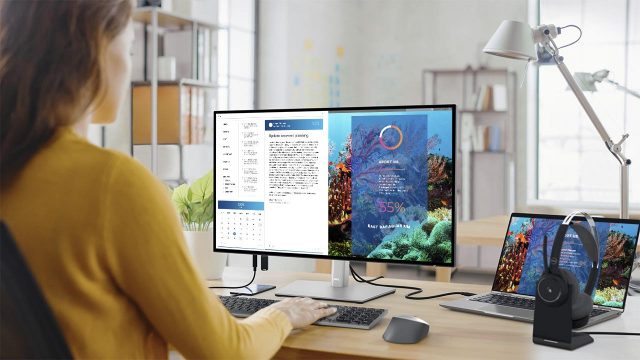 Speaking of made for businesses, there are 3 models announced for this round which are all part of the UltraSharp family which are the 32-inch U3233QE and 27-inch U2723QE model with 4K resolution, and a 30-inch U3023E in WQXGA which is 2560 x 1600. Regardless of the pixel count because this is subjective to the user's need, the USB-C hub function is definitely the core highlight here. Not only does it keep your cables properly managed without counting the benefit we mentioned just now, but all 3 monitors are also Dell's very first displays to feature the new IPS Black technology that provides rich contrasts, deep blacks, and improved viewing angle that can rival some of the most mainstream OLED options out there. With a wide color gamut for displaying colors as close as possible and the ComfortView Plus cutting down the emission of blue light, these new UltraSharp boys are the market's best business-class monitors with USB-C hub capability for 2022.
Pricing and Availability
Looking forward to getting one of the new Dell UltraSharp USB-C Hub monitors? You can do so right now over at Dell's official website and they are listed at the following price:
Dell UltraSharp 32 4K USB-C Hub Monitor (U3233QE) @ RM4,409
Dell UltraSharp 27 4K USB-C Hub Monitor (U2733QE) @ RM3,379
Dell UltraSharp 30 USB-C Hub Monitor (U3023E) @ RM4,159