be quiet! announces its new mainstream fan series: Pure Wings 3. With a low minimum rpm and high top-end speed, Pure Wings 3 is the perfect PC fan for any application, whether it is a demanding workstation or an entry-level gaming build.
Featuring a revamped fan frame outlet, the new Pure Wings 3 delivers significantly increased performance on radiators while the newly designed fan blades with re-arranged angle bring improved air pressure.
In terms of sizes, the fan comes in either 120mm or 140mm with three different versions of 3-pin, 4-pin PWM, as well as 4-pin PWM high-speed.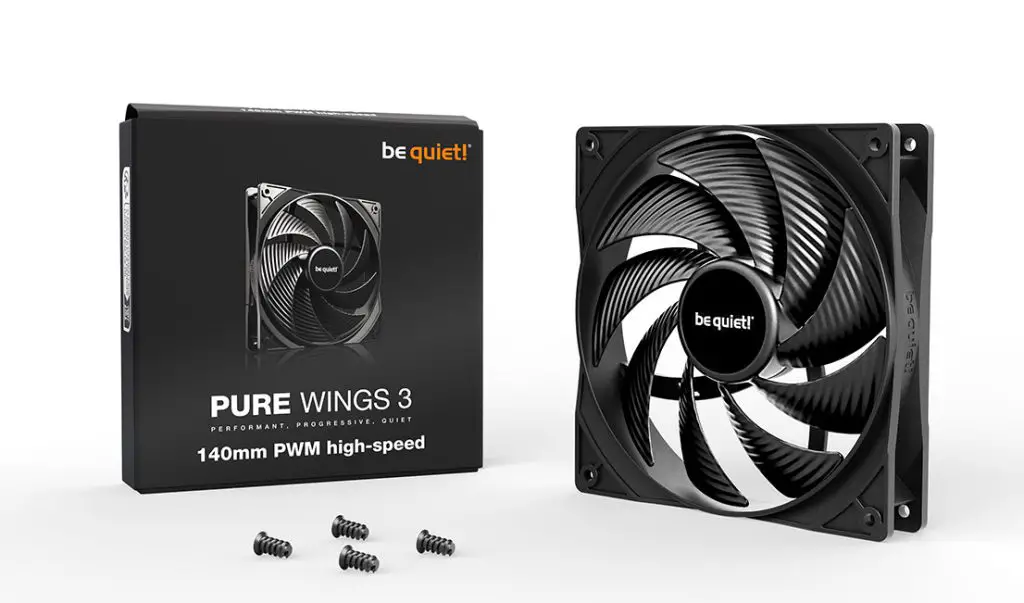 Speaking of the high-speed version, both the 120mm and 140mm models are capable of achieving maximum speeds of 2,100rpm and 1,800rpm, while each packs 9 airflow-optimized fan blades for a high air pressure of up to 2.41mm/H2O and 2.44mm/H2O respectively.
On top of that, the high-speed models also boast a closed-loop motor technology that constantly monitors the current rpm and increases it to the target if necessary.
Pricing and Availability
The new be quiet! Pure Wings 3 will be available starting from 7th November at the following price points:
120mm (1,600 max rpm) — USD$9.90
120mm PWM (1,600 max rpm) — USD$9.90
120mm PWM high-speed (2,100 max rpm) — USD$9.90
140mm (1,200 max rpm) — USD$11.90
140mm PWM (1,200 max rpm) — USD$11.90
140mm PWM high-speed (1,800 max rpm) — USD$11.90