be quiet! has unveiled its all-new Dark Rock Elite and Dark Rock Pro 5 air coolers, boasting great cooling performance with low-level noise; let's see what they have to offer.
Starting with the Dark Rock Elite, which delivers high-performance cooling and is equipped with seven heat pipes and two Silent Wings 135mm PWM fans with 2,000rpm in Performance Mode and 1,500rpm for Quiet Mode. In addition, it includes an adjustable front fan mount as well as customizable ARGB LEDs on the top cover for users to tweak to their liking.
Plus, the cooler also features a detachable top cover for simple installation and a Speed Switch that allows seamless switching between two cooling modes while supporting liquid metal thermal paste with its nickel-plated base.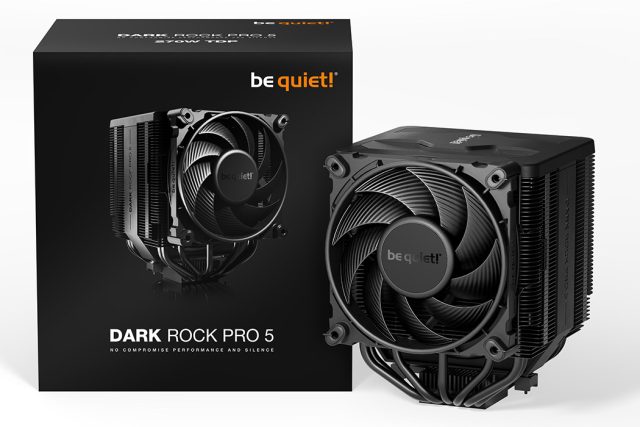 Similar to the Dark Rock Elite, the Dark Rock Pro 5 has seven high-performance heat pipes, two Silent Wings PWM fans, and a Speed Switch for users to select between a Quiet Mode which operates at 1,500rpm (120mm front fan) and 1,300rpm (135mm middle fan), or a Performance Mode that runs at up to 2,000rpm for the front fan and 1,700rpm for the middle fan.
On top of that, it packs a premium top cover with a mesh design alongside a special black coating with ceramic particles to enhance heat transfer while sporting a sleek appearance.
Pricing and Availability
Starting from 24th October, the new be quiet! Dark Rock Elite and Dark Rock Pro 5 can be purchased at a price point of USD$114.90 and USD$99.90 respectively.