be quiet! has changed quite a lot throughout the years and has expanded from the once all-black design with RGB lighting and white-colored variant to its ever-expanding product lineup, something which I never thought of seeing. It's understandable as the interest in white-colored theme builds has been growing throughout the years and it did somewhat makes RGB lighting a bit more appealing to some users. This time, we'll be taking a quick look at the be quiet! Light Wings White 120mm PWM high-speed triple-pack and see what kind of performance can we expect from it.
Specifications
| | |
| --- | --- |
| Model | Be quiet! Light Wings 120mm High-Speed |
| Dimensions | 120 x 120 x 25mm |
| Rated Speed | 2500RPM |
| Maximum Airflow | 52.3CFM / 88.86m3/h |
| Static Pressure | 2.6mm H2O |
| Noise | 31 dBA |
| Fan Control | 4-pin PWM control |
| Current Draw | 0.45A peak |
| Warranty | 3-years |
Unboxing
The be quiet! Light Wings White 120mm PWM high-speed triple-pack ships in a rather simple box this time around. Specifications and information about the product can be found on the sides of the box, and the back of the box is just… an image of the back of the fan.  Inside the box, you'll find the Light Wings White 120mm PWM high-speed, all three of them, and an accessories box containing the user's guide, screws for the fans, a piece of double-sided sticker for the RGB hub, and the RGB hub.
While RGB enthusiasts might appreciate the ARGB hub included, I personally don't. It is just a hub dedicated to RGB lighting purposes and be quiet! could have made it a combo hub with both ARGB and fan headers, which would be more practical for a fan pack like this. Also, it would be better if they could just make the RGB hub magnetic instead of using a double-sided sticker. It's unsure if be quiet! will ever consider going for a daisy-chain design in the future but I've seen really good implementation in the past, and I believe it's something that can be easily achieved by be quiet!.
There's no denying that the Light Wings is yet another decent fan from be quiet! and having a white-colored variant opens up a new door for those who are into a white-colored theme build. As we've already seen what the Light Wings are capable of, we're expecting some nice performance from this, especially with the much higher 2500RPM.
You'll find the same rubber pads at each corner of the frame for vibration dampening, and of course, the same RGB ring around the fan blade for that bling. Although it's not a full-frame design like the traditional 120mm fans, be quiet! did somehow reinforced the corner of the frame so it doesn't warp by pressure, which is very common on a lot of non full frame fans.
Gallery
Benchmark
The tests are done with a system that's running the Intel Core i9-12900K running on stock settings while using the ASUS ROG Ryujin II 360 with three different sets of fans for our quick performance gauge – Noctua NF-F12 iPPC-2000 PWM, be quiet! Silent Wings 4 Pro and Light Wings White 120mm high-speed.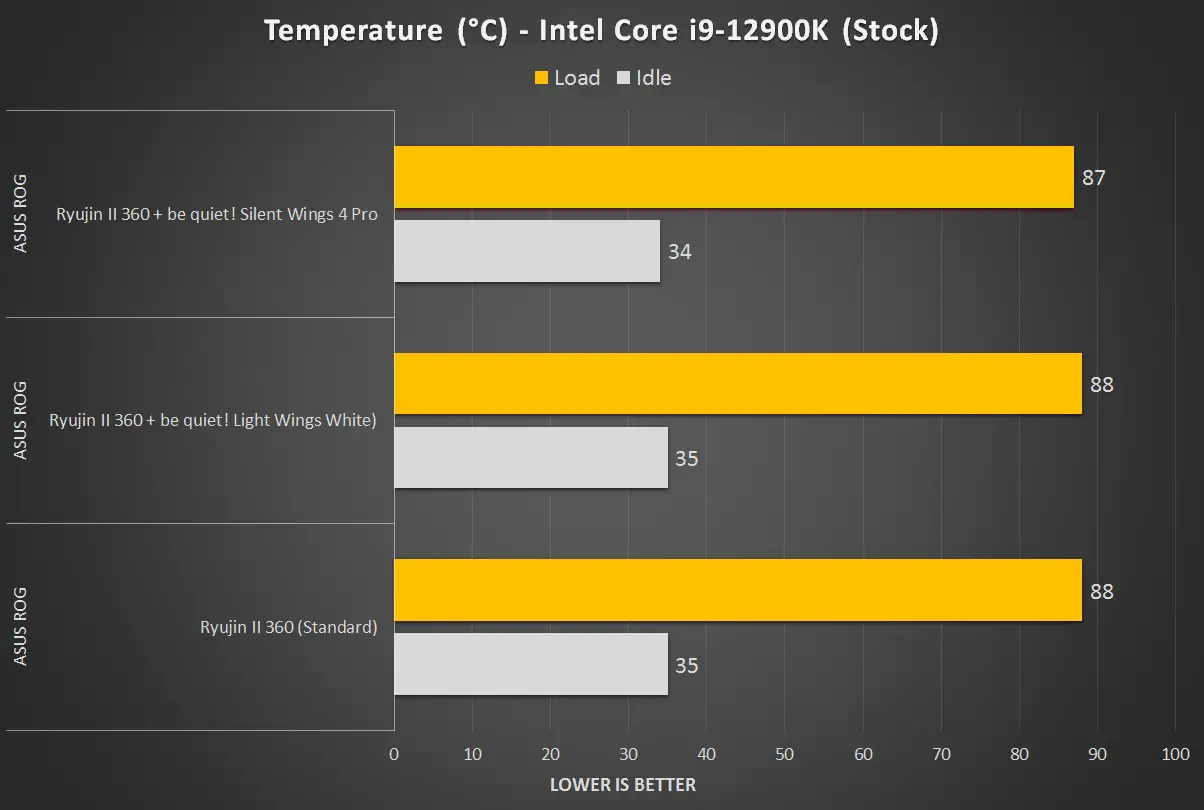 The Silent Wings 4 Pro is the best-performing fan among the fans we've tested this time but the Light Wings White isn't doing too bad either. From the test results, we can see that the Light Wings White 120mm high-speed performs very similarly to the stock fans of the Ryujin II 360, which is the NF-F12 industrialPPC-2000 PWM. Of course, the fan noise is clearly audible at close range when it's running at this speed but despite the higher RPM at 2500, it actually runs quieter than the stock NF-F12 industrialPPC-2000 PWM at full speed.
Though if we look at the specs themselves, I was expecting the Light Wings White high-speed to do better than what has been observed, which I felt that be quiet! is somewhat prioritizing the RGB elements more on this one, rather than the performance as a whole. This is especially obvious with the ARGB hub, which should have been a combo hub for both fan headers and RGB headers, not the other way around. This doesn't mean that the Light Wings White high-speed is totally compromised just for the sake of aesthetics – it is still a decent fan but it could be better.
Final Thoughts
While the Light Wings White high-speed triple-pack is clearly a case fan pack combo, it works great as radiator fans for AIO coolers as well if you don't mind ditching the ARGB hub entirely. The reason for me saying this is because build quality, performance, and aesthetics are the things you'll get from the Light Wings White high-speed alone but I find it really hard to recommend using the ARGB hub at all, as its sole purpose is only for the ARGB function. with that being said, I do hope be quiet! can really consider making a hub that serves both the ARGB header and the fan header, instead of the hub we're seeing right now.
For the price of RM 349, be quiet! Light Wings White high-speed triple-pack falls in the premium product segment just like other renowned brands like EKWB, Noctua, NZXT, Corsair, etc, which doesn't comes cheap. Though for the build quality and performance as what we've seen from our test, I think the be quiet! Light Wings White high-speed triple-pack is a decent option that is worthy to consider if you have that extra budget to spare for your build. There are also triple fan packs that go half the price or way lower, and offer a lot more RGB elements on them but that's if RGB lighting is the only thing you care about.