Acer Predator Malaysia has concluded its latest offline launch event 'It Lies Within' over at Sunway Pyramid and tons of stuff has been revealed which are separated into the laptops, desktops, monitors and peripheral segments so let's breeze them through and find out how good they are.
Laptops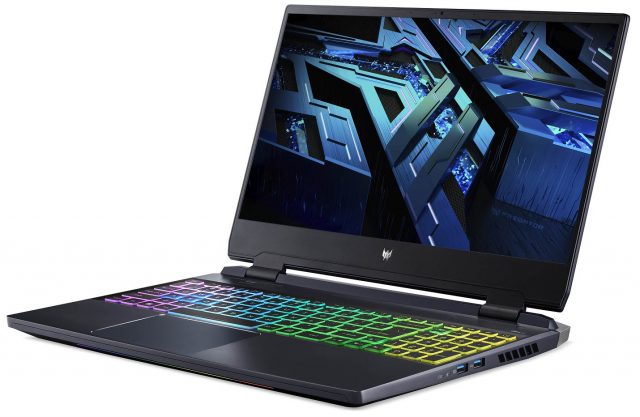 First, we have the Predator Helios 300 is the king of performance here. Given the refreshed 12th Gen Intel Core i7 processor to go with an up to NVIDIA GeForce RTX 3080 GPU with a maximum power rating at 150W, game at max graphical settings however you want. For the memory, you can pack as much as 32GB of DDR5-4800 of RAM and 2TB of PCIe SSD into its cleaner metal chassis design hosting a 15.6-inch QHD display, it supports 100% DCI-P3 color gamut for enhanced visual experience while the 165Hz/3ms numbers are nice to have.
Similar to some of the high-end gaming laptops of its family, the PredatorSense button can be found to immediately adjust power and thermal constraints alongside fan speed which is a pair of 5th Gen AeroBlade 3D fans with liquid metal thermal grease. For connectivity, WiFi 6E with Killer DoubleShot Pro combo is given to it to ensure the online games won't lose the packets as much.
You can get the Predator Helios 300 at the price of RM7,999 and merchandise worth up to RM833 can be grabbed for all purchases made before July 14.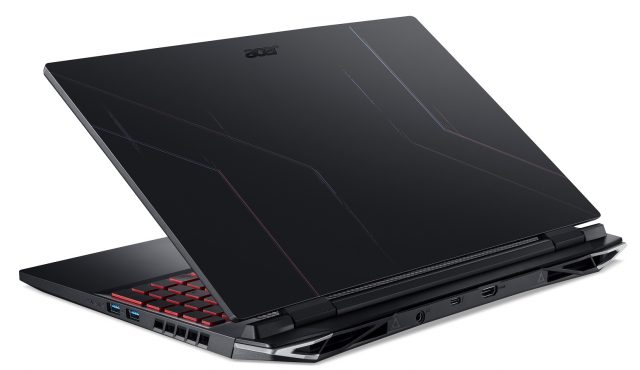 On the other hand, the fan-favorite Nitro 5 returns with a facelifted chassis, and the top specs are kinda cool too as they are the 12th Gen Intel Core i7 with NVIDIA GeForce RTX 3070Ti plus 32GB DDR4 RAM and 1TB PCIe SSD. The display is finally getting more choices as one can stick with the usual 144Hz FHD or opt for the new 165Hz QHD panel. Featuring a new dual-fan cooling intake, take a further step into churning out more performance with NitroSense overclocking the CPU or GPU. Similar to the Predator Helios 300, the WiFi 6E augmented by Killer DoubleShot Pro duo handles the wireless department.
The starting price for the new Nitro 5 is RM4,399 and purchases before 14 July 2022 will be entitled to receive merchandise worth up to RM833.
Desktops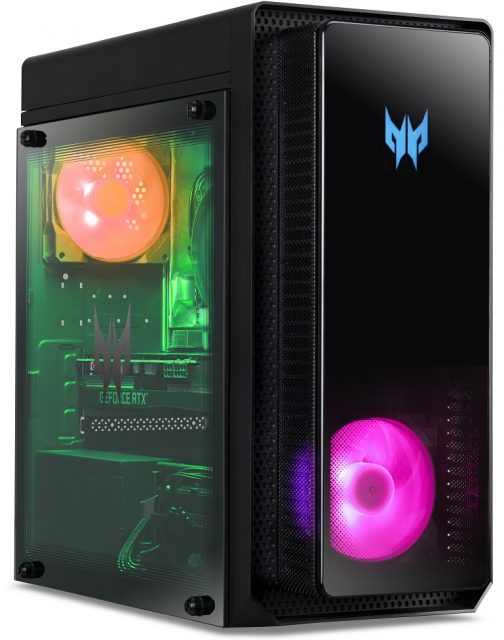 For the table setups, the Predator Orion 3000 gaming desktop is now getting fitted with a combination of up to a 12th Gen Intel Core i7 CPU + NVIDIA GeForce RTX 3070 GPU alongside 16GB of RAM and 1TB of PCIe storage – pretty standard and decent specs. Multiple expansion slots are given to the user too as one additional M.2 PCIe and 2x SATA slots are there for more storage while the RAM slots are compatible with DDR5 although the stock options are DDR4. Hey, at least they still include the possibility of upgrades within the equation.
Featuring a slight design revamp, the chassis now rocks a darkened glass, metal, and mesh (swappable to an optional EMI-compliant side panel) with a number of Predator FrostBlade 2.0 fans keeping the airflow optimized while PredatorSense controls the power and pattern of those RGB LEDs.
The Predator Orion 3000 retails from the starting price of RM6,499 and purchases before July 14 are entitled to an RM150 cash discount and up to RM600 worth of gifts.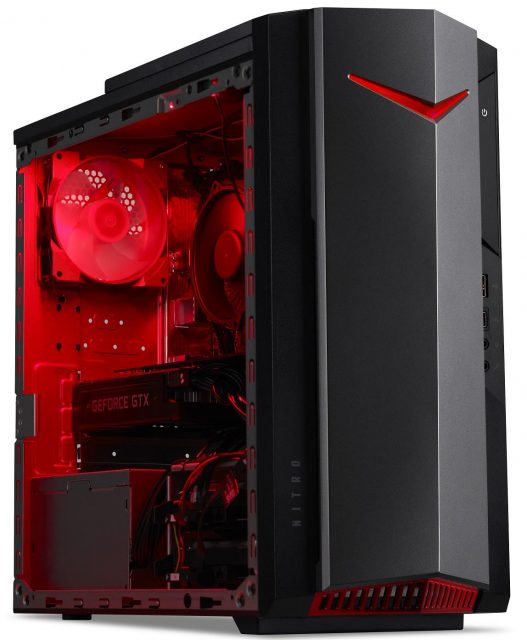 On the other hand, the more budget-conscious Nitro 50 is getting its due refresh too with a 12th Gen Intel Core CPU, up to NVIDIA GeForce GTX 1660 SUPER, 8GB RAM, and 512GB PCIe SSD – all within an 18L chassis.
Starting from RM3,599, purchases before July 14 are entitled to an RM150 cash discount and up to RM400 worth of gifts.
Monitors
We gonna start off the display section with the Predator CG437K S, a premium 42.5-inch flat gaming monitor equipped with a panel capable of delivering 144Hz at UHD resolution (3840 x 2160) with 1 ms RGB response time on top of NVIDIA G-SYNC Compatibility. The color is nice as well thanks to the 90% DCI-P3 color gamut and Delta E<2 color accuracy. To ensure great gaming and any visual content in general, the peak 1,000 nits brightness carrying the VESA DisplayHDR 1000 certification will do the monitor justice.
Made to be compatible with the latest consoles out of the box, the HDMI 2.1 ports match the requirement for 4K 144Hz with VRR while the internal USB hub function offers a variety of USB 2.0 and USB 3.0 ports packed with a KVM switch to work in a multi-device environment seamlessly. Oh, the USB-C can be used to deliver 30W of power for charging too. Also, have fun with the RGB lighting strips to be synced with music and media while Acer ColorSense and LightSense adjust color temperature and brightness on the fly depending on ambient conditions. ProxiSense will do the "Wake and Sleep" job for you by gauging how far you are from the monitor.
Retailing at RM4,699, purchases before July 14 are entitled to an RM200 cash discount and up to RM199 worth of gifts.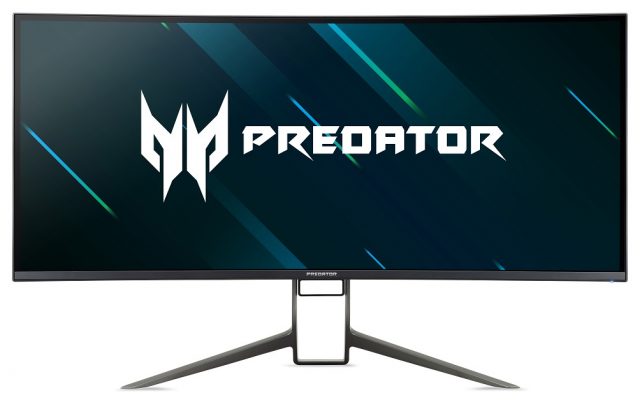 If the former is for aiming for visual presentation over competitiveness, this Predator x38 S side towards the latter side. Featuring a UWQHD+ (3840×1600) Agile-Splendor IPS display, it comes in at 37.5-inch with a curvature of 2300R. Yes, it is a curved gaming display. And it churns nice visuals with Delta E<2 accuracy and up to 98% DCI-P3 wide color gamut besides the 175 max refresh rate and super low response time at 0.3ms. Taking to the next level thanks to NVIDIA G-SYNC ULTIMATE, the new G-SYNC Esports Mode will automatically enable the lowest latency settings, powered by the Reflex Latency Analyzer. The LightSense and ColorSense mentioned before are found in this display as well.
Priced at RM5,999, purchases before July 14 are entitled to an RM300 cash discount and up to RM199 worth of gifts.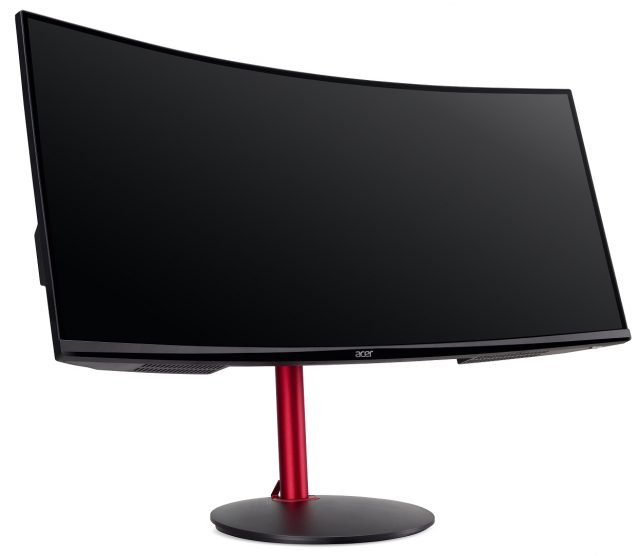 Stepping down towards the budget zone, the new Nitro XZ342CUP is essentially a curved 1500R gaming monitor with a ZeroFrame design that delivers 144Hz of refresh rate and 1ms VRB response time at a nice 34-inch QHD resolution. Together with AMD FreeSync, enjoy tearless gameplay all the time while the Flicker-less, BlueLightShield, and ComfyView trio will gamers' eyes in check with less strain all day.
Tagged at RM1,899, purchases before July 14 are entitled to an RM100 cash discount and up to RM50 worth of gifts.
Saving the best for last, this isn't really a monitor but a 4K LED gaming projector – the Predator GD711. Optimized for both console and PC signal output, users can either choose the standard mode via selecting the 4K (3840 x 2160) resolution or go for the blazing 240Hz (PC) / 120Hz (consoles) refresh rate at FHD which is perfect for the people rocking the gamer + movie goers spirit. Featuring 125% Rec.709 color gamut, the color saturation and range is needless to say, brilliant. Other than that, the 4,000 lumens of brightness and HDR10 make high dynamic contrast content a breeze.
The throw size is also pretty neat at a maximum of 300-inch with a recommendation of 2.70m for 100-inch and excellent airflow dissipates heat to keep the internals chilled properly for a rated 30,000-hour lifespan.
Retailing at RM4,999, purchases before July 14 are entitled to an RM300 cash discount and up to RM199 worth of gifts.
Peripherals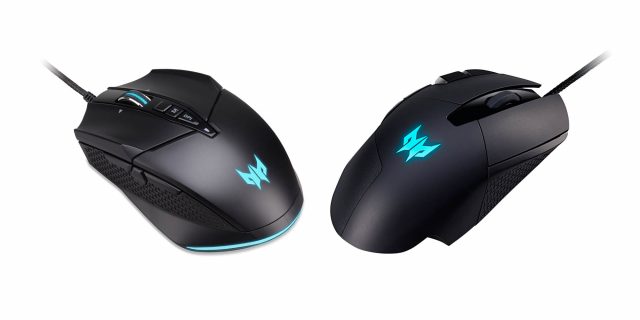 Some new gaming gears are on the premise too such as the Predator Cestus 355 ergonomic gaming mouse running a PixArt 3370 sensor providing up to 2,000Hz of polling rate and 19,000 DPI denotable across 5 color-coded levels. With 10 programmable buttons, config up to 5 profiles via the QuarterMaster app with ease. The little brother Cestus 315 is for the less competitive guys, coming in at a maximum of 6,500 DPI across 4 colors powered by the PixArt 3325 sensor.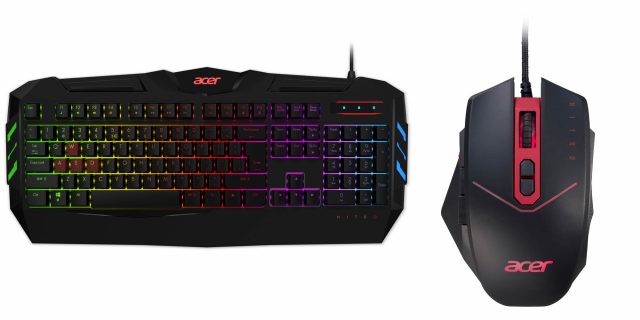 The new Nitro keyboard is another affordable way to get into the Nitro family as it provides anti-ghosting just up for 19 keys while the Nitro Mouse has 6-level shifting levels capping at 4,200 DPI.
Availability
All of the listed products in this post are acquirable from Acer Malaysia's Lazada and Shopee digital store as well as offline retailers and authorized resellers starting today.
Flash Sales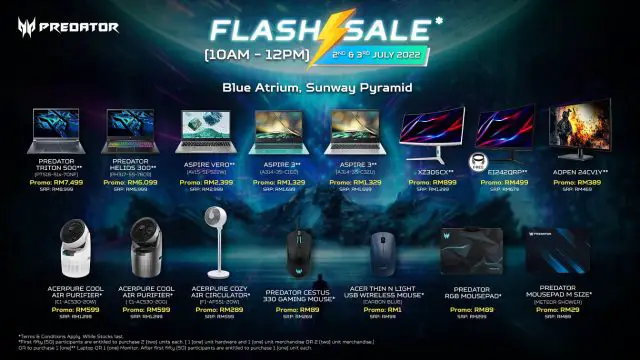 To celebrate the launch of these new products, Acer Malaysia will be hosting quick flash sales this Saturday and Sunday, 2 hours each day, and you can grab some of the best deals in town.
| | |
| --- | --- |
| Product | Flash Sale Price |
| Predator Triton 500 (Gaming Laptop) | RM7,499 |
| Predator Helios 300 (Gaming Laptop) | RM6,099 |
| Aspire Vero (Laptop) | RM2,399 |
| Aspire 3 (Laptop) | RM1,329 |
| XZ306CX (Ultra-Wide Curved Gaming Monitor) | RM899 |
| EI242QRP (Ultra-Wide Curved Gaming Monitor) | RM499 |
| AOpen 24CV1Y (Gaming Monitor) | RM389 |
| Acerpure Cool Air Purifier | RM599 |
| Acerpure Cozy Air Circulator | RM289 |
| Predator Celsus 330 (Gaming Mouse) | RM89 |
| Acer Thin N Light Wireless Mouse | RM1 |
| Predator RGB Mousepad | RM89 |
| Predator Mousepad (M Size) | RM29 |
| Predator Gaming Utility Backpack | RM199 |
| Predator Gaming Urban Backpack | RM99 |
| Predator Reflective Bag | RM59 |
| Acer Urban Entry Backpack V2 | RM1 |
| Acer Laptop Sleeve 14-inch | RM19 |
| Predator Reflective Hoodie | RM159 |
| Predator Reflective T-Shirt | RM39.90 |
| Predator Portable Vacuum Suction Bottle | RM49 |
| Predator Snapback Cap | RM29 |
| Predator Reflective Mask | RM9.90 |