ConceptD is Acer's new brand of desktops, notebooks, monitors and Windows Mixed Reality headset designed to fulfil the requirements of the creative industry. This premium line up revolves around these core values – Performance, Silent, Timeless Design & Colour Accurate.
ConceptD 900 & 500 Desktops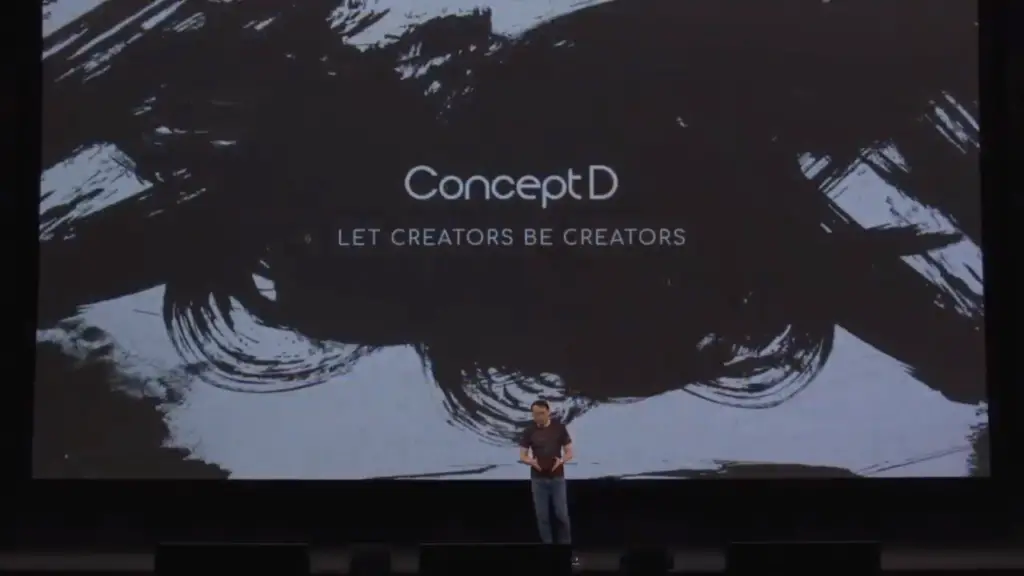 The Concept D 900 and 500 high-end desktops feature a range of NVIDIA Quadro RTX 6000 and RTX 4000 GPU to enable demanding visual effects rendering, complex 3D modelling, simulations as well as AI and deep learning development. The ConceptD 900 features dual Intel Xeon Gold 6148 processors and supports up to 12 sticks of ECC memory (192GB in total). That is a machine for AI & deep learning developers.
Meanwhile, the ConceptD 500 is more suitable for creative professionals where its 9th gen Intel Core i9-9900K & RTX 4000 GPU would fly through the multimedia application with ease.
ConceptD 9, 7 & 5 Notebooks
ConceptD 9, 7, and 5 creator notebooks feature the timeless design, and 4K UHD IPS 2 PANTONE Validated displays. Covering 100 per cent of the Adobe RGB colour gamut, creators can be sure that their colours are as accurate as possible. With a wide colour gamut, displays achieve an impressive colour accuracy of as low as Delta E <1. These creator notebooks stay quiet with Acer's 4th gen AeroBlade 3D Fan with a noise reduction mechanism that emits less than 40db of noise.
The flagship ConceptD 9 features Acer's CNC-machined Ezel Aero Hinge where the 17.3-inch 4K display can be flipped, extended or reclined for multiple usage modes. The Wacom EMR stylus further enhances the digital writing & sketching experience. Powered by up to 9th gen Intel Core i9 processor and NVIDIA GeForce RTX 2080 graphics, that is one powerful creator notebook.
The ConceptD 7 on the other hand, comes with 9th gen Intel Core i7 processor and NVIDIA GeForce RTX 2080 Max-Q. That said, the laptop will be thinner and more compact for travelling creators. Its 15.6-inch 4K display is PANTONE validated for that extra accurate colour reproduction
Meanwhile, the ConceptD 5 is to cater to those 2D graphic design projects. Featuring 8th gen Intel Core i7 processor with Radeon RX Vega M GL graphics, this line of the laptop is slim and light. Weighing just 1.5kg and measuring at 16.9mm thin. That goes without saying, it shares the same amazing display with the ConceptD 7.
ConceptD Monitors
Colour accuracy is the most crucial factor in the visual designing industry. Hence all of the ConceptD monitors will feature a remarkable colour accuracy of Delta E <1 and PANTONE validated.
The CM7321K is a 32-inch monitor ideal for 2D creators. Its VESA-Certified Display HDR 1000, 32-inch 4K UHD display delivers 1152 zones of local-dimming with Mini LED technology and DisplayHDR 1000, plus 99 per cent coverage of the Adobe RGB colour space and 89.5 per cent Rec.2020 so creators and filmmakers can bring their ideas to life.
The CP7271K is a PANTONE Validated 27-inch monitor optimized for 3D creators. It has an impressive colour accuracy of Delta E <1, a wide colour gamut of 99 per cent of the AdobeRGB colour space, and 93 per cent DCI-P3 colour space. It also features GSYNC Ultimate and Display HDR 1000 for unparalleled colour and image detail.
ConceptD OJO Windows Mixed Reality Headset
The ConceptD OJO Windows Mixed Reality Headset features a 4,320 x 2,160 display, detachable and swappable head strap design, easy inter-pupil distance adjustment, and a classic white finish. It has a patented built-in sound pipe technology and software-assisted interpupillary distance (IPD) adjustment technology that lets the wearer modify the gap between the eye's pupil and the display distance for sharper, clearer images and more enjoyable experience.
Pricing & Availability
N. America
EMEA
China
ConceptD 900
July

USD 19,999

June

EUR 17,999

December

RMB 259,999

ConceptD 500
July

USD 1,699

July

EUR 2,799

July

RMB 20,999

ConceptD 9
August

USD 4,999

August

EUR 4,999

August

RMB 49,999

ConceptD 7
July

USD 2,299

July

EUR 2,299

May

RMB 19,999

ConceptD 5
June

USD 1,699

July

EUR 1,699

June

RMB 12,999

ConceptD CM7321K
September

USD 2,999

September

EUR 3,199

August

RMB 29,999

ConceptD CM7271K
July

USD 1,999

July

EUR 2,099

June

RMB 9,999