NVIDIA has finally released its desktop version of the RTX 3050, an entry-level RTX 30 series card that is aimed for 1080p gaming and of course, to bring ray tracing and DLSS to users at a more affordable price range. We managed to get our hands on the RTX 3050 Twin Edge OC from ZOTAC this time for a quick run, just so we can see what kind of performance we can expect from the RTX 3050.
Specifications
| | |
| --- | --- |
| GPU | GeForce RTX 3050 |
| CUDA Cores | 2560 |
| Tensor Cores | 80 |
| RT Cores | 20 |
| GPU Clock | Base: 1552 MHz, Boost: 1777 MHz |
| Memory Data Rate | 14 Gbps |
| Total Video Memory Size | 8GB GDDR6 |
| Memory Interface | 128-bit |
| Memory Bandwidth | 224.0 GB/s |
| TDP | 130W |
| Recommended PSU | 550W |
| Power Connectors | 1 x 8-Pin |
Unboxing
Design-wise, the RTX 3050 Twin Edge OC is a very compact dual fan card that can easily fit into a lot of cases, which is especially good for ITX builds. The cooler features two cooling fans and a heatsink with 3 heat pipes that span through an array of aluminum fins, so it's not the kind of basic heatsink block you'll find on some of the OEM design cards.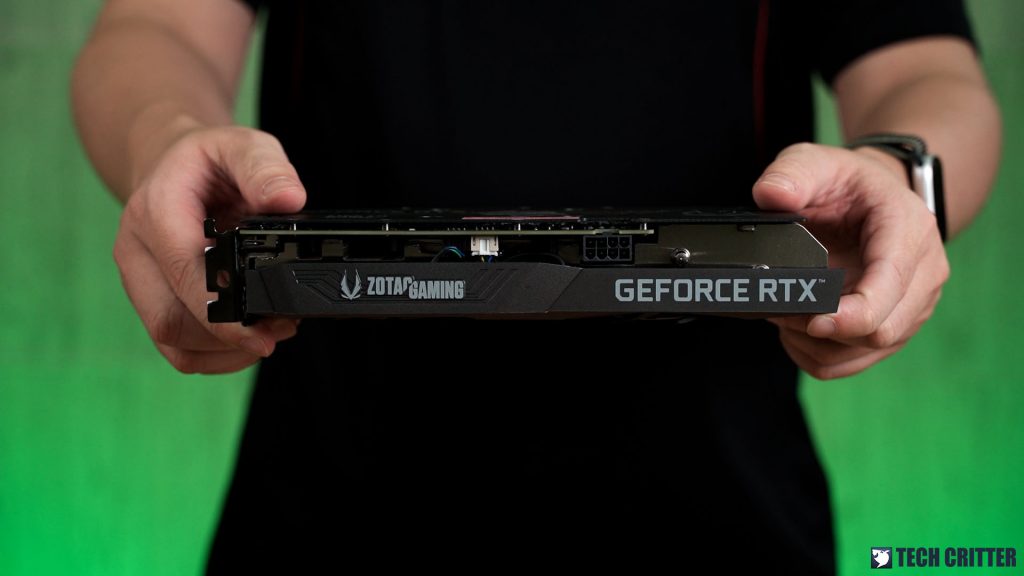 The RTX 3050 is powered using an 8-pin PCIe power connector and you'll need a minimum 550W power supply. I was actually hoping to see the RTX 3050 not have to rely on an external power source but that's not possible due to the limitation on the PCIe x16 slot which can supply up to 75W at most.
For the display output, you'll find 3 x DP and 1 x HDMI, which is pretty standard for graphics cards nowadays.
Test System
We've compared it against the GTX 1660 SUPER and RTX 2060 with a few selected AAA titles just so we can get a better idea of what kind of performance the RTX 3050 is capable of. You can refer to the list here to see the specifications of the test bench we're using for this test:
| | |
| --- | --- |
| CPU | Intel Core i9-12900K |
| Motherboard | ASUS ROG Maximus Z690 APEX |
| Memory | Teamgroup T-Force Delta RGB DDR5 |
| Graphics Card | NVIDIA GeForce RTX 3080 |
| Power Supply | Cooler Master V1200 Platinum |
| Primary Storage | PNY XLR8 CS3040 |
| Secondary Storage | WD Black 6TB |
| CPU Cooler | ASUS ROG Ryujin II 360 |
| Chassis | Cooler Master MasterFrame 700 |
| Operating System | Windows 11 64bit |
Games Benchmark (DX12)
Starting off with the raw raster performance, we can see that the RTX 3050 is just a bit more powerful than the GTX 1660 SUPER and it's still not powerful enough to overpower the RTX 2060.
For titles that are more demanding on the graphical performance i.e Watch Dogs Legion, Cyberpunk 2077, Metro Exodus, you won't be able to get the standard 60fps experience if you're going straight for the highest possible settings. So you might want to tune down a little bit to probably high settings? That'll give you a much better framerate without sacrificing too much on the overall performance.
Games Benchmark (DXR)
Now for the ray tracing performance, going straight off with ray tracing enabled without DLSS is something you should avoid because the majority of the games are pretty much unplayable.
There are games that only come with FSR but graphics quality-wise, I still think DLSS is better, especially when you're on 1080p – the differences are just too noticeable.
Though, not all the games can reach the standard 60fps on average if we opt for the highest possible settings, so you'll probably want to lower the settings to high to make the games more playable? Of course, if ray tracing isn't really your thing, you can still take advantage of DLSS for a significant performance boost if the game actually supports DLSS.
Thermals & Power
Moving on to the temps and power draw, the RTX 3050 Twin Edge OC draws roughly 121W during heavy loads, and the highest temp recorded is 71ºC. The temperature is still reasonable I'd say, and the cooler is not too loud as well during load, so it's technically a good trade-off there.
In case you're interested to know the load temperature and power draw for the three cards we've used for the test, here are the numbers for your reference:
| | | |
| --- | --- | --- |
| GPU | Load Temperature (ºC) | Power Draw (W) |
| RTX 3050 | 71 | 121 |
| RTX 2060 | 77 | 121 |
| GTX 1660 SUPER | 65 | 118 |
The low power draw is also one of the highlights, as you can easily run this card with a mere 550W PSU, which is good for gamers with a limited budget for an upgrade – especially when graphics cards are still expensive at this point.
Final Thoughts
Well, there's nothing much to complain about this card actually. I don't have a high expectation of the performance when I first started the tests but I'm not disappointed with what it can deliver.
Performance-wise, it's not at the same level as the RTX 2060, that's for sure. While its raster performance is a bit more powerful than the GTX 1660 SUPER, the main highlight here is mainly the ray tracing and DLSS capabilities. Personally, I think that even if you don't play with ray tracing enabled, the DLSS is one useful feature that can give you a performance boost in games that support this feature.
The final retail price might not be as affordable as the MSRP stated during the official launch ($249 or 1200MYR) but compared to the competing RX 6500XT that comes with almost the same price, the 8GB memory, seemingly reasonable ray tracing performance, and DLSS on this card is already a win. All in all, it's a pretty decent entry-level 1080P 'RTX ON' graphics card for those who are planning to upgrade from cards like the GTX 1050 Ti or lower.
Pros
Reasonably powerful performance for 1080P gaming
Ready for games with ray tracing and DLSS features
Reasonable load temperature and fans are not loud on load
8GB worth of VRAM
Low requirement for power supply (550W)
Compact design, suitable for small form factor builds
Cons
The actual price is still higher than the initial MSRP

Where to buy? (Affiliate links)
Amazon US: https://amzn.to/3taqTGu
Lazada: https://invol.co/cl9p3m6
Shopee: https://invol.co/cl9p3nd