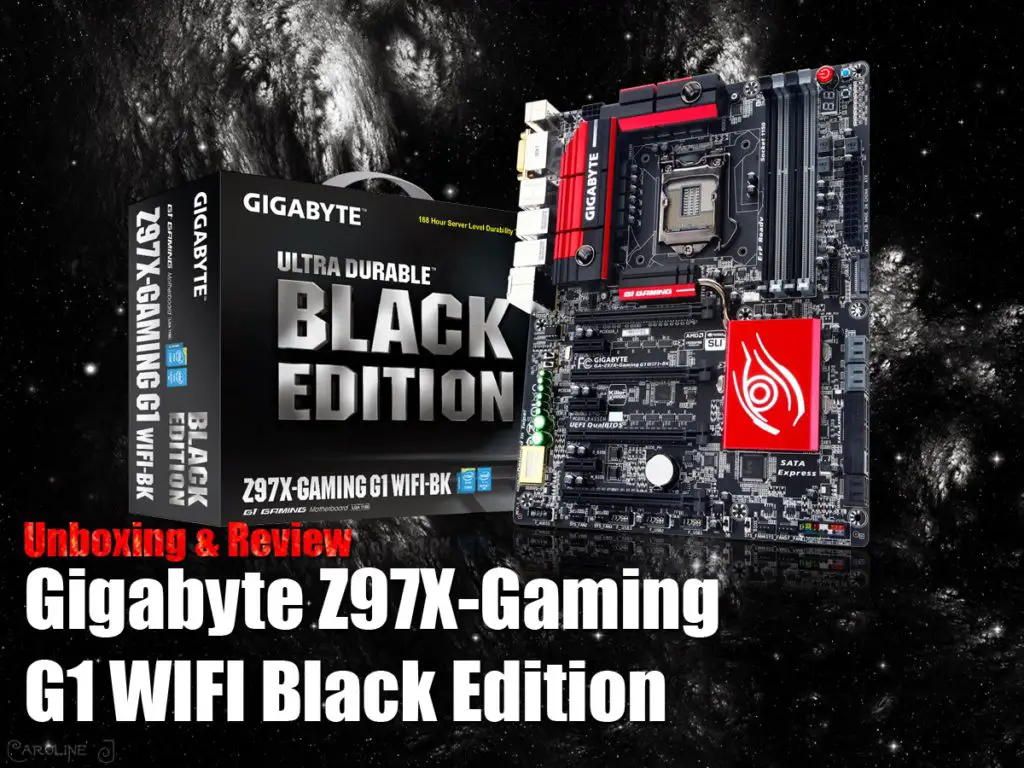 Anticipating the arrival of Intel's Devil's Canyon, we see a lot of new motherboards popping up every now and then. But only some of them really stand out amongst the vast ocean of Z97 chipsets available and this is one of them. The Gigabyte Z97X-Gaming G1 WIFI-BK.
Thanks to Gigabyte for the "Black Edition" sample that made this review possible. At a whopping SRP of RM1499, lets explore what this board have to offer.
CPU SUPPORT:
Intel LGA 1150 Socket CPU
POWER DESIGN:
CPU Power: 8 Digital Phases Memory Power: 2 Digital Phases
CHIPSET:
Intel Z97
INTEGRATED GRAPHICS:
Depends on the integrated graphics on the CPU installed
MEMORY:
4 x DIMM, Max. 32 GB, DDR3 1333 to DDR3 3200+(O.C)
BIOS:
Dual AMI UEFI BIOS with 2×128 Mb Flash ROMs
SLOTS:
4 x PCIe 3.0 x16 slot (x16/x0/x16/x0 or x8/x8/x8/x8) 3 x PCIe 2.0 x1 slot
HDD CONNECTVIITY:
6 x SATA 6.0 Gb/s (Intel Z97) 1 x SATA Express port (uses 2 x SATA 6.0 Gb/s ports via Intel Z97) 4 x SATA 6.0 Gb/s (Marvell 88SE9172)
NETWORKING:
1 x Intel Gigabit LAN, 1 x Qualcomm Atheros Killer E2201
PORTS:
8 x USB 3.0 ports (2 at front panel, 6 at rear panel) 8 x USB 2.0 ports (6 at front panel, 2 at rear panel) 2 x RJ45 LAN connectors 5 x audio jacks 1 x HDMI port 1 x DisplayPort 1 x DVI Port 1 x Optical Audio port
AUDIO:
Creative Sound Core 3D
FAN HEADERS:
7 x 4-pin
FORM FACTOR:
ATX Form Factor (305 mm x 244 mm)
EXCLUSIVE FEATURES:

Extended server level 168 hour durability Test
Onboard Creative Sound Core3D quad-core audio processor
AMP-UP Audio technology with exclusive Upgradable OP-AMP
Audio Noise Guard with LED path lighting
Dual DAC-UP USB ports
Gold plated display and audio ports
High end Nichicon audio capacitors
Killer E2200 and Intel gaming networking
Bluetooth 4.0+867Mbps 11AC dual band WIFI card
Extreme gaming 4-way graphics support
SATA Express support for 10 Gb/s data transfer
Water block thermal design with G1/4 threaded fittings
Long lifespan Durable Black Solid caps
GIGABYTE UEFI DualBIOS
Support for APP Center
EasyTune
EZ Setup
Fast Boot
Game Controller
Cloud Station
ON/OFF Charge
Smart TimeLock
Smart Recovery 2
System Information Viewer
USB Blocker
Support for Q-Flash
Support for Smart Switch
Support for Xpress Install
Packaging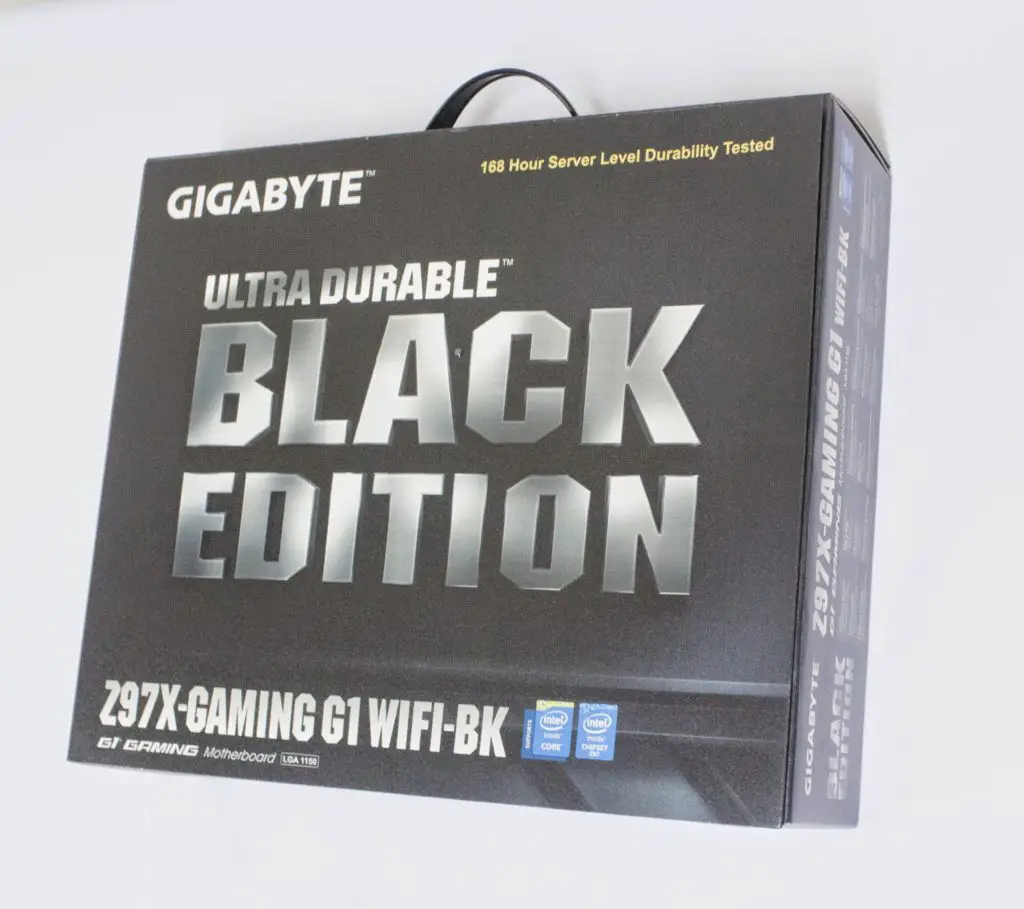 The suitcase-like box is overall black with the main stage taken by a Black Edition wording. You'll also find the motherboard model at the bottom with some branding from Intel while Gigabyte's own trademark is at the top.
Opening the flap, you get a full window to peek at the actual motherboard.
While on the opposite side, Gigabyte highlights some of the features available.
You get a more detailed description of these highlighted features at the back.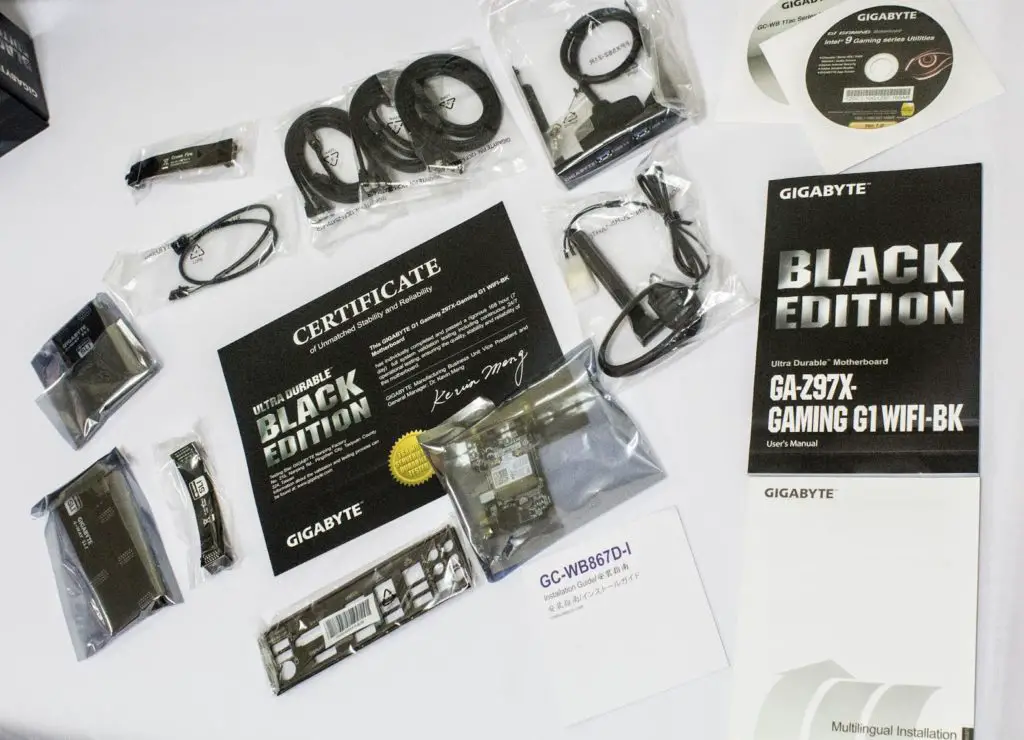 Being a high-end motherboard, the Z97X-Gaming G1 doesn't sell short of accessories.
Driver disk
User Manual
Quick installation guide
Sata cables x6
I/O shield
Crossfire cable
Sli cables (2 way, 3 way and 4 way)
3.5″ front panel USB3.0 adaptor
Wi-Fi adapter (GC-WB867D-I)
Wi-Fi antenna
Certificate of unmatched stability and reliability
The Motherboard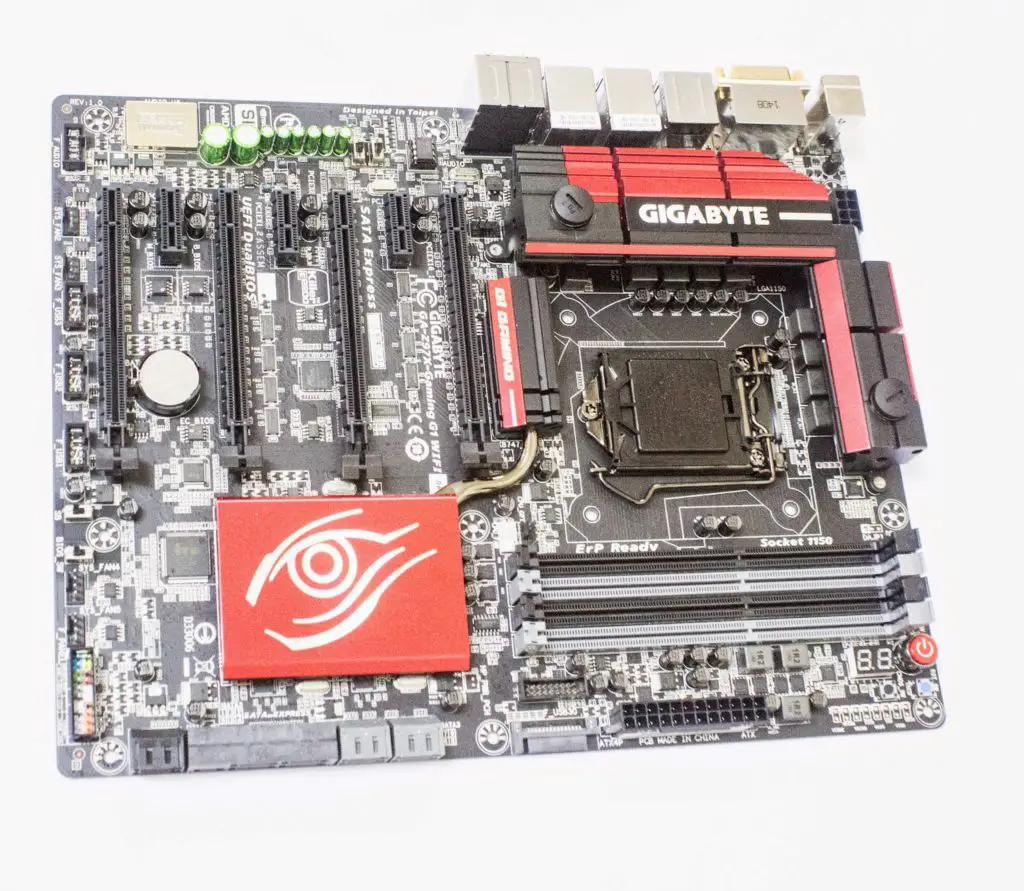 Gigabyte has broken the green-themed G1 line and went with a red/black scheme this time around. Although you will still see some green caps at the audio segment.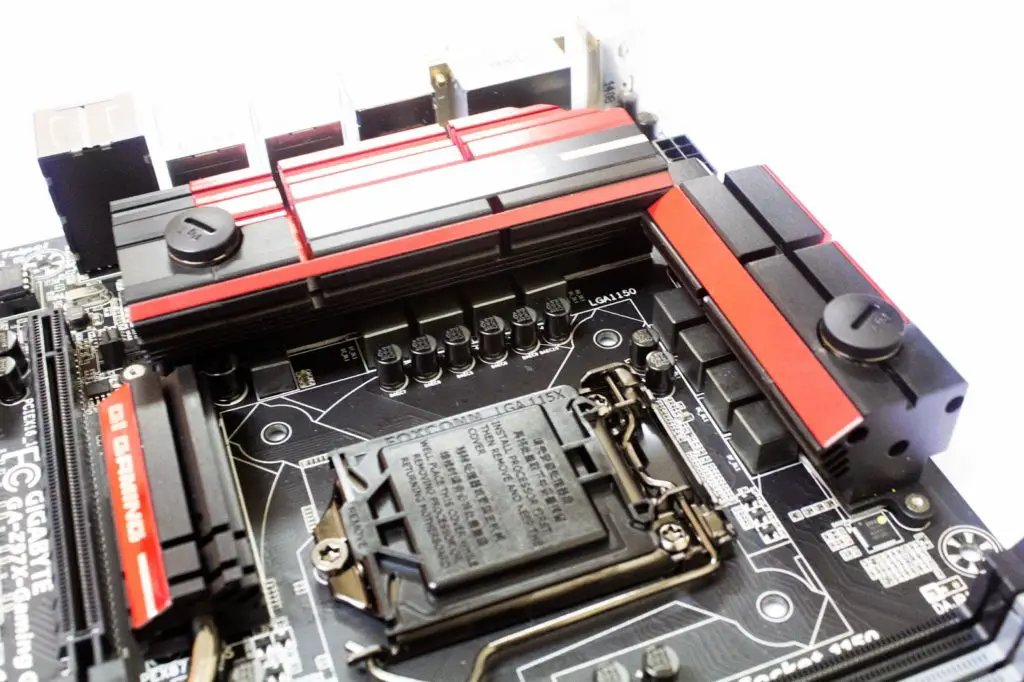 8 phase VRM with 10K rated durable black solid caps is spotted around the CPU socket.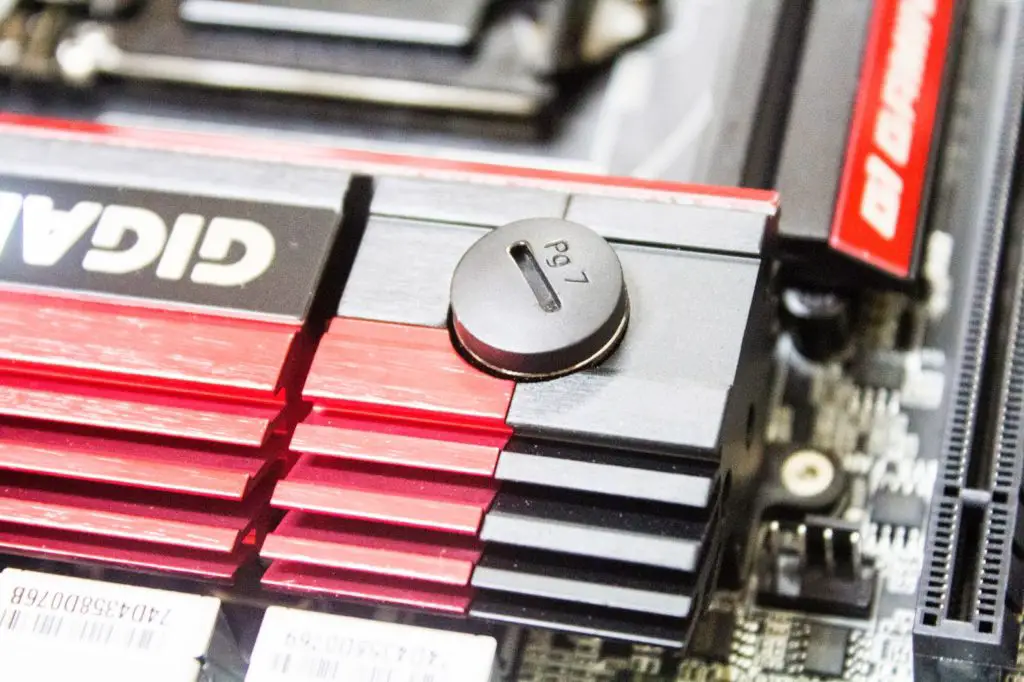 G1/4 fittings receptacle can be seen at the end of each VRM heatsink which allows watercooling the VRM without having to remove or replace the original VRM heatsink of the Z97X-Gaming.
We have the power switch, Q-Code indicator, reset switch and the clear CMOS switch all gathered in one spot for quick and easy access.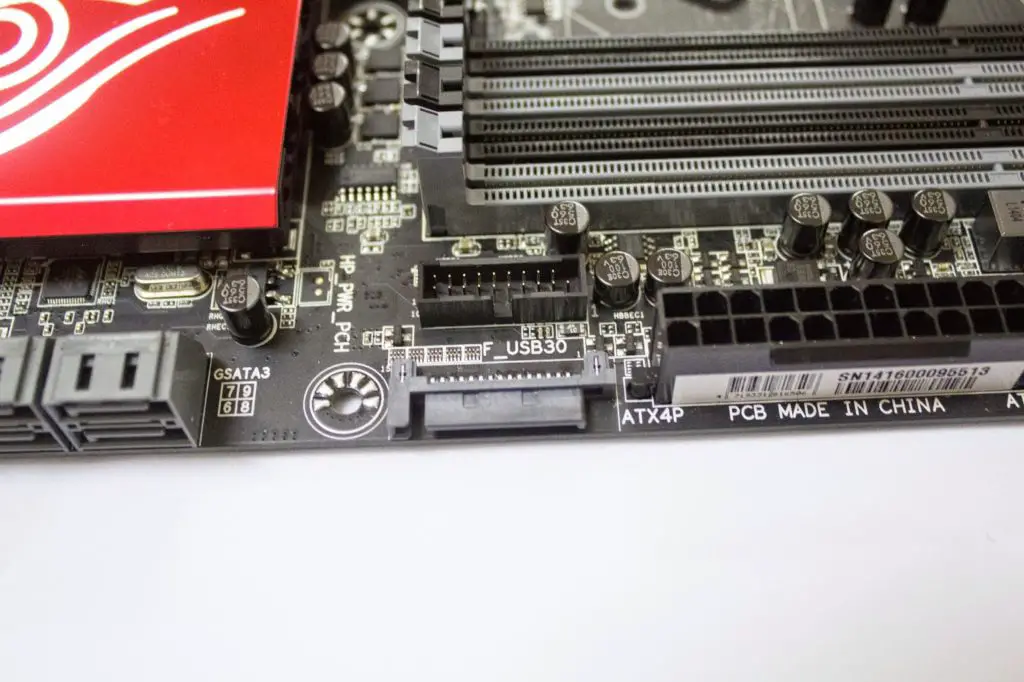 The layout we're seeing here is a little odd, the USB 3.0 header is located next to the OC-PEG connector that provide more stable PCIe power when using 3-way and 4-way graphics configurations. We find this rather inconvenient for cable management, especially in smaller PC chassis as the USB3.0 cable isn't really compact per-se.
The SATA Express ports from Intel Z97 chipset is available on the Z97X-Gaming G1 WIFI which is able to provide up to 10 Gb/s of transfer speed, but there's only one at the bottom. Both SATA port on top of the SATA Express port is actually standard 6Gb/s. What disappoints us here is the lack of M.2 slot, as for one to pay quite a fortune for this board but no M.2 slot.
More anomaly spotted, the CPU fan header is located at the left of the RAM slot instead of the mainstream design which located at the top edge of the motherboard. This makes plugging/unplugging CPU fan connector much harder than usual if you have a long graphics card installed.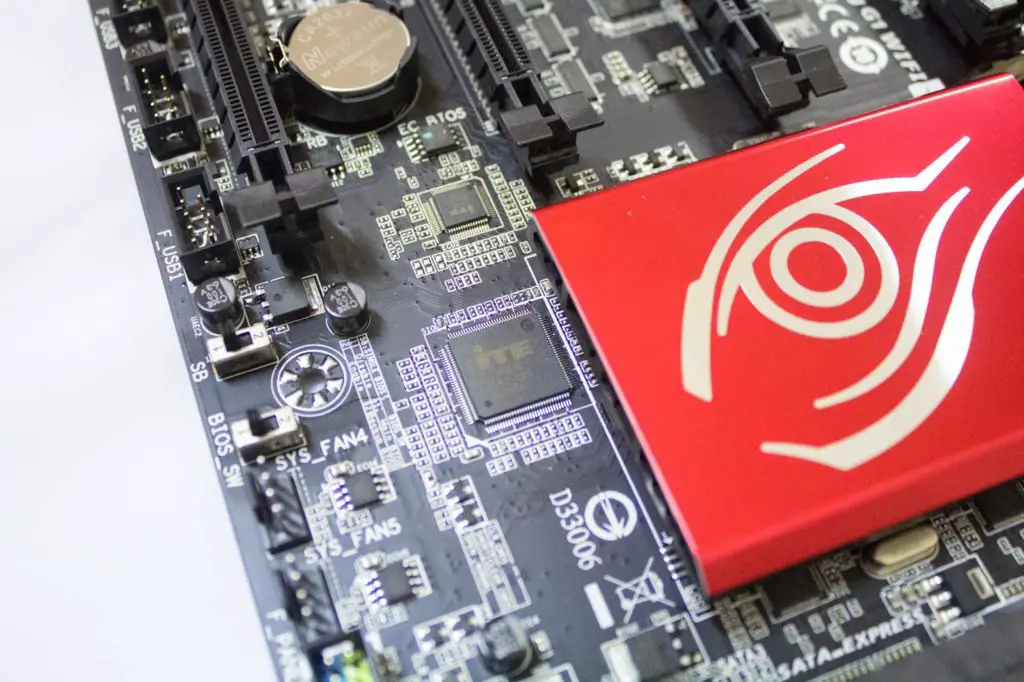 Here's the ITE IT8620E sensor chip which monitors critical on-board parameters such as temperatures, voltage, fan speed, etc.
Located next to the USB 2.0 header is 2 BIOS switches with function as following:
SB switch enables/disabled the dual BIOS function
BIOS_SW switch selects the active BIOS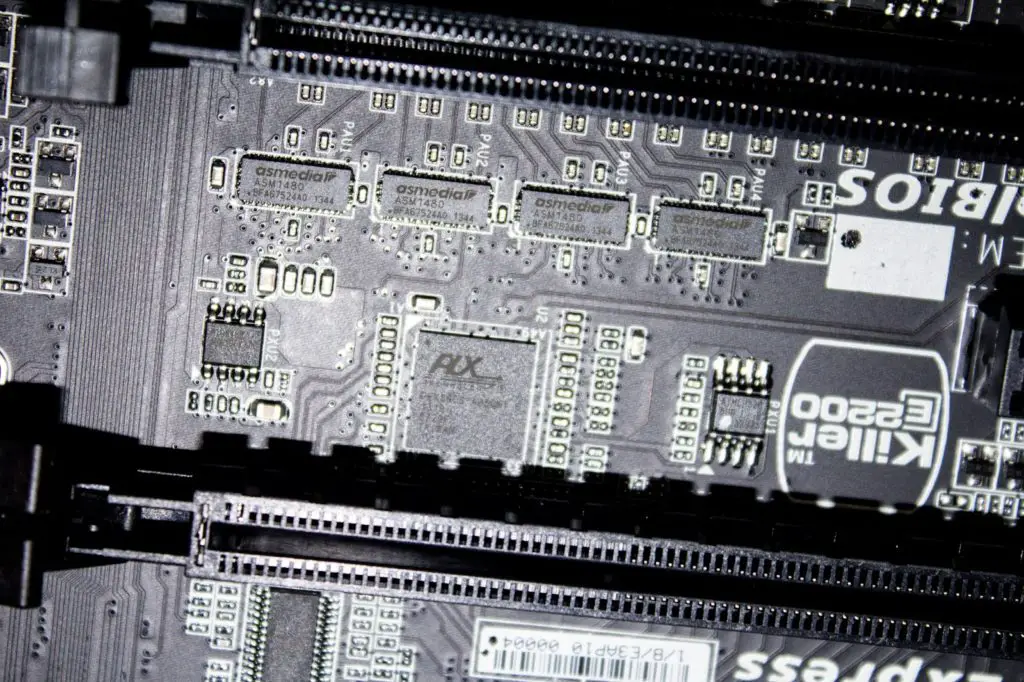 A PLX PEX 8605 hub that provides the additional PCI-E lanes is spotted near to the PCI-E slot.
Here's the Gigabyte upgradable OP-Amp nearby the back I/O. Yes the OP-Amp is replaceable to your preference.
Instead of going for the mainstream Realtek audio chipset, Gigabyte has opted for the Creative Sound Core3D and high quality capacitors to deliver better sound quality and experience to the end users. There are also 2 switches to enable audio boost to further enhance the audio quality.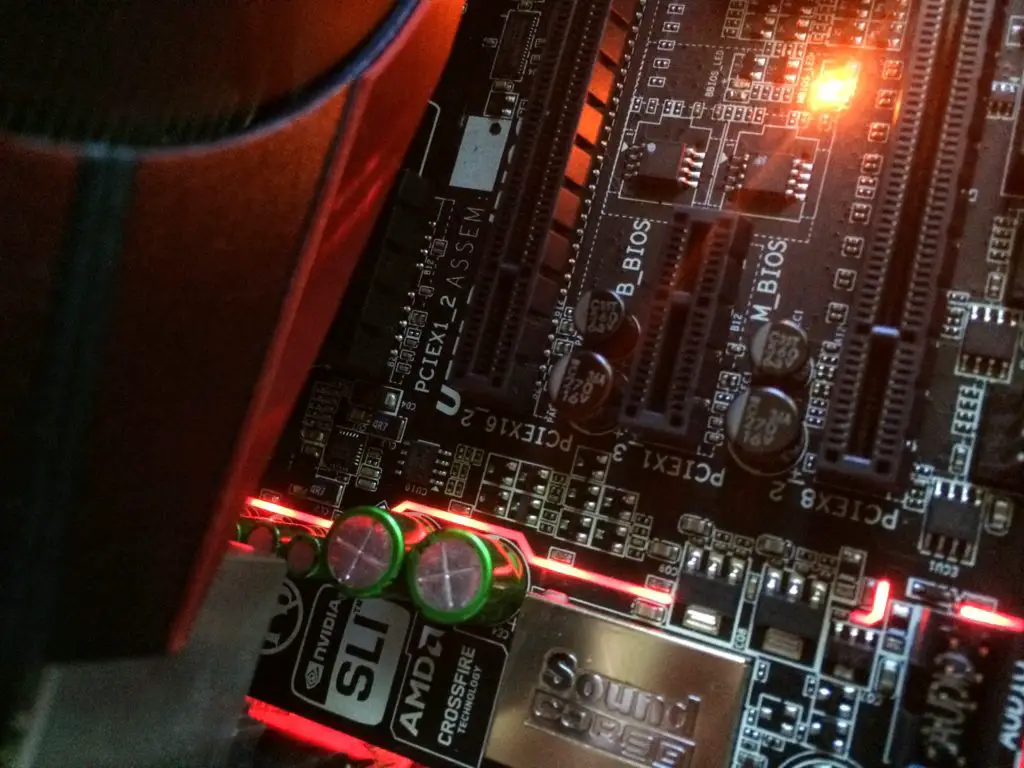 While powered up, a red illuminated line that separates the audio PCB is from the rest of the components on the motherboard.
The rear I/O panel comes with the following features:
2 x USB 2.0 port specially designed to provide noise free power for USB soundcards
1 x P/S2 port
1 x gold plated DVI-I port
1 x gold plated Display Port
1 x gold plated HDMI port
6 x USB 3.0 ports
2 x Ethernet Port
1 x gold plated 5.1 audio jacks
1 x SPDIF port
Here's something which we would like to highlight, the rear I/O panel seems luxurious where the DVI-I, Display Port, HDMI and the 5.1 audio jacks were all gold plated. It's good to see that there's still a P/S2 port here which we personally find it extremely useful in the time of needs. The two yellow coloured USB2.0 ports which Gigabyte claimed to supposedly provide clean and noise free power which would help to improve the fidelity of sound through USB soundcards.
BIOS
The new UEFI BIOS for Gigabyte Z97X-Gaming G1 WIFI Black Edition literary takes up the name with dark theme yet it remains a simple and straight forward user interface.
A choice of 19 languages are selectable for the system language to cater to your preference.
The fast boot feature allows system to boot into OS much faster, especially on Windows 8 when it is booted from an SSD but this makes the access to the BIOS setup screen much difficult or nearly impossible. But there's no need to fear as it can be disabled through the Fast Boot feature that is available in the Gigabyte App Center.
Time and date configuration is made simple with the new user interface.
Boot sequence allow you to configure the sequence of drives to be booted during system startup.
The Integrated SATA Controller allows you to configure the SATA mode as follows:
IDE compatible with all older generation of Windows OS
AHCI enable access to SATA features like NCQ and hot swap
RAID allows drives to be put into an array for data redundancy or to improve the performance
Real world performance between AHCI and IDE are pretty similar but RAID configurations may have better performance depending on the level and type of raid implemented.
You can setup password to prevent unauthorized access to your BIOS settings here, in case someone tries to jeopardize your BIOS settings(??).
The Startup Options allows you to choose your preferred interface when accessing the UEFI BIOS. As highlighted before, if the new interface doesn't suit your tastes, you may opt for the Classic Mode.
Gigabyte has this prepared for those who would prefer to stick to the existing UEFI BIOS interface rather than the new black interface.
Load Default is pretty much self explanatory here, this is the option to go for if you feels like going back to the default factory settings Smart Tweak Mode
The Smart Tweak mode has its entire interface focuses on performance tweaking features for quick and easy access to performance tweaking features.
Frequency tab allows you to adjust the CPU base clock (BCLK), CPU ratio and even the intel HD graphics clock along with other CPU overclocking essentials.
Memory (or RAM) related configuration such as XMP profile, prebuilt memory overclocking profiles, timing can be adjusted in the Memory tab.
The voltage tab allows you to increase or decrease the voltage for CPU, Memory and other components that is required for overclocking/underclocking.
One thing that we find to be less favorable is the Miscellaneous tab as the options available won't do much of a difference to the overall performance.
Home tab allows you to customize up to 4 of your favorite options by placing all of the most frequent used features in one place.
The Save & Exit tab comes with all the options that is commonly known, pretty much self-explanatory as we can see. Software
Just like the others, Gigabyte has its own featured software for adjusting the overall system performance and other features known as the Gigabyte App Center.
The EZ Setup allows you to setup your SATA configuration and Intel's Smart Response, Rapid Start and Smart Connect easily with just few clicks away.
As we've mentioned earlier in the BIOS overview, enabling fast boot makes the access to the BIOS nearly impossible. With this utility, you can easily disable the fast boot feature and gain the access to the BIOS like before.
The Game Controller allows you to configure various macros and hot keys to enhance your gaming experience or to simplify the various key combinations from your daily tasks.
The Smart TimeLock is pretty much a usage control system that allows you to configure the time limit on the usage of the system. It's not something that the enthusiasts will use, but it does comes in handy for parents to control when their children are allowed to log on to the computer to avoid computer addiction.
You can easily go back in time to recover exactly what you need, with Smart Recovery 2. Smart Recovery 2 will automatically saves up-to-date copies of system settings, applications, documents, photos, music, and videos on your PC.
The System Information Viewer comes with features such as System Information and System Alerts to displays the details of your CPU, Motherboards, Memory along with the temperature, voltage and fan speed.
There's an automatic fan configuration feature known as the Smart Fan Auto that allows you to easily configure the speed of fans that is connected to the motherboard with the prebuild fan profiles.
If the prebuild fan profiles doesn't suits your needs, the Smart Fan Advance allows you to customize your own fan profile according to your own needs.
The EasyTune comes with prebuild system overclocking profiles to allow you to easily tweak the system performance according to your needs without having to go through all the hassle of learning how to adjust the voltage and frequencies.
The Advanced DDR OC allows you to adjust the Memory performance without having to go through the BIOS.
3D Power is where voltage related configuration can be performed without having to go through the BIOS as well. Every changes performend in EasyTune will require a reboot for the action to take effect.
BIOS Information displays the information of the current BIOS of your motherboard if you need to know the details.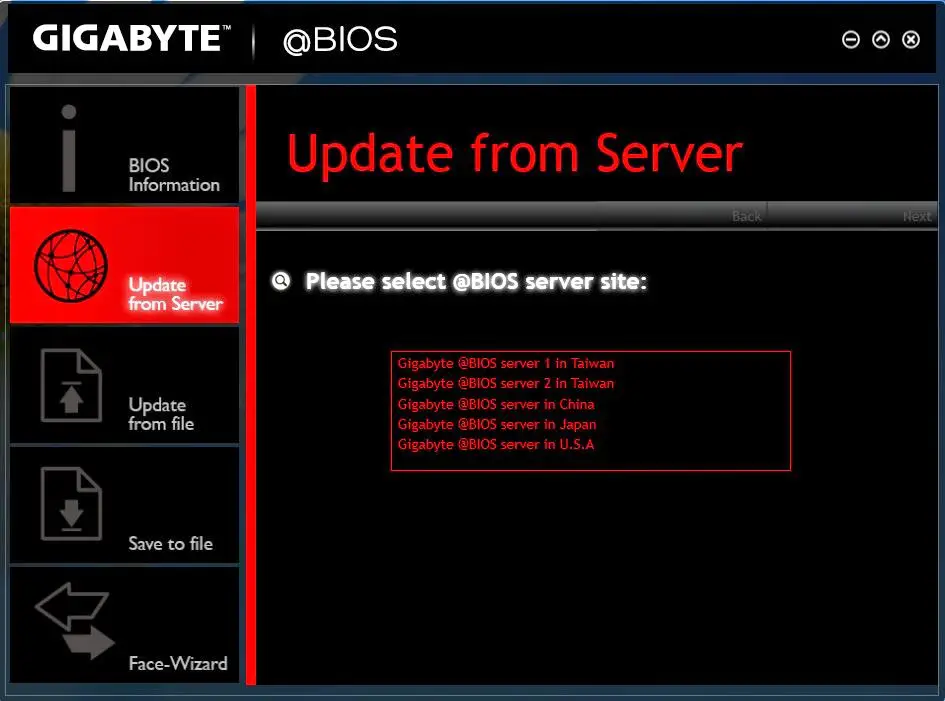 Update from Server allows you to perform BIOS update by downloading the latest version of BIOS from the official Gigabyte server, very helpful as you won't have to worry about downloading the wrong version of BIOS.
Update from file allows you to perform BIOS update from a file, comes useful if you have the correct BIOS file to update or perhaps you wanted to flash it to a specific version of BIOS.
Save to File allows you to save your current version of BIOS before performing any BIOS update as backup shall a BIOS update gone disastrous.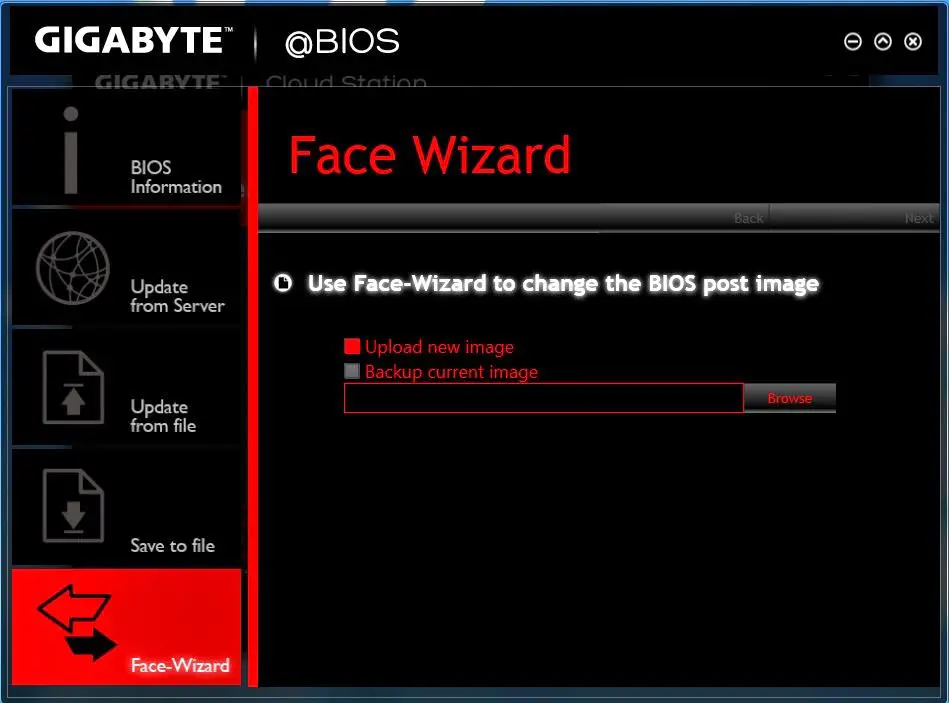 The Face Wizard allows you to change the BIOS post image to the one of your liking.
USB blocker disables the selected type of USB devices plugged in to your system and can only be enabled with a password that is known only by the person who configured it in the first place. Very useful to prevent unauthorized personnel from stealing your data.
Test Method
Test Rig Configuration
CPU Cooler
Noctua NH-D15
CPU
i7 4790K
Motherboard
Gigabyte Z97X-Gaming G1 WIFI Black Edition
Memory
Corsair Vengeance Pro 4GB x 2 (OC to 2400 MHz)
Primary Hard Drive
Crucial M500 120GB
Power Supply
Silverstone ST60F-P 600W 80 Plus Bronze Certified
Graphics Card
ASUS GTX 680 DirectCU II
We've ran few simple tests with the system setup as above and the results is presented in the graphs below:
For overclocking test, we've done it both manually and via software. As depicted in the graph above, we can say that auto overclocking by software requires refinement and is still way behind the manually fine-tuned overclocking result. Although we're able to push the i7 4790K to 4.7 GHz and runs stable on Prime95 torture test with this board, but the CPU temperature went as high as 90ºC after a long run. In order to avoid any throttling issues by going any further, we've resorted with the stable 4.6 GHz with a pleasant temperature. The software auto overclocking gave us a lower clock speed of 4.3 GHz, which is lower than what the i7 4790K is capable of doing 4.4 GHz via Intel Turbo Boost technology by default.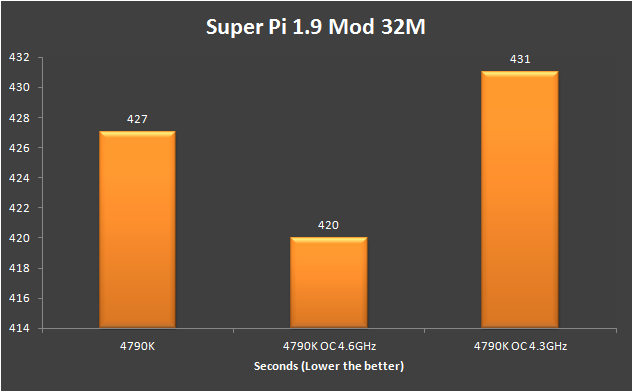 A quick run on the Super Pi 1.9 Mod with 32M.
Result for Cinebench R15 benchmark.
Result of sequential read/write for Crucial M500 120GB (left) and Corsair Neutron 128GB (right) benchmark with ATTO Disk Benchmark. Final Thoughts While CPU performance might vary by batches, overclocking with the Gigabyte Z97X-GAMING G1 WIFI Black Edition seems better compared to our previous result with the ASUS Maximus Gene VI Z87, where we're able to reach 4.7 GHz with the intel i7 4790K (except for the temperature) and hitting 2400 MHz with our Corsair Vengeance Pro without much trouble. Aside from the performance, this board has a plenty of great bundled software in the Gigabyte App Center and features such as the Creative Sound Core3D audio processor and upgradable Op-Amp for better audio quality, Bluetooth 4.0 ready, Watercooling ready heatsink-waterblock hybrid and 5 year warranty that makes it a worthy candidate when it comes to choosing a rich featured high end motherboard. Pros
Comes with 5 year of warranty
Comes with watercooling ready heatsink-waterblock hybrid
Uses Creative Sound Core3D audio processor and upgradable Op-Amp to improve audio performance
Supports up to 4 graphics card for Quad channel SLI / Crossfire setup
Comes with onboard power switch, Q-Code indicator, reset switch and the clear CMOS switch
Rich featured and easy to use software bundle with Gigabyte App Center
Cons
RM1499 is a pretty hefty price tag
Odd placement of USB 3.0 header and CPU fan header makes cable management less pleasurable
Wi-Fi feature is sacrificed if you were to go for a Tri/Quad channel SLI / Crossfire setup as the PCIe X1 slots are all covered by the graphics cards