As Intel's latest HEDT platform is announced, so does the new slew of motherboards. With a new socket LGA 2066 and brand new family of processors ranging from a quad-core Intel i5-7640X to the beastly Intel Core i9-7980XE with 18 cores and 36 threads. MSI was quick to announce the X299 Tomahawk AC motherboard – and we got our hands on one.
Thanks to MSI Malaysia for letting us get our hands dirty with the X299 Tomahawk AC! Unfortunately, we do not have any X299 processors, hence we are unable to do a review on the motherboards. We can, however, bring you an unboxing and overview of the motherboard – highlighting all its features and build quality.
Specifications
| | |
| --- | --- |
| Socket | 2066 |
| CPU | X-Series |
| DDR4 Memory | Intel Core X-series Processors (6-core above 78XX/79XX) – Quad channel memory support DDR4Intel Core X-series Processors (4 core i7-7740X/i5-7640X) – Dual channel memory support DDR4· 4500+(OC)*· 4400(OC)*· 4333(OC)*· 4266(OC)*· 4200(OC)*· 4133+(OC)· 4000(OC)· 3866(OC)· 3800(OC)· 3733(OC)· 3600(OC)· 3466(OC)· 3400(OC)· 3333(OC)· 3200(OC)· 3000(OC)· 2933(OC)· 2800(OC)· 2667· 2400· 2133 MHz* Intel Core X-series Processors (4 core i7-7740X/i5-7640X) only |
| Memory Channel | Quad |
| Max Memory (GB) | 128 |
| PCI-E x16 | 4 |
| PCI-E Gen | Gen. 3 |
| PCI-E x1 | 2 |
| SATA III | 8 |
| M.2 Slot | 2 |
| U.2 | 1 |
| RAID | 0/1/5/10 |
| TPM (Header) | 1 |
| LAN | 10/100/1000*1 |
| USB 3.1 Ports (Front) | 1(Gen2, Type C), 4(Gen1, Type A) |
| USB 3.1 Ports (Rear) | 1(Gen2, Type C), 1(Gen2, Type A), 4(Gen1, Type A) |
| USB 2.0 Ports (Front) | 4 |
| USB 2.0 Ports (Rear) | 3 |
| Audio Ports (Rear) | 5 + Optical SPDIF |
| Form Factor | ATX |
| SLI | Yes |
| CrossFire | Yes |
*Keep in mind that there is some RAM compatibility discrepancy between the Kaby Lake-X and Skylake-X CPUs.
Unboxing
The packaging of the MSI X299 Tomahawk AC still remains the usual as per MSI's design language. At the front is a partial view of the motherboard itself with quite a good coverage on what to expect from the motherboard in terms of features.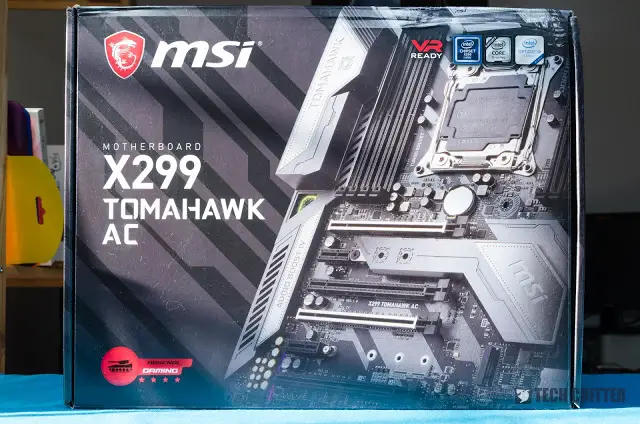 At the back of the box is where the motherboard is shown in its entirety alongside with more product feature highlights. There's also a picture showing all the rear I/O ports at the bottom right corner.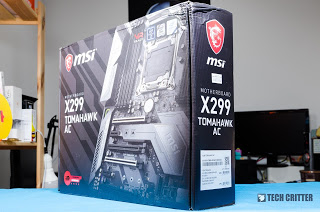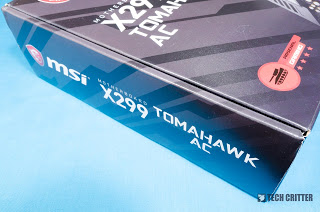 Opening the box reveals the motherboard wrapped in an antistatic bag, as usual.
Underneath the motherboard is a relatively thick layer of foam. This is to protect the motherboard from damages, of course.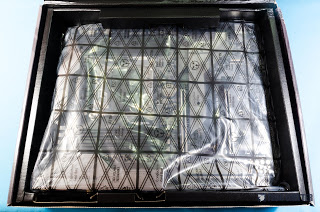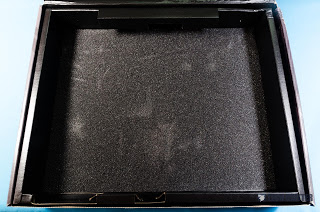 Is it overkill? No, not really – because the motherboard itself is about 1.15kg in mass. With that amount of mass, momentum isn't going to be friendly with the motherboard.
Below the foam is where all the accessories and documentation are found. Let's go through them one by one.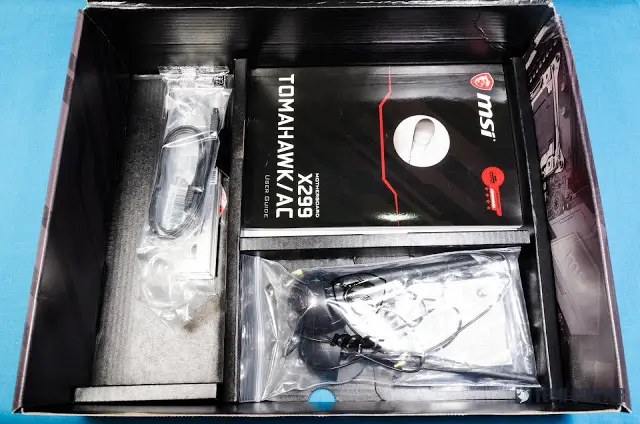 Firstly, the top right compartment. There are quite a lot of things in there – a user guide, a driver CD, a thank you note for choosing MSI, a quick installation guide, a palette of stickers to label your cables, and a memory installation notice for X299 motherboards. The last one is important if you're using X299-based i5 chips as they do not support quad-channel memories.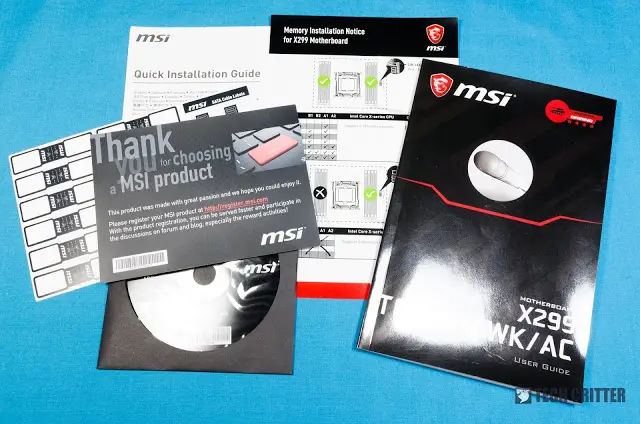 On the left compartment is where two black SATA cables are found – one with a 90° connector on one side. Then there's the MSI Dragon case badge, and also the rear I/O shield.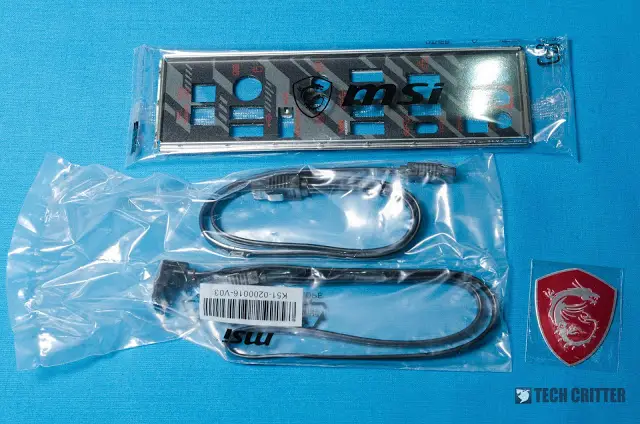 The last compartment here holds two key items – one of which is the antennae for the AC WiFi – hence the alphabets "AC" in the name MSI X299 Tomahawk AC. Secondly is the high-bandwidth bridge for SLI.
The antennae are packed in a ziplock bag together with an installation guide. Keep this handy, as it'll definitely be of use.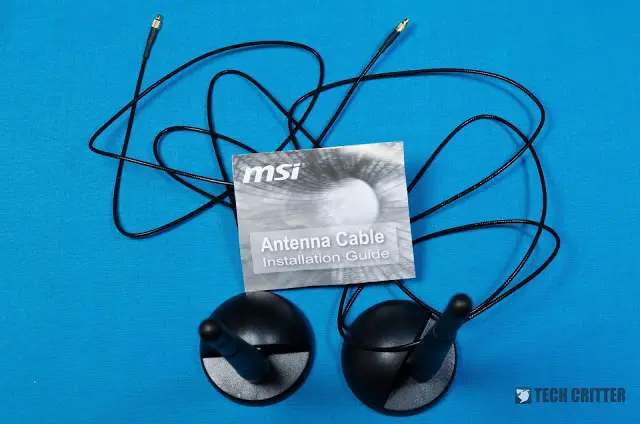 Closer look at the MSI X299 Tomahawk AC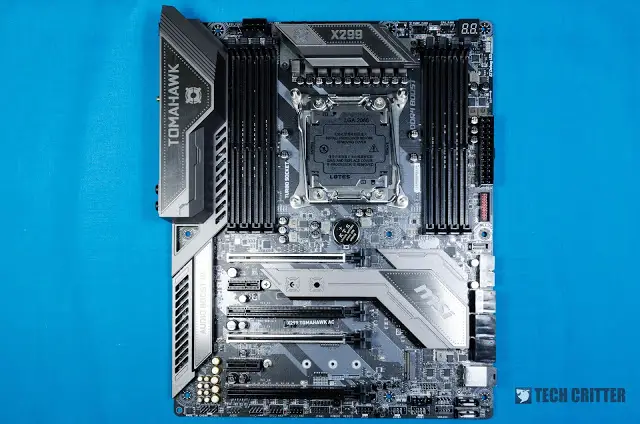 At first glance, the MSI X299 Tomahawk AC has a dark and sleek look. In some ways, it's a little stealthy-looking too. As it is indeed a part of the Arsenal family of motherboards, the plates on the VRM, rear I/O cover, and chipset heatsink look like riveted armor plates.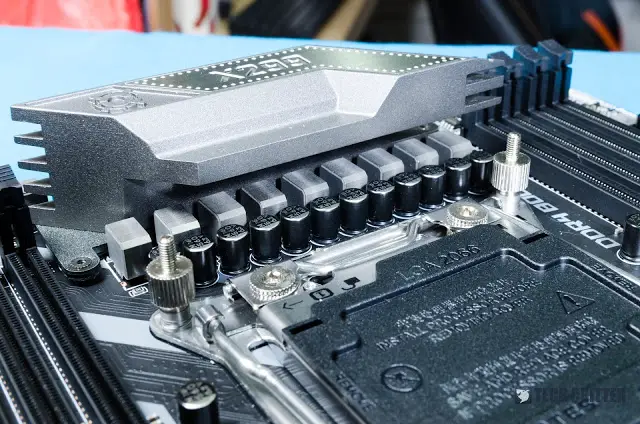 We can see that MSI did not cheap out on the VRM heatsink, as the block is thick and spans nearly the entire width between two banks of RAM slots. And oh – there's a bonus feature here too.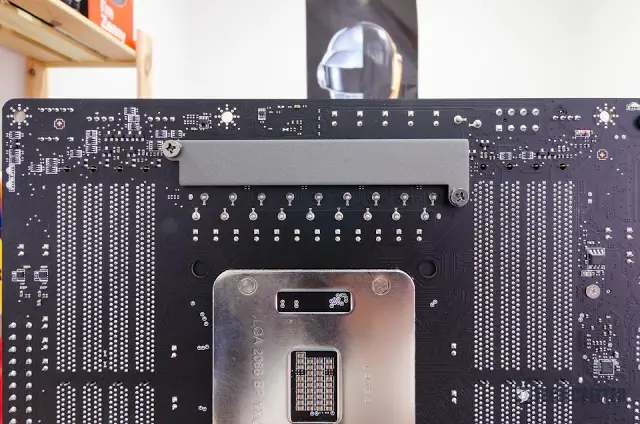 Behind it is a backplate for the VRMs. With a heatsink sandwich design, one can expect better VRM temperatures while overclocked. Unfortunately, we do not have any X299-based CPUs to try out so we cannot comment in terms of performance.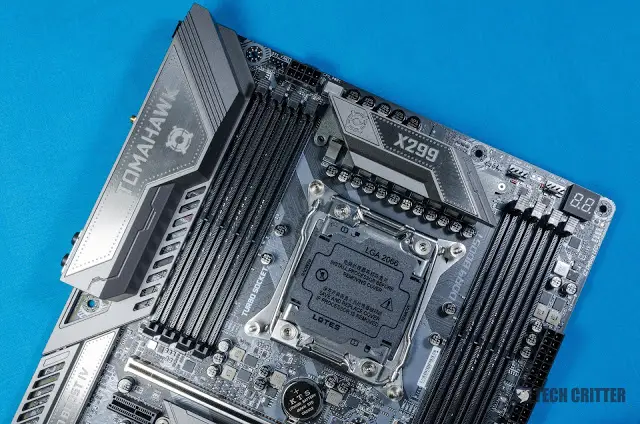 Looking around the RAM slots, we can see that they are not steel-reinforced. Above the right RAM slot bank is where the debug code LED and EZ debug LEDs are found. Keep the user manual handy, as the debug code LED table is and its meaning is found in the manual itself.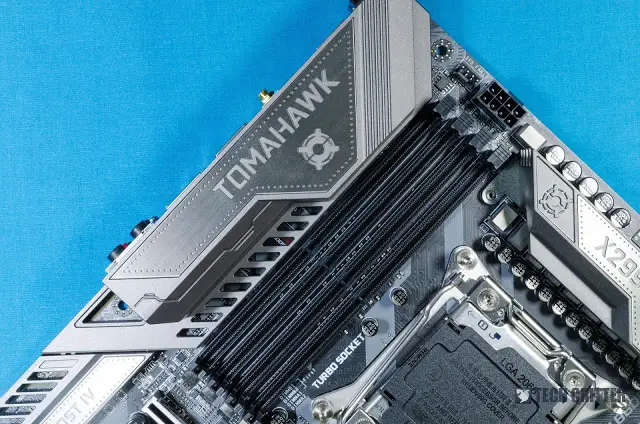 Again to highlight the aesthetics of the motherboard here – it has a consistent gunmetal grey and silver finish all throughout the motherboard.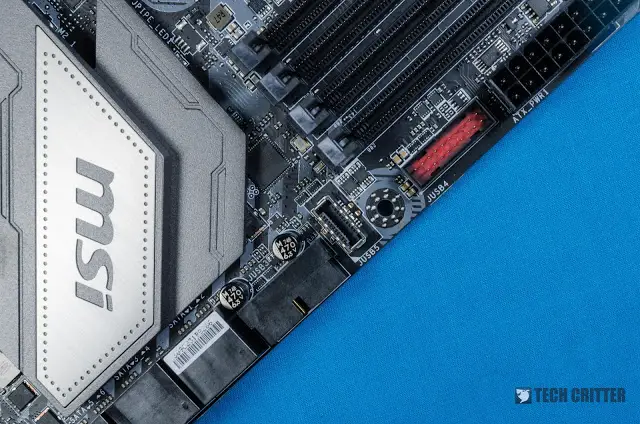 Underneath the 24-pin ATX power connector is where two USB 3.1 Gen. 1 ports are found – one angled in 90°, and a USB 3.1 Gen. 2 port. With M.2 PCIe NVMe SSDs catching more and more attention in the mainstream market these days, motherboard manufacturers have designed the PCH heatsink to extend and cover the first M.2 slot too – where the first slot is usually the one directly linked to the CPU. It is to help the M.2 SSD dissipate heat while still maintaining the motherboard's original aesthetics.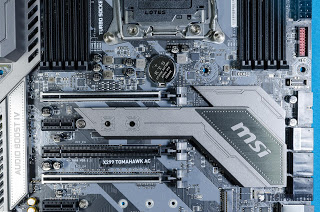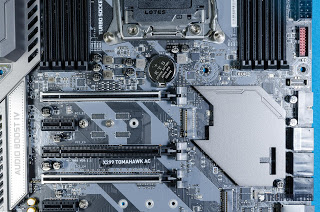 The MSI X299 Tomahawk AC has a heatsink that looks gracefully angles itself inwards to the top M.2 slot. It supports up to M.2 2280 form factor, by the way. The heatsink can be removed by just taking off a simple screw.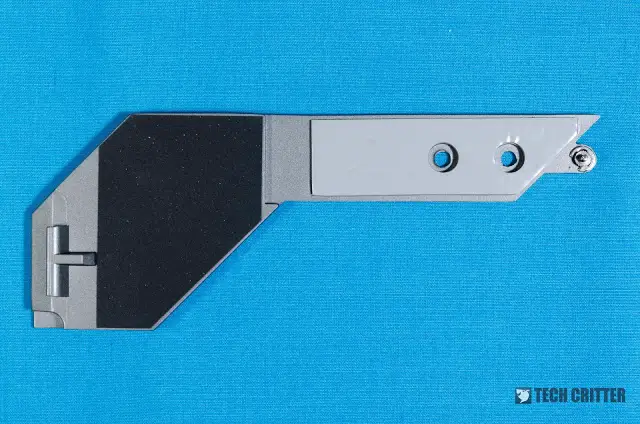 Underneath the M.2 cover is a slab of the thermal pad. The M.2 SSD installation sequence will be a little weird since the thermal pad is already on the heatsink itself.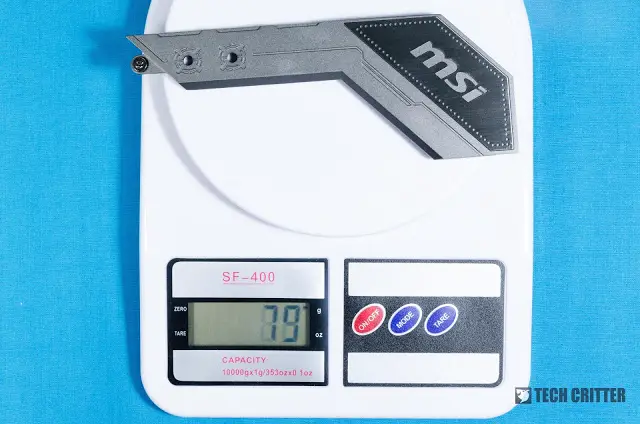 In any case, the heatsink itself weighs in at 80 grams – which is pretty heavy for a heatsink.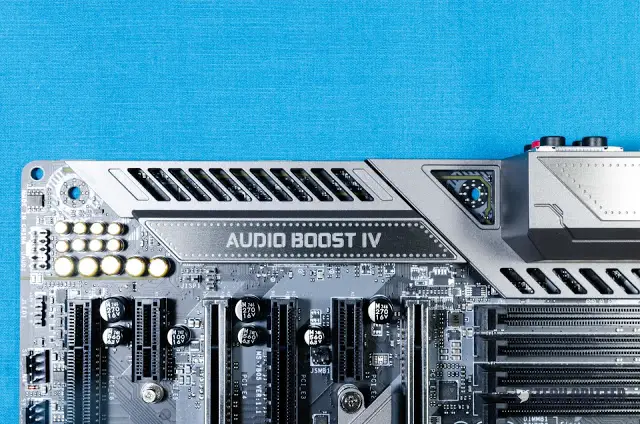 One thing to note here is that the I/O cover spans the entire length of the motherboard, covering up the PCB traces for the audio too. In this case, MSI included their very own Audio Boost IV into the MSI X299 Tomahawk AC.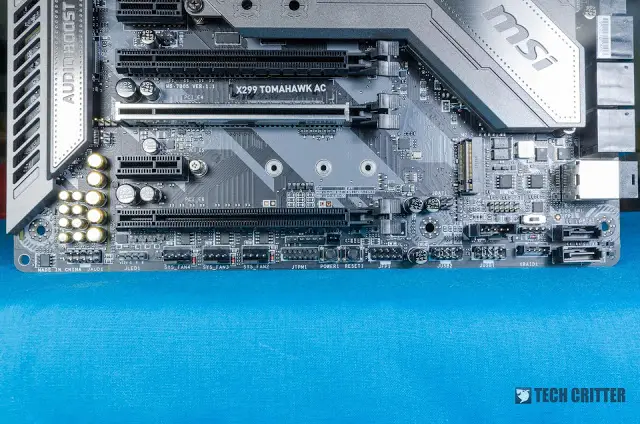 In terms of internal headers, the MSI X299 Tomahawk AC comes with a slew of connectors – ranging from the usual front audio jack, 4x 4-pin PWM fan headers, one pump/fan header, the aforementioned 2x USB 3.1 Gen. 1 headers and a single USB 3.1 Gen. 2 header, and even a Thunderbolt add-in card connector. It's also good to see the inclusion of power and reset switches on the motherboard itself. This is not a feature found on many motherboards in the market these days, even on expensive ones.
Another feature that's not commonly found in the BIOS switch where you can switch between BIOS 1 or BIOS 2 with a flick on the DIP switch. It is found somewhere around the bottom right side of the motherboard. I do wish that MSI would place this somewhere alongside the internal power and reset buttons.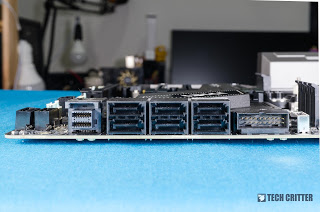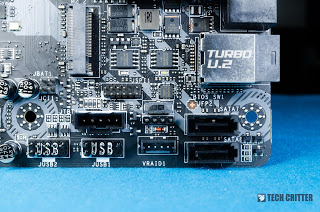 In terms of storage, the MSI X299 Tomahawk AC comes with a total of 8 SATA III ports, two M.2 SSD slots, and a single U.2 SSD slot. Using a combination of these will disable certain SATA ports and/or downgrade M.2 slots to work in SATA mode instead of PCIe.(SATA: M.2 SATA SSD, PCIe: M.2 PCIe SSD, ?: available, -: unavailable)As for the rear I/O, the MSI X299 Tomahawk AC comes with quite an abundance of features. There's a clear CMOS button, BIOS Flashback+ button, PS/2 port, 3x USB 2.0 with one of them aligned perpendicularly as it is dedicated for the BIOS Flashback+, two WiFi antenna connectors, 4x USB 3.1 Gen. 1 ports, one USB 3.1 Gen. 2 Type-A and one more Type-C port.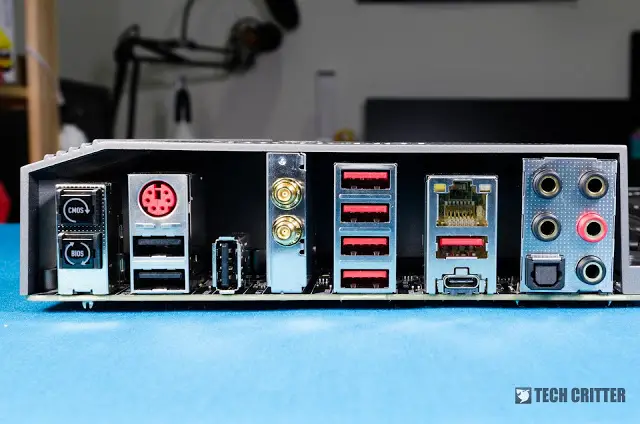 For audio, the MSI X299 Tomahawk AC comes with an optical S/PDIF out and the usual ports. Wrapping up the MSI X299 Tomahawk AC unboxing and overview. It's no secret that the MSI X299 Tomahawk AC is indeed feature-packed, though it is under the budget category of motherboards. With that said, MSI is able to show us that budget motherboards can still be built like a tank (not a pun even though it's under the Arsenal Gaming lineup).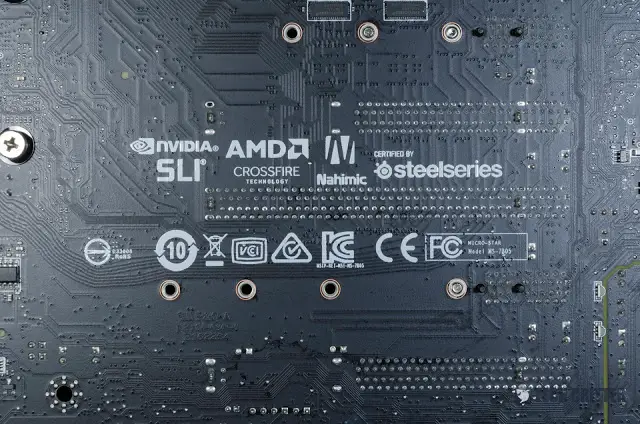 With many features that are not even found on other high-end motherboards, the MSI X299 Tomahawk AC is actually a pretty compelling motherboard to get if you're ever hopping onto the X299 platform. Unfortunately, we are unable to test the motherboard itself as we do not have any X299 CPUs in our labs.The MSI X299 Tomahawk AC is now available at the price of RM1,394.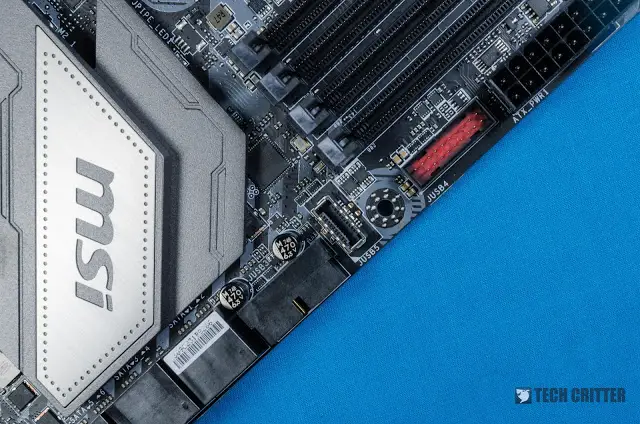 Slot
Combination
PCI_E3
v
Empty
v
Empty
v
Empty
v
Empty
U2_1
–
v
–
v
–
v
–
v
M2_1
PCIe
SATA
SATA
PCIe
M2_2
PCIe
SATA
PCIe
SATA
SATA1
v
–
–
v
SATA2
v
v
v
v
SATA3
v
v
v
v
SATA4
v
v
v
v
SATA5
–
–
–
–
SATA6
–
v
–
v
SATA7
–
v
–
v
SATA8
–
v
–
v