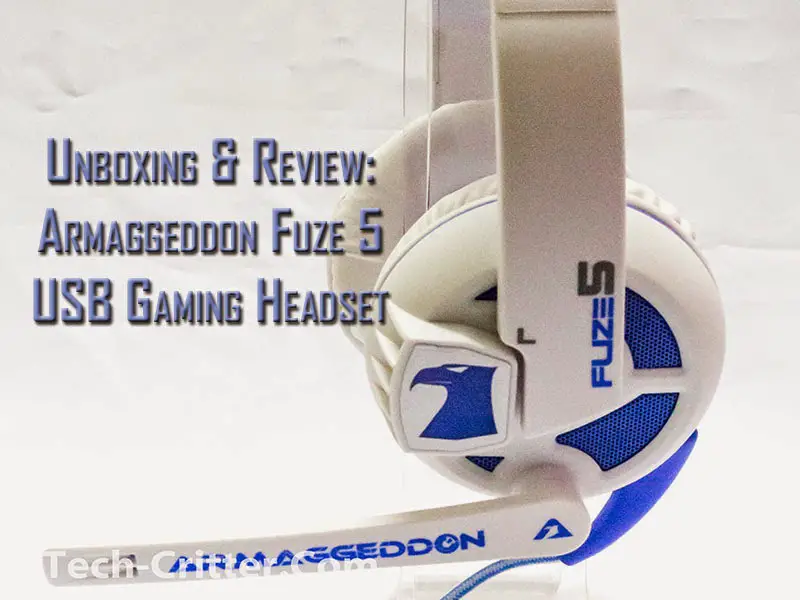 Armaggeddon's latest lineup of headsets! well there's a few of them and we happened to have one of it courtesy of, well Armaggeddon themselves really 😉 The Fuze 5 has been in our labs for quite some time already but we finally get the chance to take it for a ride. Retailing for RM159, let's get on with this article 😀
Specification
Headphones:
Frequency response: 20Hz ~ 20KHz
Impedance: 32 Ohms (Ω)
Sensitivity: 115dB SPL @ 1KHz
Rated power: 20mW
Driver size: 50mm
Total numbers of drivers built-in: 2
Microphone:
Noise cancellation
Frequency response: 16Hz ~ 20000 Hz
Sensitivity: -38db
Signal-to-Noise ratio: ≥60% ~ 80%
Other Specifications:
Audio and microphone jack: USB 2.0 gold plated
Software Included:
Up to 7.1 Adjustable speaker angle and positioning
Manual equalization with DB slider
Packaging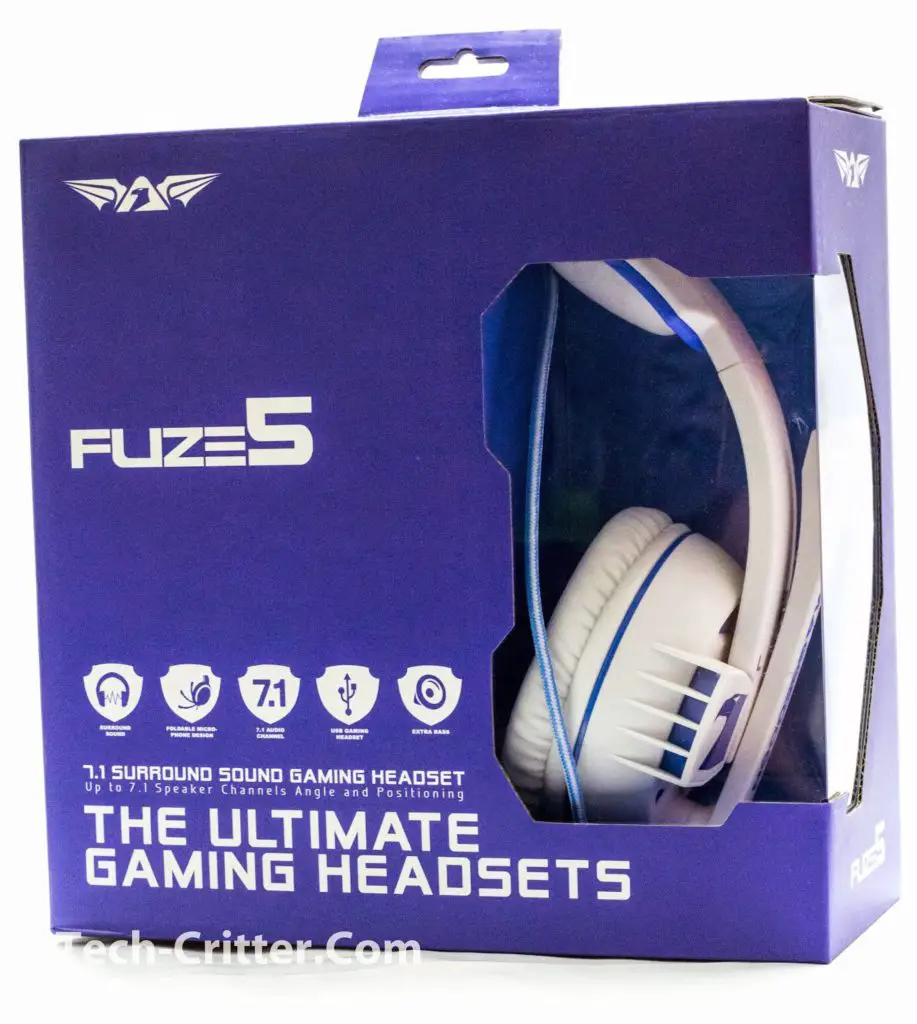 The Fuze 5 came in a purple box with a partial transparent window that shows about half of the headset. Not a fan of the blue/white theme? no sweat, it is also available in black/red and yellow black. Not much else about the box aside from Armaggeddon seem to have cut down on their decorative decals this time around.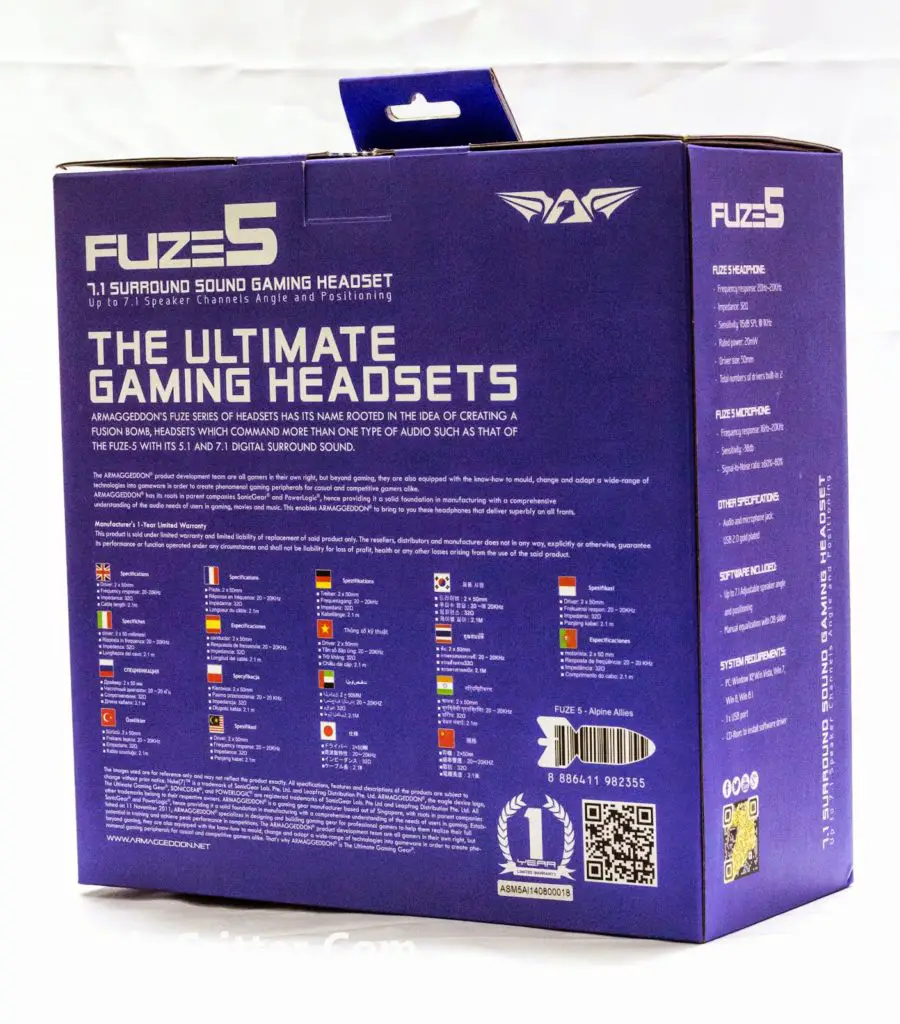 At the back you have a little story of the Fuze series and also the specification in multiple languages. Warranty on the Fuze 5 is only 1 year though, a full 365 days shorter than most other Armaggeddon products we've come across.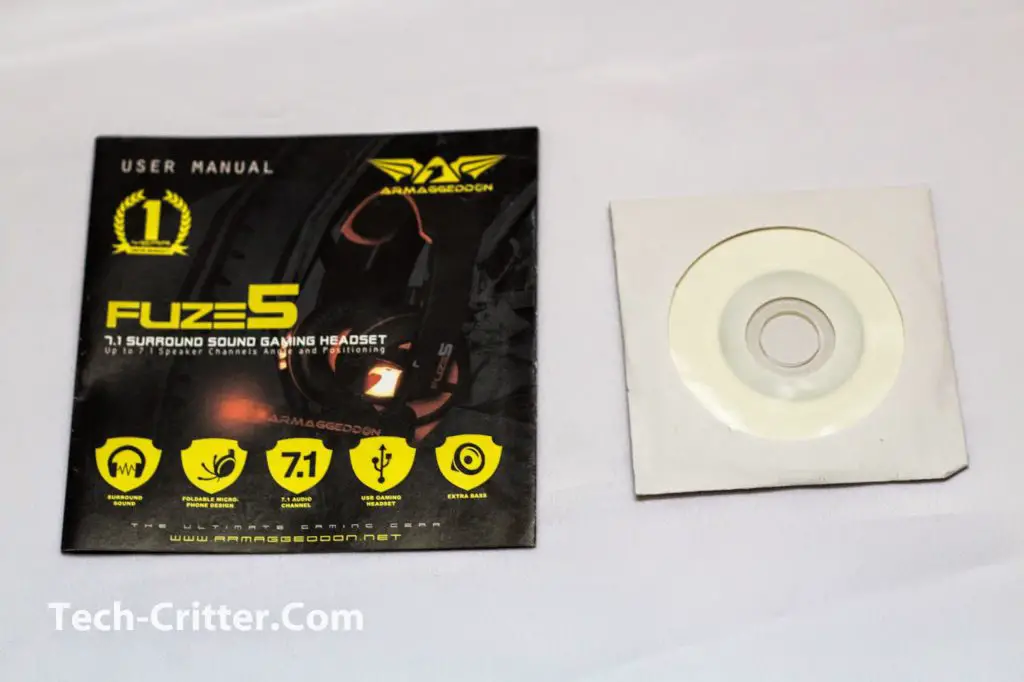 Accessories is almost nonexistent aside from the user manual and a driver disk, but this is a review sample so you'll pretty much have to see if there is a sticker in there (oh goody!!)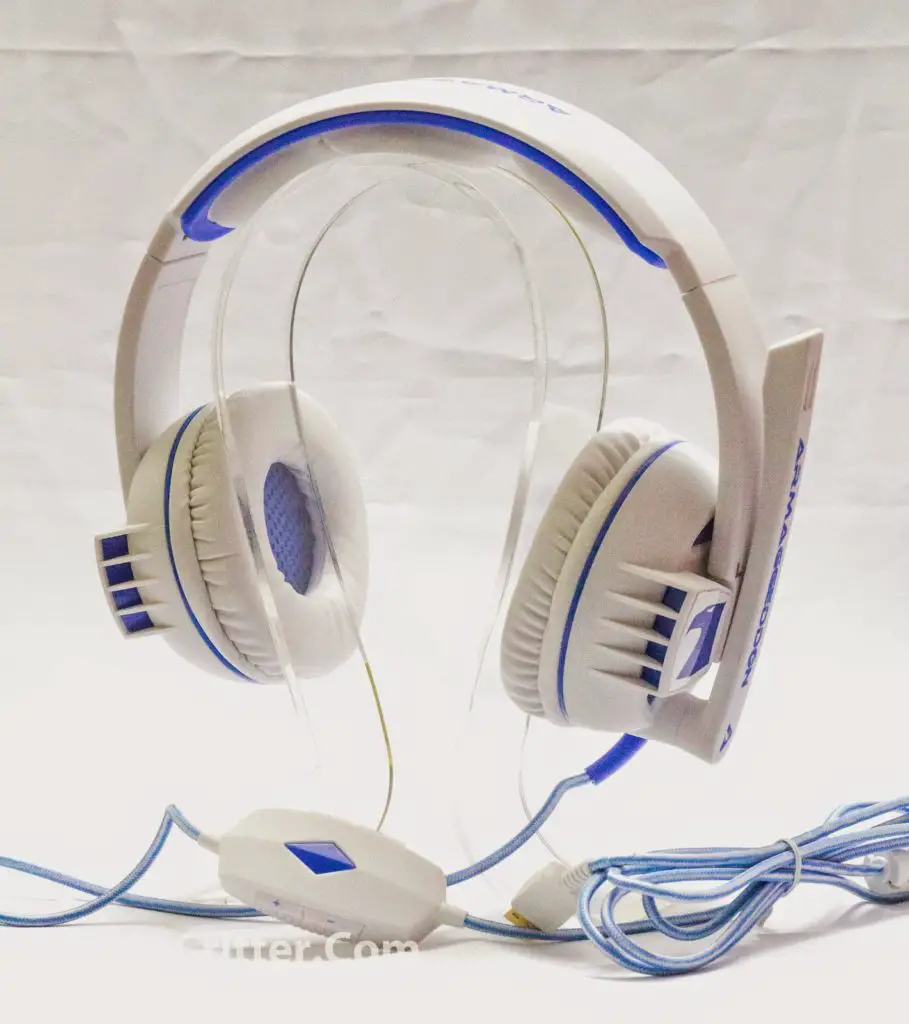 And here is the Fuze 5 headset! first impression? build is quite solid but it's all plastic and not really flexible. The smooth texture of the headset feels good though but the use of stickers at the side of the earcups are a bit of a let down.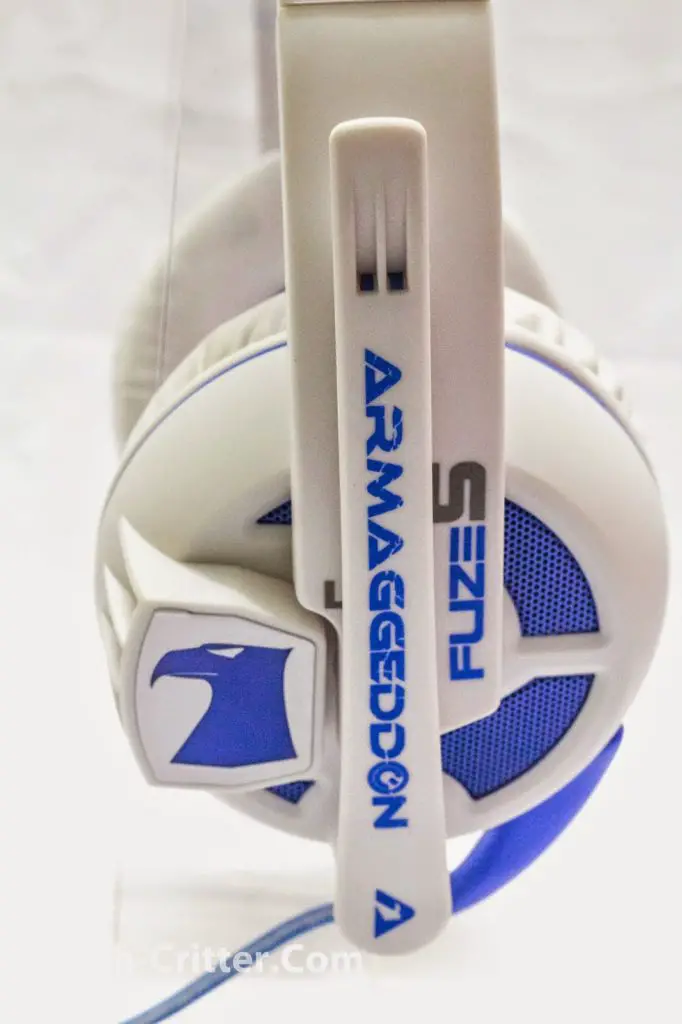 The microphone is not removable and only tilts but it does have the reach being much longer than normally found on most headsets. 
It also lacks flexibility so the tip of the microphone is actually quite a distance from the corner of my mouth. We'll test it out once we plug the Fuze 5 in the USB port.
Adjustments on the headband is there and both sides extends about 1.5 inches, making the headset fitting for even those with larger heads.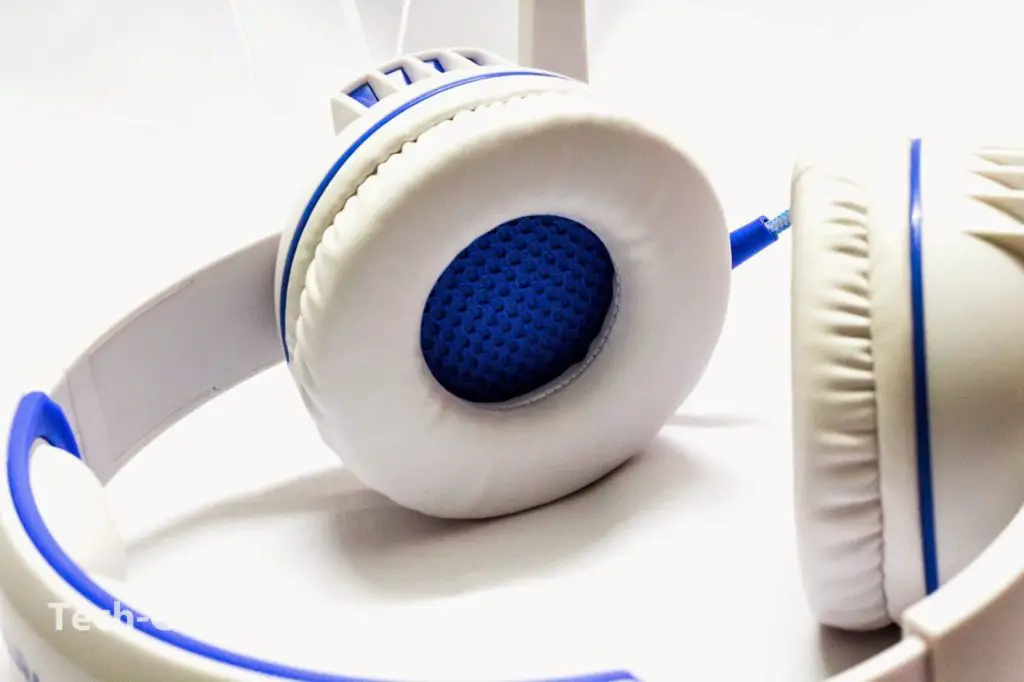 Cushions on the earcups could be softer and deeper, my ears are literally touching the driver on this one, not very comfy.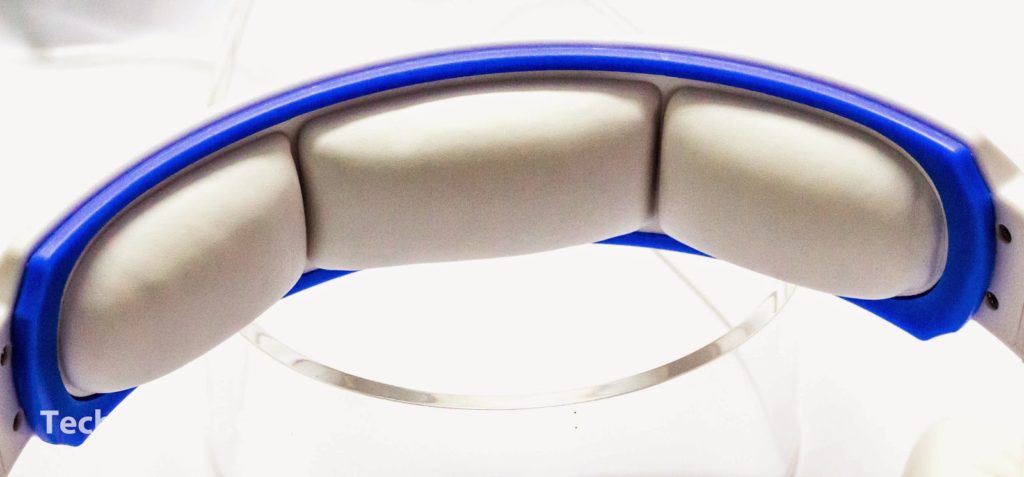 On the other hand, the top cushion is adequate and is even softer than the earcups albeit it being wrapped in the same material.
Up on top of the headband is just of course the Armaggeddon branding.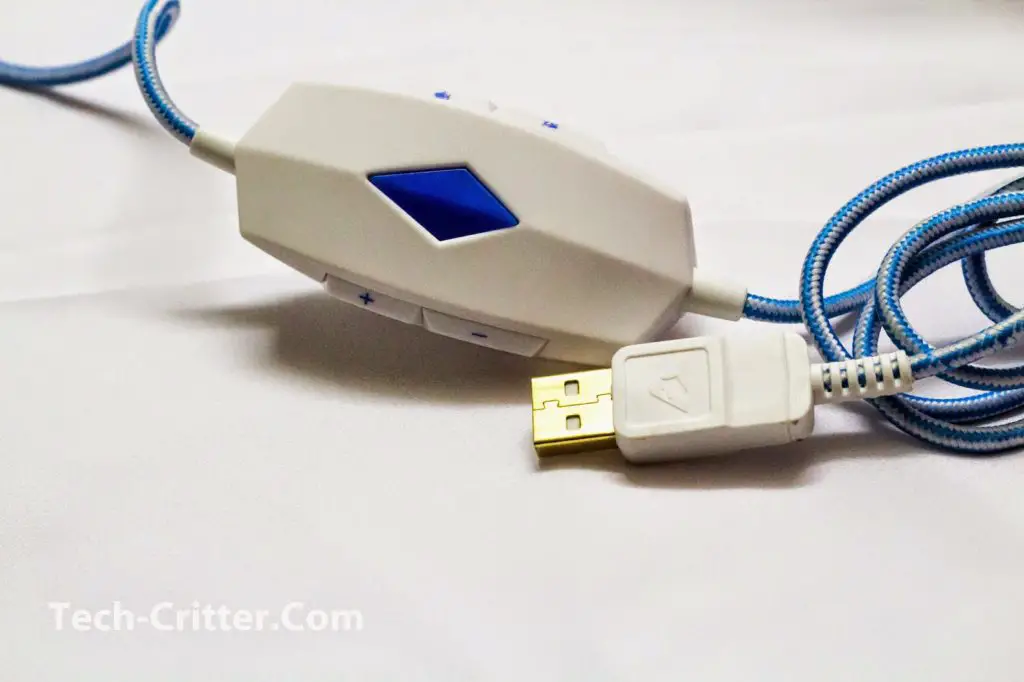 Midway down the braided cable is an in-line controller with four buttons that controls the volume levels, mic mute and mute. The USB connector at the end is gold plated.
Plugging the Fuze5, you'll be treated to glowing LEDs inside the headset which looks like a furnace of some sort.
The emblem looks good when lighted up.
The in-line controller lights up as well, a good thing so that we don't have to fumble about with the buttons.
Testing
The first time I put it on (and plug it in), I was disappointed with the feel of the headset as the foam isn't as soft as I expected it to be and the ear-cups are somewhat shallow and my ears are touching the mesh inside. Clamping force is not too overbearing though and the overall construction is surprisingly solid given that it was fully plastic construction. The in-line controller only have buttons, so two for volume levels one for mic mute and the last one for muting the headset. Volume control has a good range and is responsive so no complaints there too, but I'm a fan of dials because I find it faster to make adjustments that way. Finally, the microphone is not detachable and is a solid straight design making it sit quite a distance from my mouth, it does work and pickup is not too bad.
The Fuze5 sounded amazing though. Not sure what the team at Armaggeddon did but I was quite surprised with the sound quality of this gaming headset. No doubt that when I ran this with games such as Battlefield 3 and Mass Effect, gunshots and explosions are loud and good but when I fired up Sim City, the sound tracks were enjoyable for a change. Sure enough when I played my music collection through it, the Fuze5 sounds really good! Vocals are clear, mids are not muddy and the bass response is satisfying as well. Of course I'm not saying that this is ground-breaking level or anything but for a gaming headset, this takes the cake right there. Don't have to mention movies at this stage, games and music already covered all the bases.
Conclusion
The Armaggeddon Fuze5 packs quite the punch for a simple package and coming in at RM159 (SRP) this is the headset to get if your budget is tight. The Fuze5's design is a love/hate thing and it's not really that comfy but the construction is sturdy plus you get a good sounding pair of cans making it worthy to pick up. Just bear in mind that this plugs in only via a USB port so it's only for the computer.
Pros
Great sound quality for a gaming headset
Very affordable
Responsive in-line controller
Cons
All-plastic construction
Cushions could be softer
USB-only interface
I'm giving this a Silver and a Recommended Tech-Critter badge.