Soundbars, the audio device that didn't start to gain traction in the market until about 3 years ago. Ever since then, soundbars have been popping out from more renowned brands around the globe. Renown for its bang for the buck budget speakers, Edifier too is joining the party with its budget oriented CineSound B1 soundbar.
Special thanks to Inter-Asia for the provision of this speaker for us to review here at Tech Critter's lab. Now, let's move on with the review and see whether the CineSound B1 soundbar is another bang for the buck product from Edifier.
And yes, we have a video to go through all of the features of the Edifier CineSound B1 here!
Specifications
Edifier CineSound B1

Power output

RMS 16W×2(Treble)+19 W×2(Mid-range and bass)

Signal-to-noise ratio

≥85dBA

Frequency response

70Hz~20kHz (±3dB)

Input sensitivity

Line in: 700 ± 50mV AUX: 550 ± 50mV

Input type

Auxiliary/Line in

Bass driver

2¾" (70mm)

Treble driver

3/4" (19mm) silk dome tweeter

Speaker dimension

1000×79×80 mm

1066×170×143mm
Accessories
Digging out everything from the box reveals a rather unique set of accessories. Warranty guide and user's manual is something you want to keep in a safe place, just in case something happens. Paper document aside, you'll find a RCA to male 3.5mm jack and  a RCA to female 3.5mm jack each for the connectivity, and one IR remote control.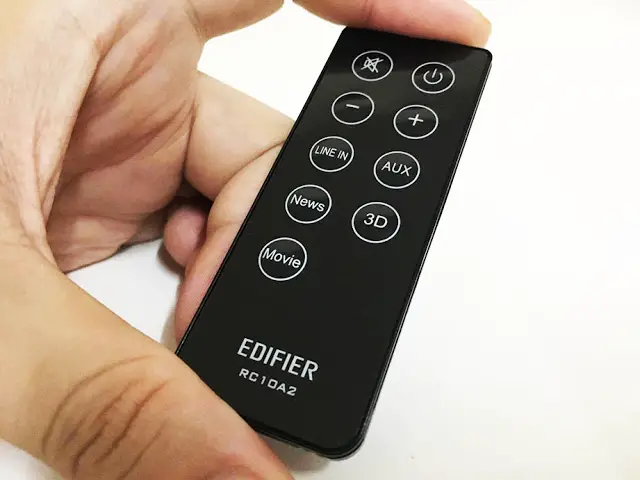 Remember to not lost the remote control, as there are certain features and settings can only be performed with it.
The Edifier CineSound B1
Looking at the Edifier CineSound B1, it has a pretty common soundbar design. The 1-meter length is adequate to separate both left and right channels physically so that its stereo speaker perception is retained. Though, that'll mean the speaker will have to be long – hence, the 1 meter.
The Edifier CineSound B1 soundbar has this realeaux triangle design – in translation, it's pretty much a rounded triangle design. With this special geometry, the soundbar doesn't look pointy, yet angled.
With that said, its angle means that the tweeters and woofers can be pointing towards the user at an angle, albeit at a slight angle. This is a big boon as speakers are mostly perfectly perpendicular – which means sound produced is aimed towards the user's chest instead of the ears.
In terms of connectivity, the Edifier CineSound B1 is pretty simple – RCA jack for line-in, and a single 3.5mm audio jack for aux. There is a subwoofer port, but finding a compatible subwoofer is a little difficult.
On the right side of the Edifier CineSound B1, there are a few buttons – power button, volumes up and down, and a source button to toggle between line-in and aux mode. As we mentioned earlier in the accessories section, extra features that is only available on the remote control is the buttons that allows you to toggle between 3 modes – Movie, News, or 3D. More on these modes later.
User Experience
Setting up the CineSound B1 is pretty easy, but that is only on the connectivity. You'll need some space to actually accommodate the soundbar so it doesn't looks awkward with your setup if you're planning to use it on your PC instead of TV.
The sound quality the CineSound B1 produced did surprised us after giving it a few run with musics and movies – the mids and highs are clear and distinct and have no noticeable distortion even at high volumes. The bass however, is somewhat lacking, but that is to be expected with the absent of a dedicated subwoofer. If EDM and big bass is your thing, the CineSound B1 is definitely not your thing. It does however, works very well with opera, orchestral and classical pieces. Music aside, the CineSound B1 is good enough to deliver the explosions, jump scare, etc for movies. The 3 individual sound mode does make a difference, especially for the movie mode, which is a pretty good all rounder mode that works well on most scenario. News mode is more of a speech mode that goes nicely with not just news, but audio books as well.
Last but not least, the 3D mode. Once this mode is activated, the entire frequency response changes. It feels like the sound is wrapping around the entire room from all sides, but that sacrifices the soundstage. One thing to note is that the sound propagation seems to be farther once 3D mode is activated – hence it's suitable to be used at larger halls or living spaces.
Verdict
At the price of RM 259 from Lazada Malaysia, the Edifier CineSound B1 is a no brainer deal for a soundbar because we're pretty sure that not many renown brands is offering any of their soundbar at this price point.We would really recommend it to those of you who is planning to upgrade from built-in speakers to a budget soundbar that doesn't break the bank yet still able to deliver a very decent sound quality.
Pros
Good build quality
Clean, minimalist design makes it fit easily into most setup
Good sound quality
Very good value
Cons
IR remote control doesn't works on certain angle
Sub-out is rather soft
The middle section of the soundbar gets pretty hot after long hours of operation