Cooler Master has finally announced the availability of the new, highly anticipated MasterCase H500P in Malaysia at the price of RM 539. Inspired by Cooler Master's former High AirFlow series, the MasterCase H500P has a revamped futuristic look with a structured bar design. 
The MasterCase H500P is designed with high airflow in mind and accommodates up to 360mm radiators on the top and in the front of the case providing users with ample space for a custom loop or larger radiator. Two 200mm fans adorn the front of the MasterCase H500P,
providing optimal air flow to maintain ideal operating temperatures. Not just
for function, the 200mm fans have been equipped with RGB lighting which can be
controlled through RGB capable motherboards or an additional RGB controller.
Furthermore, two extra 200mm fans can be installed on the top of the H500P.
The light grey
tinted, see through, side panel and covers in the front and on the top of the
MasterCase H500P, provides a clear view to the inside of the case. A
customizable PSU shroud on the front, a CPU cutout cover on the back and a
removable cable cover panel take cable management to the next level, providing
consumers with all the tools to create a clean build.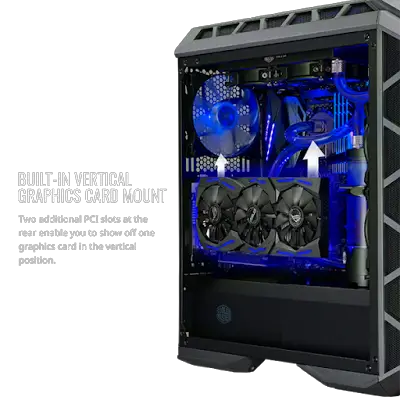 Two PCI slots at the
rear of the H500P enable users to vertically mount the graphics card without the
use of additional brackets. A riser cable is needed for this orientation and
will be sold separately.