Small form factor builds were often used as HTPC for home entertainment purposes, a lightweight gaming machine for LAN party enthusiasts who wanted to enjoy games with other enthusiasts, or perhaps gamers who always travels around and prefer a proper gaming machine over a gaming notebook. Regardless of its purposes, these builds usually require a small form factor power supply that will fit in a small form factor chassis, especially a slim type small form factor chassis like the SilverStone RVZ02.
Unlike the mainstream power supply, a small form factor power supply isn't widely available and most of them come only in 400W or lower, which aren't capable of supporting high-end graphics card even though graphics card manufacturer like NVIDIA has vastly improved the power efficiency of its high-end graphics card, the GeForce GTX 1080 to run on a mere 500W power supply.
SilverStone is one of the very few power supply manufacturers that offers high-powered small form factor power supply and in this article, we'll be checking out on the SFX Series SX500-LG 80 Plus Gold certified power supply, which is just about the minimum requirement to power up a GeForce GTX 1080… Or is it?
(The SilverStone SFX Series SX500-LG retails at RM 435)
Specifications
Model No.
SST-SX500-LG
Max. DC Output
500W
Power density
484W per liter

Load Range

| | | | | | |
| --- | --- | --- | --- | --- | --- |
| | +3.3V | +5V | +12V | +5VSB | -12V |
| Max.(Amps) | 20A | 20A | 40A | 3.0A | 0.3A |
| Peak (Amps) | / | / | / | / | / |
| Min.(Amps) | 0A | 0A | 0A | 0A | 0A |
| Range (%) | ±3% | ±3% | ±3% | ±5% | ±10% |
| Line Reg.(%) | ±1% | ±1% | ±1% | ±1% | ±2% |
| Ripple(mVp-p) | 50mA | 50mA | 120mV | 50mV | 120mV |

Color
Black(Lead-Free Paint)
combined +3.3, +5V
105W
combined +12V
480W
Input Voltage
90V ~ 264V
Input Frequency Range
47Hz ~ 63Hz
PFC
Active PFC(PF>0.95 at full load)
Efficiency
87%~90%(20% to 100% loading)
MTBF
100,000 hours
Operating temperature
0°C ~ 40°C
Protection
Over Power Protection
Over Voltage Protection
Over Temperature Protection
Under-voltage protection
Short Circuit Protection
Connectors
1 x 24 / 20-Pin motherboard connector(300mm)
1 x 8 / 4-Pin EPS / ATX 12V connector(400mm)
2 x 8 / 6-Pin PCIe connector(400mm / 150mm)
3 x SATA connector(300mm / 200mm / 100mm)
2 x 4-Pin Peripheral connector(300mm / 200mm)
1 x 4-Pin Floppy connector(300mm / 200mm / 200mm)
Cooling System
Single 120mm silent fan
Noise Level
0 ~ 36 dBA (SX500-LG V1.0)
18 ~ 36 dBA (SX500-LG V2.0)
Dimension
125 mm (W) × 63.5 mm (H) × 130 mm (D)
Weight
1.4 Kg
Form factor
SFX-L
Certification
80 PLUS Gold
Other
Includes SFX to ATX bracket for use in ATX case
GPU Support list
Compatible with ATX12V v2.4
Packaging
Highlighted features and some specifications of the SX500-LG can be found at the front of the box for easy reference. Detailed specifications ready with graphs can be found at the back of the box in case if one is interested to know more after looking at the highlighted features at the front of the box.
Inside the box, you'll find a user's manual, mounting frame for chassis that only takes standard sized power supply, a power cord, modular cable set consist of 24pin connector, PCIe power connector for 2 x 6+2pin, 4pin Molex connector, SATA connector, and the SX500-LG itself.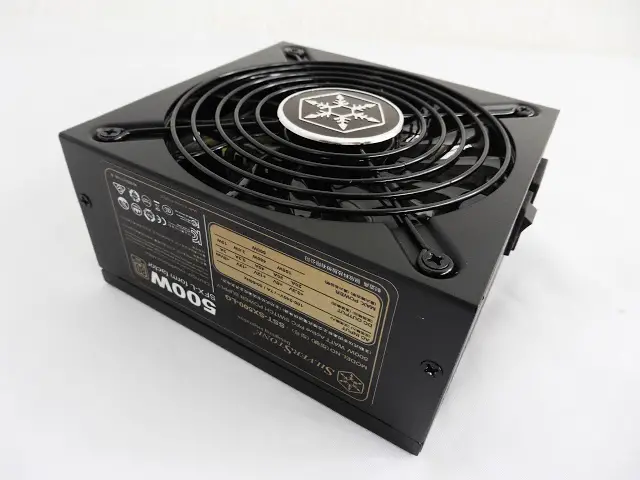 As a small form factor power supply, the SX500-LG comes in a smaller dimension of 125mm x 63.5mm x 130mm and with a 120mm cooling fan installed instead of the usual 140mm cooling fan on a standard sized power supply.
On closer inspection, we can see that the SX500-LG uses a slim 120mm cooling fan to gain better compatibility among most chassis used for small form factor build.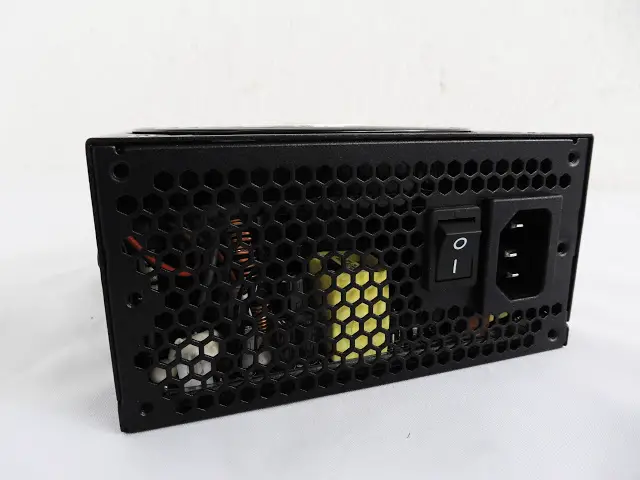 The SX500-LG is using the same honeycomb ventilation design like most of the power supply available in the market, a design that has been proven to promote maximum airflow throughout the enclosure of the power supply.
Despite its small size, the SX500-LG is a mini beast that is capable of delivering 20A on both +3.3V and +5V rail, and a whopping 40A on the +12V rail. Technically, the power output from the SX500-LG is more than enough to support even a GeForce GTX 1080 with ease.
As it's specially tailored for small form factor build, on the SX500-LG comes with a fully modular design, and the connectors available are meant for a mini-ITX form factor motherboard and one graphics card. You can use it on a build with ATX form factor motherboard of course, but that will defeat the purpose of its small form factor design.
User Experience
As Tech Critter does not own any industrial-grade load tester to perform intensive tests on the power supplies on hand, we will be performing tests from the end user's angle.
We've mounted the SilverStone SFX Series SX500-LG on our Raven Series RVZ02 small form factor test system and have gone through numerous tests which involve stress test and overclocking various hardware throughout the weeks; AIDA64 System Stability Test is done using Intel i7 4790K installed on the ASUS Republic of Gamers Maximus VI Impact, as well as FurMark stress test using all of NVIDIA's latest GeForce GTX 10 Series graphics cards. We're glad to report that the SX500-LG easily survived the stress test with our i7 4790K overclocked to 4.6GHz and all the GeForce GTX 10 Series graphics cards overclocked to its best stable performance.
Final Thoughts
While the SX500-LG might be a little costly for a 500W 80 Plus gold rated power supply, we shouldn't overlook its features such as small form factor and fully modular cable design, all cables with a flexible flat array, high power output on the +12V rail, which is an obvious beneficial feature for a small form factor build. If you're really into building yourself a small form factor powerhouse, the RM435 that you'll be spending on the SX500-LG is definitely a worthy investment.