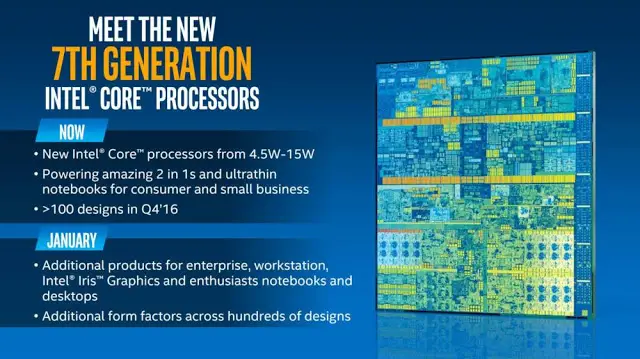 Intel has finally revealed its 7th Gen Intel Core processor family today, the final member of its 'Process, Architecture, Optimization' 3-stage development plan, with Broadwell as the product of the 'Process' stage, Skylake for 'Architecture' stage and the 7th Gen for the current 'Optimization' stage. As previous rumor which suggests that the latest gen CPU is already on its way to the OEMs, we can confirm that those are actually the mobile variant of the 7th Gen targeted for the sales in 2016 Q3. The desktop variant, however, will not be arriving by 2016 Q4 but rather, later in Jan 2017.
The 7th Gen are built on the strong foundation of the 14nm Skylake architecture Gen9 graphics and it's further optimized to deliver an even responsive performance to get users ready for the immersive internet. The new media engine as Intel claims, allows faster 4K UHD creation, watching and streaming of 4K UHD content longer than the previous gen processors, thanks to its HEVC 10-bit decode capability delivers smooth premium content playback up to 4K UHD, VP9 decode capability allows power efficient smooth 4K UHD, 4K 360° video playback while multitasking.
According to some of the slides provided by Intel, the 7th Gen measures a total of 19% more responsiveness and 12% more productivity over the previous gen Skylake CPUs, as well as battery life gain of 1.75x and 2.6x respectively while watching  4K VP9 content on YouTube and 4K HEVC 10-bit local videos.