With Intel launching its new 12th Gen Core processors, enthusiasts who are always into the latest tech can finally get the first taste of DDR5 memory. Though due to the current shortage, DDR5 memory is not widely available at the moment and it's almost impossible to get in certain places. For our ongoing DDR5 memory test this time, we'll be taking a look at a faster DDR5 memory kit that has a rated speed at DDR5-6200 from TeamGroup, the T-Force Delta RGB DDR5.
Since we already have some data for some game performance with DDR5-4800, DDR5-5200, and DDR5-5400, let's see what kind of performance we can expect from DDR5-6200.
Specifications
Module Type
DDR5 288 Pin non-ECC Unbuffered DIMM
Frequency
6400
6200
6000
Latency
CL40-40-40-84
CL38-38-38-78
CL38-38-38-78
Capacity
16GBx2
16GBx2
16GBx2
Data Transfer Bandwidth
51,200 MB/s
(PC5 51200)
49,600 MB/s
(PC5 49600)
48,000 MB/s
(PC5 48000)
Voltage
1.35V
1.25V
1.25V
Compatibility
Intel: Z690
Dimensions
46.1(H) x 144.2(L) x 7(W)mm
Warranty
Lifetime warranty
Unboxing
The T-Force Delta RGB DDR5 ships in a box this time as compared to the clear hard plastic packaging on the Delta RGB DDR4. There are not many details on the technical specifications of the kit that can be found on the box but one thing we can confirm as of now is that the RGB lightings can be controlled using the RGB software as listed at the back.
Design-wise, the Delta RGB DDR5 looks very similar to the Delta RGB DDR4 (both the heatsink and light bar) but the debossed design on the DDR5 variant is very minimal this time.
The RGB lighting is not too bright and even though the color transition isn't the smoothest we've seen so far, it's still decent and we're able to sync it easily using the ASUS Aura Creator software.
Test System
For the quick test, we did some games benchmarks and overclocking tests with the T-Force Delta RGB DDR5 using the following list of hardware:
| | |
| --- | --- |
| CPU | Intel Core i9-12900K |
| Motherboard | ASUS ROG Maximus Z690 APEX |
| Memory | Teamgroup T-Force Delta RGB DDR5 |
| Graphics Card | NVIDIA GeForce RTX 3080 |
| Power Supply | Cooler Master V1200 Platinum |
| Primary Storage | PNY XLR8 CS3040 |
| Secondary Storage | WD Black 6TB |
| CPU Cooler | ASUS ROG Ryujin II 360 |
| Chassis | Cooler Master MasterFrame 700 |
| Operating System | Windows 11 64bit |
Overclock Test
Starting off with the overclock test, we first check what are the timings and memory ICs the T-Force Delta RGB DDR5 has and then, try to increase the memory frequency while tightening the timings along the way. As of now, the known memory ICs used on DDR5 memory kits are from Micron, SK Hynix, and Samsung.
For the T-Force Delta RGB DDR5 we have here, its rated speed is DDR5-6200 CL38 and it's using the memory ICs from SK Hynix. Depending on the motherboards you're using, 1.25V for VDD might not be enough to run stable with the XMP profile and you'll have to bump up the voltage a little bit more.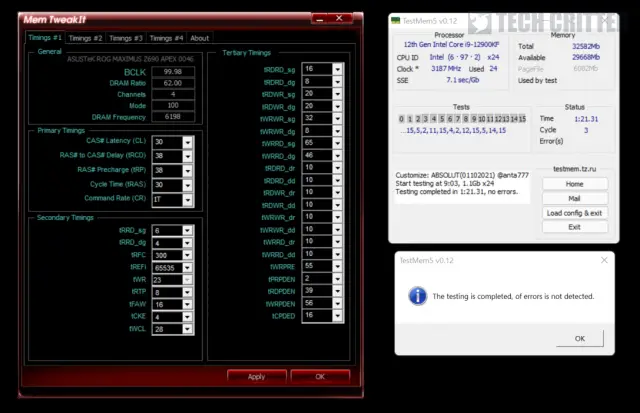 We're able to slightly tighten our timings for DDR5-6200 to CL30 and 1T on the command rate with 1.38V for VDD and VDDQ, while the rest of the relevant voltages are left on auto.
Bumping up to DDR5-6400, we weren't able to get it to run stable with 1T this time, so we settled down with 2T instead. We also bumped up the VDD and VDDQ to 1.435V, TX VDDQ to 1.4V, memory controller voltage at 1.281V, and system agent on auto.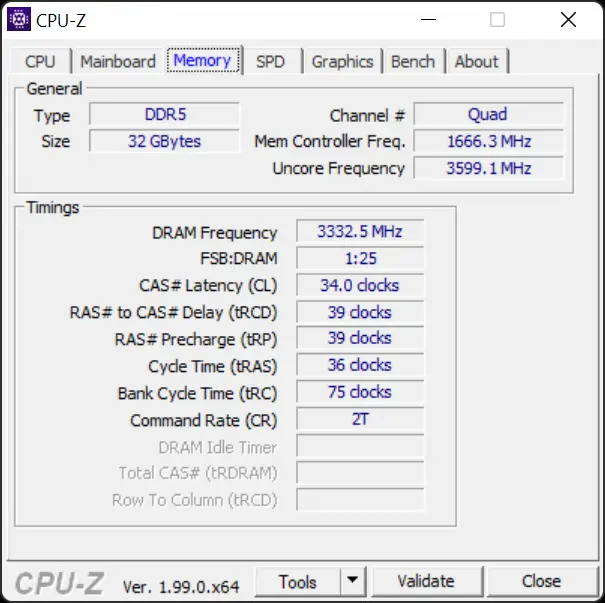 DDR5-6666 is currently the highest we can achieve with the T-Force Delta RGB DDR5 and we stopped going further at this point as we're already hitting the 1.5V mark on VDD but still can't get it to run fully stable. As the temperature can be seen hovering around 58ºC during some occasions as well, we've decided that lowering the settings back to our stable DDR5-6400 which barely hit 55ºC during our previous stress test is a better option for our game benchmarks later.
Game Performance Test
Moving on with the game benchmarks, we've run a series of tests with different settings on the memory while leaving the rest on default so we can see the impact from just tuning the memory settings alone.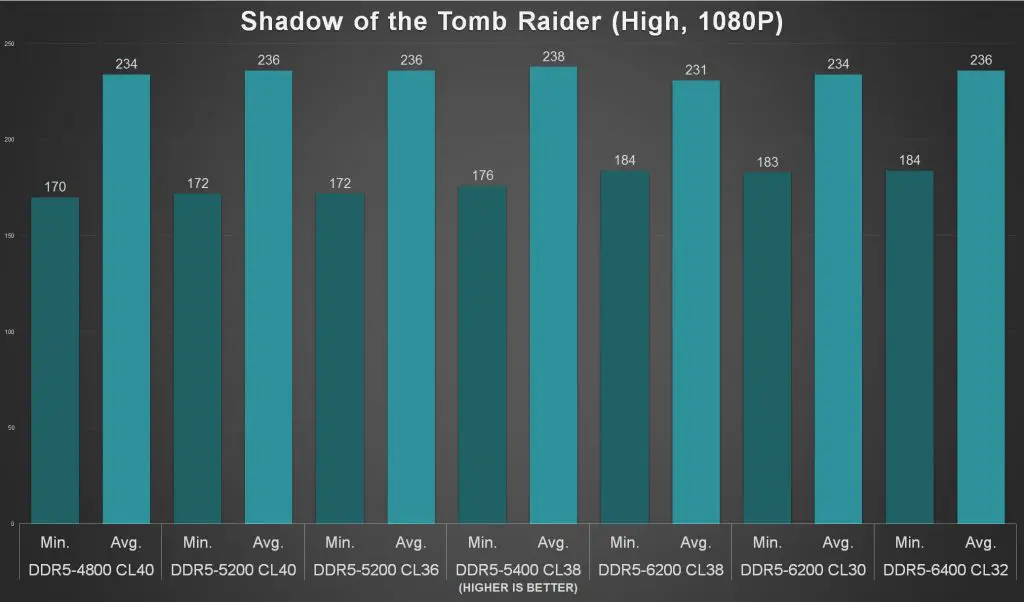 While some games don't show much improvement on the average FPS even with higher memory frequencies and tighter timings, we can still see that the minimum frames for pretty much all of the titles we've tested have improved quite a bit even with our slightly optimized settings. This will often be reflected in-game as smoother gameplay, which can benefit users who are very sensitive to everything that is moving on the screen.
First Impression
If you're into the RGB lighting for your build, the T-Force Delta RGB DDR5 is one of the DDR5 memory kits that comes with all the RGB blings you need. The design might not be the fanciest one around but as far as the RGB software compatibility goes, it's probably the last thing to worry about as TeamGroup has done a pretty good job on that.
Compared to the DDR5-5200 memory kit we've previously tested, the T-Force Delta RGB DDR5 (DDR5-6200) is a lot easier to overclock and we can see some further improvement in gaming performance on some of the AAA titles we've tested even if everything is left on auto. Tightening the timings and increasing the memory frequency will give you some extra boost on certain titles as well and it's also noticeably easier to deal with as compared to the kit with Micron ICs. As for if it's worth the effort at all, that totally depends on the games you're playing but we still recommend giving it a try.
As for the price, the T-Force Delta RGB DDR5 is expected to be priced at around 1800+ MYR for the DDR5-6200 variant we've tested. It's a pretty steep price for a memory kit but the availability seems to be a much bigger issue at the moment due to the ongoing shortage of DDR5 memory kits, especially ones that come with Hynix memory ICs. Hopefully, we'll see an improvement in the DDR5 memory kit availability soon but until then, the T-Force Delta RGB DDR5 (DDR5-6200) will remain on our list of 'recommended but only if you manage to find one'.
Pros
Reasonable overclocking headroom
Lower stock operating voltage on higher frequencies compared to DDR4
Cooling for PMIC seems good
RGB lightings are not too bright
Cons