SAPPHIRE has announced which series they have selected for the Radeon RX 7800 XT and 7700 XT GPUs from AMD and they are the PULSE, NITRO+, and the brand new PURE series.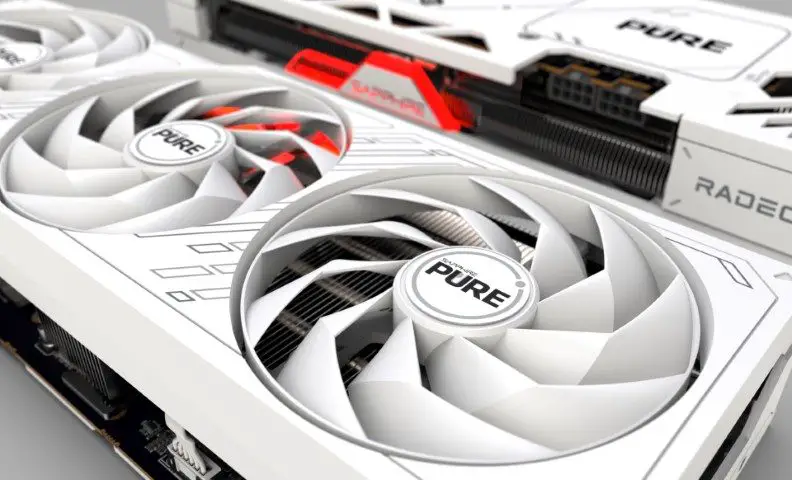 Let's start with the new boys in the block. The PURE series is the godsend for full-white builds enjoyers who are also SAPPHIRE fans.
Its Tri-X Cooling Technology with optimized composite heat pipes + angular velocity fan with dual ball bearings maintains optimal operating temperature while the 14-phase digital power and conductive polymer aluminum capacitors allow streamlined power delivered to each component on the card.
The PCB is made of high TG copper while fuse protection always shields the PCIe power cable from any sort of shorting.
The all-metal backplate plus white color finish with a simple red SAPPHIRE LED logo makes the card simple yet aesthetic at just 2.5-slot thick.
Moving onto the NITRO+ series, it shares several similarities with the former such as the cooling department and capacitors alongside the all-metal backplate and high TG copper PCB.
One of the unique points, however, is the V-shaped cooling module sitting on top of the GPU die for concentrated airflow while the VRM cooling module does that for the VRM instead.
The frame is extra durable thanks to the Cold Rolled Steel Frame encasing the sides of the PCB in addition the ever-popular Quick Connect Fan, Assistive System Fan Control, Dual BIOS, and TriXX Software BIOS Switch being the bread and butter of the NITRO+ family.
Oh yeah, let's not forget the ARGB Light Bar and ARGB Backplate blasting rainbow everywhere and yes, the package comes with a GPU support bracket

Lastly, the PULSE series runs a dual-fan configuration with the associated Dual-X Cooling Technology supporting Intelligent Fan Control and Precision Fan Control features.
Similarly, it is built with high TG copper PCB hosting optimized composite heat pipes and dual ball bearing fans fitted with angular velocity fan blades for great build quality and efficient heat control plus fuse protection, all in the classical black and red PULSE aesthetics.
Here's a simple table that summarizes the main clock differences between the 3 series.
| | | |
| --- | --- | --- |
| Model | Boost Clock | Game Clock |
| PURE Radeon RX 7800 XT | Up to 2475MHz | Up to 2169MHz |
| PURE Radeon RX 7700 XT | Up to 2584MHz | Up to 2226MHz |
| NITRO+ Radeon RX 7800 XT | Up to 2565MHz | Up to 2254MHz |
| NITRO+ Radeon RX 7700 XT | Up to 2599MHz | Up to 2276MHz |
| PULSE Radeon RX 7800 XT | Up to 2430MHz | Up to 2124MHz |
| PULSE Radeon RX 7700 XT | Up to 2544MHz | Up to 2171MHz |