Without any booms or fireworks, AMD has launched the Radeon RX 6400 which is the most affordable RX 6000 series GPU to date.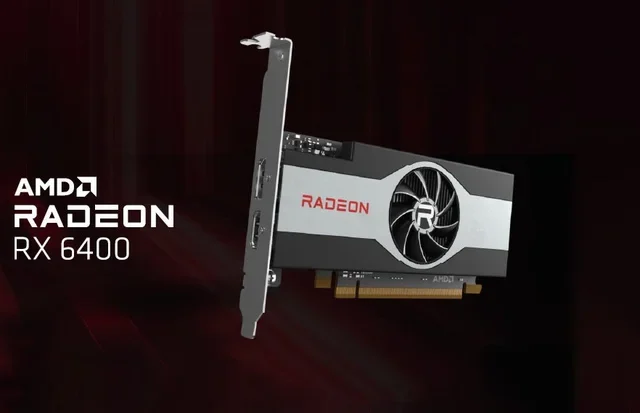 Tagged with an SRP of just USD159, the Radeon RX 6400 is running Team Red's RDNA 2 architecture that touts efficiency more than the performance that it actually offers. As such, the core of the card is a trimmed version of the 6nm Navi 24 GPU that you can find inside an RX 6500 XT packed with 764 shader units and a 53W power rating.
Seeing that low power consumption rate means that the GPU basically can feed itself via the PCIe slot and without any help from any 6 or 8-pin PCIe connector from the PSU which is extremely useful for any setup that runs tightly integrated form factors with no extra negotiating space for power cables. Despite its low power draw, AMD is still confident that the card is basically made for casual players in mind who play their games in 1080p resolution with medium graphic settings at 60FPS. Anything higher than that and you'll start to see the frame rate struggle.
Output-wise, there's only a single HDMI 2.1 and DisplayPort 1.4 which I don't expect the card to fully utilize the both of them without getting overloaded but at least the standard is there. Also, there's no dedicated media encoder and decoder so your CPU will have to do the job for it. By the way, the VRAM capacity is just 4GB – the same amount as top-tier cards back in 2014, mind you.
From here, we'll branch off and talk about board partner variants and what they bring to the table.
GIGABYTE Radeon RX 6400 EAGLE / D6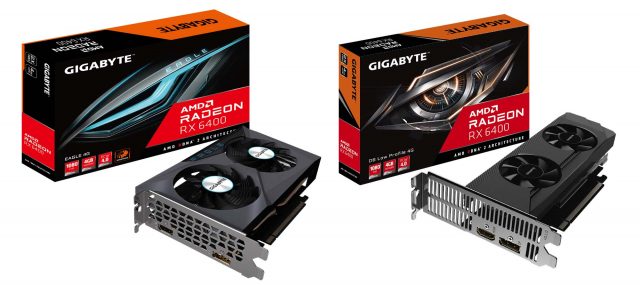 First, we have the EAGLE model from GIGABYTE that sports the iconic black shroud with a hint of blue tint rocking a dual fan setup that provides adequate cooling although the core might not even churn out that much in the first place it is always good for some thermal overhead in the case you want to jack the game clock up a bit. As for those who want a really low profile card and don't care about thermals in the first place, then the D6 Low Profile variant is just the perfect choice for rigs that just need a dedicated GPU video output.
Both cards are available for purchase in Malaysia starting today at the price of RM869.
SAPPHIRE PULSE Radeon RX 6400
Moving onto SAPPHIRE, this is actually the brand's very first low-profile RDNA 2 card because the folks over there are traditionally known to create some of the whackiest and flashiest designs. But it seems like SAPPHIRE is playing it safe this time and just slapping a PULSE design of Red and Black and giving it a single fan to call it a day. Perhaps the simplest is the best?
BIOSTAR Radeon RX 6400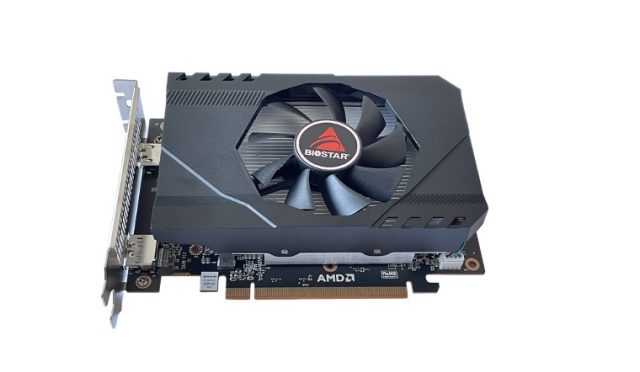 Good old BIOSTAR, everything is just bland and I wouldn't call it a low profile but its horizontal size is compact enough to be fitted in even the smallest rig around and when we talk about tight rigs, this may be needed upgrade for the 10+year-old rig sitting at the corner of your storeroom.