As AMD officially announces the availability of partner offerings for its Radeon RX 6500 XT graphics card, ASUS, and SAPPHIRE has revealed them in the form of the ASUS Dual / TUF Gaming and the SAPPHIRE PULSE models.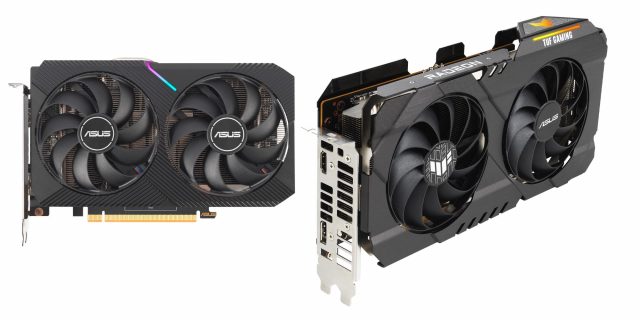 Built on the 6nm node with the AMD RDNA 2 gaming architecture, both the Dual and TUF Gaming Radeon RX 6500 XT could perform at quite a level against the older cards without creating as much heat. Through the high bandwidth GDDR6 VRAM at 4GB with AMD Infinity Cache enabled with selected AMD Ryzen CPUs, the card is aiming at a smooth 1080p gaming experience although the 4GB video memory does mean that the texture fidelity and post-processing effects couldn't be cranked as high as you may expect.
Specifically, the Dual Radeon RX 6500 XT uses a compact two-slot design to go into any SFX builds with ease with the Axial-tech fan design cooling the measly 85W power draw. A subtle RGB lighting on the shroud should be acceptable for the non-so-RGB gamers out there. On the other hand, the ASUS offers the TUF Gaming Radeon RX 6500 XT comes at a larger size at 2.7-slot heatsink with dual Axial-tech fans that can reach a lower temperature than the Dual model, effectively giving the card more thermal headroom to boost for a longer period while the aluminum backplate showing off the TUF spirit while the Aura Sync compatibility takes care of the Aura RGB lighting.
On the other hand, the SAPPHIRE PULSE Radeon RX 6500 XT quietly matches the reference specs which is a strong 2685MHz game clock and 2825MHz boost clock cooled off by the Dual-X Cooling Technology. The output ports are also the bare standard at 1x HDMI and 1x DisplayPort 1.4 which means that only dual monitor setups are supported here but given the position of the card itself, it'll be really tough for it to drive more than 3 displays at once. Perhaps SAPPHIRE's TriXXs software harnessing the AMD Radeon Image Sharpening feature could provide a bit of an extra frame rate to reach the smooth 60fps experience.
Local Pricing and Availability
ASUS Malaysia has given us the official RRP for both the Dual and TUF models of the Radeon RX 6500 XT while info for the SAPPHIRE PULSE is not known at the moment.
TUF-RX6500XT-O4G-GAMING @ RM1,470
DUAL-RX6500XT-O4G @ RM1,360