Introducing yet another monitor by Philips. This is a 32-inch monitor and by the looks alone, you might think that this is the same as the 27-inch version that we reviewed previously – and I don't blame you because they do look the same, it's just that the 32-inch version is obviously bigger.
But there are actually quite a lot of differences. So, that is why we're doing a separate review for the 32-inch version of this Philips Momentum 5000 monitor with the codename 32M1N5500V.
The codename of this monitor is 32M1N5500V but I can only find the 32M1N5500VS version on the internet. The name is different, but the specs match up. So, let's begin.
This monitor is a rather simple one, honestly. The panel in itself is actually fantastic. We've mentioned many times – this is a 32-inch monitor and it has 2560×1440 pixels in resolution and goes up to 165Hz refresh rate. For this size of a monitor, that 1440p resolution is just nice.
This is also a VA panel but before you go into the comments section and say that "IPS is better", we really need to talk about the color accuracy of this monitor because it is supremely excellent. Our colorimeter reports that the monitor covers 99.7% of sRGB and 88.88% of DCI-P3 color gamuts while maintaining one of the lowest Delta E number I've seen so far.
However, the brightness is a bit funky. You see, the monitor goes up to about 565 nits, and the whitepoint – as in the individual red, green, and blue color brightness levels – are pretty equal.
Plus, this monitor also supports DisplayHDR 400 which you can use if you want to.
If we tune it to its lowest brightness, it only goes down to about 121 nits of brightness. The whitepoint is also way off as the intensity of the green color is just too low.
One more crucial feature is that Philips claims that this monitor is flicker-free. That means it should be using DC-dimming but I can't confirm this since there is no information on the specs sheet at all.
They did advertise 1 millisecond MPRT response time and we all know that is quite impossible. Hence, we used our phone with a high frame rate recording and saw that it is indeed better in terms of MPRT compared to my other monitor, but it's definitely not 1ms.
Also, you'll have to enable the "MPRT" option to lower the motion blur, that disables the flicker-free feature because of some reason that I'm not going to talk about in this video.
To know more about what is MPRT and what it does, watch this video.
Also, the "MPRT" value here is actually the MPRT reduction setting. It makes the screen flickers more aggressively when the MPRT goes higher, which in theory should lower the perceived motion blur, but also causes more flickering which may cause eye fatigue and headache for some people.
One thing that I really like is AMD FreeSync Premium. Having a tear-free gaming experience is much better than having high frame rate as it is less distracting and we can actually see clearly what is going on with the game. This is especially useful if you're playing games like Overwatch and whatnot.
This monitor also has built-in speakers which are serviceable and I wouldn't get annoyed by it if I am forced to use it for a few minutes.
As for the OSD menu, it is controlled by a joystick at the back of the monitor and we do have the list of standard features here. Nothing much to highlight, so we'll just show you the entire list of features available on this monitor.
The ports available on this monitor are also pretty good. We have 2x HDMI 2.0 and 2x DisplayPort 1.4 ports and we also have a USB hub built into the monitor, so we get quadruple USB-A ports as well. Two of those ports support fast charging. As for how fast is the "fast charging", I don't know. I also really wish for at least one or two of the USB-A ports to be parked at the side or the bottom of the monitor so that we can easily plug stuff like a USB drive or something.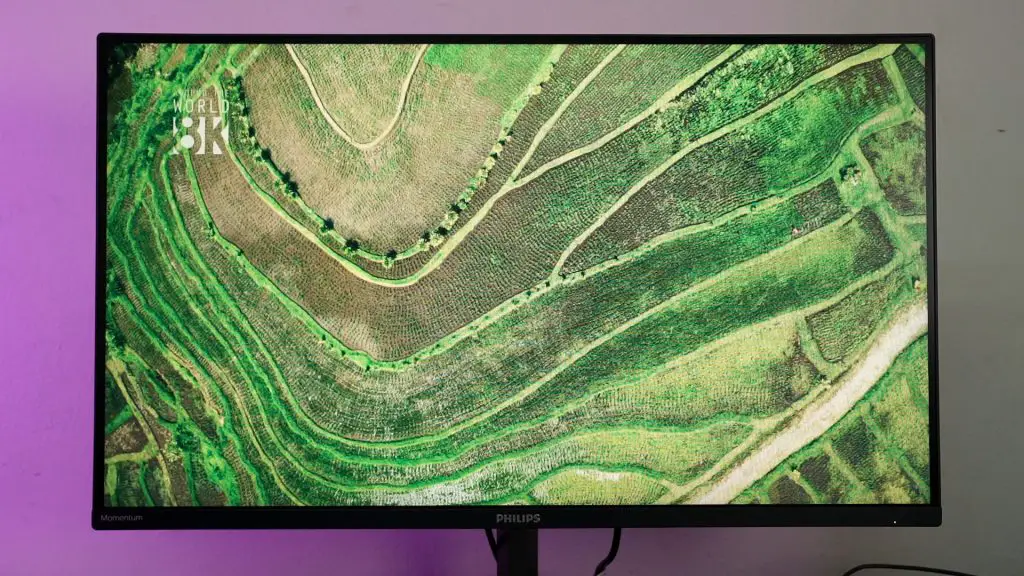 The biggest difference when it comparing this with the 27-inch version is actually the included monitor stand. You see, the monitor stand on the 27-inch version is versatile AF. However, the 32-inch version is supremely limited. We only have tilt adjustment and nothing else.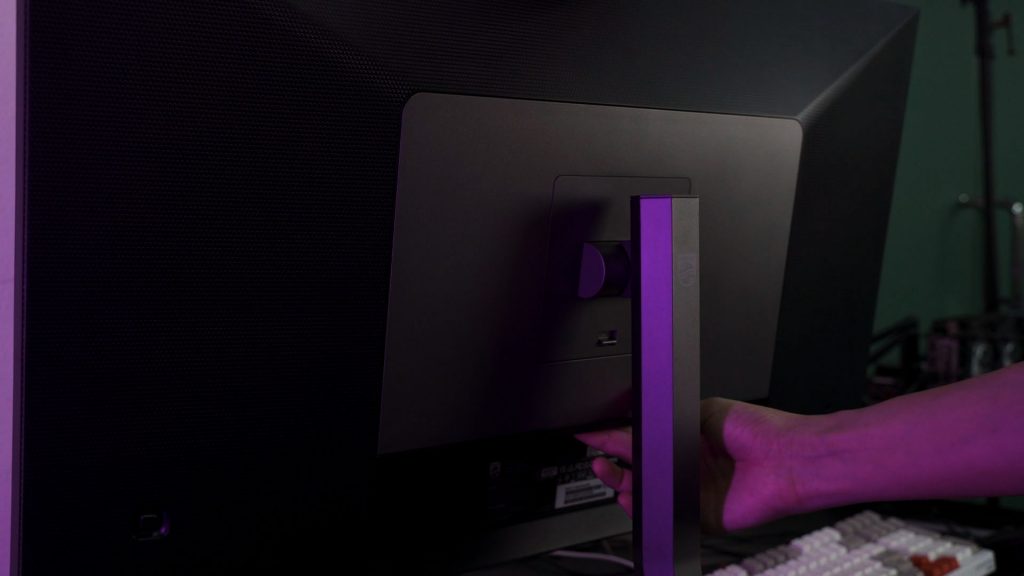 I think that this is a huge nerf but luckily, we can install it on a monitor arm if we want it. This monitor supports 100x100mm VESA mount and we tried it with a Loctek monitor arm and it worked well.
Should you buy this Philips 32M1N 32-inch 1440p 165Hz monitor?
So, for the price of RM1,299, I do think that it is a rather good price. This monitor ticks a lot of the boxes – 1440p resolution, 165Hz, fantastic color accuracy, really high 565 nits brightness, and the inclusion of 4x USB-A ports is just good despite the location of those ports.
However, the severely limited articulation of the included monitor stand is just disappointing. Nonetheless, we can just get a monitor arm can fix this issue.
To further sweeten up the deal, you'll also get 3+2 years of warranty too. All purchases from today until 31st March 2023 are eligible for that extended warranty – just be sure to register at Philips Malaysia's website.
Where to buy? (Affiliate links)