The CRAS XR RGB is KLEVV's latest addition to its CRAS series lineup, together with the BOLT XR which was announced in early September this year. It features a brand new minimalistic heat spreader, similar to the design of the RGB-less BOLT XR but with a touch of a new RGB lightbar design that is totally different than all of the CRAS series memory kit we've seen in the past. As both kits are using the same SK Hynix DJR memory chips and after seeing how well the BOLT XR can actually perform, we'll be putting the CRAS XR RGB to test, and hopefully, it will perform just as good.
Video Review
Specifications
Frequency
3600MHz
4000MHz
4266MHz
Latency
CL18-22-22-42
CL19-25-25-45
CL19-26-26-46
Voltage
1.35v
1.4V
1.4V
Capacity
8GB (8×1)
16GB (8×2)
16GB (16×1)
32GB (16×2)
8GB (8×1)
16GB (8×2)
8GB (8×1)
16GB (8×2)
Dimensions
138mm x 36.7mm x 7.5mm
Warranty
Limited Lifetime Warranty
Unboxing
Packaging-wise, the CRAS XR RGB ships in the box packaging that gives a slightly more premium feel than the blister pack packaging on the BOLT XR. The CRAS XR RGB comes available in a single-channel kit and dual-channel kit, so the packaging will vary depending on the variant you're getting. You won't find the technical specifications anywhere on the box, but at least you'll get a clear idea that this kit is compatible with most of the major motherboards brands and it's compatible with AMD Ryzen processors.
As KLEVV didn't include any additional accessories in the box, the only thing you'll find upon unboxing is the CRAS XR RGB memory kit.
The KLEVV CRAS XR RGB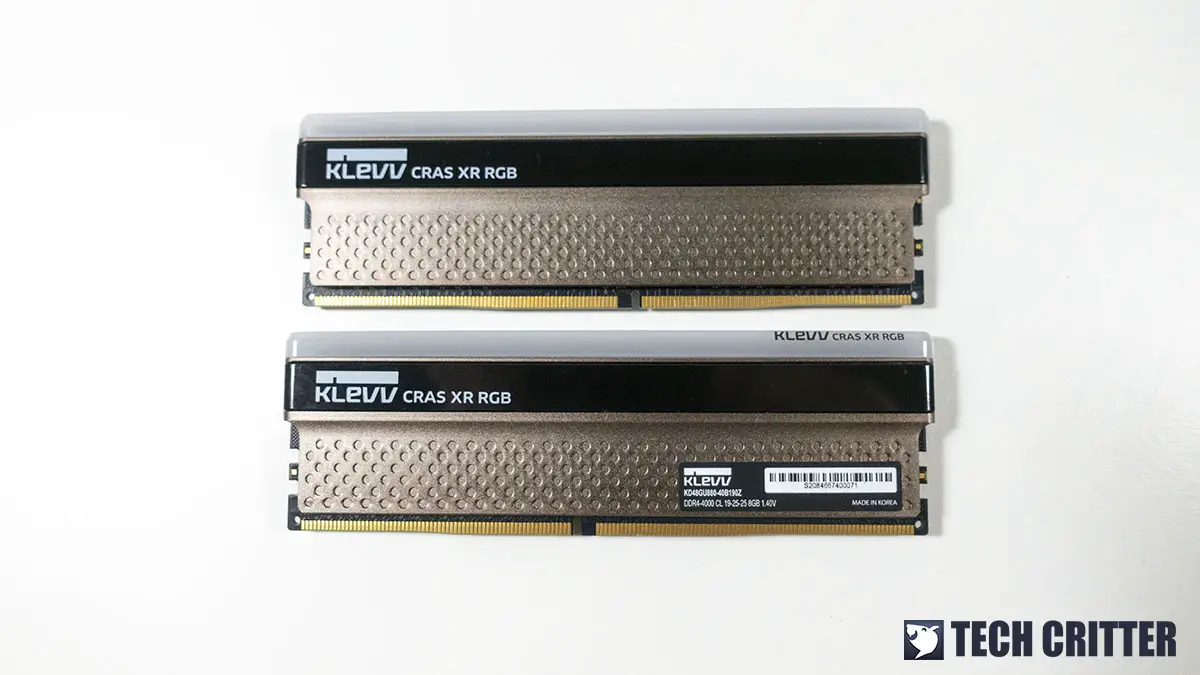 At first glance, the CRAS XR RGB looks very similar to the BOLT XR in terms of design, mainly the design of the heat spreader, minus the RGB lightbar. Based on the design, it's not hard to tell that KLEVV specially designed the CRAS XR RGB for users who are into RGB lightings but not the overexaggerated and asymmetrical design like some of the memory kit with RGB lightings that you'll find in the market nowadays.
Despite having a similar shape as the heat spreader on the BOLT XR, the debossed patterns, mirror finish strips, and the RGB lightbar are the characteristics which differentiate it from the BOLT XR.
We've seen plenty of memory kits with RGB lightings throughout the years but most of them come with a pretty generic design and only a few that actually caught our attention. Well, your mileage may vary, of course. As I'm a fan of minimalist build myself, the CRAS XR RGB is definitely something I will consider if I'm building a minimal build but still want to have some RGB lightings in the system.
While most of you might know that I'm not exactly a fan of RGB lightings myself, the RGB lightings on the CRAS XR RGB is actually pretty okay and I can still accept it as it's not the type with blindingly bright lights and overexaggerated design which I will usually avoid at all cost. The colour transition is probably one of the smoothest I've seen to date as well, which is great if you're especially picky with this one.
Taking apart the heat spreader is way much easier than what we've expected, unlike what we've experienced with the BOLT XR. Personally, I don't recommend doing so unless you know what you're doing with the kit. If you've decided to take apart the heat spreader but still want to put it back in one piece after inspection, be extra careful with the thin double-sided adhesive on the heat spreader and not to lose or damage it in the teardown process.
A closer look at the memory chips shows that the CRAS XR RGB here is using the H5AN8G8NDJR-VKC, which is also known as the Hynix DJR by many.
If you don't feel comfortable taking things apart, Thaiphoon Burner is another way to help you to identify the memory chips on the module, as long as the information didn't get removed by the manufacturer on purpose. Here we can see that the information on the part number has been modified, but we have already confirmed that it's using the H5AN8G8NDJR-VKC, which is the Hynix DJR memory chip which is known to have plenty of headroom for overclocking.
Test System
Overclocking
For our overclocking test, we tried to push the CRAS XR RGB as much as we can, just to see how far can the kit goes with the default cooling solution. As we don't have the Gigabyte B550I AORUS PRO AX with us this time, we'll be using the MSI MEG Z490I UNIFY for this test. The adjustments done during the test include increasing the VDIMM, primary timings, and sub timings to ensure the settings are stable and able to clear HCI MemTest with at least 400% coverage each.
XMP – DDR4-4000 CL19-25-25-45
Manual – DDR4-4000 CL17-21-21-38
Manual – DDR4-4266 CL18-23-23-40
Manual – DDR4-4400 CL18-24-24-42
Manual – DDR4-4666 CL19-25-25-45
Manual – DDR4-4900 CL21-26-26-46
On supported motherboards i.e Intel Z series with supported CPUs, AMD B series, and X series with the 3rd gen Ryzen 3000 series CPUs, you should be able to run the CRAS XR RGB with its XMP profile without any issue. The timings on the XMP profile do seem a little loose here but you can always tighten it with some slight adjustments on both the primary and sub timings without having to increase the VDimm, which is 1.4V.
Going beyond DDR4-4000 doesn't require too much VDimm and for our case, the required VDimm remains under 1.5V before hitting DDR4-4666. The highest we can go with CL19 is at DDR4-4666, which is at CL19-25-25-45 and VDimm at 1.48V. Based on the test that we've done, you will need at least CL20 for the CRAS XR RGB to go beyond DDR4-4666 if you don't plan to spend too much time tweaking other settings in the memory configuration section of your BIOS, but then again, most users won't probably notice too much of a difference in gaming or their daily work. After all, we're doing this just to satisfy our curiosity and of course, for fun.
DDR4-4900 is the highest we can go with the CRAS XR RGB for now, which is able to survive through 400% on HCI, with a total of 20 instances running simultaneously. We're able to POST with DDR4-5000 but we're unable to get it to run stable enough to survive even 100% on HCI, and DDR4-4933 only does slightly better with 260% on HCI.
Closing Thoughts
There's no doubt that the CRAS XR RGB is one of the best-looking DDR4 memory kits with RGB lightings we've seen to date, simple yet elegant design, very well made RGB lightings with a butter-smooth colour transition – pretty much everything you will love if you're into RGB lightings for your system. It will work with or without the RGB customization software on all supported motherboards from pretty much all of the major brands i.e ASUS, MSI, Gigabyte, ASRock, etc, depending on your personal preference.
It is certain that you can run the CRAS XR RGB at its rated speed without any major issue as long as you're using a supported motherboard, but you can definitely go higher than the rated speed as long as you have the hardware that is capable of doing so. Similar to what we've observed on the BOLT XR, the CRAS XR RGB too can be pushed pretty far head of its rated speed. We didn't manage to get it to run at DDR4-5000 this time, but it can still do DDR4-4900 without any issue and we believe it can definitely do better than this with better hardware and some extra effort with the other settings.
For the price of RM 399, we'd say that's a pretty fair deal for what you're paying for the CRAS XR RGB – good build quality and design for those who are looking for a different kind of aesthetics for their system, and plenty of overclocking headroom for some overclocking fun.
Pros
Clean and simple design for the heatsink
Good build quality
Butter smooth colour transition with the RGB lightings
Good overclocking headroom
Affordable price
Limited lifetime warranty from KLEVV
Cons
Loose timings with the XMP profile