The MEG UNIFY is relatively new to the MSI motherboard lineup and was first introduced when MSI first released the X570 UNIFY. According to the enthusiast community, the UNIFY boards are pretty much a stripped-down version of the feature-rich GODLIKE and ACE that has equivalent power design to the high-end tier boards, which is a very good deal for those who only want the performance and don't really need the extra premium fancy features.
MSI has introduced two new UNIFY motherboards with Intel Z490 chipset for the new 10th gen Intel Core processors and in this review, we'll be taking a good look at the MEG Z490I UNIFY and see what kind of features and performance it has to offer.
Specifications
CPU support
Supports 10th Gen Intel Core and Pentium Gold / Celeron processors
Chipset
Intel Z490
Memory

2 x DDR4 DIMM, max. 64GB un-buffered memory
Supports Extreme Memory Profile (XMP) with memory frequency up to 5000MHz (O.C)

Expansion slots
1 x PCIe 3.0 X16
Storage
4x SATA 6Gb/s ports
2x M.2 slots [Key M]

M2_1 supports up to PCIe 3.0 x4 and SATA 6Gb/s, 2280 storage devices
M2_2 supports up to PCIe 3.0 x4, 2280 storage devices
Intel® Optane Memory Ready 2
Supports Intel Smart Response Technology for Intel Core processors

Network

Realtek 8125B 2.5GbE
Intel Wi-Fi 6 AX201

Back I/O Ports

1 x HDMI
1 x DisplayPort
1 x LAN (RJ45) port
1 x USB 3.2 Gen 2 Type-A
1 x USB 3.2 Gen 2 Type-C / Thunderbolt 3
2 x USB 3.2 Gen 1
2 x USB 2.0/1.1
1 x Clear CMOS button
1 x optical S/PDIF Out connector
5 x Audio Jacks

Audio

Realtek ALC1220 codec
7.1-channel
Support for S/PDIF Out

Internal I/O Ports

1 x 24-pin ATX main power connector
1 x 8-pin ATX 12V power connector
4 x SATA 6Gb/s connectors
2 x M.2 slots [M-Key]
1 x USB 3.2 Gen2 10Gbps Type-C port
1 x USB 3.2 Gen1 5Gbps connector [supports additional 2 USB 3.2 Gen1 5Gbps ports]
1 x USB 2.0 connector [supports additional 2 USB 2.0 ports]
1 x 4-pin CPU fan connector
1 x 4-pin water-pump fan connector
1 x 4-pin system fan connector
1 x Front panel audio connector
2 x System panel connectors
1 x Chassis Intrusion connector
2 x 3-pin RAINB0W LED connectors
1 x TPM module connector

H/W Monitoring
4 x EZ Debug LED
Form factor
Mini-ITX Form Factor (170mm x 170mm)
Unboxing
Starting off with the box, you'll find very little information at the front of the box, but you can pretty much tell from the icons at the top right of the box, that this board will support the latest 10th gen Intel Core processors, Intel Optane Memory and Thunderbolt 3. More information can be found at the back of the box, including the specifications of the board, rear I/O panel, the board design, etc.
The accessories pack includes 2 x SATA cables, a Wi-Fi antenna, Driver CD, RGB extension cable, Users Manual, Quick Installation Guide, a case badge, and some MSI product catalog.
The MSI MEG Z490I UNIFY
Like most of the mini-ITX form factor motherboards out there, the MEG Z490I UNIFY has a pretty compact layout which is meant to fit as many features as possible onto the board but we did notice some rather interesting arrangement for its SATA ports. You can barely see any RGB elements at first glance, but it's equipped with a VRM heatsink, rear I/O cover, and SSD heatsink, which minimalistic design which gives it a clean and minimal look.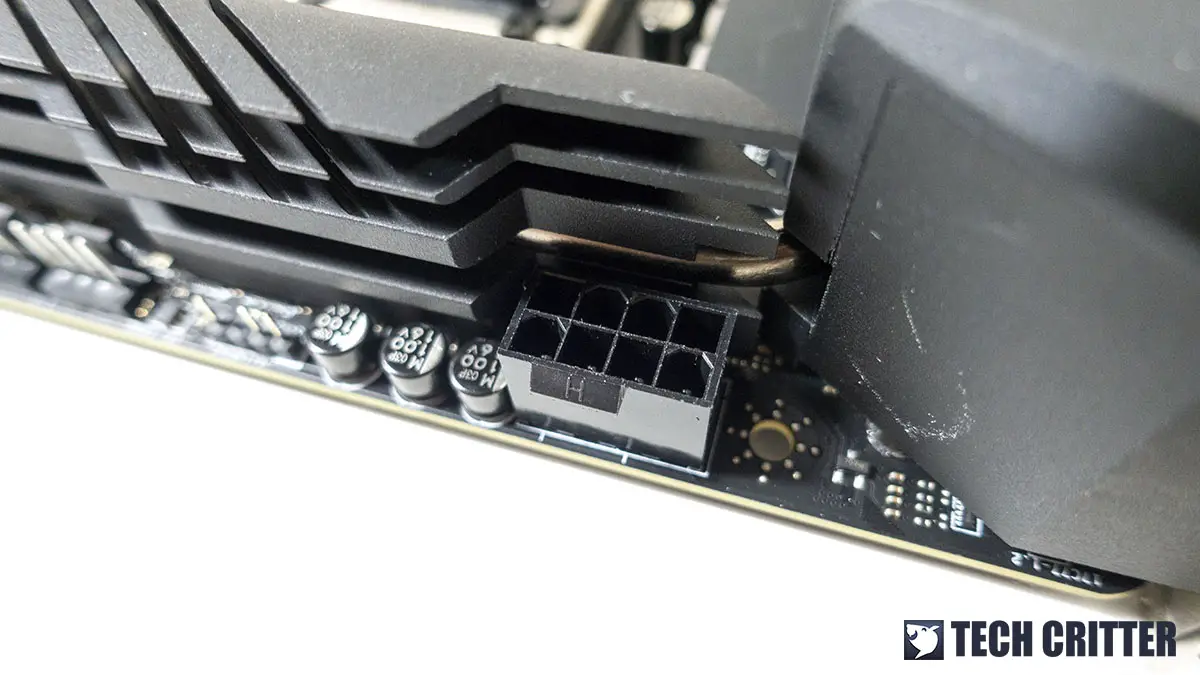 You'll find a single 8-pin EPS12V socket for the CPU and we can see that it doesn't have any of those fancy metal shields which is pretty much for the aesthetics.
The MEG Z490I UNIFY is using the Daisy chain memory layout,  and according to the spec sheet, the MEG Z490I UNIFY can support up to DDR4-5000+. So you can pretty much expect some nice memory overclocking results from this board if you're looking for some overclocking fun. There's not many DDR4-5000 kit around as of now so it's best to refer to the supported memory list if you're not sure which memory kit is compatible with this board.
The board comes with a USB 3.2 Gen1 and USB 3.2 Gen2 port for the front panel IO, but I believe most people will just use the USB 3.2 Gen1 as I haven't really seen much of the PC cases with USB 3.2 Gen2 support for the front panel IO. While it doesn't have the Q-Code display for troubleshooting use, MSI still included the debug LEDs which can be found at the bottom right corner of the board in case if you bumped into a no POST situation with your system.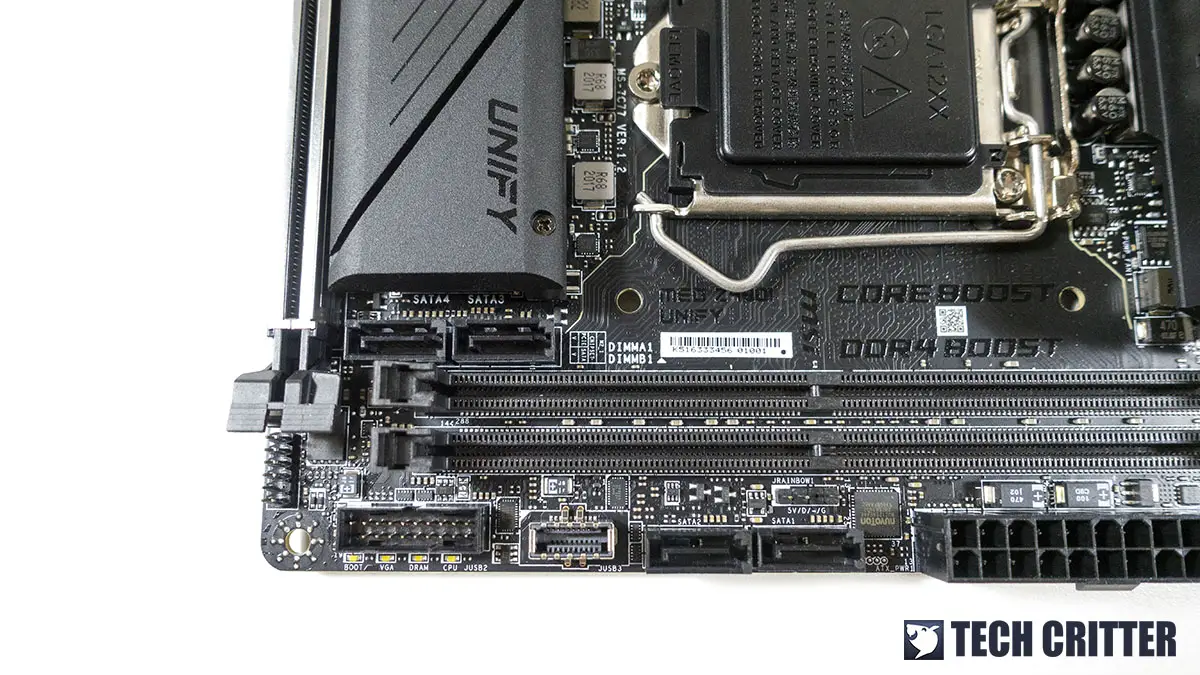 A closer look at the SATA ports, we can see that it's being arranged in a rather unusual placement. Honestly, I'm not a fan of the SATA3 and SATA4 ports which MSI has placed in such a tight space. Since MSI only included two SATA cables with the board, I'll probably use the SATA1 and SATA2 ports for easier cable management.
There are two M.2 slots available on the board, one at the front and one at the back, so you can have up to two M.2 SSDs for your system with this board. The M.2 slot at the front comes with a heatsink of its own but looking at the design of the heatsink, I'm pretty skeptical and doubt that it'll improve the thermal performance of your SSD due to its design – it's basically a chunk of metal without any cutout like those you've seen on a properly designed heatsink for electrical components.
Like the rest of the Z490 motherboards, the MEG Z490I UNIFY too comes PCIe 4.0 ready but it's a feature that will only be available in the next-gen Intel Core Core processors for desktops. As we have yet to see any big and significant impact with graphics cards that are PCIe 4.0 ready, the only significant performance difference you'll notice is with PCIe 4.0 storage, which is still not as common nowadays.
The heatsink and rear IO cover are basically two pieces of heatsinks that are connected together by a single heat pipe. As the heatsink that is also the rear IO cover lacks any visible cutout or fins that a proper heatsink should have, MSI actually has a cooling fan attached to it to improve the cooling performance. We're not exactly sure how much of an improvement will you get for having this fan here but it's definitely going to have an impact on the acoustic performance.
For the power design, the MEG Z490I UNIFY comes with an 8+1+1 power phase design, which the eight phases for the CPU Vcore and the other two for the integrated GPU and system agent respectively.
A closer look at the components, MSI is using the ISL69269 PWM controller which can handle up to a total of 12 phases, ISL99390 power stages that can support a maximum of 90A each, and the ISL39360 power stage but we weren't able to find any information on it at the moment. Unlike the MEG Z490 GODLIKE, MSI didn't specifically highlight anything about the power design of this board, but we do have some expectations, memory overclocking especially.
You'll find the Realtek ALC1220 codec for the onboard audio, which It's not going to be on par with the premium grade DACs which will cost you even more for sure, but it is more than capable enough to deliver an above-average audio quality, which pretty much suffices for most of your basic needs.
For the rear I/O, the Z490I UNIFY comes with a preinstalled IO shield, something which is pretty common nowadays for convenience sake. You'll find an HDMI port, a total of 6 x USB 2.0/1.1 ports, 2 xUSB 3.2 Gen1 ports, 2 x USB 3.2 Gen2 ports, 1 X USB Type-C port, 1 x Intel 2.5 GbE LAN port, 1 x S/PDIF out port and the audio jacks. There's also a 'grill' for the heatsink fan intake, taking up an entire section which, ideally, can host up to 4 USB ports. The number of USB ports available on this board is rather disappointing I must say.
BIOS
Test System
CPU Benchmark – Wprime 1024M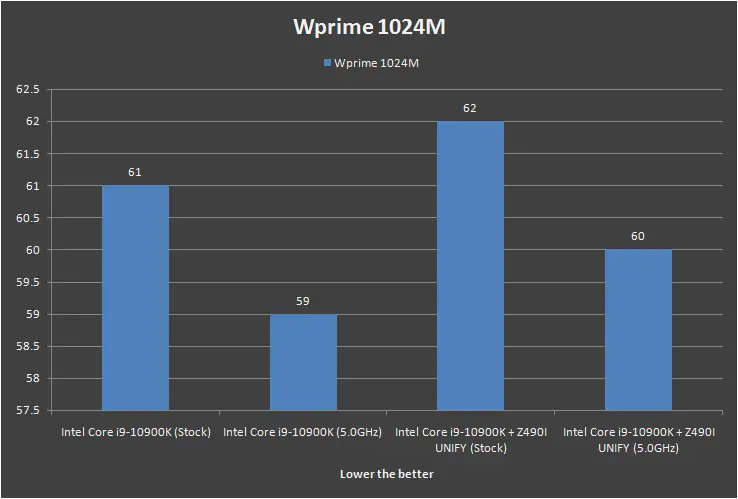 CPU Benchmark – SuperPi 32M
CPU Benchmark – 7-Zip Benchmark Decompression & Compression
CPU Benchmark – HWBot X265 Benchmark 1080p & 4K
CPU Benchmark – Cinebench R20 Single-Core & Multi-Core
CPU Benchmark – Cinebench R15 Single-Core & Multi-Core
CPU Benchmark – V-RAY Benchmark 4.10.07
CPU Benchmark – Corona 1.3 Benchmark
CPU Benchmark – Blender 2.82 BMW 2.7 CPU Benchmark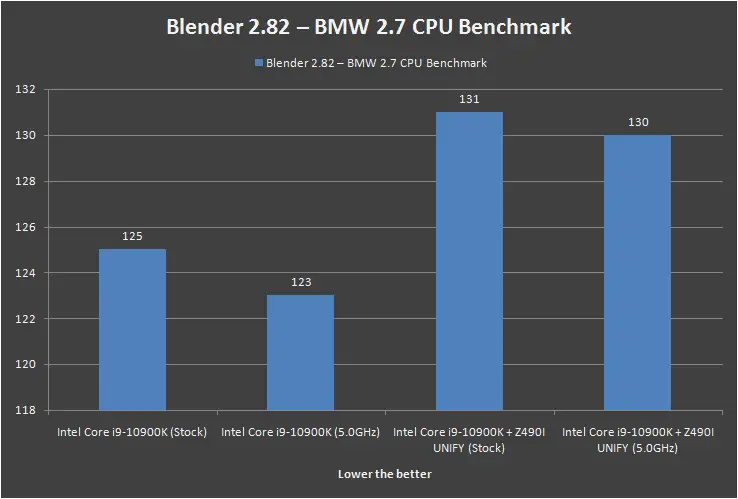 CPU Overclocking
While it's almost unnecessary to overclock the i9-10900K beyond 5.0GHz for most cases i.e gaming, creative work nowadays, we still give it a push just to satisfy our curiosity. With everything left on default settings, the i9-10900K rarely hit 5.1GHz throughout our test and 5.0GHz is the highest it can go for most of the time. If you have sufficient cooling for the system i.e custom water cooling setup with 2 x 360mm radiators perhaps, the i9-10900K can go up to 5.5GHz with ease on the MEG Z490I UNIFY, but the VRM temperature will go up to 86°C after stressing the CPU for some time.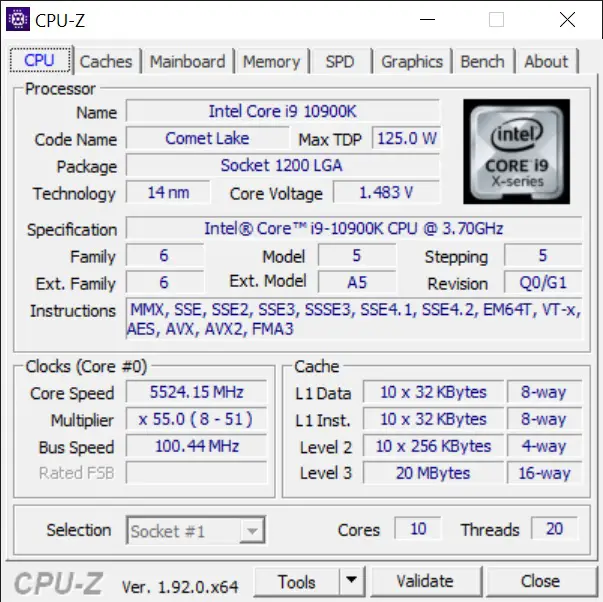 For most use cases, the VRM temperature will still go up to 83.5°C after the CPU is stressed for some time, and the VRM heatsink fan that is barely spinning is not helping with the situation at all. Manually configuring the fan to run at a roaring 12000RPM will keep the temperature down to 70°C range, but some of you who prefer a low noise setup will probably be bothered by the hum produced by the fan.
Memory Overclocking
We're using the KLEVV CRAS XR RGB DDR4-4000 for our memory overclocking test to see how far can we push this kit on the MEG Z490I UNIFY. As the XMP profile timing is rather loose, we started the test by tightening the timings using the same speed as the XMP profile. We managed to get the kit to run at DDR4-4000 CL17-21-21-38 with a slight increase to the VDimm at 1.42V, clearing 400% on all 20 instances of HCI for stability test.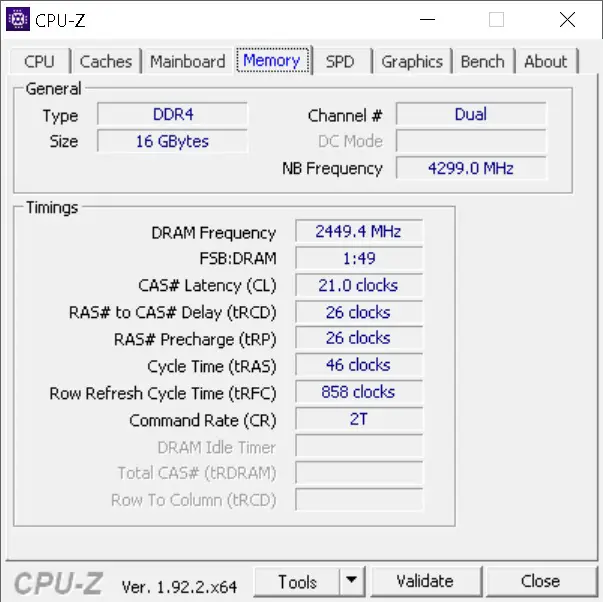 Although it is stated in the specifications that the MEG Z490I UNIFY can support up to DDR4-5000, we only manage to get our KLEVV CRAS XR RGB to run at DDR4-4900 with timings CL21-26-26-46 and VDimm at 1.61V. DDR4-5000 requires a lot more effort, higher VDimm, VCSA, and VCIO to stay stable enough but we didn't continue to push the kit further due to various limitations on our end.
Closing Thoughts
While the VRM temperature does seem rather high as compared to some of the other Z490 boards I've tested so far, the temperature is fine and the overclocking experience with this board is pretty excellent overall.  The main concern we have with the board low number of USB ports available, which can be a turn-off for users who need more USB ports. You can, of course, make use of the Thunderbolt 3 ports with some high-speed USB hubs but that's an additional piece of device or gadget you will need to have on your desk.
Out of the box, the MSI MEG Z490I UNIFY performs very well for both CPU and memory overclocking. We managed to get our Intel Core i9-10900K to run at 5.0GHz with 1.28V, which only hit 82°C for the max load temperature – yes, it's slower than the boost clock at 5.1GHz but it is determined that it's the best configuration with what we have here and the system still performs very well without any major hiccups. Memory overclocking is great for sure but we didn't manage to get a DDR4-5000 this time due to the current limitations we have i.e the CPU quality and memory kit used.
Feature-wise, the MSI MEG Z490I UNIFY has plenty to offer i.e high-speed connectivity with 2.5GbE LAN and Intel Wi-Fi 6, Thunderbolt 3 that offers up to 40Gb/s high-speed data transfer, and PCIe 4.0 ready for the next-gen Intel Core processors (in the near future), which will last you for quite a while or maybe years. The lack of RGB elements might not be appealing to the RGB lovers, but it's definitely a selling point for those who prefer to have a clean, minimal, and RGBless system.
For the price of RM 1239, the MSI MEG Z490I UNIFY seem a little expensive if you really care a lot about RGB but looking at the features and performance it can offer, I'd say it's a fair deal for enthusiasts who are looking for a good mini-ITX motherboard that is focused on the features and performance, rather than the unnecessary RGB lightings that only serves for aesthetics purposes.
Pros
Solid build quality
Good VRM design
High-speed 2.5GbE LAN and Intel Wi-Fi 6 connectivity
Excellent overclocking performance
Comes with Thunderbolt 3
Cons
Very little USB ports
Odd placement for SATA3 and SATA4 ports
VRM needs a bit more cooling