Last year, I reviewed the new Cooler Master MH600 series gaming headphones, namely the MH630 and MH650. I am so satisfied with the series whereby at the end of the review, I also mentioned how I'm looking forward getting my hands onto the MH670 Wireless edition. Few months down the road, here I am, typing the review after using the MH670 for about 3 weeks.
Video Review
Accessories
Cooler Master MH670
Detachable microphone
3.5mm audio cable, 4 pole TRRS (1.5m)
micro USB cable (1.2m)
USB receiver
USB-A to USB-C OTG adapter
Cooler Master has provided a wide range of accessories to cater to different use cases. You can use the headphone in wireless mode or 3.5mm analogue mode. One thing to take note of is that Cooler Master didn't provide any of the TRRS to TRS adapter/splitter. That can be a problem if you plan to use analogue mode on your PC that comes with a separate mic and headphone port.
Then again, if you're getting the MH670, you should be using its wireless capabilities as Cooler Master also provided a USB-A to USB-C OTG adapter for laptops, tablets and smartphones.
Build Quality
Since the MH670 is using the exact same chassis as its other two siblings, I expected the same user experience but it is not 100% similar. The headband is still very flexible but the cushion material has changed from a mesh fabric to PU leather aka pleather. Personally, I'm not a big fan of this decision. Pleather is inferior in any possible way, practically speaking. It is more prone to wear and tear, not to mention it is uncomfortable for those who sweat easily. The sole reason why companies choose to use pleather is for the so-called "premium leather-look".
While some may argue the pleather earpads will provide better passive noise isolation but it is not worth it. On a positive note, at least the earpads are soft and thick.
On the right ear cup:
Power button
7.1 virtual surround toggle button
micro USB charging port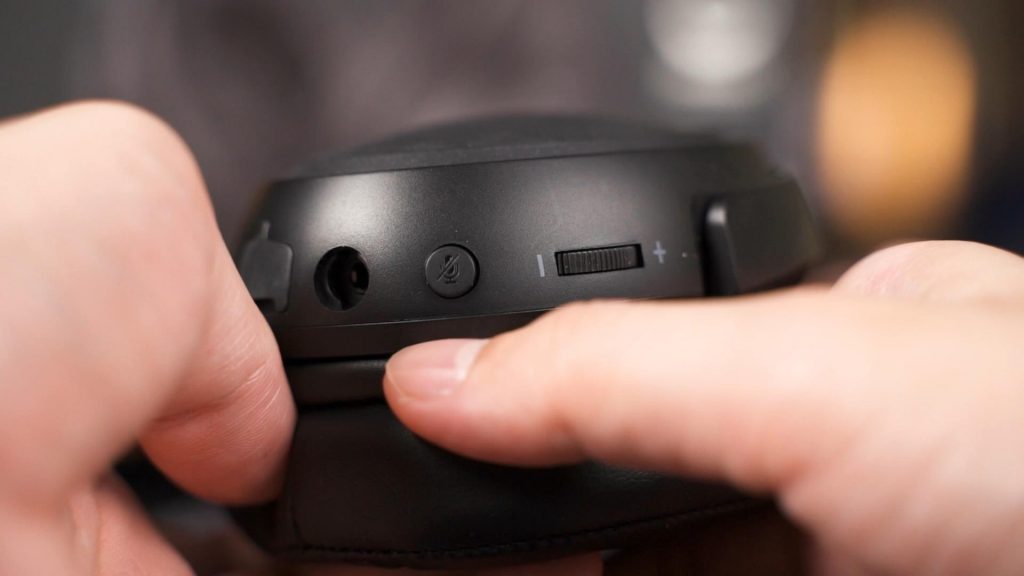 On the left ear cup:
Detachable microphone port with rubber flap cover
3.5mm audio port
Mic mute button
Volume wheel
Honestly, I think Cooler Master could've done a better job at the buttons and volume wheel quality. The moment they picked the MH600 series chassis, they're pretty much tied to whatever the factory has to offer for it. In other words, I can't really relate the feeling of pressing the button and wheels to be premium. I may sound like trying to pick a fight with MH670 but it is the truth after you have decided to go with the most expensive MH600 series gaming headphone. I'll talk a little bit more about the pricing at the end of this review.
Sound Quality & Mic Quality
For a gaming headset, the MH670 is considered decent for the sound quality it has to offer. The sound stage is surprisingly good for closed-back headphone. What it lacks is the mids whereby vocals is rather muted and dull. The treble is decent but not overly bright. The bass, on the other hand, can be really bad if you decide to push it.
If you install the MasterPlus software, by default it will enable the Bass+ equalizer which is horrendous. There's no way for you to disable the preset equalizers apart from resetting them to flat.
Battery Life
Cooler Master is claiming the MH670 to have 25 hours of battery life. In our real-life test, I think Cooler Master is not lying, in fact, it has longer battery life than expected. A single full charge was able to provide 2 hours of usage daily for 14 days, that's about 28 hours! If only if they use USB-C as the charging port then this will be perfect.
Conclusion
Lastly, before we conclude, let's talk about the price. The MH670 is officially priced at RM459 which is, obviously, at a premium when compared to the MH650 (RM339) and MH630 (RM229). The additional price you're paying is basically for the wireless feature and slightly different build material. Frankly speaking, it is not all that expensive when we look at other competitors whereby some of their wireless gaming headphones can go up to RM800 or more.
Sure, I've mentioned quite a lot of stuff that I'm not satisfied with this pair of headphones, however, most of them don't really get in the way of the basic use case of it. As long as you're just going to plug-and-play, the MH670 will serve you well without any major problems. For Cooler Master, the MH670 is their first wireless gaming headset and I think they have done a good job at it. What they really need to improve afterwards is the MasterPlus software to reflect a better finish on their products.
Pros:
Decent build quality
Wireless feature
Decent sound quality
Long battery life
Reasonably priced
Cons:
Use of PU leather material
micro USB charging port
Useless software