If you're looking for a superwide monitor, then this monitor should be on your list. This is the AOC AGON Curved Gaming Monitor 49″ (AG493UCX). That name is longer than a brontosaurus's neck, so I'll just call it the AOC AGON 49-inch in this video.
This is actually quite a good monitor with a lot of different features built-in. So much so that Mr. John is considering getting one for himself. So let's have a look at what's special.
Okay, so let's get the specs out of the way. This AOC AGON 49-inch monitor is a curved 49-inch monitor with a 32:9 aspect ratio and a resolution of 5120×1440 pixels. It's literally two 1440p monitors combined into a single monitor without the bezel.
It is also using a VA panel and before you go down to the comments and say "ew VA panel", this is actually quite a good panel. Though, I have to say, probably because of the 1800R curvature, the backlight bleed is definitely obvious when we are looking at a pure black image. I guess that's unavoidable for curved monitors like this.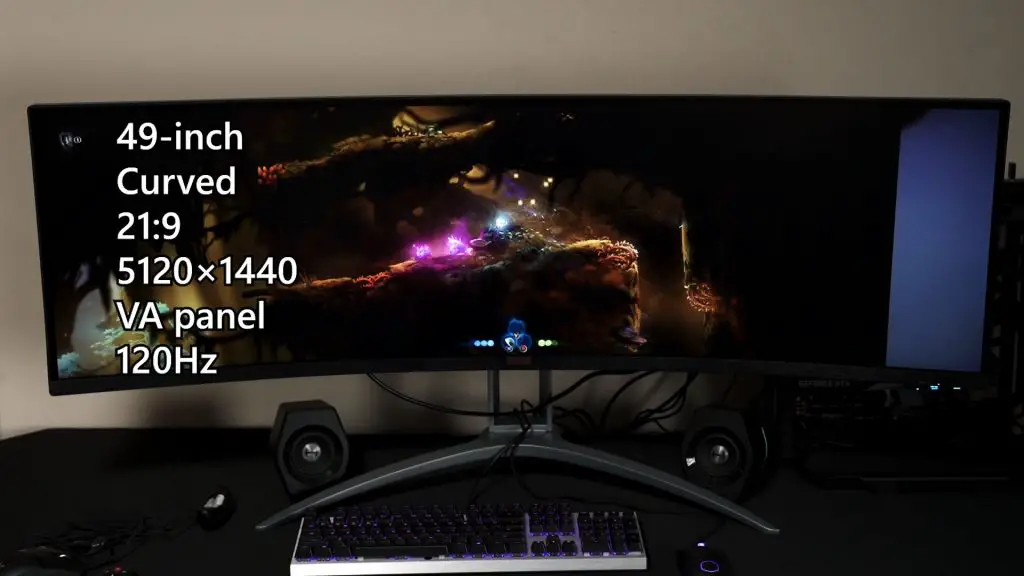 It can also go up to 120Hz refresh rate and it also has Freesync Premium Pro and G-Sync compatibility, too – so that's nice.
One feature that I think is magnificent is the I/O ports. We have a bunch of them on this monitor.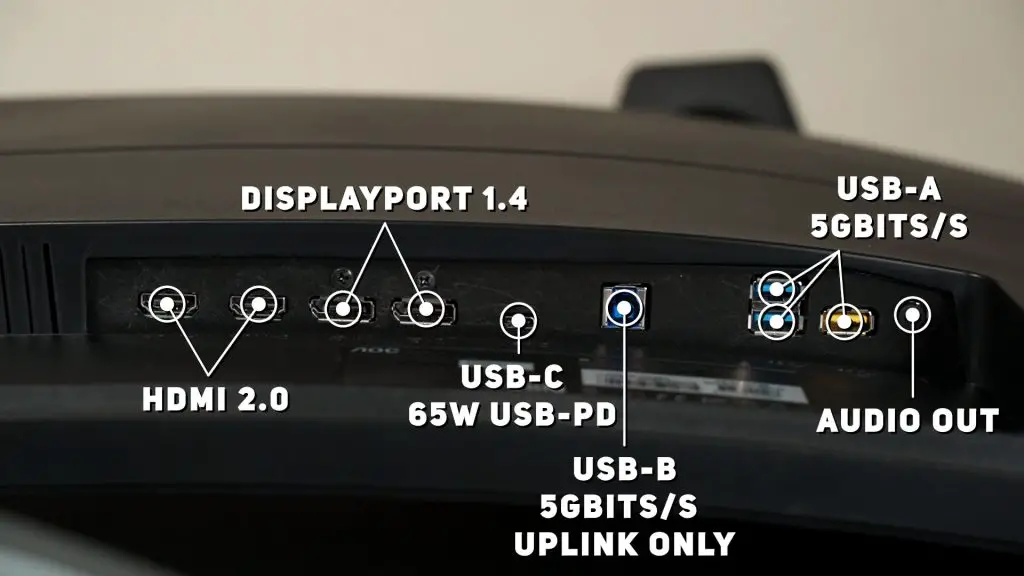 If you want to take full advantage of such a monitor, I highly suggest you just use either USB-C for your laptop or DisplayPort for your desktop. HDMI cannot take advantage of all the features available on this monitor.
But, if you have a desktop and a laptop and wish to use the same monitor, keyboard, and mouse for both computers, then you can! There is a built-in KVM switch inside this monitor too. Just plug in the cables as shown here.
Then, the monitor works as a KVM switch. Best of all, you can do all the KVM switching without even touching the monitor – because it has a remote control.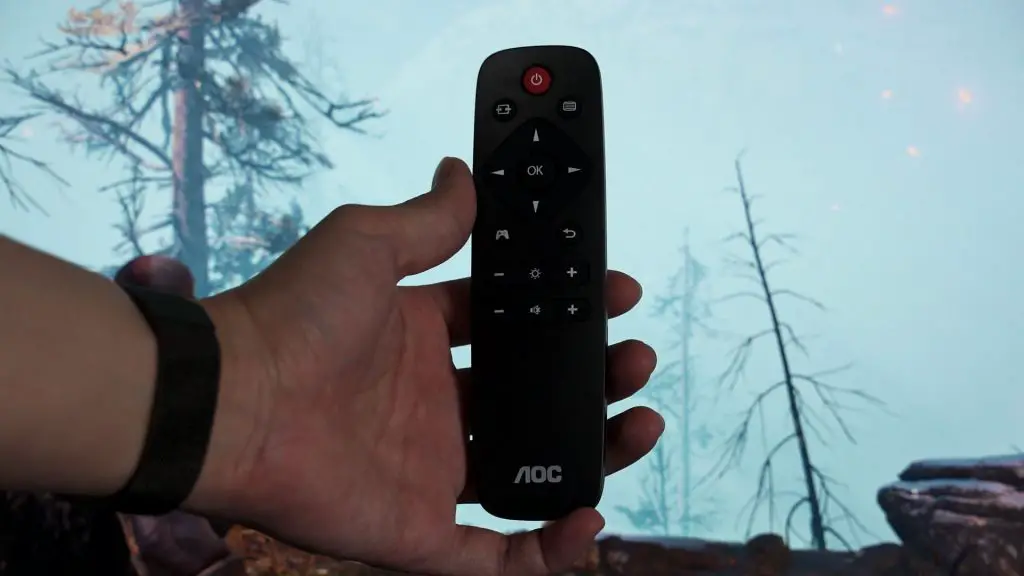 Granted, the OSD menu isn't exactly the best in terms of its layout, but it works. We can find a bunch of commonly-found features here and I don't think we need to go through each of them since you've seen all of them before, including the DDC/CI option that you can learn more here.
So, how about the color accuracy of this monitor, then? That was my personal concern too, since I wanted to edit videos using this monitor. Because of how wide this display is, we split the screen into 3 segments did a total of 3 different color tests. To our surprise, all 3 sides have very good color accuracy.
But with this color accuracy, I also immediately daydreamed about how I can use this monitor to edit videos. I mean, imagine how much of the video timeline can be viewed at a glance! And to my surprise, yes – it is indeed a fantastic monitor for video editing. It's good for Adobe Audition too. Mainly for the same purpose, I mean.
User Experience
How's it to actually use this monitor, though? Well, I have been using ultrawide monitors for the past 8 years or so – and I have to say, this is just more of the same. All of the issues I found and subsequently the utilities I used to fix said issues on my ultrawide monitors are applicable to this monitor as well. I won't go into detail about them in this video, so perhaps in the next one? Do let me know in the comments if you want me to share them with you.
However, gaming on superwide monitors is an entirely different scope. Game support is limited and there are some mods and hacks to make games make use of the superwide monitor, but it doesn't always work. For this one, we do have a video about it coming soon.
Should you buy the AOC AGON 49 inch AG493UCX?
At the end of the day, for the price of RM4,299, this is actually the most affordable superwide monitor with these specs. And it's actually a good monitor too, to be honest.
Some might say that this monitor is just two monitors merged into one – and you're right. It's even much cheaper to buy two monitors and use them side by side, too. However, not having a bezel in the middle of the two monitors is where most of your money goes to. It's like magic and many people will pay good money to be bezelless.
Besides, cable management is also easier with a single monitor compared to two. So that's where the value of this superwide monitor lies – and I think it's worth the price. You just need to know what you're getting into.
Where to buy? (Affiliate links)