While we can see gamers happily rocking with their new RTX 40 series graphics cards, the price point is still considered high by some even after NVIDIA launched its RTX 4070 at the price of $599. Therefore, it's no surprise that we can still see gamers with limited budgets who only game at 1080P or 1440P going for the previous-gen RTX 3060 or RTX 3060 Ti because of the lower price point.
This time, we'll be revisiting an RTX 3060 from PNY, the PNY GEFORCE RTX 3060 Ti VERTO DUAL FAN, and see how well can it hold up with the newer titles nowadays as compared to what we've seen back in the year 2020.
Unboxing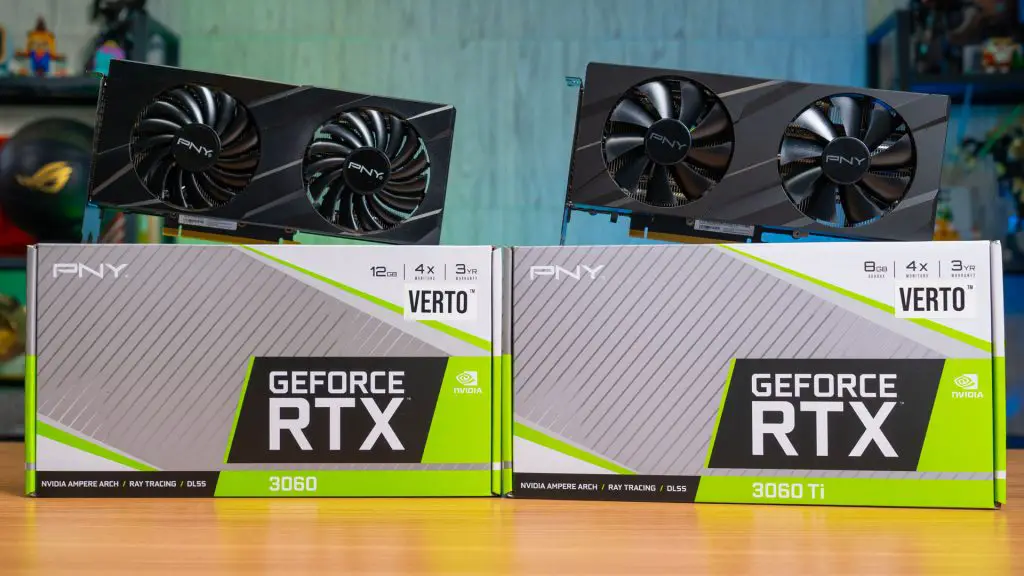 The PNY GeForce RTX 3060 Ti Verto Dual Fan ships in a rather interesting box I'd say, as I almost mistaken it for the Quadro RTX 5000 at first glance. The design is pretty straight forward and most of the information regarding the features and specifications can be found at the back of the box.
This slideshow requires JavaScript.
Design-wise, the PNY GeForce RTX 3060 Ti Verto Dual Fan looks a little similar to the PNY GeForce RTX 3060 Verto Dual Fan but you can easily notice the differences in the dimensions, cooler size, and different fan blade design on both cards. While you can easily fit it inside a small form factor build with ease thanks to the dual-slot design, the use of the 12-pin PCIe connector is a questionable decision by PNY and cable management can be a pain to deal with because of the adapter required for the card.
The PNY GeForce RTX 3060 Verto Dual Fan, on the other hand, uses the more common 8-pin PCIe connector which is easier to deal with compared tot he unconventional 12-pin connector.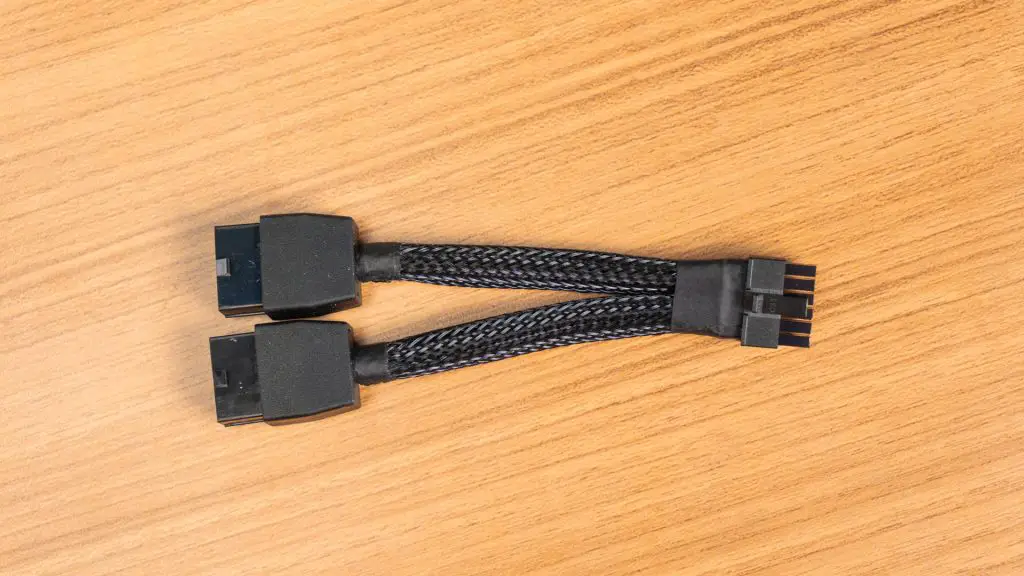 Speaking of the 12-pin PCIe connector, the PNY GeForce RTX 3060 Ti Verto Dual Fan has a rated TDP of 200W and requires a 600W power supply to power up. Unless you have a power supply from that generation that comes with the 12-pin PCIe power cable, the included 2 x PCIe 8-pin to 1 x 12-Pin adapter is your only option to power up the card. We've also tried to power up the card using a single 8-pin PCIe to 12-pin adapter but to no avail.
This slideshow requires JavaScript.
As for the display outputs, you'll find the standard 3 x DisplayPort and 1 x HDMI port options at the back of the card.
Test System Setup
| | |
| --- | --- |
| CPU | Intel Core i9-12900K |
| Motherboard | ASUS ROG Maximus Z690 APEX |
| Memory | ADATA XPG LANCER RGB [email protected] CL30 (16GB x2) |
| Graphics Card | PNY GeForce RTX 3060 Ti Verto Dual Fan |
| Power Supply | Cooler Master M2000 Platinum |
| Primary Storage | Kingston KC3000 2TB |
| CPU Cooler | Cooler MasterLiquid PL360 Flux |
| Chassis | Cooler Master MasterFrame 700 |
| Operating System | Windows 11 Pro 64-bit 21H2 (Build 22000.1696) |
Benchmarks – Raster Performance
Starting with the raster performance, it's obvious that the RTX 3060 Ti VERTO DUAL FAN is not built for 4K gaming but for some of the newer titles tested, it can still hold up reasonably well on 1440P and 1080P gaming without any issues. For titles that come ready with DLSS feature, of course, you can still enable DLSS to gain some extra frames.
Benchmarks – Ray Tracing Performance
As for ray tracing performance, the PNY GEFORCE RTX 3060 Ti VERTO DUAL FAN still manages to handle a reasonable amount of titles at 1400P and 1080P with ray tracing enabled thanks to DLSS, but this is as far as you go because 4K gaming is just way out of reach right now. Do note that we're using DLSS quality for our test and you can actually go for DLSS performance or balanced for some extra frames, but that totally depends on you to juggle between the performance and quality which you find as the most suitable for you.
Thermals
Moving on to the thermals and power draw, while the 200W+ power draw is much to be expected on the RTX 3060 Ti VERTO DUAL FAN, the higher load temperature did get my attention while doing the stress test. Compared to the reference design, we can actually see a higher load temperature that can go up to 80°C. The RTX 3060 VERTO DUAL FAN, on the other hand, doesn't really have this issue as the load temperature only peaked at around 73°C and draws around 170W throughout our stress test session.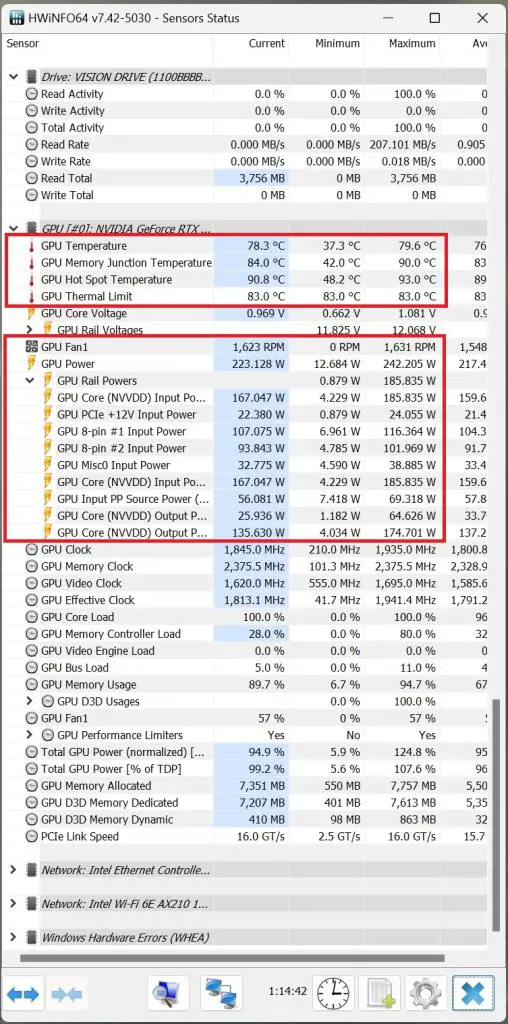 During load, we did notice that the fan doesn't ramp up that much and it remains quiet throughout the stress test. While PNY never really highlighted this as part of the silent fan design, you're getting a 4-5°C higher than what can be observed on the reference design RTX 3060 Ti. We have yet to see any stability issues throughout the test, so I consider this to be manageable for now.
Final Thoughts
Performance-wise, both the RTX 3060 Ti VERTO DUAL FAN and 3060 VERTO DUAL FAN hold up reasonably well for most games at 1080p resolution and sometimes even at 1440P even though it's not much. While the RTX 3060 Ti might have a lower VRAM as compared to the RTX 3060, the overall performance is still about 15-20% faster, which is still fairly reasonable if you're gaming mostly on 1080P resolution.
Nevertheless, the RTX 3060 and RTX 3060 Ti are still powerful cards that are still considerable choices for 1080P gaming even after more than 2 years. Prices aren't exactly cheap as many would expect but if you're on a limited budget for a reasonable 1080P gaming build, the RTX 3060 VERTO DUAL FAN which is currently retailed at RM 1,829 is as much as you can at the moment. As for those who need a tad more for games that are VRAM demanding, the RTX 3060 VERTO DUAL FAN is probably the better option to go for and it's retailed at a lower price of RM 1,569.
Where to buy? (Affiliate links)
By the way, all Malaysians, do keep an eye out for the yellow "FTS" sticker on the GPU. That signifies authenticity from the distributor and will be expedited for a speedy RMA process if anything goes wrong.
To get your warranty process, contact either of these two Facebook pages: