Despite the COVID-19 pandemic that has been going for months, business still goes on and some of us are working from home to keep things running as usual. Surely we will be working on our own workstation or one that is provided by the company for our daily work and for those who work on a laptop, an external monitor is definitely going to come in handy.
Just a week before the Malaysian government announced the Movement Restriction Order (MCO), I've received the 241E1D Frameless IPS Monitor from Philips Malaysia and has been using this monitor for my daily work (and games of course) and here's a summary on my experience with the monitor after using it for almost 2 months.
Specifications
LCD Panel Type
IPS Technology
Backlight Type
W-LED System
Panel Size
23.8 inch / 60.5 cm
Display Screen Coating
Anti-Glare, 3H, Haze 25%
Effective Viewing Area
527 (H) x 296.5 (V)
Aspect Ratio
16:9
Optimum Resolution
1920 x 1080 @ 75Hz
Pixel Density
93 PPI
Response time
4ms (GtG)
Brightness
250 cd/m²
SmartContrast
Mega Infinity DCR
Contrast Ratio
1000:1
Pixel pitch
0.275 x 0.275 mm
Viewing angle
178º (H) / 178º (V)@ C/R > 10
Color Gamut
NTSC 87%*, sRGB 102%*
Picture Enhancement
SmartImage game
Display Colors
16.7 M
Scanning  Frequency
54 – 84 kHz (H) / 49 – 75 Hz (V)
Features

Flicker-free
LowBlue Mode
sRGB
FreeSync

Signal Input
Sync Input

Separate Sync
Sync on Green

Audio (In/Out)
HDMI audio out
The Philips 241E1D Frameless IPS Monitor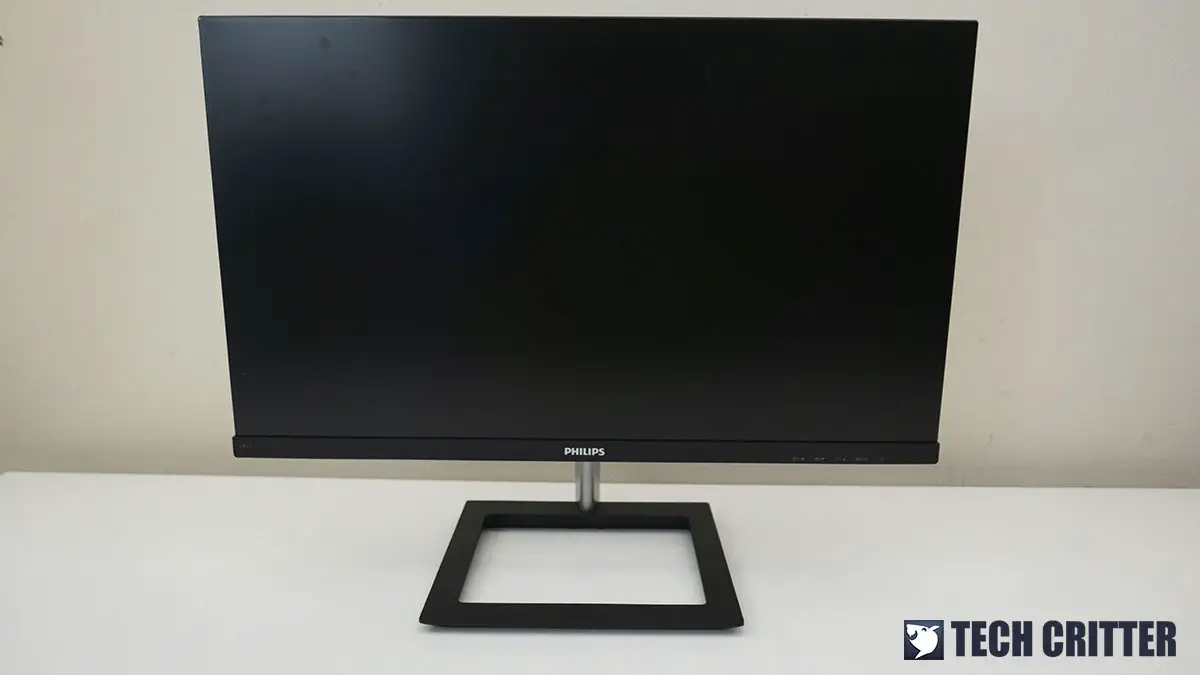 Starting off with the outlook, the Philips 241E1D has a clean and minimalist design in overall, frameless design and a very basic looking stand. It's not as fancy as the gaming monitors you'll find out there but this design seems great for office or home office if you're looking for a Scandinavian look setup for your work desk.  Apart from the frameless design and the stand, the bottom frame of the Philips 241E1D actually looks really similar to the Philips 242M8.
Taking a closer look at the panel, we can see how Philips things together for the 241E1D – panel at the front, not covered by any kind of frame which we'll normally see on a common monitor design. While you can technically call it a frameless monitor with this design, you will still see a visible black edge on the monitor because of how the panel is designed.
The control buttons are pretty standard as what we can see here, exactly the same basic design and layout as what we've seen on the Philips 242M8, which is more than enough to get the job done.
The 241E1D doesn't come with a fancy multi-adjustable stand like what you'll see on gaming monitors like the AOC 24G2 or 27G2. The monitor stand on the 241E1D is fairly simple in terms of the design, a squared metal frame base with rubber pads on each corner to provide a reasonable grip and dampens vibration on the desk.
You'll find a gap at the back of the stand, which can be used for cable routing to keep everything neat and tidy.
Tilting the screen is the only available adjustment options you'll get on the 241E1D, a little bit of it. If you need more adjustment options, you will have to go with a 3rd-party monitor stand or monitor arm to go with it, which is supported on this monitor.
AS mentioned earlier, the monitor comes with VESA mount support (100mm x 100mm) support in case if you need other adjustments that are not available on the default stand. It's definitely an added cost to the setup but at least VESA mount is supported on this monitor.
And just in case if you wonder how the heck do you remove the stand to make way for a 3rd-party monitor arm or stand, it's not as hard as you think but you will need a tool to poke the two gaps on the stand cover to reveal the screws.
The design on the back of the monitor does look pretty similar to the Philips 242M8 but the connectors are totally different than the latter. The 241E1D accepts the more common HDMI and older DVI-D, and VGA for input, which is good for older systems that still use DVI-D and VGA. VGA might be old but it is still very useful for some users, especially those of you who are working from home with older laptops like the Lenovo /IBM ThinkPad T430 or T420 that only supports VGA output.
Monitor On-Screen Display
The OSD design is rather simple and straight to the point as compared to those on a fancy 'gaming monitor'. Most of the options for color and brightness adjustments, input selection, language, or the LowBlue mode can be accessed from the OSD. SmartImage is one of the highlighted features of Philips 241E1D, which is the custom color profile which according to Philips, fine-tuned to achieve the optimal color profile for different purposes.
User Experience
After working on a dual monitor setup for years, the only time I can accept working on a single screen laptop is when I'm working outstation. With the current situation that we're all in, a secondary monitor will be very helpful as I have no intention of doing my articles on the test bench area, a dedicated space that I've set up to keep the work separated and organized.
The monitor comes with a blueish white hue by default which is noticeable by some if their eyes are very sensitive with colors. Just like most of the monitors we've seen nowadays, the Philips 241E1D also comes with a similar function known as the LowBlue mode which allows you to adjust the display to a warmer yellowish hue that is more comfortable to look at.
Backlight bleeding is still pretty common on IPS panel even until this day, but it's barely noticeable if you're working in a bright environment. It's true that the glow on the edges will still be visible regardless if you're in a dark or bright environment but just how likely are you going to stare at a blank black screen for a long period of time when you're working or gaming?
Color accuracy is something that is very important for creative work and I rely on IPS panel monitor a lot when it comes to editing photos for the products that I'm currently reviewing. According to Philips, the 241E1D has a color gamut of NTSC 87% and sRGB 102% but I'm unable to verify that as I don't have any proper equipment with me to confirm the claim.
While I did notice that the colors aren't exactly the same as the other higher-priced IPS panel monitor which I'm using on my main workstation, the Philips 241E1D still manages to deliver a pretty reasonable color accuracy for photo editing.
The 241E1D comes with AMD Freesync support but 75Hz is its highest supported refresh rate, which isn't as great if compared to the highly endorsed 144Hz gaming monitors for fast-paced games. However, the 75Hz will still come in useful for users who don't have the budget to go for a 144Hz monitor, as the performance difference is still noticeable to some extent.
Its color profile is pretty similar to the Philips 242M8, which the 'Gamer 2' fares the best for all of the tests that I've done i.e watching videos, editing photos, and gaming. As the rest of the profiles just doesn't look as good as the 'Gamer 2', I would recommend going with 'Gamer 2' profile for multipurpose use all the way if possible.
Final Thoughts
After using the Philips 241E1D for almost 2 months, I must say that it's actually a pretty balanced multipurpose budget IPS monitor for the price of RM 479. My only complaint is pretty much the same as the Philips 242M8 that we've previously reviewed, which is the built-in color profile. I'm very well aware that this is something very subjective but to me, 'Gamer 2' is probably the only multipurpose profile which I personally think is the best for all. Philips might have its reason for its built-in color profiles but the rest of the color profiles just doesn't feels right to me.
There are plenty of monitors available at a similar price range but the Philips 241E1D is probably one of the very few choices available that come with a decent IPS panel, frameless design, and features of an entry-level budget gaming monitor. You won't get the fancy 144Hz refresh rate or extremely accurate colors on this monitor but looking at the quality and features it has, I'd say that it's a very fair deal which you can't really complain much for its price. If 144Hz IPS panel is a must-have for you,  the Philips 241E1D is definitely not the one for you and the Philips 242M8 is probably the one for you to consider.
Pros
The frameless design is useful for multimonitor setup
Good color gamut coverage
Lightweight and easy to carry around
Support for VESA mount
Support for AMD FreeSync
Surprisingly affordable price
Cons
Doesn't support height adjustment and rotatable display
Gamer 2 is the only built-in color profile that actually looks good