This post is sponsored by NVIDIA Malaysia
Livestreaming and online conference has been the de facto method of communicating with either the mass public or a small group of private attendees to deliver entertainment, information, or announcements despite physical events slowly resuming over the endemic era. With more people sitting in front of their laptops, tablets, and smartphones gaining access to digital media and social platforms, software-based technologies have helped the community of streaming via smart algorithms to make the viewing experience much better with one such tool being the NVIDIA Broadcast platform.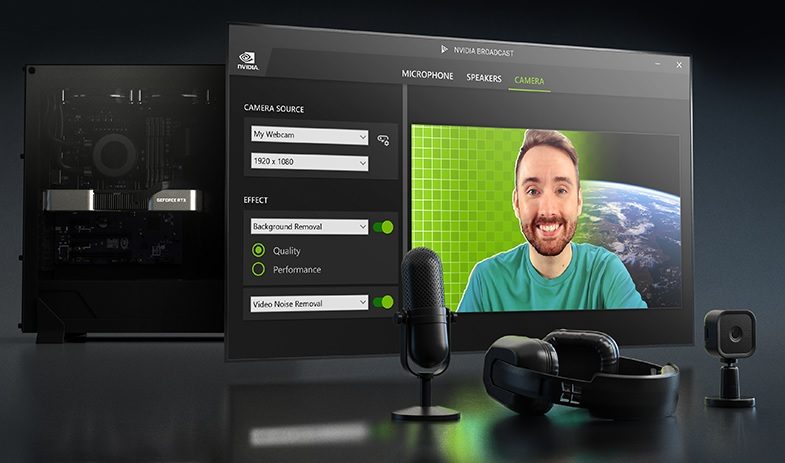 The NVIDIA Broadcast already has several powerful tools at its disposal with some of the most used features being adjustable noise removal that could remove ambient cues as loud as vacuum cleaners and a virtual green screen so you won't necessarily have to buy a physical one. But let's see what the version 1.4 update brought to the table.
First, we have the new Eye Contact feature that works differently than other similar technologies from several years back. The main highlight here is that instead of consistently centering the presenter's face in the middle, Eye Contact does it way more refined in the sense of only adjusting the eyeball and pupil's position so that the subject has a bit more room in terms of moving his entire face.
NVIDIA also made sure to optimize the correction algorithm for content creators that need to look at their notes during presentations or just simply feel too tense to look around. With Eye Contact, their eye movement becomes natural and more captive to engage with the audience.
One of the most used filters in social media platforms is none other than the bokeh-like blurred background effect to make things pop out from their environment. As such, the version 1.4 update added just that to allow some real-time focus-adjusting action.
Other notable additions for background-related enhancements include optimizations to Blur, Replace, and Removal alongside quality-of-life functions like camera mirroring and screenshotting the webcam.
To see all of these in action, watch the video below.
The Broadcast app currently has double the active users compared to the previous year and with 20 partners integrating Broadcast effects directly into their programs and platform, the AI-enhanced experience delivered to fellow user's microphones, webcam, and speakers can be found preinstalled in select laptops from Acer, ASUS, GIGABYTE, MSI, Lenovo, and Razer.
One may find the new Virtual Background effects made readily available in streaming-oriented applications including OBS, Streamlabs, and Elgato Camera Hub as well and all users need to do is grab the latest version of the redistributables via the NVIDIA Broadcast Download Center
Get started and download NVIDIA Broadcast today, free for all NVIDIA and GeForce RTX GPU owners.