When Intel launched their new 12th Gen Core processors with a brand new hybrid architecture, the associated Z690 chipset is the best one to pair with the most powerful silicon in the Alder Lake lineup, albeit being really expensive and not that cost-worthy when coupled with the more conservative mid-tier CPUs. But things are going to change as MSI announces their new 600 series H and B class motherboards.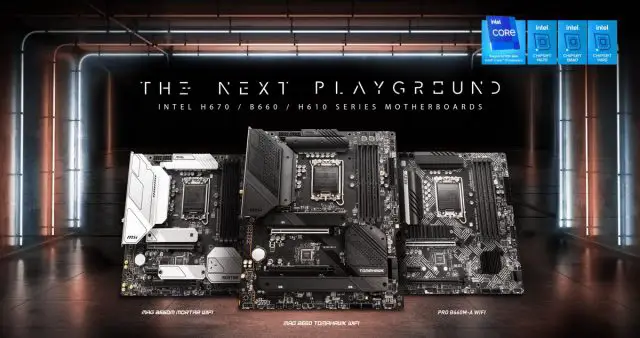 Starting 2022 with a blast, MSI is adding new models to the MAG and PRO segments with flavors of DDR4 and DDR5 version with the B660 DDR5 boards capable of achieving a RAM frequency of 6200MHz through the use of MCI's OC LAB and Memory Boost technology. With proper and mature support of PCIe 4.0 to get the PCIe components including GPUs, storage devices, and the likes to maximum efficiency, the DrMOS with Duet Rail Power System count goes up to 12 with the highlight MAG B660 lineup built with 6 layers of PCB with 20z of copper to stabilize the current delivery.
As for M.2 slots, there's up to 3 of them and in order to adapt to the change of user habits and the widespread adoption of USB-C, these B660 boards now support both rear and front I/O ports with connectivity options of 2.5 GbE and Wi-Fi 6 (6E for DDR5 variants). All of these are cooled off with MSI's in-house optimizations like Frozr AI Cooling, M.2 Shield Frozr, and extended heatsinks with little bits and nits smoothing the installation process including pre-installed I/O shield, M.2 clips, TPM 2.0, and more.
Aside from this, the MAG H670 TOMAHAWK WIFI DDR4 strikes quite a good value as well thanks to the 14 DrMOS with Duet Rail Power System and dual 8-pin power connector set up, up to 3x M.2 slots with Shield Frozr, 2.5 GbE, Wi-Fi 6, and USB-C 20Gbps – great for those who are not yet transiting to the DDR5 ecosystem. On the other hand, for the more casual or business deployments, the H610 motherboards are more than enough due to the higher than average base specifications that can future-proof the systems to some degree.
Availability
As the announcement are fresh to the world, it seems we'll need to wait for some time in order for stocks to arrive in Malaysia. But nevertheless, great news for those who are looking forward to building the best bang for buck 12th Gen Intel Core rigs this year.