Increased capacity per DIMM, higher memory bandwidth, and higher frequency at lower voltage are some of the new aspects you'll get on DDR5, and with Intel launching its 12th Gen Core processors and Z690 motherboards, we're finally able to experience the long-awaited DDR5 memory for the first time.
With DDR5, we can see high frequencies DDR5 memory modules like DDR5-5600, DDR5-6000, or more. While most of the high-frequency DDR5 modules that come with a heat spreader are the ones that can be overclocked beyond the rated speed because of the unlocked voltage for VDD and VDDQ, that doesn't mean that you can't overclock the less appealing looking generic DDR5 memory modules.
So for this article, we'll share with you our experience overclocking the KLEVV DDR5 U-DIMM, a generic DDR5 memory module with its VDD and VDDQ locked at 1.435V – or is it?
Specifications
| | |
| --- | --- |
| Format | DDR5 Unbuffered DIMM |
| Capacity | 16GB (16GB x1), 32GB (16GB x2) |
| Speed | 4800MT/s |
| Dimension (LxWxH) | 133.35 x 31.25 x 31.8mm |
| Warranty | Limited Lifetime Warranty |
| Latencies | 40-40-40-77 |
| Voltage | 1.1V |
| Operating Temperature | 0℃ to 85 ℃ |
Overview
The KLEVV DDR5 U-DIMM we have here comes with a rated speed of DDR5-4800 and timings of CL40-40-40. You can easily get it working on a Z690 without any further adjustments but unlike the fancier looking DDR5 memory kits, it doesn't come with an XMP profile. So you're technically stuck with DDR5-4800 if you don't plan to do any further tweaking on it.
There are, however, some motherboard manufacturers that included an optimized profile in their BIOS for selected motherboards so these generic DDR5 memory modules that don't come with an XMP profile can also run at a much higher frequency for that extra performance when needed.
Test System
| | |
| --- | --- |
| CPU | Intel Core i9-12900K |
| Motherboard | ASUS ROG MAXIMUS Z690 APEX |
| Memory | KLEVV DDR5 U-DIMM |
| Graphics Card | NVIDIA GeForce RTX 3080 |
| Power Supply | Cooler Master V1200 Platinum |
| Primary Storage | Kingston KC3000 |
| Secondary Storage | WD Black 6TB |
| CPU Cooler | Cooler Master MasterLiquid PL360 Flux |
| Chassis | Cooler Master MasterFrame 700 |
| Operating System | Windows 11 64bit |
For our simple test here, we're using the ASUS ROG Maximus Z690 Apex to put the KLEVV DDR5 U-DIMM to the test. One interesting option that is available here is that ASUS has a built-in profile known as the ASUS Enhanced Memory Profile or AEMP for short that allows the KLEVV DDR5 U-DIMM to run at DDR5-6000 CL38-38-38. It works just like the usual XMP profile we'll find on the more expensive memory modules.
Now that we have technically gained some free performance boost for the KLEVV DDR5 U-DIMM, let's get on with how we can squeeze a bit more performance out of it. If your motherboard has a built-in memory profile, you can try to make use of these profiles for your memory kits as these are the profiles specially optimized by the engineers from the motherboard manufacturers.
In the memory profile list, we can see some familiar names like Micron, Samsung, and SK Hynix, which are the major memory chip manufacturers. So, these are the optimized profiles that are specifically prepared for each memory chip.
The KLEVV DDR5 U-DIMM we have here are using the memory chips from SK Hynix, which can easily identify with the printing on the memory chips on the module. As of now, SK Hynix memory chips have been a popular choice among enthusiasts in the overclocking community mainly because of their excellent overclocking capability.
After selecting the profile, you can save the settings and restart your system to give it a test. You can run a memory stability test using programs like HCI Memtest Pro, Karhu Ram Test, or TestMem5 to see if your settings are stable enough to handle your daily tasks.  If the tests failed, you'll have to get back into the BIOS and do some adjustments to the timings or voltages that are related to the memory.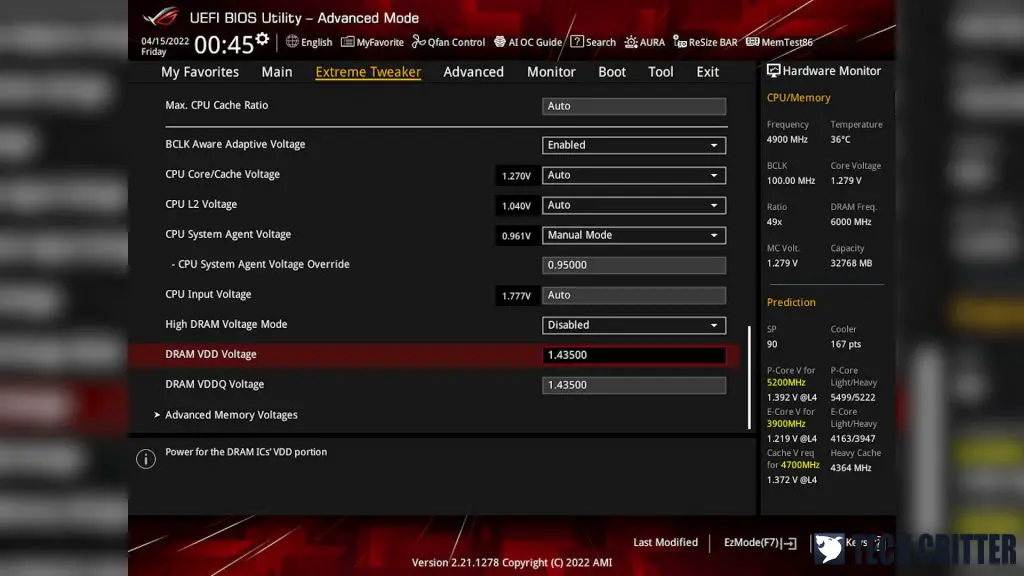 So, here's one issue you might face when dealing with non-XMP kits like the KLEVV DDR5 U-DIMM – the VDD and VDDQ voltage will be limited to 1.435V max. So if you need more voltage to get through the memory stress tests, you will have features that allow you to bypass the limit, which is something that the ASUS ROG Maximus Z690 Apex here can do with its High DRAM Voltage Mode.
Of course, increasing the voltage also means that you'll get a higher load temperature on the memory kit. As the KLEVV DDR5 U-DIMM doesn't come with a heat spreader of its own, you'll have to find the sweet spot settings so it doesn't get too hot. In our case, we settled down with DDR5-6000 CL30, which is the sweet spot for us.
Final Thoughts
Despite its generic appearance, the KLEVV DDR5 U-DIMM can actually clock pretty well thanks to the SK Hynix memory chips. Pairing it with a motherboard that offers the voltage limit bypass can get you even further with this kit but then again, it's only for those who want to push the kit to its absolute limit. With a decent Z690 chipset motherboard, you can easily go up to DDR5-6400 with the same stock timings without having to go beyond the 1.435V voltage limit for non-XMP kits like the KLEVV DDR5 U-DIMM.
I personally enjoy playing around with the settings to get some free performance gain in games and the only thing to take note of about the KLEVV DDR5 U-DIMM is probably the thermals, as it's a generic kit that doesn't have any heat spreader preinstalled. A reasonable custom cooling solution is required for those who plan to take it to an extreme length.
All in all, it's a fine memory kit to have as long as you manage to keep the temperature under control. For the price of RM 1279, I'd say it's fair for what it can actually deliver despite not having the 'gamer' look that is more appealing to most users nowadays. If you don't plan to go with a tight timing that requires higher voltages, you can still easily get a DDR5-6000 result with the default timings using a lower voltage value like 1.3V.
Pros
Reasonable overclocking headroom with SK Hynix chips
More performance can be unlocked if paired with motherboards that can bypass the PMIC voltage limit
Can operate at high frequencies with a lower voltage compared to DDR4
Cons
A heat spreader is required if you plan to go very high on the memory frequency
Where to buy? (Affiliate links)