While I'm not a serious and competitive PC game player myself, I do enjoy some decent peripherals to make my gaming experience better. As I tried a trackpad to replace my daily mouse input about 3 months ago, I still went back to the age-old convention, and pretty much across my PC gaming life, I've used nothing but Razer mice so this is my first time trying something from HyperX.
As we had a chance to receive the HyperX Pulsefire Haste and review it, let me run you through the general experience of using the latest lightweight by the now HP-owned gaming brand.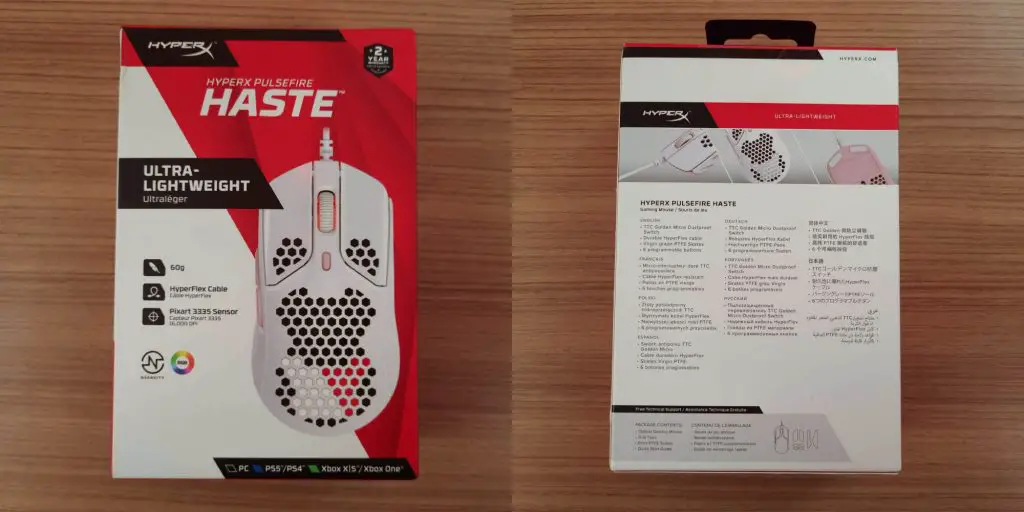 For starters, the box design is very HyperX – strands of red, black, and white. It highlights the mouse in a real simple way via the ultra-lightweight label. Perhaps the '60g' line can be bigger too?
Also, you can use this on Sony and Microsoft's most recent consoles but we're gonna do just PC for this post.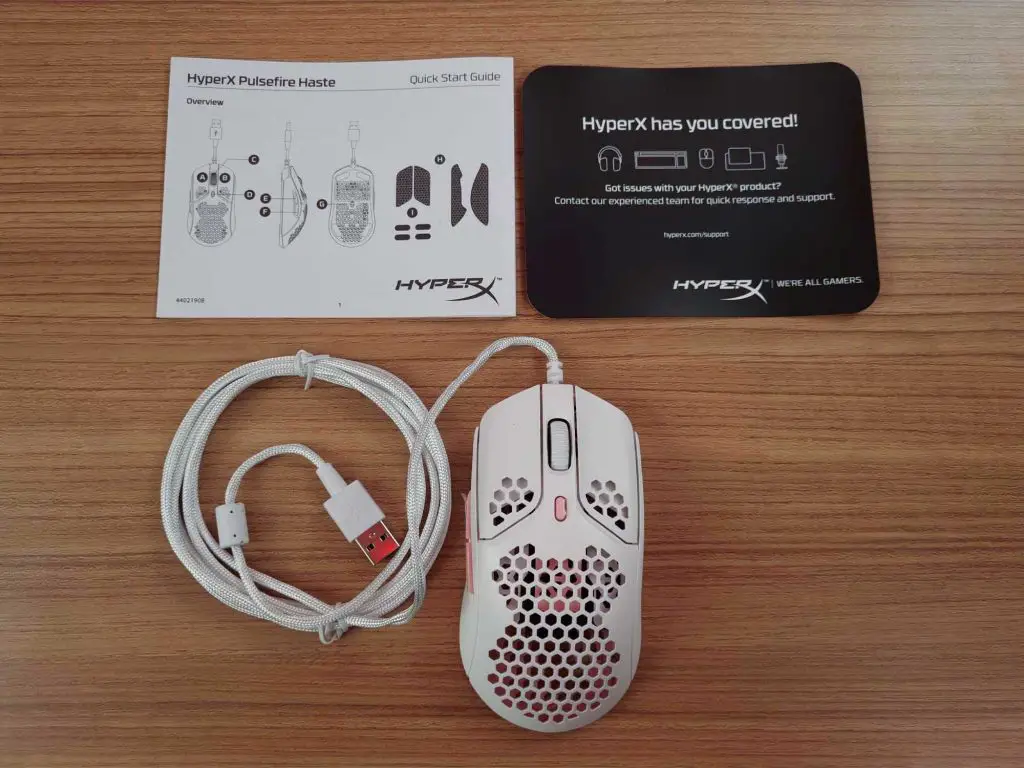 Opening up the box and you'll get the mouse itself and a couple of information cards and a quick start guide.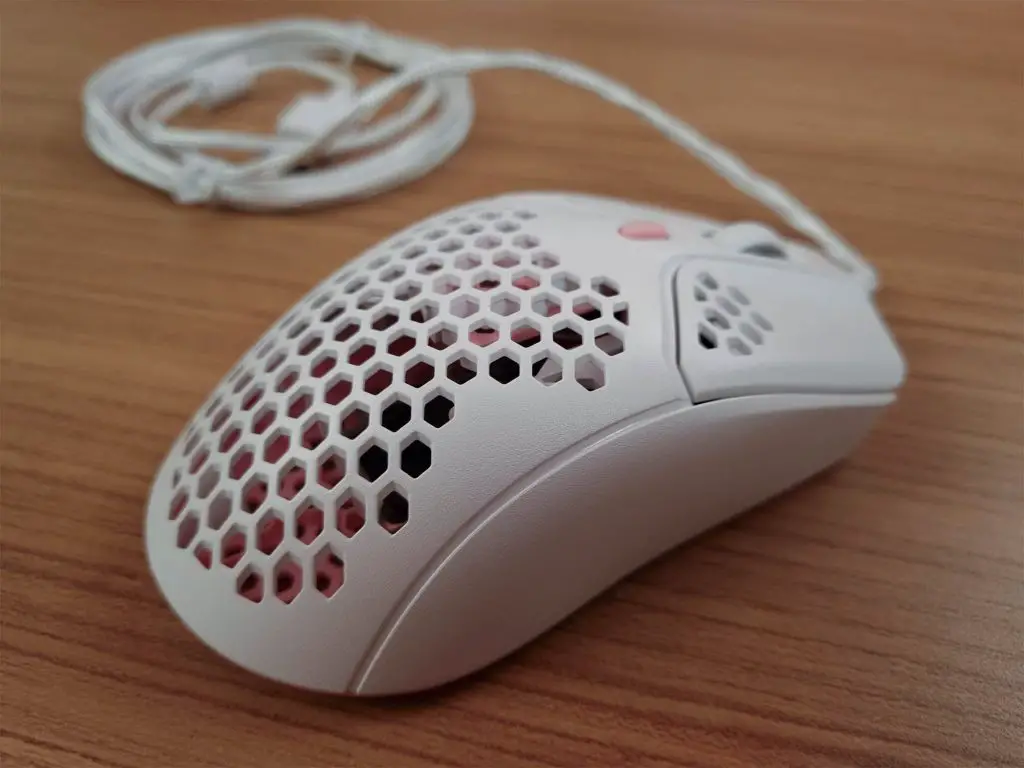 In order to stay lightweight, the Pulsefire Haste uses the honeycomb mesh design to reduce the amount of unnecessary material used for the body. The mesh even extends to the top-facing buttons and yes, you can technically register your clicks on the mesh part but that's up to you. But one thing is for sure, HyperX is really serious about taking weight away from it as much as possible.
The overall size is good for a small hand user like me that uses a palm grip rather than the claw. As such, my entire hand can lay on top of the mouse fully and comfortably without any issue. Other than that, it is smooth to glide around so there's no problem when gaming some shooters during my off time.
For the left and right click, I do feel like it travels less than what I used to so one will feel that they are rather unsatisfying or inconsistent but after a couple of days, it is no longer a big deal.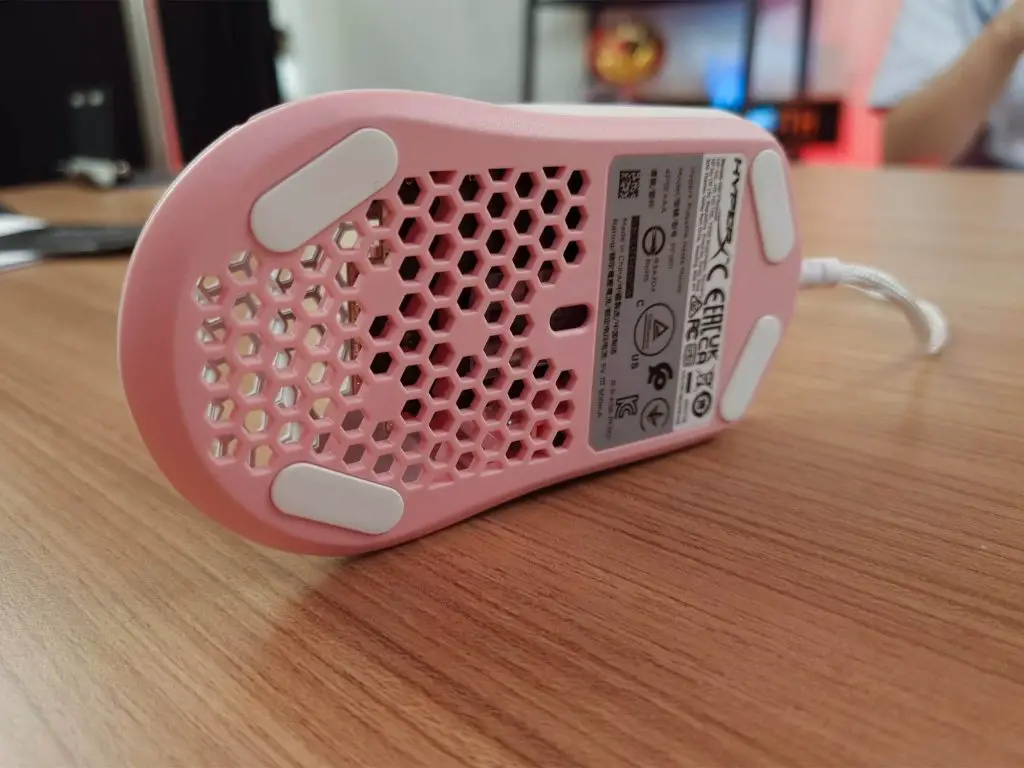 Peeping from the bottom and you can see the honeycomb mesh is fully see-through across the top part. Adopting this design usually just means that either the RGB is not going to be that good due to light leaking or there's no RGB at all which is partially correct for the Pulsefire Haste because technically it has RGB. Continue reading to find out.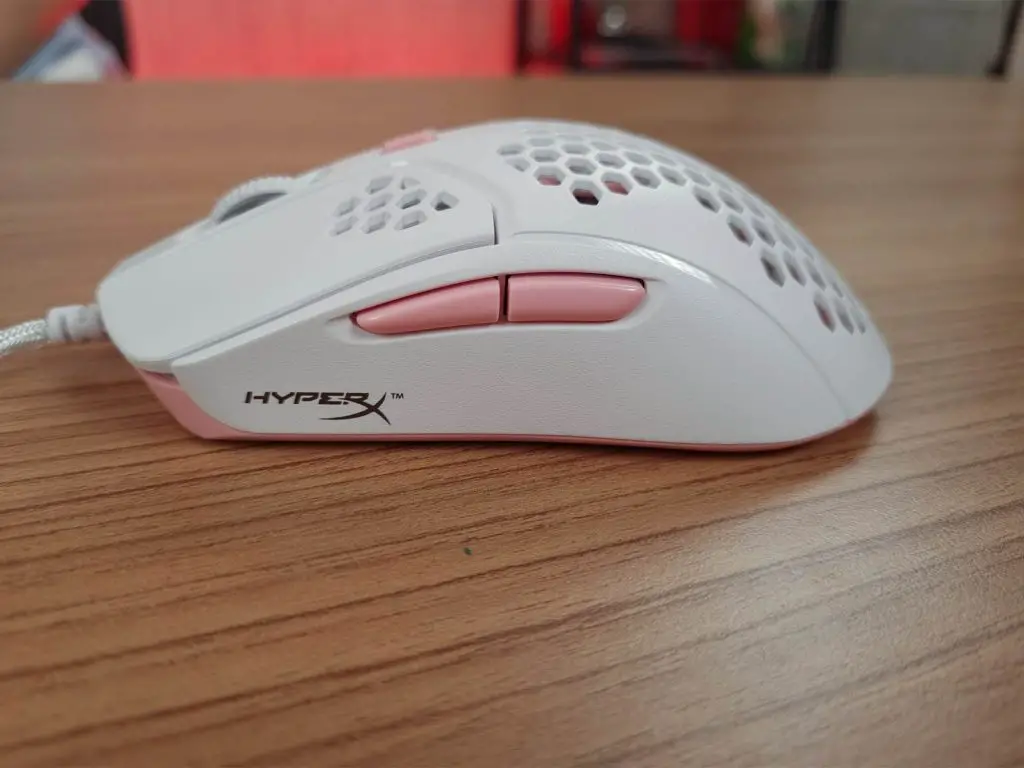 On the left side, a lil' HyperX logo is etched just around the front part and the 2 side hotkeys are nice to click as they are not mushy and have a heavier feel thus the inputs are much more precise. My thumb can also reach both buttons at once and thanks to the little gap in between them, one "down click" doesn't result in the other one becoming jammed so definitely appreciate the side key experience here. Oh, the plastic material and the surface are slick and fun to touch as the mouse unit is textured to enable better friction.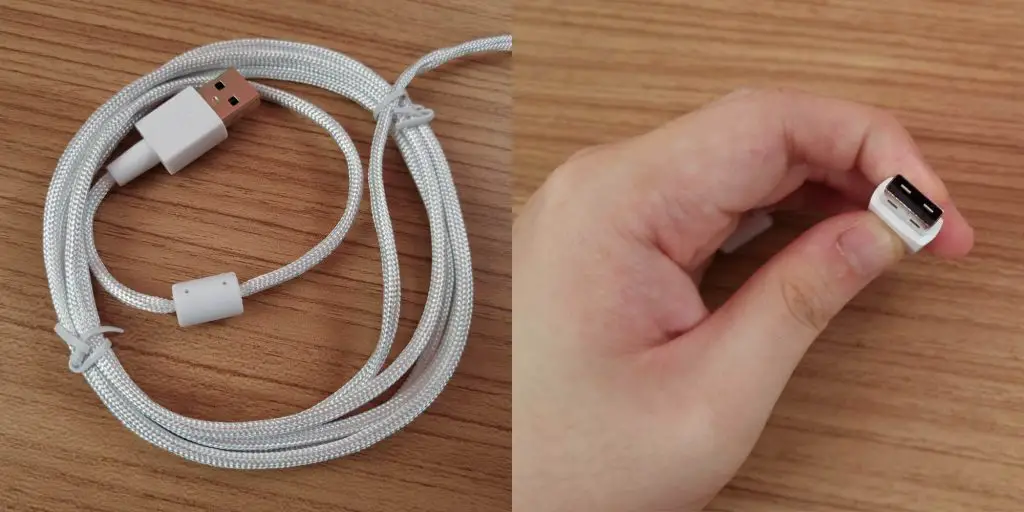 I kinda like the soft-braided cables here as not only contribute to the key selling point of this mouse which is being super lightweight, but also it is way easier to adjust and reposition the mouse in general. The White Pink model we have here also has the entire cable in white which is a nice change for me since most of my peripherals are in black.
And yes, no special coloring for the USB-A connector although I don't expect it to have one.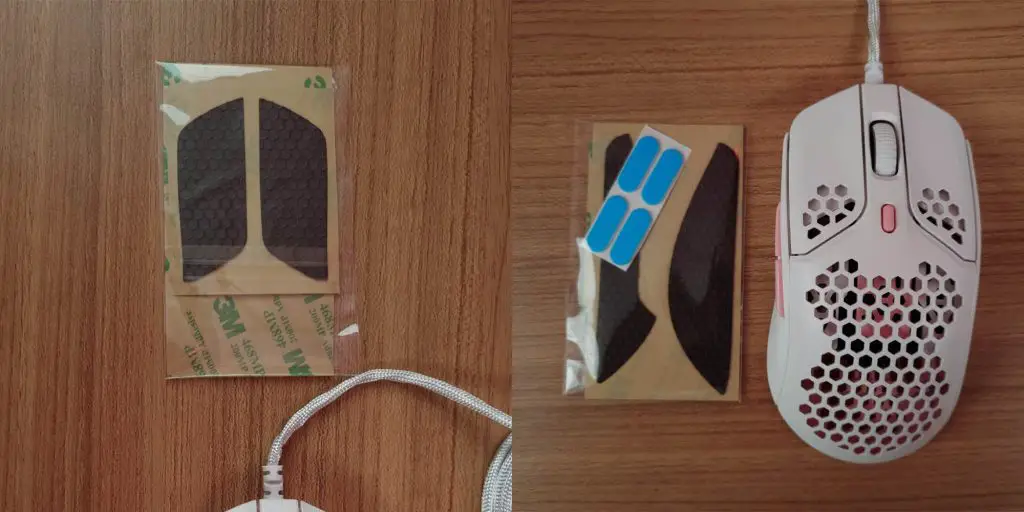 HyperX is also not forgetting the sweaty gamers that always lost their grip of the mouse mid-game so there's a pair of grip tape that takes care of that problem. There are two for the left and right mouse clicks and another two for the side body. Therefore, full coverage from top to toe. And yes, the blue ones are the mouse feet pads – great for the low DPI FPS players that grind them like no tomorrow.
To go with the Pulsefire Haste gaming mouse, HyperX also sent us the Pulsefire Mat, XL. Yes – The giant, largest guy in town that is bigger than my own personal home PC desk.
Coming in a dimension of 900mm x 420mm x 4mm, it is slightly thicker and broader than the conventional mats on the market, and factoring in the fact that uses cloth material makes it heavier than I expected when carrying it around.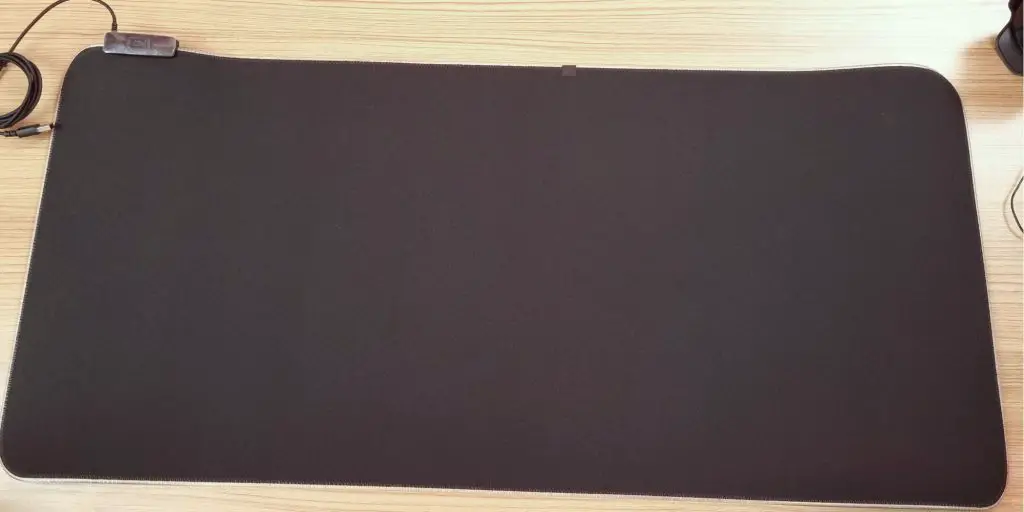 Look at this big boi. Are you sure this is a mouse mat and not a table mat, HyperX?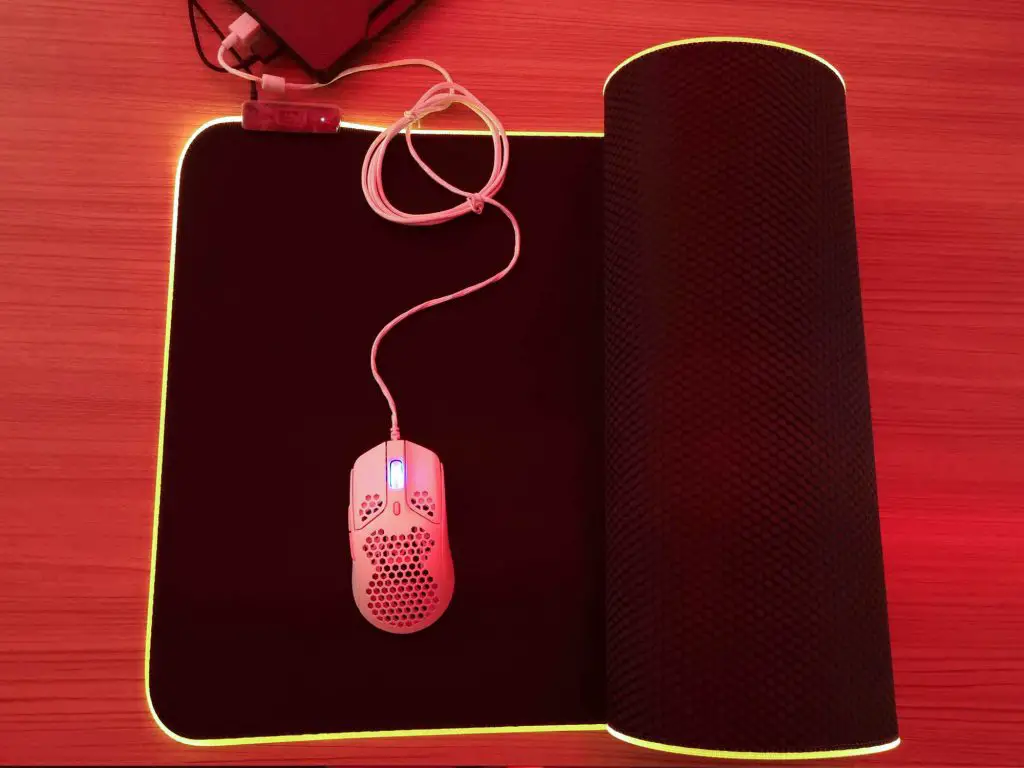 Here's what it looks likes with the PulseFire Haste placed on top of it. Compared to other gaming mice and RGB mat combos in the market, the Pulsefire pairing is considered to be low-profile in terms of the lighting game. Also, you may need to, as usual, place some heavy objects over the not-so-flat area in order to flatten them out since the mat is just so dang long and big.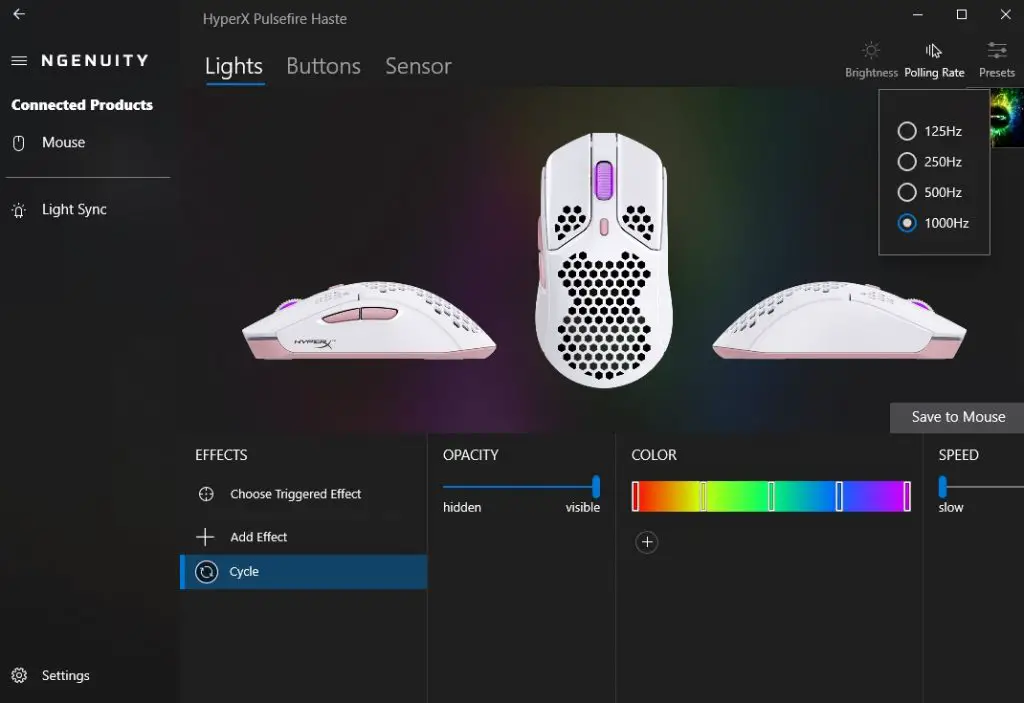 As one of the new products from HyperX, the NGENUITY software immediately recognizes it after the program was launched after installing. Just a quick note: the application is light enough at around 150MB+, installs quickly and doesn't need to be updated at startup. A pleasant experience for once.
The landing page for the mouse is the Lights tab and you can customize what the RGB light within the mouse wheel shines, what kind of patterns like Cycle, Breathing, or Static, and even how fast should the pattern repeats. If it is too bright for you, simply adjust the opacity slider to your liking. Since the RGB light does not permeate through the entire unit, hitting the full opacity value is still cool for me.
On the other hand, the Polling Rate tab is just positioned nicely on the top right and expectedly, you can go as high as 1000Hz.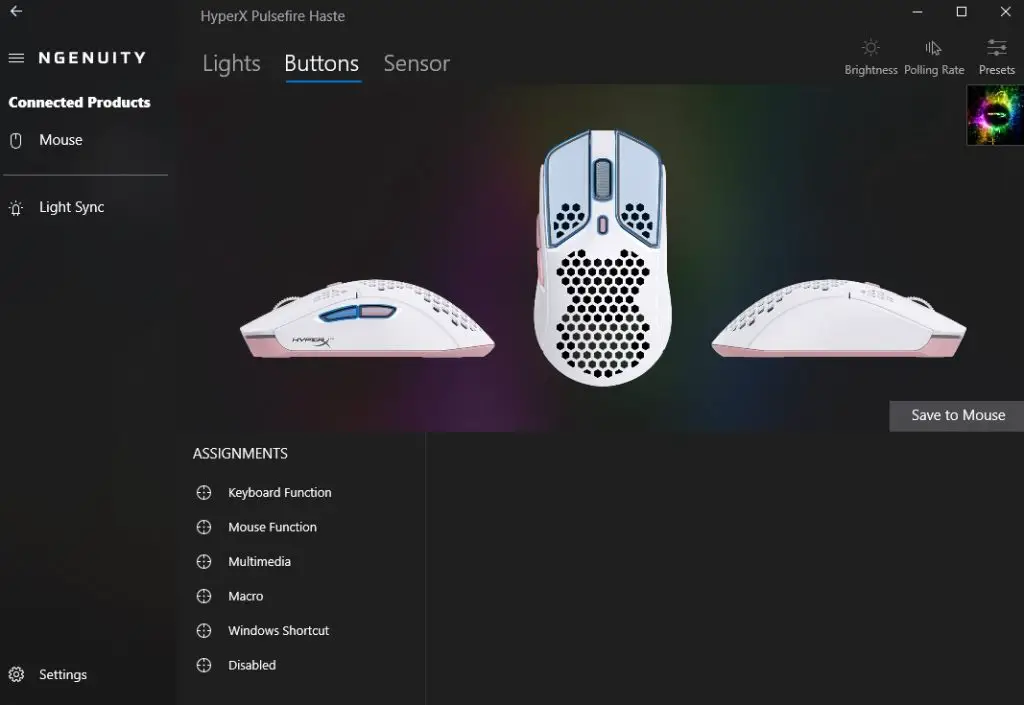 The NGENUITY software also lets you see macros for the left and right mouse clicks alongside the 2 hotkeys on the left. From keyboard inputs to multimedia controls, just set the ones that you use the most. Need some macros to help you automate tasks? You can do that too.
Coming from an ex-Razer mouse user which uses the Synapse software, NGENUITY lacks the auto-fire function that I would sometimes utilize to get some ultra-fast non-stop clicking done but it is not really a deal breaker for me.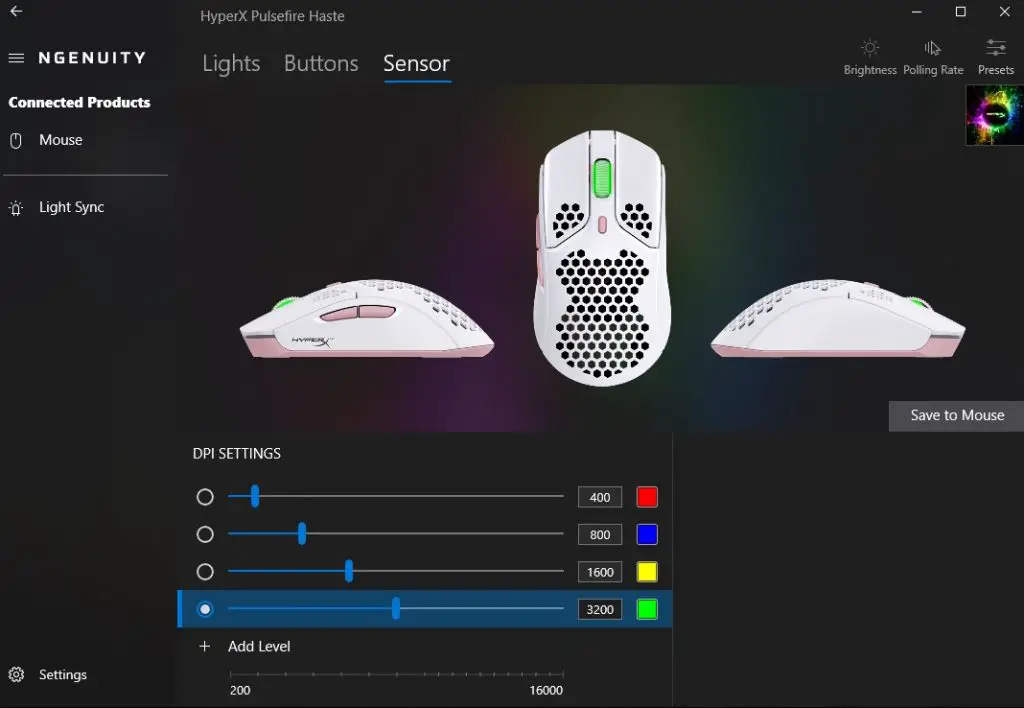 Lastly, the Sensor tab lets you adjust your DPI profiles and set a particular color for them and you can add additional levels if you really need to swap that much on the fly. As I'm contented with 3200DPI across my life of using a gaming mouse, it is easily my best default option.
And to top it off, you can save everything into the mouse so you can carry it around to your LANs and competitions, fellow pro players.
Conclusion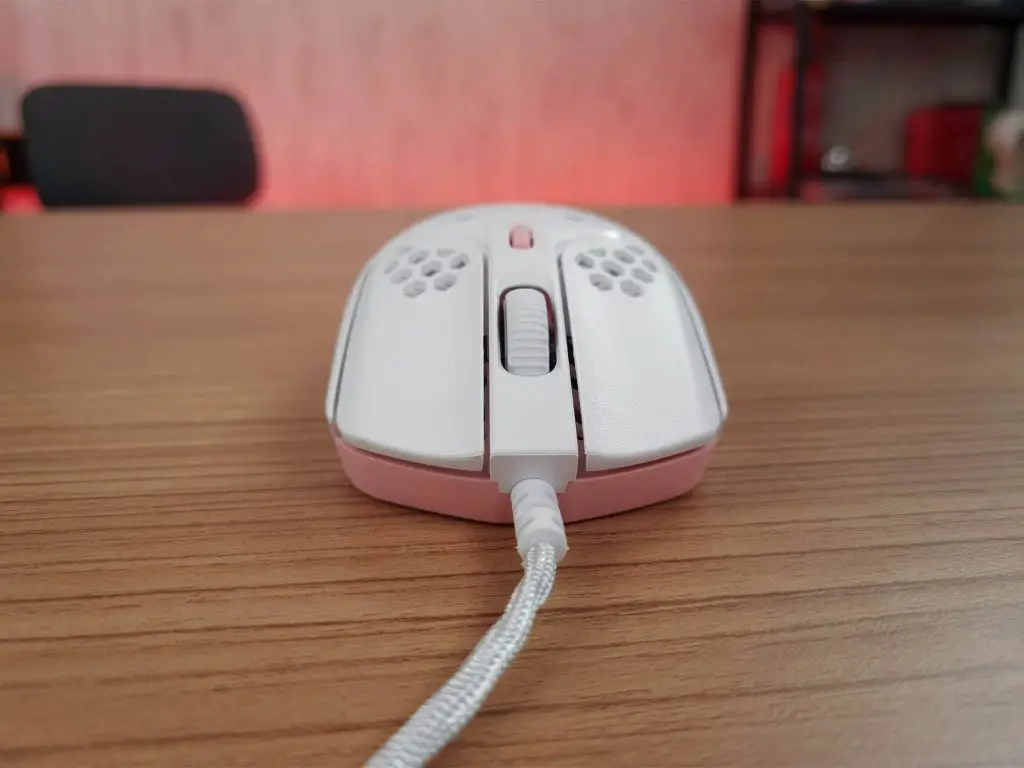 So, how does it feel driving the HyperX Pulsefire Haste daily for a couple of weeks? Well, I've somehow become fond of this mouse due to its color scheme which is a personal preference but also the main point of it which is being lightweight, I'd say that it does a good job of doing that.
Coupled with a good side of hotkeys which I use regularly to access the Back function for undoing my webpages on top of the simple-to-use NGENUITY software to go with the official price of RM175, it gets a thumbs up from me.
If you have the budget to go for it and you don't really need something like Auto-Fire off the supporting software, this is pretty cool.
Where to buy? (Affiliate links)