HyperX is expanding into new territory – and they chose monitors. Introducing, the HyperX Armada series of monitors – available in both 25 and 27 inches in size, and they only come with a pole-type monitor arm. There is no conventional monitor arm in the box.
That in itself is rather weird as you'll have to make sure your desk is compatible first before actually purchasing this monitor arm for your own setup. If you are using hollow core tables like the IKEA Linnmon, then you should not buy this monitor. Make sure your table is either made out of laminated wood or MDF. Thickness matters but even with our dinky table and a split center, it still works fine.
With that pre-requisite out of the way, let's get started with the review.
Okay, so the HyperX Armada comes in two sizes and the one we have here is the larger 27-inch version. Once I opened up the box – I want to ask HyperX though – what's up with the excessive amount of foam pouches? Just the base clamp of the monitor arm pole itself has like 3 foam pouches. Then for the accessories for the grommet mount, we have even more foam pouches. Even the screwdriver and screws themselves are in foam pouches.
That aside, if you want to mount the HyperX Armada 27 on the grommet, you can. They included the necessary tools and the instructions – just gotta take out this piece that looks like an advertisement and unfold it.
Once we got all the parts out, the assembly process is amazingly quick if you are familiar with monitor arms. It took me less than 5 minutes to get everything set up. Clamp the base on the table, adjust the monitor arm height, then slide the arm down and tighten the screw. Repeat for the next part of the arm and then snap on the monitor and you're done.
I thought I'll need to adjust the monitor tension as well but surprisingly, no. The out-of-the-box tensile strength is pretty spot-on but I personally would prefer it to be a little loose. I'm not sure if this will be applicable for all units of the HyperX Armada 27 – but this is my experience.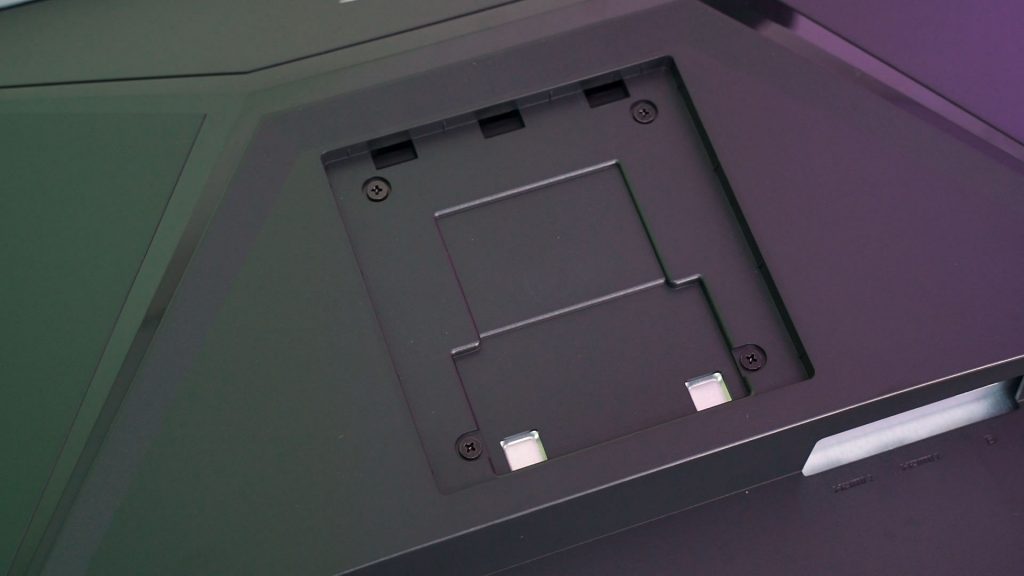 And for whatever reason you bought this monitor but you have your own monitor arm, then don't worry – this monitor supports the standard 100x100mm VESA mount as well.
The ports available on this monitor are pretty… stingy, I'd say. What we get are:
That's it. No USB ports, no 3.5mm audio jack for audio passthrough, nothing. We do have a built-in channel on the arm for cable routing though.
Okay, now let's finally talk about the monitor itself. It's a 27-inch monitor with 16:9 aspect ratio and at 1440p resolution, and goes up to 165Hz refresh rate. It is also an NVIDIA G-Sync monitor. Yes, the full-fledged G-Sync and that means you must have an NVIDIA graphics card to make full use of this monitor. If you're going to play games on this monitor at 165Hz then please enable G-Sync to eliminate screen tearing.
That aside, the panel quality of the HyperX Armada 27 is actually very good. It covers 100% sRGB and 93.32% of DCI-P3 color gamuts while maintaining a low Delta E number. HyperX also said that this monitor is DisplayHDR 400 certified – which we can verify that it meets the requirement since it also has a maximum brightness of above 400 nits.
If we head into the OSD menu though, there isn't really much to do here other than the first menu where we can disabled Adaptive Sync and enable MPRT. If we do enable MPRT, then the display starts to flicker. The higher the MPRT level, the faster the screen flickers. Also, the higher level of MPRT will lower your maximum brightness level. Some people may also get eye fatigue and/or a bad headache from this flickering. To know more about MPRT and why it exists, click the top right corner there instead.
Then, remember that the monitor comes with a pole-type mount? Yeah, you can essentially buy more addon mounts from HyperX and add another monitor to this pole. There's also a tool in the OSD menu to help us align these monitors – and that's really nice.
Should you buy the HyperX Armada 27 gaming monitor?
Our usage experience with the monitor is pretty great. It looks fantastic and the included monitor arm really sets this monitor apart from the others. I mean, the monitor is essentially floating above the keyboard!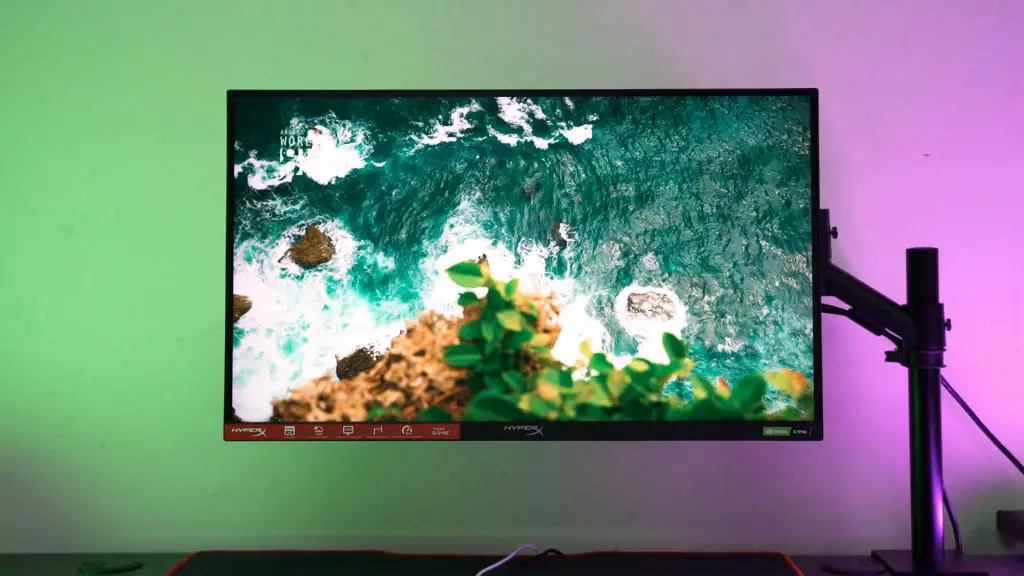 However, the price of this monitor is a tough pill to swallow. From what I can find, it's RM2,299. Compared with other 27-inch 165Hz 1440p monitors in the market, this monitor is obviously expensive while also missing some crucial ports that I think many people will want to use on their monitors – like USB ports and a 3.5mm audio passthrough jack.
There are two points that somehow justify its price, though.
You have a monitor arm included in the box. Once you buy this monitor, unbox it, and you can immediately set it up on an arm. Though, you can buy some other brands of pole-type monitor arms too. So you're paying for the convenience and compatibility.
NVIDIA G-Sync. Depending on how much you value G-Sync over other FreeSync monitors with G-Sync compatibility, this might entice you to get the HyperX Armada 27 instead.
Where to buy? (Affiliate links)