In today's technology world, you can easily access a number of tools to do your reading and editing easy. This is where iTop PDF comes in! To make your work easy, iTop PDF permits you to edit, view, protect, comment on, and convert your PDF documents for free at great ease. All in all, it is the best-ever solution for you to make flawless documents and easily convert them into various file formats, including Excel, Text, PPT, Image, Word, etc.
The interface is completely sizable & is ideally displayed with most tools and features for added convenience. Clear and Intuitive UI makes the PDF work super efficient, too. It also involves a Microsoft Office toolbar (ribbon-style) for quick action. In this, the documents are rapidly loaded – so that you can start & finish the project in an incredible way. Isn't it amazing?
Wondering how the iTop PDF can be the best suitable choice for you? Have a look at our extensive review to get complete know-how of iTop PDF functionality and ease;
How To Use iTop PDF To Edit PDF?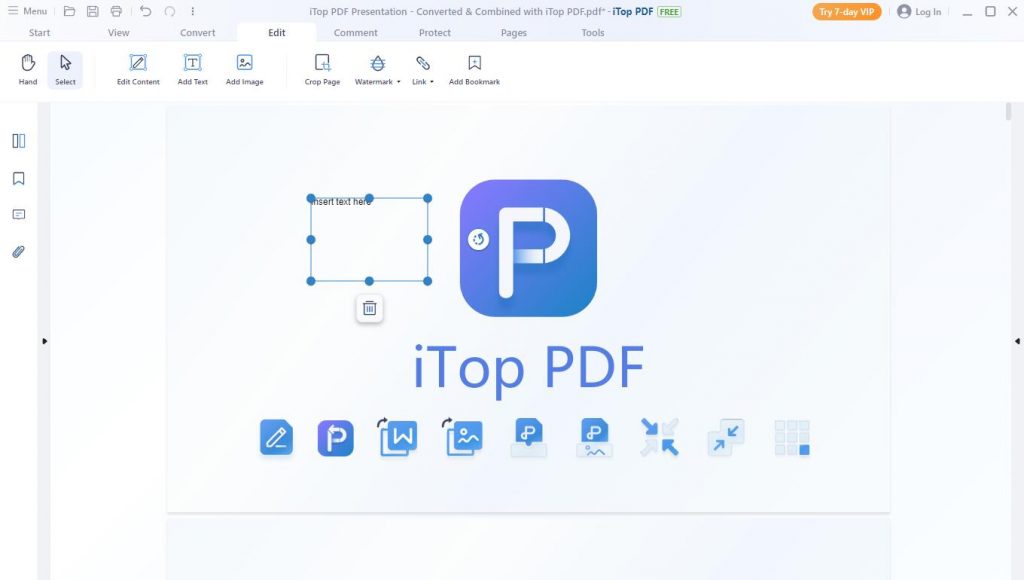 There's no rocket science in using iTop PDF. It's as easy as stealing candy from a baby. Here's how you can use it in quick steps:
Download iTop PDF and install it, then Open iTop PDF.
Now you can edit your PDF  files, and you do not need to covert it to Word or other forms, just edit the PDF directly. Utilize iTop editing tools: Add text, edit text, and you can also update fonts holding different selections from the list of formats. And you can add your watermark, bookmark or insert link while editing.

Lastly, save the edited PDF by naming the file and simply click the button "Save".
Key Features of iTop PDF
In addition to editing features, iTop PDF has many powerful functions. As a lightweight but powerful PDF software, iTop PDF can help you to edit, covert, and manage PDF pages, and also help to protect your PDF files. Now, let me tell you more about iTop PDF.
·      Intuitive UI & Easy-to-use
iTop PDF amazingly creates a balance between features and ease of use. The Microsoft Office toolbar also brings you a user-friendly and trouble-free experience while managing different PDF documents.
·      Fast PDF Reader
You can conveniently adjust the size and layout of the pages in order to enhance the readability. When reading the PDF document, you're also able to choose the read more to increase the immersive reading experience. Besides, the content can also be located quickly. Plus, you can also capture that particular content for future reference.
·      Many Useful Tools
With the practical, well-designed tools, you may split, compress, and combine PDF files perfectly in addition to its features. Moreover, you can also design a wonderful chic signature & personalize the distinguished watermark to best suit your needs.
What Makes iTop PDF Stand Out?
With iTop PDF, it's convenient to update wherever you're. We will show how:
·      Protect your format
You can change your graphics or text right in the file. Simply tap or click to add a quite new paragraph, rearrange pages, or fix a typo. Plus, you can even crop an image or add images.
·      Edit from anywhere
Stay outstandingly productive with the iTop PDF reader app on any of your mobile devices. Its PDF format lets you efficiently work on any phone or tablet.
·      Powerful tools
With complete page editing, formatting and paragraphs adjust whenever you add any lines, bullet lists, and lines with this PDF editor. You can easily fill-in forms and compress your PDF files or add your own watermarks.
·      Fix typos, quick
Built-in automatic spellcheck fixes the edits efficiently, while the replace and find function lets you make every instance of a phrase, date, or word correct.
Conclusion
Overall, iTop PDF lets you edit PDF files and add images, stamps, annotations, watermarks, and text freely. Valuable features, including Insert, Crop, Rotate and Extract, also assist in organizing the files. Moreover, you can also protect the sensitive information on those files with passwords.
Hope this guide will be super enlightening for you!!