Ubisoft has recently released a free game update for Assassin's Creed Valhalla, which includes a new game activity, the second part and conclusion of Tombs of the Fallen, as well as a new feature: the Rune Forge.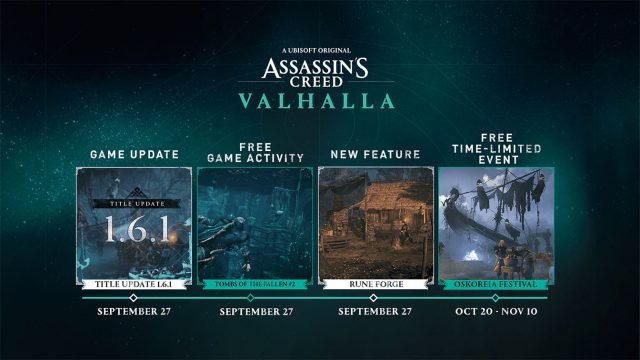 For starters, the Rune Forge is a new feature that is available to build in players' settlements once it has been upgraded to Level 4, and once the forge is built, players will be able to convert the perks of their existing gear into new runes in exchange for silver.
Furthermore, players may now access the final part of Tombs of the Fallen, in which they have to navigate their way through three mysterious tombs rigged with ancient traps and complex puzzles.
Ubisoft has also stated that more free content will be coming to Assassin's Creed Valhalla by the end of the year, with the Oskoreia Festival being the first one which will be running from 20th October to 10th November. In this event, players will participate the festival's Wild Hunt by defending their settlement from harmful spirits' threat and proving the strength of the Raven Clan.
Keep an eye on Assassin's Creed Valhalla's official website which is linked below for further details on the updates and additional contents:
https://www.ubisoft.com/en-sg/game/assassins-creed/valhalla