GIGABYTE recently announced the release of its latest Z390 AORUS MASTER G2 Edition motherboard, which is a G2 Esports inspired limited edition motherboard. Features wise, the Z390 AORUS MASTER G2 Edition has pretty much everything you'll find on the Z390 AORUS MASTER but with a slight touch of aesthetics for the G2 Esports fans.
"In G2 Esports we always look to go beyond limits, be one step ahead in the competition. We share the same values with AORUS, whom we have found a perfect partner and today we are taking our cooperation to the next level. From now on we will be working together on the hardware developments to provide top quality products with the latest solutions to our fans and the gaming community. We are thrilled to announce our first co-branded product, the AORUS Z390 MASTER G2 Edition, supporting the highest esports level performance," said Jacobo Ramos, Head of IT Operations & Hardware from G2 Esports.
"G2 Esports is one of the leading esports organizations in the world. Their professional players are world-class and they continue to evolve their playstyle to rise above the competition. AORUS shares the same values and goes all-in when it comes to the pursuit of excellence and the push for continuous innovation," said Jackson Hsu, Director of the GIGABYTE Channel Solutions Product Development Division.
"We've collaborated with G2 Esports in developing the Z390 AORUS MASTER G2 Edition motherboard which delivers the best performance, cooling, and audio for gamers and is a testament to GIGABYTE AORUS and G2's dedication to the highest gaming standards. Hardcore gamers and esports fans can play like pros with this G2 inspired gaming-ready motherboard."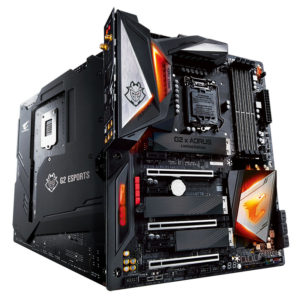 GIGABYTE engineers have worked closely with G2 Esports to develop the best gaming motherboard. Taking into account all the feedback from pro players, GIGABYTE engineers tweaked even the slightest details or nuances to optimize the gaming experience. With its 12-phase digital power design, stacked fin heatsinks, M.2 heatsinks, refined audio, and blazing-fast connectivity, the Z390 AORUS MASTER G2 Edition is pro player approved and an esports ready motherboard. Gamers or fans of esports who want to play on a pro setup will be able to show off their skills on the Z390 AORUS MASTER G2 Edition.
You can learn more about the Z390 AORUS MASTER G2 Edition at the following link: https://www.gigabyte.com/Motherboard/Z390-AORUS-MASTER-G2-Edition-rev-10#kf